Instagram Checkout Making It Easier to Buy Products You See from Influencers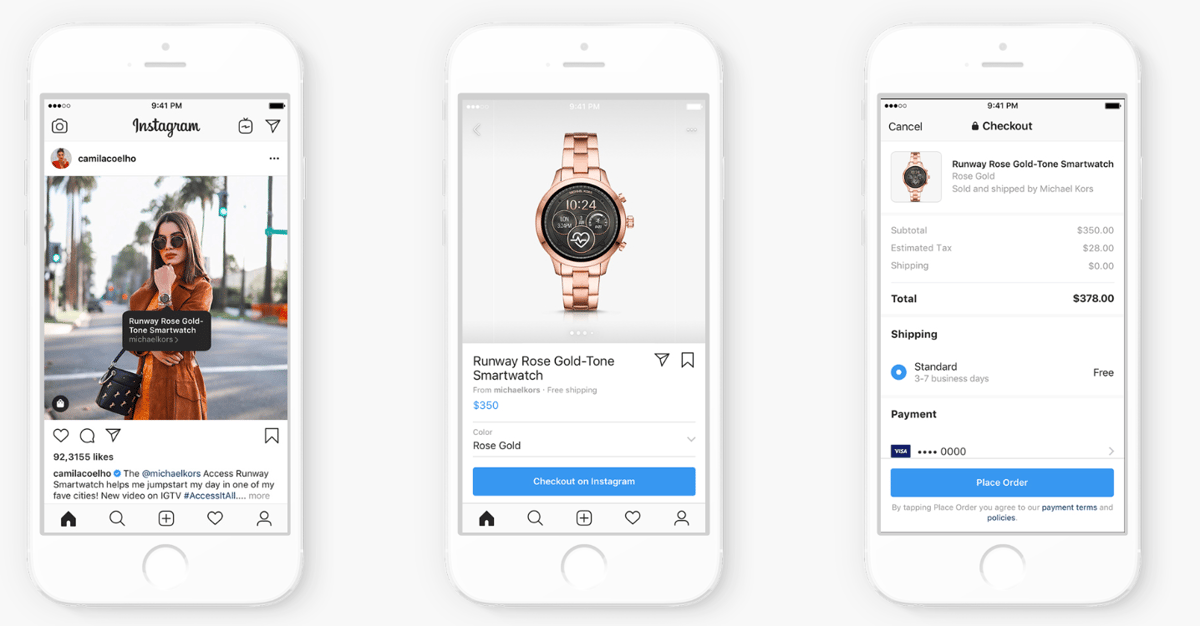 Social media, specifically Instagram, has become the go-to source for fashion inspiration for many modern buyers.
After all, real-time updates from fashion influencers is a great way to gauge what's currently trending.
The trouble is, when you see an influencer wearing something you'd like to purchase, it's often difficult to track down exactly where to buy it.
So difficult, in fact, there have been multiple third-party apps created, like LiketoKnow.It and Screenshop to see where you can buy items you see on the platform.
But speaking from personal experience, these apps can be far from accurate.
Luckily, Instagram is planning to provide a better solution for its users.
This week, the company announced it would be expanding its shopping feature "Checkout on Instagram" to allow Influencers and content creators to access the shopping tags on their account.
Now, when an influencer tags the products they're wearing in photos, users will be brought directly to the checkout page where they can purchase the product directly on Instagram.
The news brings new opportunities for consumers to leverage the Checkout feature and drives value for both brands and influencers generating sales through organic efforts.
What We Know About Checkout for Influencers
Instagram's Checkout feature only launched its beta test in March, this capability is still relatively new.
At first, Checkout was only available for business accounts, and only a select few brands were (and still are) able to access this feature.
The list has grown since we first reported on the launch, but it still remains limited to a small number of big, well-known brands.
Similarly, only a small number of influencers have been chosen to beta test the Checkout feature on their own profiles. These include mainly fashion influencers with significantly large followings, like Kim Kardashian, Kylie Jenner, and Gigi Hadid.
Outside of a typical "influencer" the beta test also includes several fashion-focused media companies, like Vogue, GQ, and Refinery29.
While these accounts will have access to Checkout tags, they'll only be able to tag the brands that are involved with the checkout beta. If the test generates interest, it could be a big incentive for brands to want to become more involved with this feature.
Instagram stated that these features will be rolled out to the selected influencers over the coming weeks, and will likely have plans to expand to additional Influencers and media companies over the course of the beta.
How Does It Work?
Essentially, the core functionality remains the same as the original Checkout feature.
But now, instead of browsing a brand's own photos, you'll be able to see where your favorite influencer got their outfit - and then in just a few taps, you can buy it without ever leaving the app.
Because the Checkout tag reduces the number of steps it takes from discovery to purchase, this makes it easy (almost too easy) to see something and immediately buy before you give it a second thought.
Instagram is clearly trying to encourage "impulse" buys," where the user has little time to second guess if it's something they really want.
Checkout Tags Won't Be Paid Partnerships
Like many, when I first read this news, I had assumed it would be a part of Instagram's Branded Content Partnership Program, which helps facilitate and disclose partnerships between brands.
However, this isn't the case. Instagram stated that the Checkout isn't meant to be an advertising feature, but rather an easy way for Influencers to allow followers to "shop the look" from pictures.
"Today, creators tag the brands they are wearing, add details in the caption and respond to countless comments and DMs. With the ability to tag exactly what they're wearing, creators can get back to expressing themselves and sharing what's on their mind, which will make their followers happy too."
In other words, instead of tagging a brand's Instagram to help users find products, the Checkout tag can offer a much more precise and actionable way for users to find and purchase products seen on Instagram.
At least for now, Influencers won't make a commission on Checkout orders. However, they'll still be able to access analytics on the number of clicks and purchases their shoppable posts generate, as will the brands they're tagging. Influencers can use this to gauge what kind of products their audience is interested in, and also help leverage better brand deals and partnerships in the future if they're able to demonstrate the ROI early on.
Will This Be the Next Influencer Marketing Trend?
Honestly, I think that this approach will be more effective than the standard brand-only Checkout tag because if you're browsing a brand's page, you could just as easily visit their website and buy.
However, if you see an Influencer you like wearing or using a product like a watch above, that will generally spark more of the "I have to have it" feeling more frequently than the former.
Because Influencers quite literally "influence" what many find to be trendy or worth buying, this thought pattern can carry over into real business transactions.
And this trend goes beyond clothes as well.
It can turn into electronics, foods, and even specific software that industry thought leaders grow to prefer.
That effect is why influencer marketing has been so effective for brands on Instagram. However, I think this feature offers the authenticity and subtleness that traditional influencer marketing tends to lack.
For example, if you see an influencer post that praises a product, but you see "#ad" after the title, you're generally going to trust it less. However, if you happen to see an item you like, and are directed to an easy path or purchase, it's much more natural for the user.
For this reason, I'm sure Instagram will find a way to launch some kind of ad format that allows for paid access to this feature - or at the very least, the ability for brands to put dollars behind posts featuring its products to increase exposure.
All in all this feature will be the true test of the ROI behind influencer marketing.
Once it's rolled out in full, I can see this becoming a must-have feature for any retail marketing strategy, and eventually evolving into a use-case for B2B brands as well.
Free Assessment:
How does your sales & marketing measure up?
Take this free, 5-minute assessment and learn what you can start doing today to boost traffic, leads, and sales.