LinkedIn Embraces Video with New Vimeo Integration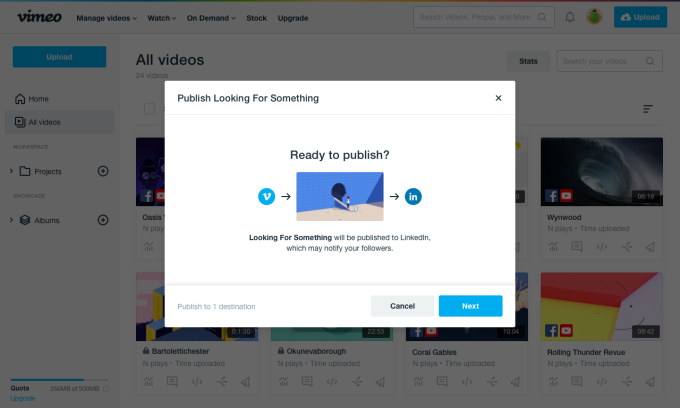 On Monday, Oct 29th, Vimeo, the video sharing website, released its newest update; an auto-publishing feature from their platform to LinkedIn.
This small, but mighty move expanded the company's existing auto-publishing features (expanding their audience and appeal) and making them the first video service to offer this capability for the professional social platform.
Join the IMPACT coaches for a deep dive on a new topic every month in our free virtual event series.
Other than this being exciting news for Vimeo users (or potential users), this is a noteworthy move for LinkedIn, which is proving to become more and more supportive of video content within their platform.
When Vimeo first announced auto-publishing to other platforms, they made it available to Facebook, Twitter, and YouTube - all the major networks that are heavily focused on video.
LinkedIn, however, joined its social competitors this week, showing that they are not only taking video seriously, but that video platforms are viewing them as a viable opportunity.
This certainly puts B2B marketers focusing on video in a great spot.
Not only with Vimeo users be able to post high-quality videos directly to LinkedIn without any additional effort, but they will also see valuable data like video viewership, engagement, and other performance stats to help them improve their content.
Recently LinkedIn has made more and more updates to its platform to make it more video friendly and with this partnership with Vimeo, they're clearly taking it video more seriously for its community.
Publishing Video on LinkedIn
Just a quick scroll down your LinkedIn newsfeed is enough to show you that video is becoming a more powerful player on the platform.
In fact, LinkedIn Company Page videos see 5x more engagement than other types of posts and they're getting more and more case studies to prove it.
Social video generates 1200% more shares than text and image content combined. (Wordstream). Users in general are more apt to share and watch video, so it's no shock that they'd also want to do that on LinkedIn.
By creating this partnership with Vimeo, LinkedIn is effectively showing that they are supportive of video and that companies should put focus in this area, as it is effective for many.
We'll be curious to see what else LinkedIn will do in support of video content over the next couple of months. Other partnerships? More analytics?
Key Takeaways
To be short and sweet, the major takeaways from this 'LinkedIn is focusing more on video/LinkedIn and Vimeo partnership' are:
If you're not already publishing video on LinkedIn - do it!

If you'd like to get started with publishing more videos (both on LinkedIn and elsewhere) and you don't have a platform, then Vimeo might be a good option to choose (and test out their new auto-publishing)

Vimeo is making moves to become a bigger player in the video space. Don't sleep on them just yet!
If you haven't started creating video for your company yet, check out these starting resources.
Featured Image Source: TechCrunch
Join the IMPACT coaches for a deep dive on a new topic every month in our free virtual event series.
Published on October 31, 2018