[New Research] Instagram Use Is Up. Should Facebook and Snapchat Marketers Be Worried?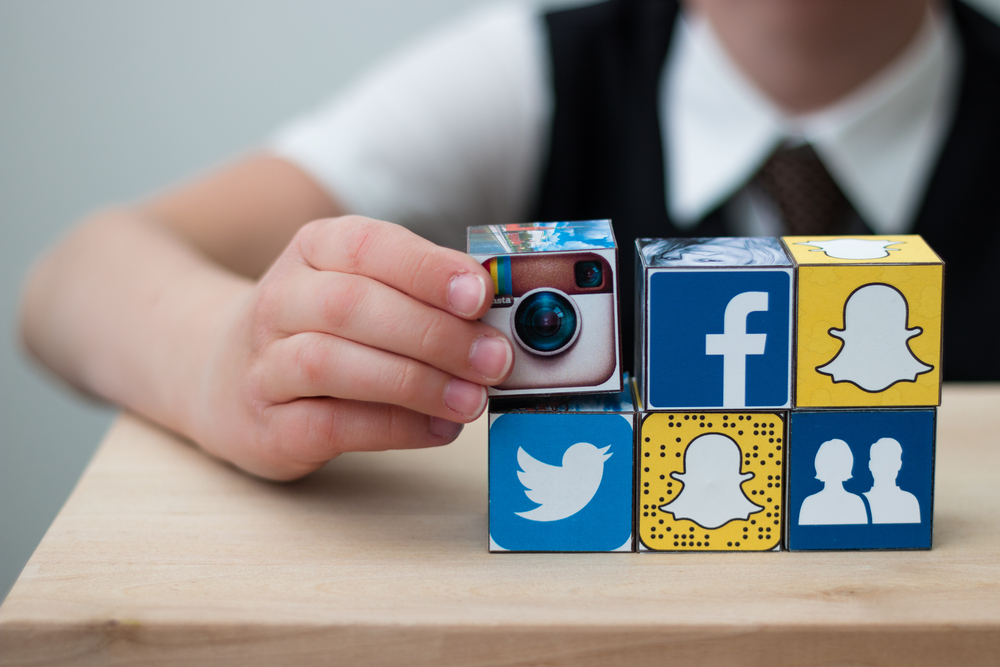 We all tend to have a "favorite" social media platform, but if you've found yourself favoring Instagram over Facebook and Snapchat this year, you're not alone.
Recent research by eMarketer shows that, as a whole, users 18+ are spending less time engaging on Facebook and Snapchat, while Instagram engagement is growing.
With any social media platform, it's important to be mindful of emerging engagement trends. If you know where your audience is spending its time, you can adapt your long-term marketing strategy accordingly.
Here's an overview of eMarketer's findings.
Facebook Use Is Declining
While Facebook's overall audience reach is unmatched, eMarketer reported that daily Facebook use fell by three minutes in 2018 — and is only expected to decline further in coming years.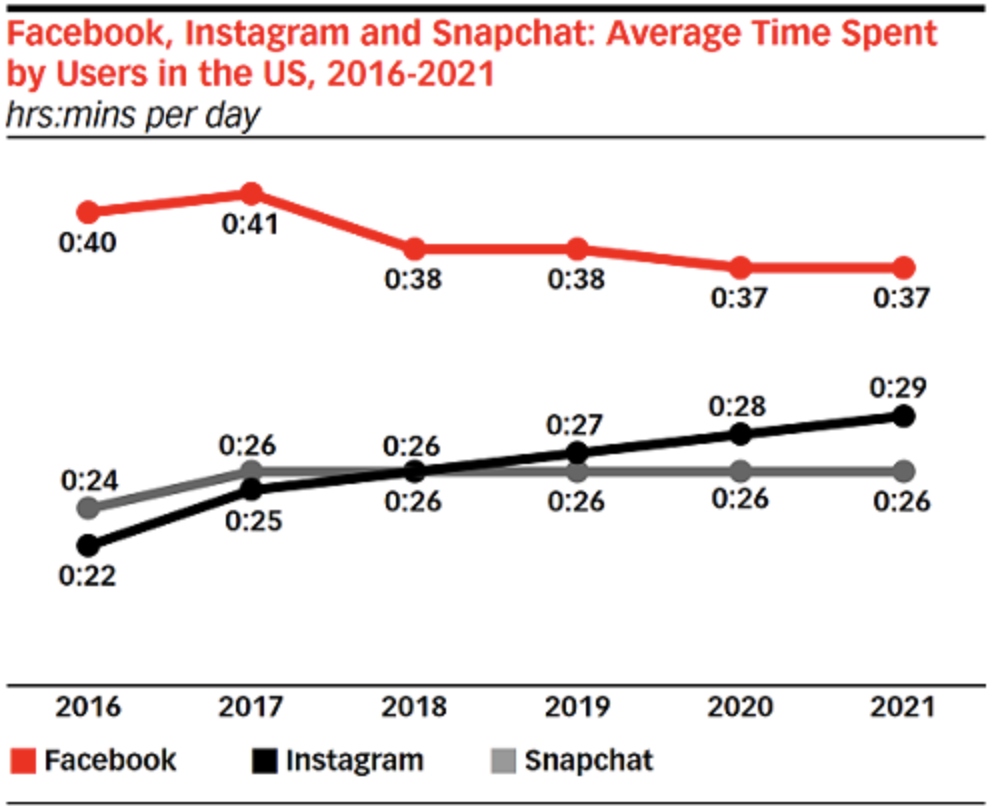 As you can see from the chart above, daily Facebook engagement is expected to remain at 38 minutes by the end of 2019, but is predicted to fall to 37 minutes in 2020 & 2021, continuing its downward trend.
It's noteworthy that Facebook still holds the highest engagement times among these competitors, but the downward trend is showing that it may soon lose its top spot.
eMarketer speculates that this downward trend could be due to its loss of younger users and Facebook's move to "discourage passive consumption of content, especially videos," which has impacted overall audience engagement.
Debra Aho Williamson, eMarketer Principal Analyst, explains this trend further:
"Facebook's continued loss of younger adult users, along with its focus on downranking clickbait posts and videos in favor of those that create 'time well spent,' resulted in less daily time spent on the platform in 2018 than we had previously expected"

"Less time spent on Facebook translates into fewer chances for marketers to reach the network's users."
So, what's the future for Facebook advertising and marketing?
Should marketers abandon their current campaigns?
Not necessarily, and here's why.
Facebook has actually grown in users this year, hitting a landmark 2.38 billion accounts.
So, while average engagement time may be declining, there are more users spending that 38 minutes on the platform each day. Additionally, 37-38 minutes can still certainly make an impact if your targeting and messaging are well-defined.
Snapchat Engagement Also Trending Downward
Although Snapchat was expected to bounce back from its declining engagement earlier this year, eMarketer no longer believes this will be the case.
Citing Snapchat's failed redesign and increased competition from Instagram, which essentially has been "copying" many of its core features, eMarketer reports that Snapchat's growth has essentially "plateaued."
Engagement time hasn't grown since 2017 and is expected to remain at 26 minutes each day through 2021.
I will say, if you told me this a month ago, I wouldn't have been surprised, however, Snapchat's recent release of the popular boy, girl, and baby filters has certainly gotten people talking – and even spawned memes about re-downloading the app after previously deleting it.
Snapchat. 🤣 pic.twitter.com/RhnGvijtBN

— Juras (@jurandirfilho) May 11, 2019
While I don't think a few filters can be the end-all solution to Snapchat's problems, what the company does with this re-engaged audience will likely determine the fate of the app moving forward.
Instagram Is Trending Upwards
The future appears brighter for Facebook-owned Instagram, which is expected to have a consistent upward engagement trend through 2021.
This isn't surprising for the platform. Instagram, unlike Facebook, captures multiple generations. Younger millennials and Gen Z-ers tend to engage less with Facebook, but Instagram has a strong multi-generational presence.
Accordingly, it makes sense that Instagram engagement will continue to grow in the coming years. This, combined with the fact that Instagram recently extended its video length past one minute, only adds to this trend.
In addition to video, eMarketer also cites that "Stories and Influencer Content" are contributing to this "slow but steady uptick" for Instagram.
Going back to the Facebook advertising question — since Instagram is owned by Facebook, you can design and run ads for both platforms within the same ads manager. So why not test on both and see what you get in return?
With Facebook, you're likely to reach a wider audience (that, currently, spends more time per day on the platform), but Instagram is something worth monitoring over the coming years to see how its different audiences engage with your campaigns.
Final Thoughts
While minute changes in platform use may not seem like a big deal, it's important for marketers to study trends ahead of time so we can invest our time and ad spend wisely.
Like we've seen with MySpace, social platforms tend to rise and fall as users favor one over the other.
Staying ahead of the curve, and knowing where your audience is hanging out, is key to reaching people at the right time with the right content to get their attention.
Free Assessment:
How does your sales & marketing measure up?
Take this free, 5-minute assessment and learn what you can start doing today to boost traffic, leads, and sales.