How IMPACT uses pre-onboarding to make employees comfortable before day one
The interview process at a company can often be quite lengthy, lasting weeks or even months. At IMPACT, from application to offer takes a little over a month on average.
Now, imagine you're an applicant going through this process, and you've been interviewing with a company for almost a month. You're emailing, interviewing, asking questions, and doing a slew of other activities as you work your way through the hiring process. Along the way, your excitement builds as you learn more about their amazing culture, talk to their talented people, and overall confirm how much you really want this job.
Finally, you make it to the last meeting, and you get a job offer! Woo hoo! Your excitement hits an all-time high as you giddily talk through the offer and discuss a start date.
You've never been more excited to start a job. Your soon-to-be new team members congratulate you, send you the paperwork to sign and you send it back, anxiously awaiting your next communication from your new team as your start date approaches.
And then...crickets.
A few reasonable thoughts might be running through your mind.
"Did they forget about me?"
"Should I be doing anything before starting?
"What time should I plan to arrive?"
"Why did all of the communication stop?"
"Are they still even excited about me joining the team?"
By the time you start the job, your excitement has surely died down, and you feel completely unprepared and out of the loop. All those feelings of being part of the team when you got the job offer have subsided, and you feel like an outsider starting from scratch. The more awkward you feel, the more the question keeps popping into your head — did I make the right decision?
Whatever company you're joining has clearly neglected (or didn't even think about) creating a pre-onboarding experience for new employees.
What is pre-onboarding?
Pre-onboarding takes place between the time an applicant signs an offer letter and when they start the job. Pre-onboarding is how the company chooses to interact with that soon-to-be new employee during that timeframe.
In the example above, the company chose to have no interaction. Maybe they're only focused on the onboarding plan once the employee starts?
Whatever the reason, they're missing a crucial part of a new employee's experience. Pre-onboarding is the perfect opportunity to keep a new employee feeling excited, motivated, and connected to your team before they start.
In a lot of ways, pre-onboarding sets the tone for not only your onboarding experience but also the company culture as a whole.
Suddenly this "pre-onboarding" thing is starting to sound pretty important, right?
Knowing this is the type of narrative going through an applicant's head with a poor pre-onboarding experience, it's time to focus on things an employer can do to avoid this type of scenario.
At IMPACT, we've done a lot of work on our pre-onboarding process to get it to where it is today. Because of all of the positive feedback and social-media shoutouts we've gotten from new employees, we're confident we're heading in the right direction.
Below I'll walk you through our process for developing a plan, and the activities we decided were important to do after someone signs a job offer.
Developing a pre-onboarding plan.
Take some time to think about the outcomes you're trying to achieve with your pre-onboarding activities.
When we developed our pre-onboarding plan at IMPACT, we wanted to put ourselves in the shoes of the new hire. Rather than the negative thoughts listed above, we wanted a new employee to be thinking the following thoughts during their pre-onboarding time:
"Wow, they're really excited for me to join the company!"
"They really care about their employees."
"I am already feeling like part of the team"
"It's great that I already feel connected with some people at the company."
"I feel even better about my decision to join this team!"
"I feel so prepared for my start date!"
"This place seems so great I don't even need a paycheck to work there!" (Ok, that one I might have thrown in there as a "lofty goal". Dare to dream, Natalie. Dare to dream...)
With these thoughts about our desired outcomes, we crafted the following activities that worked towards those goals and filled the otherwise silent pre-onboarding time.
1. Send welcome emails.
As soon as we get a notification from our hiring system that an applicant signed a job offer, we immediately reach out. I send my own personal email, and Carolyn Edgecomb, our talent manager, sends one as well.

In Carolyn's email she does the following things:

Welcomes the new person to the team
Shows off her excitement that things are "official"
Confirms their start date
Lets them know what we'll be doing to prep for their onboarding
Suggests some things to get started on if they're antcy
Sets expectations for when we'll talk with them next
Here's a screenshot of one of Carolyn's emails to give you a sense of the vibe:
Thought(s) we hope the candidate is thinking:
"Wow, they're really excited for me to join the company!"
2. Send them a welcome package.
As soon as we can after a new employee signs their job offer, we ship out a welcome package.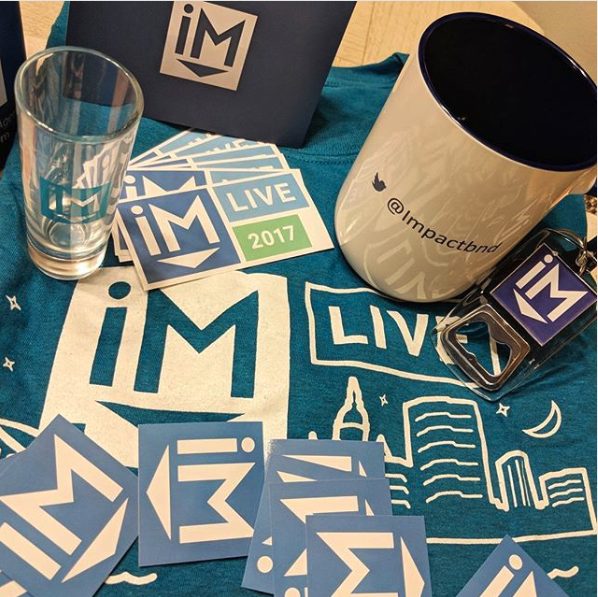 The welcome package typically includes:

A hand-written "welcome" note
An IMPACT mousepad
An IMPACT notebook
An IMPACT water bottle
An IMPACT bottle opener
IMPACT Stickers
An IMPACT koozie
An IMPACT bag
An IMPACT t-shirt in their size
Any other swag items we have at the time!
Going on nine years of working at IMPACT, I still get just as excited to receive a new swag item as I did when I started.
Thought(s) we hope the candidate is thinking:
"They really care about their employees."
3. Keep them in the loop.
One of our employees was hired towards the end of our office build-out. To make her feel included in the excitement and give us a reason to keep in touch, I sent her photo updates as things changed in the office.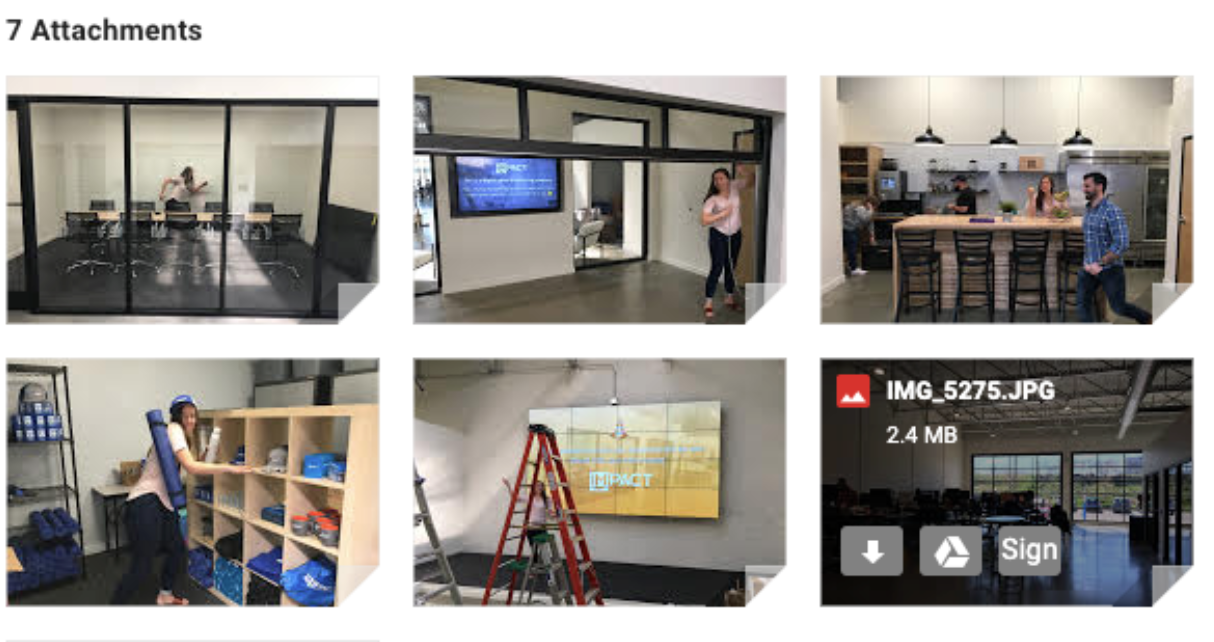 While you might not specifically have an office build-out going on, you can send photos from team activities, show them their desk, or take a picture of team members holding up welcome signs.
Thought(s) we hope the candidate is thinking:
"I am already feeling like part of the team"
4. Build team connections
The more people a new employee knows going into day one, the more comfortable they'll likely feel.
In an effort to start building those connections prior to their start date, we do two specific things:
Encourage the team to connect with them on LinkedIn: For every new team member, we send an email to the entire team that includes the new person's LinkedIn URL and encourages everyone to connect with them and send them a message. Recently, one of our hires said that was "the best day ever" when all of the connections poured in and she started to get to know some team members.
Encourage the candidate to share an intro video: Prior to starting, we ask new hires to record a short video introducing themselves to the team. We ask them to share that video in our Slack channel called #team-intros. This allows the team to get to know them better and opens a dialogue with people who comment on the video.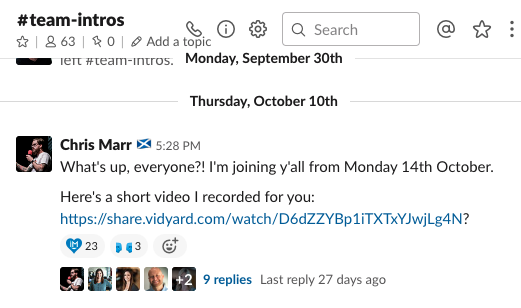 Thought(s) we hope the candidate is thinking:
"It's great that I already feel connected with some people at the company."

5. Send them the ultimate "prep for their start date" email.
As a new employee's start date gets closer, we send an email that aims to answer as many questions for them as possible.
The email includes:
How to access their email
Details regarding their "kickoff meeting" on day one
When to arrive
Where to park
Our dress code (if they haven't been in the office yet)
Their lunch plans, and the snack/beverage options we provide in the office
What to bring (if anything)
Having all of this information takes out all the guesswork (and potential stress) of figuring these things out on their own.
Thought(s) we hope the candidate is thinking:
"I feel even better about my choice to join this team!"
"I feel so prepared for my start date!"
Thoughts we hope you're thinking.
Now that I've given you some insight into our thoughts on pre-onboarding, and the candidate's thoughts on pre-onboarding, we hope you're thinking a few things!
If I've done pre-onboarding justice, I hope these thoughts are running through your head:
"Wow, pre-onboarding is really important to the new employee experience!"
"My company should start brainstorming our desired outcomes and actions during pre-onboarding"
"I'm so excited to get this process started with new hires!"
"Is IMPACT hiring? I'd love to work there!" (I mean...)
If those are the thoughts running through your head — what are you waiting for?! Do your best to have at least something in place before the next hire starts. You got this!
Free Assessment:
How does your sales & marketing measure up?
Take this free, 5-minute assessment and learn what you can start doing today to boost traffic, leads, and sales.