Subscribe
Join 40,000+ sales and marketing pros who receive our weekly newsletter.
Get the most relevant, actionable digital sales and marketing insights you need to make smarter decisions faster... all in under five minutes.
Thanks, stay tuned for our upcoming edition.
"Revolutionize" Your Marketing With These 9 Ideas From Our Nation's Founders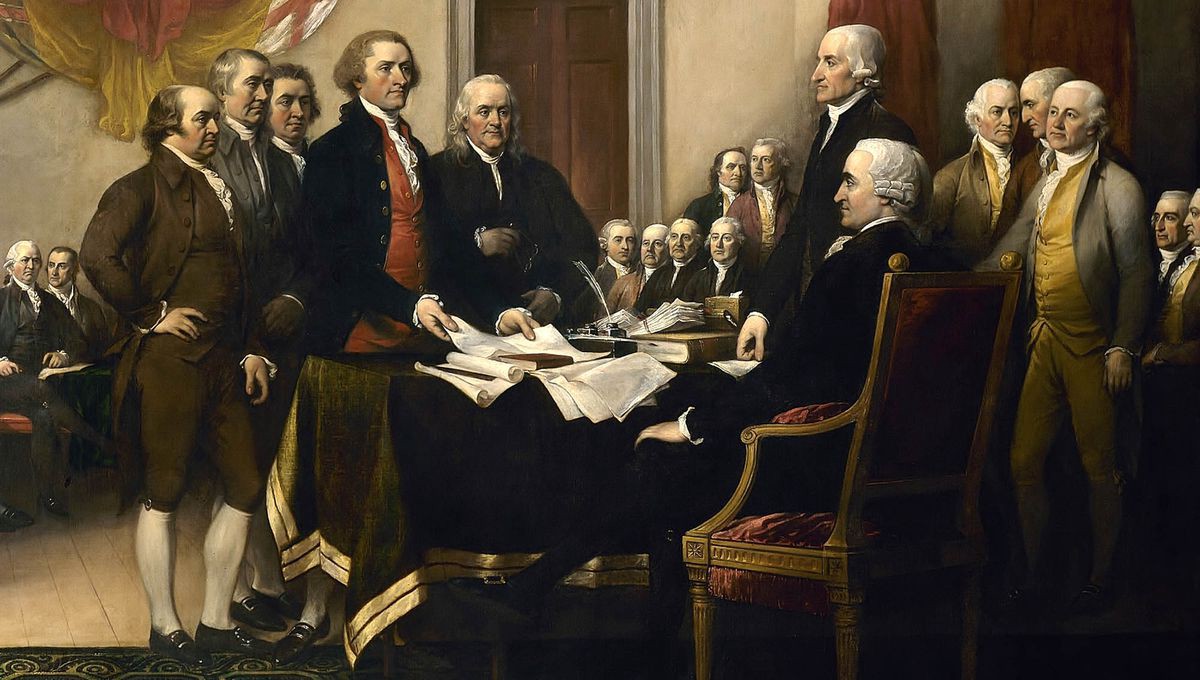 Happy Independence Day, Everyone!
As we celebrate Independence Day with cookouts, parades, and fireworks here in the US, I want to share some inspiration from our nation's founders.
The words of our founders inspired people to embrace independence and freedom and, believe it or not, their wise words can also serve as profound inspiration for your inbound marketing initiatives.
1. "Tell me and I forget, teach me and I may remember, involve me and I learn." -
Ben Franklin
Trust is truly what every business is selling, at a foundational level. When you involve your potential customer in learning about your products and services, you become the trusted authority that they want to do business with.
By becoming the best teachers of what you do in your space, you inspire trust. At IMPACT, we have embraced this idea by helping businesses of all size become the best teachers of their products and services. We call this concept They Ask, You Answer.
2. "If you want something you've never had, you must be willing to do something you've never done."
- Thomas Jefferson
In marketing, we have to be willing to take risks. However, in the modern, digital world, we can take risks in a planned and calculated manner.
Want to see what marketing initiative gets the most traction? How about trying some A/B testing? By testing, using analytics to measure results, and making changes accordingly, we can steadily improve our marketing.
By learning what works and what doesn't, we can avoid mistakes moving forward. A/B testing helps you fine-tune your marketing so you get the best possible results.
Trying new things can seem scary, but by taking calculated risks we can improve our marketing and maybe even take it to a place we've never been before!

3. "We should not look back unless it is to derive useful lessons from past errors, and for the purpose of profiting by dearly bought experience."
- George Washington
Not all of our marketing initiatives succeed. When things go wrong, we should learn the lesson and apply it. Dwelling on what does not work is not a profitable way to do business — but learning from our stumbles is essential to avoiding the same mistakes.
George Washington's words about learning from our errors give us great inspiration.
He understood that some of our past errors may cost us dearly, but we must strive to take every loss or failure as a learning experience.
Rebounding after failure can be tough, however, many of the best success stories are rooted in failure.
How many times do we read about very successful people who overcame multiple failures on their way to success? Push through your failures; you may be closer to success than you know.
4. "Do you want to know who you are? Don't ask. Act! Action will delineate and define you."
- Thomas Jefferson
Our marketing plans involve taking action as a part of the process. Often, businesses know that they need to pivot, but they fail to take action.
Changing to a culture of inbound marketing and content creation is just one action that is difficult for many businesses.
The difference for businesses that take the action of embracing inbound and content creation can be astounding. We have seen, time and again, businesses that substantially increased traffic, leads, and sales by taking action with inbound content creation.
5. "Either write things worth reading or do things worth the writing." - Ben Franklin
As inbound marketers, we endeavor to write great content about our products and services. There are five types of articles that drive traffic, leads, and sales.
Cost - how much will I pay?
Problems - are there any problems with your product?
Comparisons - how does your product compare to others?
Reviews - what kind of reviews does your product have?
"Best of" lists - what are the best products in your space?
Businesses that are writing about these topics are driving success because they are writing something worth reading. They are answering The Big 5 questions that their prospects are asking.
6. "Facts are stubborn things; and whatever may be our wishes, our inclinations, or the dictates of our passions, they cannot alter the state of facts and evidence." - John Adams
Analytics and data are the basis for sound, fact-based decisions by marketers.
In the past, marketers did not have the incredible amount of data that digital marketers have today.
While much of marketing in the past relied on intuition and educated guesses, today we can use analytics to refine our strategies. From HubSpot and Google Analytics to LuckyOrange and SEMRush, there is no shortage of data resources for marketers to turn to — and the information available is essential.
7. "The most valuable of all talents is that of never using two words when one will do." - Thomas Jefferson
When writing for marketing, keep your language simple and easy to understand.
We work in a field where technical terms, jargon, and acronyms may make a lot of sense to us but can confuse our customers. Simplifying our words and speaking in those of your audience is vital in making sure your message is understood and resonates.
8. "Every problem is an opportunity in disguise." - John Adams
Every day, people are searching for answers to their questions and solutions to their problems. When you think about it, every product or service we sell was created to solve a problem.
When we create content, we must focus on helping people fix their difficulties or alleviate their pain points by offering information, insight, and assistance.
When customers feel as though someone truly understands their problems, they form an emotional connection to that product or service.
If we can see peoples' problems as opportunities to help and build connections, we will forge meaningful relationships and help them grow and succeed.
9. "Dost thou love life? Then do not squander time, for that is the stuff life is made of." - Ben Franklin
We all have 24 hours in each day. What we do with those hours can make a difference in our lives and in the lives of our customers. Learning to use our time wisely is an important lesson, in both work and life.
Finding the right work/life balance can be tough as a marketer, but it can be invaluable in uncovering new ideas and perspectives for your strategies. Make every moment count!
Today is a holiday that celebrates independence and freedom. Enjoy your holiday and be inspired!
Free Assessment:
How does your sales & marketing measure up?
Take this free, 5-minute assessment and learn what you can start doing today to boost traffic, leads, and sales.