Twitter's Hide Reply Feature Adds More Control Over the Conversations On Your Posts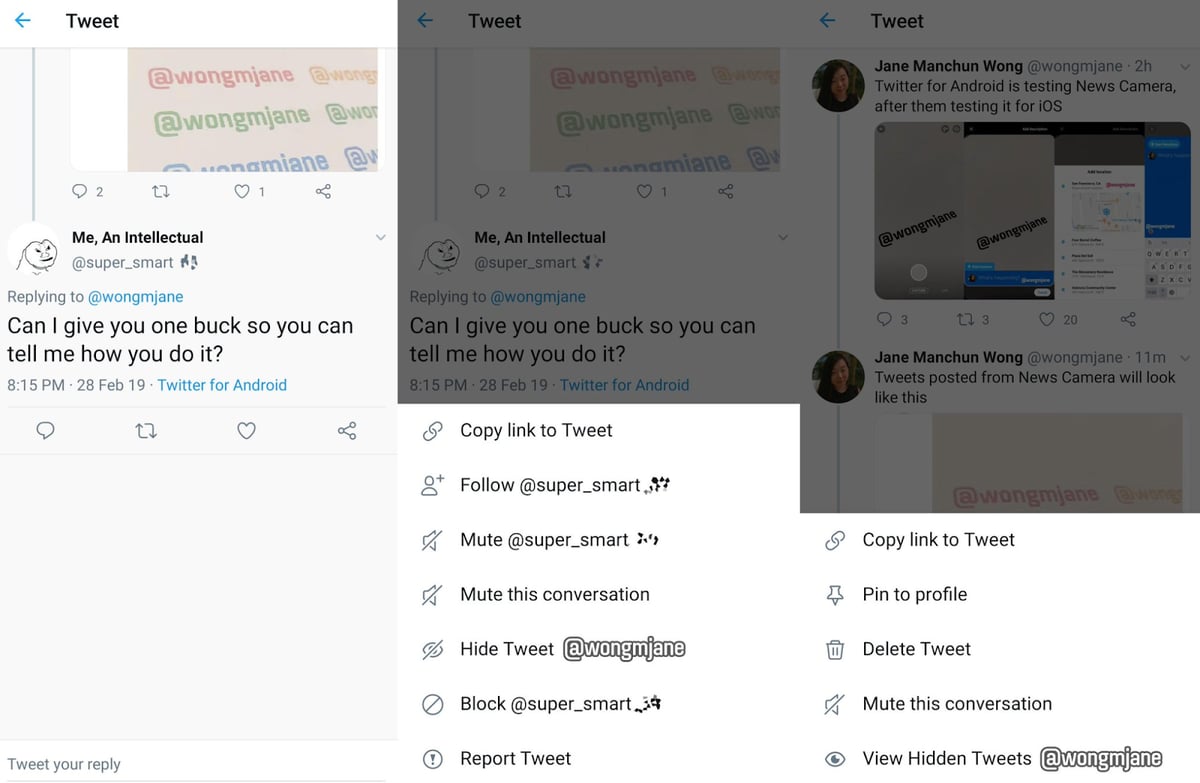 Over the past week, Twitter has sparked some controversy with the news that the platform is working on a feature that would let user's hide reply's to tweets.
Twitter user Jane M. Wong saw the feature on her account and shared screenshots of what this will look like.
Specifically, this feature aimed at bigger Twitter users who see a high degree of spam, hateful comments, or other unfavorable replies that don't contribute to the conversation.
Her initial post was met with a lot of uproar surrounding this feature, with some users excited about the update, and others...not so much.
On one hand, this feature gives more power back to the user, allowing them to better control conversations held in their Twitter threads and discourage harassment.
However, many Twitter users have concerns that it will bring TOO much power to the account owner, censoring the opinions of users that the original poster doesn't agree with.
Twitter Provides Clarity
To address the controversial feature, Michelle Yasmeen Haq, Senior Product Manager at Twitter, stepped in to provide more context around the feature in her own Twitter thread.
Firstly, she explained that the reasoning behind the feature was not to censor users, but to empower the original poster.
"We often hear from heavy Tweeters they want to be able to protect their conversations"

"People who start interesting conversations are really important to us, and we want to empower them to make conversations they start as healthy as possible by giving them some control"
This feature isn't particularly different from what's available to account owners on other platforms. Facebook, Instagram, and YouTube all have the ability to delete comments or shut off the ability to comment on content entirely so this is a bit overdue.
Furthermore, she goes on to say that the features Twitter currently has to enable users to control the reply's don't fully protect them against harassment or spam.
"We already see people trying keep their conversations healthy by using block, mute, and report, but these tools don't always address the issue. Block and mute only change the experience of the blocker, and report only works for the content that violates our policies."
Additionally, she addressed concerns of Twitter users hiding comments in an attempt to save face against legitimate complaints or skew public opinion by only leaving positive replies.
She clarified that while users can "hide" comments, they won't be "deleted" as they would be on other platforms. Instead, users can still see the comments the original poster decides to hide through a manual action.
"With this feature, the person who started a conversation could choose to hide replies to their tweets. The hidden replies would be viewable by others through a menu option."

"We think the transparency of the hidden replies would allow the community to notice and call out situations where people use the feature to hide content they disagree with. We think this can balance the product experience between the original Tweeter and the audience."
This feature gives control back to the Twitter user, but also allows the public to check how honest they're being by seeing what they're hiding.
This helps solve for people worried about businesses hiding complaints, or politicians hiding fact-checkers or those with opposing views.
What Should Marketers Do?
This feature definitely has the potential to make Twitter more brand-safe for companies looking to market on the platform.
Because there previously wasn't any way to police comments, brands had no control over any conversations in their mentions that strayed from company values, which has turned many brands off from marketing on the platform.
Now, brands will have more control over their replies - and while this is great for cutting out offensive posts, it's also great for fostering a healthier, more meaningful conversation with your customers by cutting out any spam.
But be Warned!
While this can be a great feature for brands, don't abuse it.
Any attempt by brands to hide customer complaints or bad reviews will likely result in you being caught and exposed for trying to silence valid concerns...which can do much more harm on your brand's reputation.
It's the same situation as deleting bad customer reviews...don't do it!
The best way to deal with a complaint is to be transparent.
Replying to the customer, getting them in contact with the right people, and showing them you care about their problem is a much better way to save face & build trust with your followers.
So, Hiding Replies: Good Or Bad?
It really depends how you plan to use it.
While I see the concerns with the feature, I think that this will be a good thing in the long-term.
So many Twitter comments (especially from big brands or users with large followings) are filled with spam, harassment, or self-promotions, that it's hard to cut through the clutter.
This update can pave the way for more meaningful conversations on the platform - with the likely result that those who do leave spam or harassing comments will be turned off from replying at all, knowing they'll get hidden by the original poster.
And again, those who are trying to censor valid arguments will inevitably end up being caught, as users can see what they're hiding. In my mind - it's a win-win.
This update is still in testing, but should be rolling out to all Twitter users in the near future.
Free Assessment:
How does your sales & marketing measure up?
Take this free, 5-minute assessment and learn what you can start doing today to boost traffic, leads, and sales.