Want to Boost Pinterest Performance? Here's What's Trending in July [Infographic]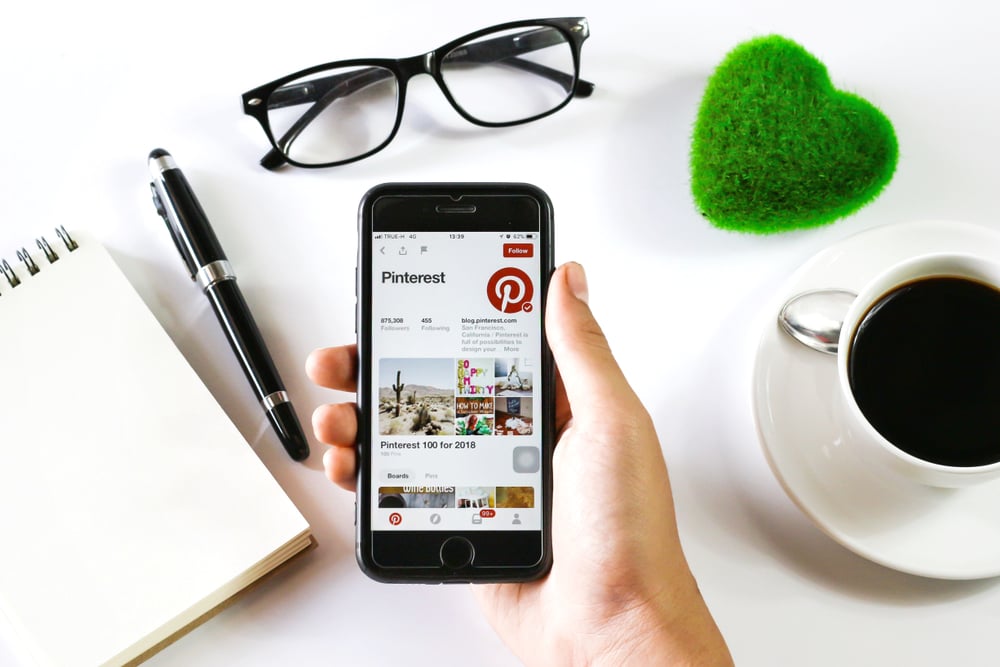 As Pinterest continues to experience steady growth, many marketers are still unclear about how to use the platform to aid their marketing strategy.
Last year, only 15% of marketers were actively using Pinterest — while 90% were using Facebook.
While Pinterest does not have the same reach as Facebook's 2 billion active user base, it's still seen impressive growth over the last year, growing from 250 million active users last year to 291 million today.
However, its growth is not the only asset marketers should be interested in. Outside of its growing user base, the platform also offers a shopping-focused user experience while still remaining a space for users to spend time even when they're not actively looking to purchase.
This combination makes Pinterest perfect for product discovery and research that inform purchasing decisions.
And it's not just speculation — the data backs these claims up as well. Research has shown that Pinterest is one of the leading social media platforms in product discovery, and 90% of active users say that Pinterest helps them decide what they should purchase.
Clearly, Pinterest offers unique benefits outside of a traditional social media platform. Because people use it to get inspired or view current trends to aid their purchasing decisions, brands have an opportunity to make a bigger impact with each post.
But, as more brands are catching on to the value of having a Pinterest presence, it's becoming harder to stand out and get noticed.
So, what should you be posting to maximize your Pinterest performance?
Pinterest is a very visually-focused platform, so the types of creative you use will be vital to success. So, it's important to know what will catch your audience's eye and what trends they're searching for.
Luckily, Pinterest's team just released its latest Pin Trends Report, a monthly report showing key topics or products that have seen significant increases in searches and pins.
This report shows what is expected to trend for the month of July. You can read Pinterest's full report here, or view the infographic below for a summary of the findings.
What's trending on Pinterest?
Pinterest's team found key trending topics across three main categories:
Light/Pastel Colors:
Searches for Pastel Yellow up 73% YoY
White Gardens up 167% YoY
Takeaway for Marketers and Creatives
Summer is typically a time for light, bright colors, and clearly, this year is no exception.
While each brand differs, try to incorporate pastel colors or white flowers or gardens into your creative, either organic or paid posts.
With trends like these, it can help your post attract attention, when it may have otherwise gotten lost in the clutter.
Fun Spins on Classics
Bubble Waffles up 55% YoY
Medieval Recipes up 27% YoY
Frozen Moscow Mule up 134% YoY
Takeaway for Marketers and Creatives
While these may seem centered around lifestyle brands, any brand can incorporate a "fun spin on classics" stance.
This data suggests not that you should exclusively post frozen drinks or bubble cones to your account throughout July, but that people are looking to mix things up — and summer nostalgia is in full effect.
Take a concept you know your audience is familiar with, and put a unique twist on it. This way, it's different enough that users are intrigued but comfortable enough that they're not thrown off.
Minimalism
Easy Hair Styles up 63% YoY
Simple, Strappy Sandals up 41% YoY
Small Bracelet Handbags up 150% YoY
Takeaway for Marketers and Creatives
For retail companies, the action is relatively clear here. In the summer, people want easy, light, and comfortable items to take with them in the warmer months.
However, if you're not a clothing company, there are still lessons to be learned here.
People want simplicity, so make sure your messaging reflects that. Keep your creative simple and light, and avoid clutter. Additionally, your text copy should focus on how clicking back to your website can help them simplify their pain points and reach a solution more easily.
Why is this important for marketers?
You may think that your brand isn't "right" for Pinterest — but that could be far from the case.
Pinterest isn't just for large e-commerce companies. Many other industries, including home building, designers, publishing/media companies, photographers, and small businesses all have an opportunity to share content and boost brand awareness by posting on Pinterest.
Additionally, data from this report can provide insights that inform your social media strategy outside of just Pinterest.
Currently, Pinterest reaches 83% of women between the ages of 25-54 in the US. Additionally, 50% of sign-ups in 2018 were men — suggesting that its male user base will continue to grow.
This age range sways slightly older than other social media platforms, so, if your target audience excludes younger Millennials and Gen-Z, these insights can let you know what kind of content your audience could be interested in seeing on other platforms as well.

Free Assessment:
How does your sales & marketing measure up?
Take this free, 5-minute assessment and learn what you can start doing today to boost traffic, leads, and sales.