WordPress vs Wix vs Brandcast: 4 factors to help you choose between them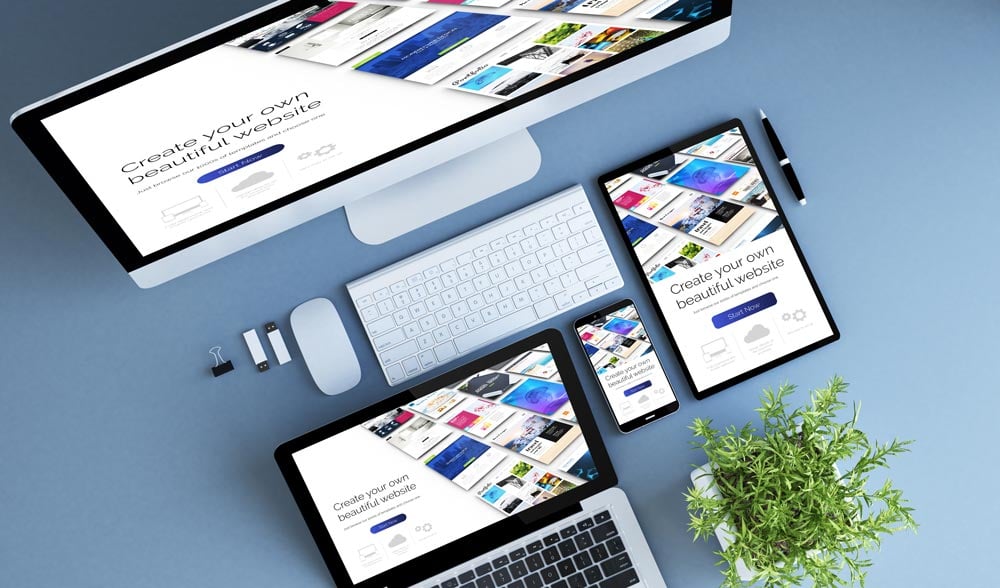 You've put off your website redesign for too long.
You're losing leads and your brand looks dated and out of touch. It's time to create a new website that will help you attract leads, close deals, and grow your business.
The question is, however: which website platform should you use?
There are so many website platform options these days that it can be hard to choose which is best for your business.
Different platforms deliver different benefits, so it's important to understand how your business goals align with the capabilities of your website solution.
This guide will help you understand the top metrics of website success and compare the three popular website platforms, WordPress, Wix, and Brandcast, in terms of them.
Factors to consider when choosing a website platform
There are a lot of ways to measure the success of a website.
If you care most about traffic to your site, you may want to optimize your website's SEO performance or perhaps you care most about converting visitors into leads and want to optimize your website's conversion strategy.
You may even just care about elevating your brand and need a beautifully designed website that reflects who your company is.
Whatever the goals of your website are, reaching those goals can be impacted by the website platform you choose.
There are generally four factors to consider when evaluating your website solution:
Speed of Build Out
Scale
Control
Design
Speed of build out
How fast you can launch your new website greatly impacts the return on investment (ROI) it will deliver.
Some websites platforms allow you to launch a new website very quickly while others require lots of development and design hours.
The amount of time and resources you can invest here may vary from company to company, but regardless of individual circumstances, the more hours required to launch a website, the more website costs your project likely accrues, which eats away at future profits your website can deliver.
Understanding the speed capabilities of different website platforms will help you decide which platform is best for your needs.
Scale
Scale relates to both the size and complexity of your website as well as the number of websites you want to launch.
Some companies require only simple websites with a few pages, like a home page, an about page, and a contact page.
Others, on the other hand, require complicated site structures with many interconnected pages for multiple brands, regions, products, or services.
The size of your website project should heavily influence which website platform you go with.
There's also a question of the number of websites you need to launch.
Some companies require only one main dot com; others require many websites for different brands, divisions, or products.
Take AAA, for example. They have offices all over the world, each that needs to maintain their own individual website while maintaining brand standards.
Using multiple website solutions to launch each of those websites becomes a complicated, brand-compliance nightmare.
If producing a lot of websites is a priority for your business, then you'll want to select a website platform that will easily scale with you.
Control
Websites are online living documents.
They're meant to change over time, partly because your company's messages and offerings naturally change over time, and partly to meet internet new conventions, like SEO guidelines or ADA compliance practices.
If making those changes are too difficult, then maintaining your website becomes a challenge.
Depending on how often you need to update the content and design of your website and your skill level, you'll want a website platform that best fits your needs.
Design
Great design can make all the difference between a website that performs and one that flops.
Your website is often your first touchpoint with your buyers and should reflect both the value you provide as well as the quality of your brand so your design needs to be up to par.
For some companies, like sole proprietorships or other small businesses where there aren't a lot of resources to spare for the design and maintenance of a website, this can be accomplished with simple, customizable templates.
Other companies require custom layouts, graphics, and interactions. This is especially true for large enterprise with defined brand standards that must communicate a consistent, approved message with their website.
Knowing what level of design you need for your website will help you pick the website platform best suited to make your website stand out.
Now that we know what factors you should be looking at, let's compare three popular website platforms and see how they stack up
WordPress vs Wix vs Brandcast
We'll use a simple star rating system. Three stars means the platform exceeds in an area, whereas one star means it's lacking some features or functionality.
WordPress
WordPress is one of the most ubiquitous website platforms, powering 34% of all websites online today.
The secret to its success? It's an open-source platform, meaning that anyone can download its source code and start creating custom websites, either from scratch with custom code or using editable templates.
Speed ★
When it comes to launching something quickly, WordPress is less like a Ferrari and more like a city bus; it'll get you where you need to go just like it does with lots of other people, but not necessarily quickly.
The reason for this is because WordPress often requires a lot of custom development.
It's open-source, so while there are a lot of resources to help you build a WordPress site, you (or the developers you hire) may need to start from scratch and build the structure of your site.
You can move a little faster with WordPress when you use its template gallery, but depending on the kinds of elements you want to include in your website, like custom animations and interactions, it's going to be difficult to fully avoid at least some time spent working in the code, which can slow your launch date.
Scale ★★
You can build almost anything on WordPress, from your main dot com to an online publication and even a full eCommerce platform.
Since it's so adaptable, WordPress is great for building large sites with lots of content, so you never feel limited by what you can do with a single website.
However, if you want to launch lots of websites and are on a budget, WordPress isn't the ideal solution.
Each site you launch requires additional payment and hosting, which makes scaling challenging if you're a large brand with the need for multiple domains.
Control ★★
With WordPress, you have complete control over the look and feel of your website, especially if you opt for custom development. This is because WordPress allows you to code your own website from the ground up, to look and respond exactly how you want.
Even if custom-coded, editing WordPress site content is also very straightforward.
Using WordPress' content management system (CMS), non-technical users can edit copy and images without touching any code.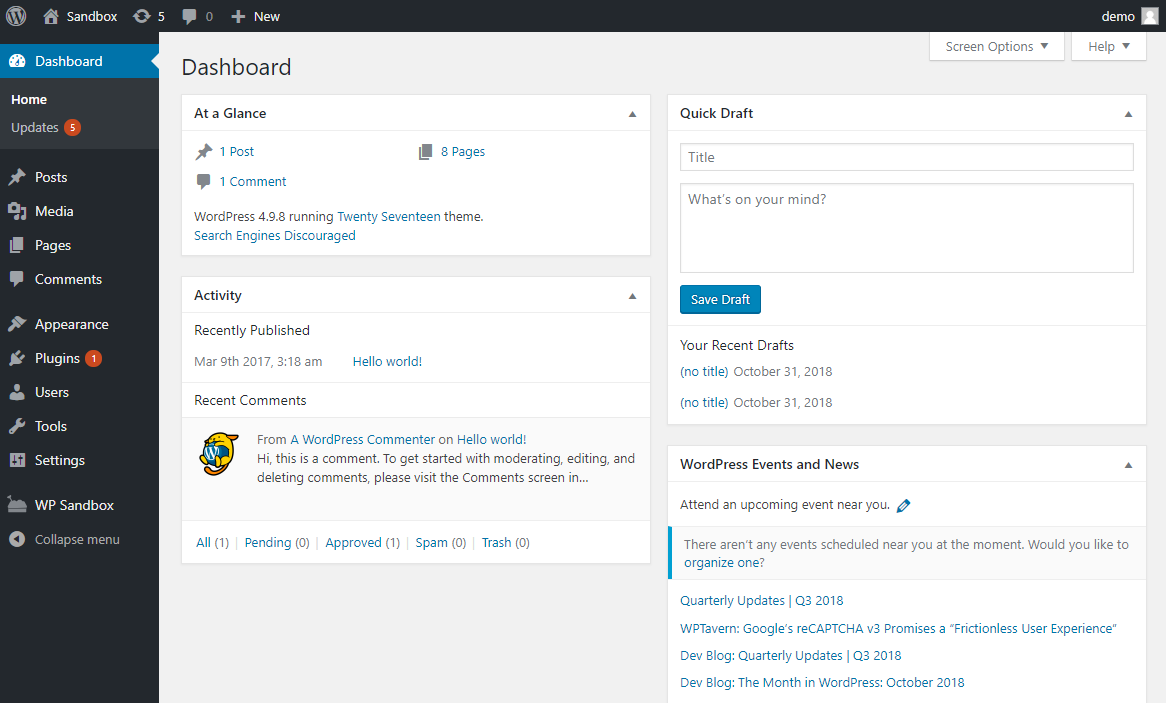 Image Credit: pagely
This makes updating product pages or publishing blogs more efficient for marketers who may not have a development background.
There is also a large number of customizable templates to choose from on WordPress, so even if you don't have design resources handy, you can still create a well-designed experience that looks uniquely your own.
There's a catch though.
A lot of big changes you want to make to the design of your website may require the help of a developer. While simple design changes like font sizes and colors are easy enough, making structural changes to the layout of your website means editing the code of your website.
Design ★★★
Because you can edit the code directly, WordPress sites are fully customizable, allowing for stunning designs that fully communicate your brand's value while captivating visitors.
You'll still need a developer to bring your web designs onto the page since WordPress doesn't have its own design studio, but as long as you're prepared for that, you can make your website look however you want.
Wix
Wix is another popular website platform, with more than 154 million active users worldwide.
It's less robust than WordPress, but it makes up for that with a simple interface that allows users to rapidly publish websites.
Speed ★★★
Wix's builder makes use of a drag-and-drop editor that allows users to quickly build out websites without needing to code.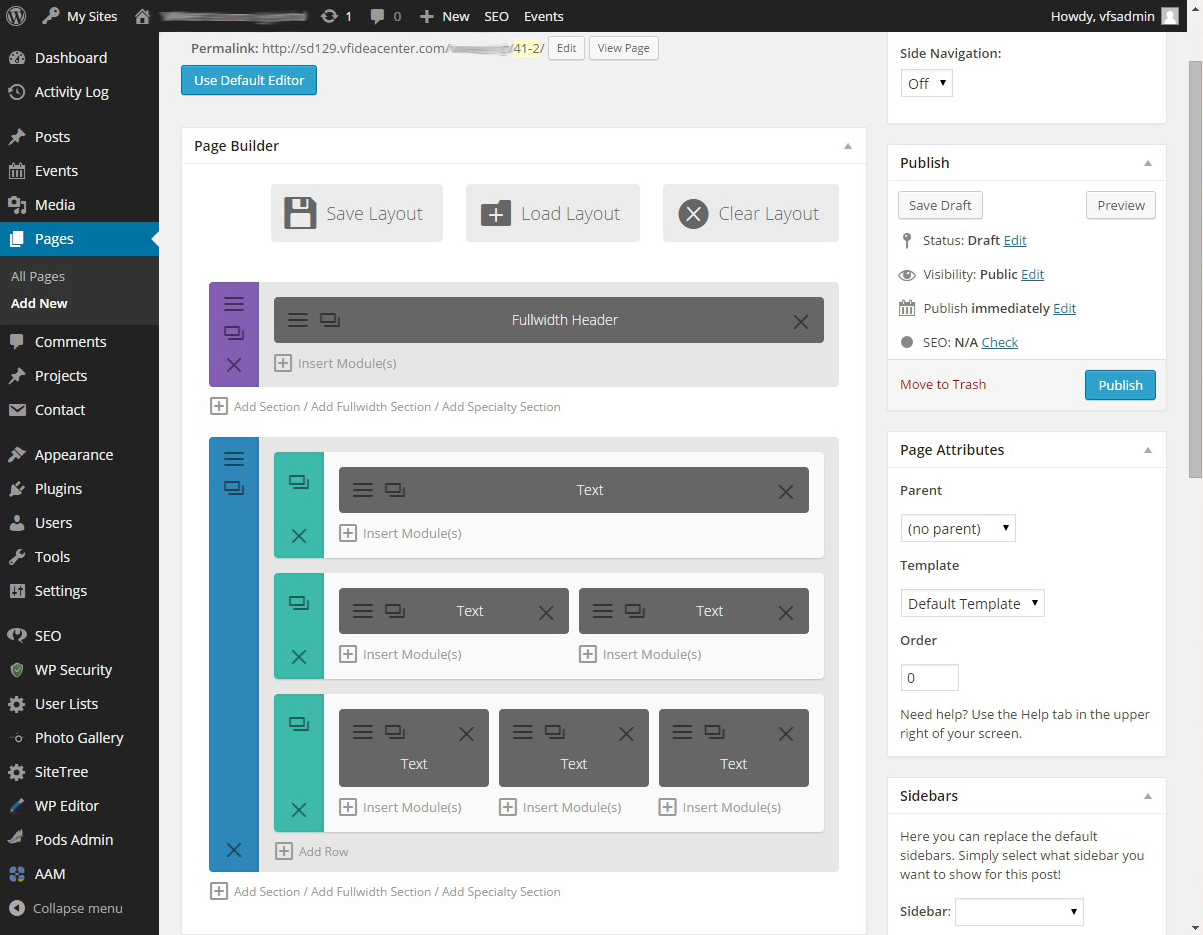 Image Credit: VisionFriendly
Users select the kinds of elements they want to bring into their website, reposition, and resize the elements, and publish with the click of a button.
With a large template gallery full of beautifully designed websites, Wix is a great option for the small business or eCommerce company that wants to get a website out right now.
Scale ★
If you're building a large site or multiple sites, Wix isn't the best solution.
Like WordPress, it charges by the domain, meaning companies must pay separately for each website they launch.
While Wix's drag-and-drop interface is great for creating smaller sites with a few pages, it isn't so great for designing large websites with complex structures.
Its top tier plan offers only 35 GB of storage (comparable to the internal memory of the average smartphone), meaning you'll have to consider other hosting options if you plan to have a lot of content and resources on your website, especially if your hosting your own memory-heavy content like videos..
Control ★★
You don't need to know how to code to make adjustments to your Wix website. You can edit copy and design straight from the editor, which allows non-developers to create new content and change existing content with just a few clicks.
While its visual interface is great for smaller companies looking to get online fast, Wix isn't very customizable as a trade-off, limiting the ways that larger companies can represent their brand online.
Design ★
While Wix allows users to create websites from a blank canvas as well as edit templates, it doesn't allow for more complex custom designs.
You can create simple interfaces and add custom colors, fonts, and images to your websites, but beyond that, users are pretty limited in the kinds of unique experiences they can create.
For many companies, this is okay; the functional benefits they get from Wix outweigh the limitations on custom design.
Using Wix will allow you to launch a website quickly with minimal customization. If custom design isn't as important to your brand as being able to control the look and feel of your website, then you'll love the ease of use Wix offers.
If you need to create a large number of websites, utilizing existing templates and designs, then Wix may not be the best option for you.
Brandcast
Brandcast is an enterprise web design platform that allows users to create custom web experiences entirely in the cloud.
This includes websites as well as other digital touchpoints that map to the buyer journey such as web books, sales proposals, customer relationship portals, and more.
Unlike WordPress and Wix, Brandcast has a visual design studio that allows users to design beautiful, engaging websites from scratch for any device size.
Speed ★★
Because of its visual design studio, Brandcast users can build websites fast.
Like Wix, it allows non-developers to quickly drag-and-drop website elements onto a page, but with the added benefit of being able to import designs from Sketch or PhotoShop without losing anything in translation.
In addition, once pages and elements are designed in Brandcast, they can be turned into templates that can be reused and repurposed over and over. The more you use Brandcast, the faster you become.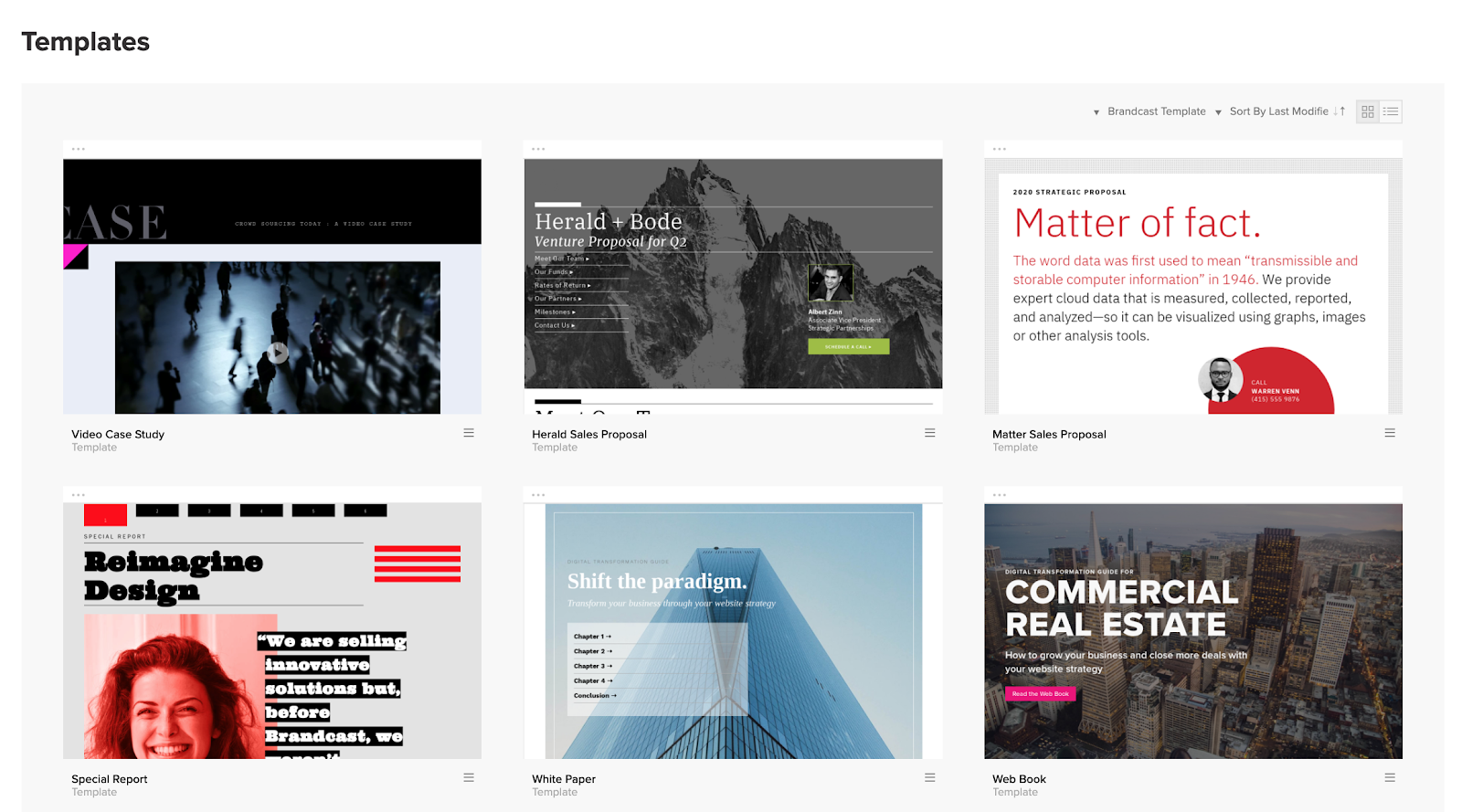 Don't have designers? No problem! Brandcast has a gallery of easy to use templates that you can make entirely your own with logos, colors, and custom fonts, allowing you to create a web experience that will engage your buyers and elevate your brand.
For some businesses that just want to get up and running with a website template (many smaller businesses, for instance) will find that Brandcast is a little too complicated for what they need.
It's great for designing something custom quickly, but for businesses that just want to use a website design already made for them will find Wix and WordPress better suited to their needs.
Scale ★★★
Brandcast charges one annual fee that allows you to launch an unlimited number of websites.
This makes Brandcast a great option for large companies with multiple brands, divisions, or products that need to launch a lot of different websites all from one platform.
While it's a great option for larger companies looking to launch a lot of web-based experiences, Brandcast isn't the best option for smaller companies looking to only launch one website.
With its annual fee and flexible platform, Brandcast is a better solution for companies that want to launch many different web experiences all from one platform.
Control ★★
With Brandcast, you have complete control over the look and feel of your website.
Whether it's updating copy, adding new pages, swapping images, or changing layouts, you can customize your website down to the pixel without touching a line of code.
Best of all, Brandcast's studio makes it easy to customize your website for multiple screen sizes, helping you be better optimized for mobile.
Just set the screen size you want to design for and make adjustments to your layout so that your website looks good on any device.
All of this requires that you have access to some kind of design resources, however.
That means it works well for larger companies who have internal designers or regularly hire for such work out-of-house, but smaller companies that want to just get online with templates may find Wix of WordPress a faster solution
Design ★★★
If you want to make an impact with the design of your website, then Brandcast is the platform for you.
Its studio editor is modeled after traditional design tools, like Photoshop and Illustrator, allows designers to create jaw-dropping experiences entirely on the cloud, so you can go from design inception straight to execution.
Take back your website
With these factors in mind, you should now have a better understanding of how to proceed with your website redesign.
Choosing a technology partner that best suits your needs will help you create and maintain a website your buyers will love while maximizing the speed, scale, design, and control you need to attract more leads and close more deals online.
Free: Assessment
Does your website build trust with buyers and bring in revenue?
Take this free 6 question assessment and learn how your website can start living up to its potential.