YouTube Will Stop Displaying Exact Subscriber Counts This Month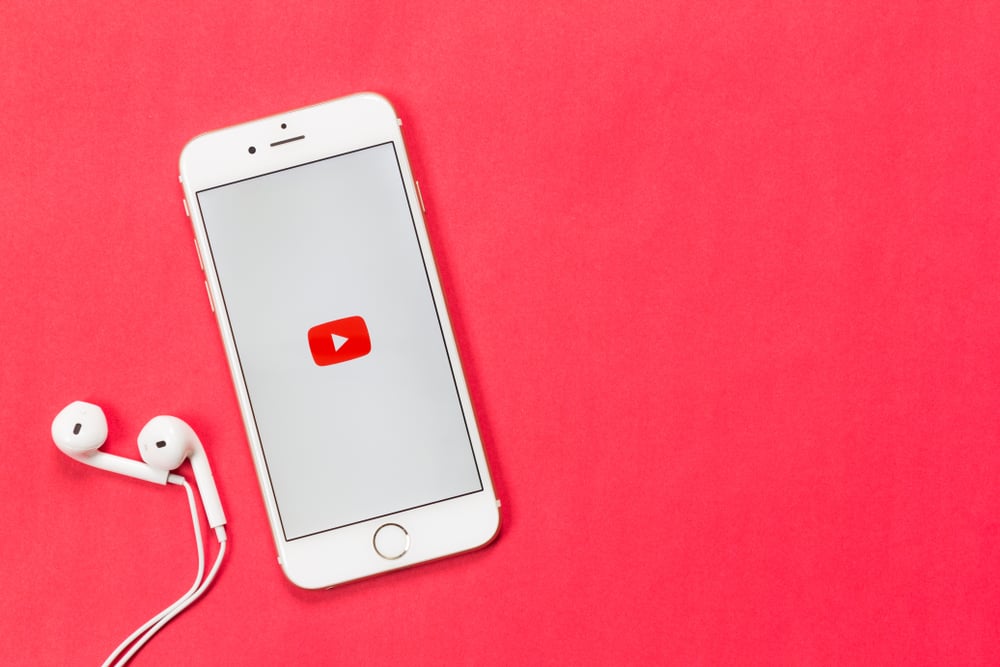 YouTube has announced plans to gradually phase out displaying exact subscriber counts for channels with more than 1,000 subscribers.
Instead of showing the exact amount of subscribers a specific channel has, users will see an abbreviated public-facing number. Creators will still be able to see the exact number on their YouTube Studio and analytics account, but it will no longer be publicly displayed.
The video platform first announced this change in May, but didn't provide concrete details of when this change would be taking place. Last week, YouTube finally clarified that the platform is getting ready to roll out this initiative during September.
Abbreviated public subscriber counts are gradually rolling out starting next week.

We heard a lot of feedback from the community following our announcement in May – we've updated our original post with more info here → https://t.co/YHRfW7JlDr

— TeamYouTube (@TeamYouTube) August 29, 2019
YouTube states that the decision to abbreviate subscriber counts is in response to growing concerns for creators' mental health and to reduce the over-fixation on fluctuating subscriber numbers:
"Beyond creating more consistency, ​this addresses creator concerns about ​stress and ​wellbeing, specifically around tracking public subscriber counts in real time.​ ​We hope this helps all creators focus on telling their story, and​ experience less pressure​ about the numbers."
This mindset seems to echo other top social platforms like Facebook and Instagram, which have also recently announced initiatives to remove engagement metrics like "like" counts from displaying publicly.
The reasoning is clear — removing these numbers can give users less anxiety over posting, and thus increase activity on the platform.
However, because many of YouTube's users create videos as their full-time job, this change raises valid concerns from both top creators and brands.
What will these changes look like?
Throughout the month, you may notice that channels over 1,000 subscribers appear slightly different.
YouTube shared a GIF summarizing how this will look below.

To further clarify, YouTube also created a chart showing exactly how each channel will be abbreviated based on subscriber count: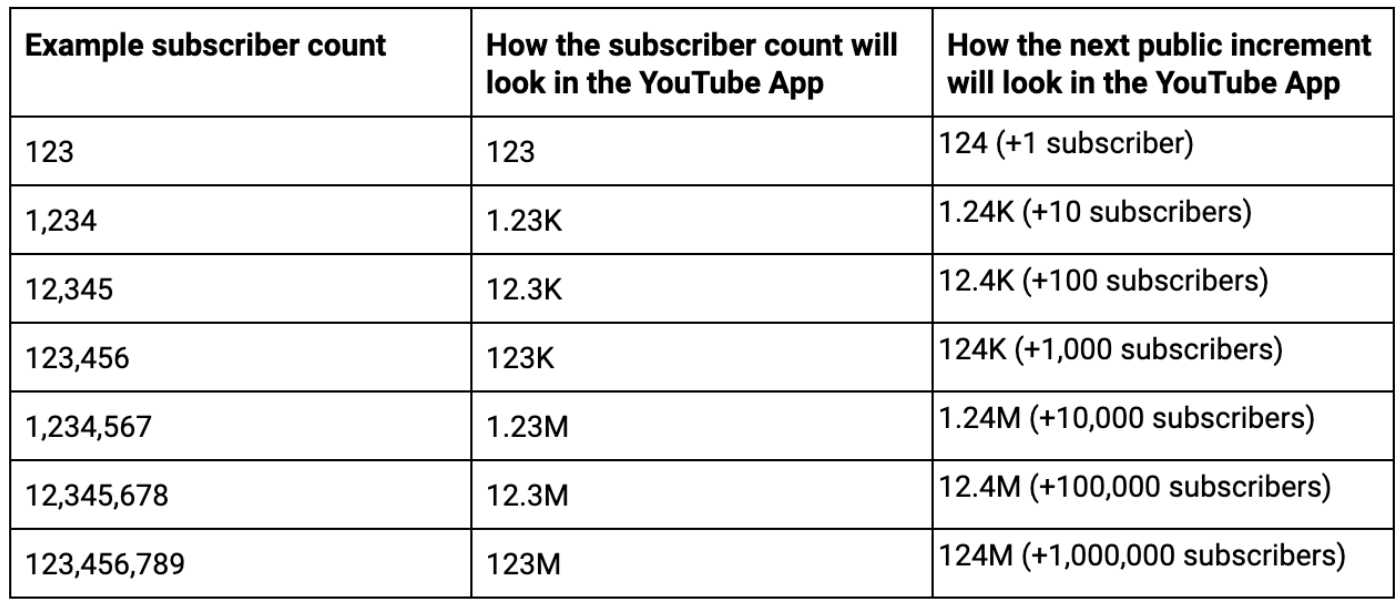 Essentially, YouTube will preserve the first three numbers, abbreviating out the rest. It's unclear if these numbers will be rounded up, based on the examples above.
This new abbreviated number will be displayed on all public-facing assets on each creator's channel. It will also extend to any third-party app that utilize subscriber counts in its services.
As previously noted, creators will still have access to their exact count in the backend, but only they will be able to see this.
How will this impact creators and brands?
YouTube's new system has sparked backlash from many creators.
Quite understandably so: after all, abbreviating subscriber counts can significantly distort how much engagement a channel actually has.
The negative effects of this change will be specifically felt by creators with larger followings — which are typically the creators who rely on YouTube revenue and brand sponsorships to make a living.
For example, if you have 2,329 subscribers and YouTube shortens it to 2.32K, it represents the actual number pretty accurately. However, if you have 20,395,892 subscribers, you'll only be shown as having 20.3M — omitting over 95 thousand earned subscribers from your profile.
This is specifically problematic because brands rely on these subscriber counts to determine if they want to partner with an influencer, and how much they're willing to pay for the partnership. If nearly 100,000 people are not displayed, this can cause creators to be overlooked or undervalued for brand deals.
Additionally, this change can create more headaches for brands looking to partner with influencers for campaigns — as they'll now need to rely on creators for exact subscription counts. Of course, this can easily be confirmed with a screenshot of the creators exact count within their analytics backend, but it requires brands to go through a more time-consuming vetting process to determine who they want to work with.
Is this the future of social media?
YouTube isn't the first platform that's tossed around the idea of limiting public access to engagement metrics — but, it will be the first to execute its plan if this fully rolls out in September as announced.
Based on recent research, "like counts" are actually the most harmful to user mental health, so it's understandable what's prompted this shift from platforms.
More and more, people are tying their self-worth to the amount of engagement they get on social media, and this is only more pronounced for younger users.
However, to be quite honest — until YouTube made this announcement, I thought a lot of this was more or less a PR stunt to "humanize" these platforms. I never thought they'd actually move forward and roll out these changes.
Even now, I can't tell if this will just be a quick fad or be here to stay. While I completely understand how toxic these features can be, I can't really picture how social media platforms would be without them, especially for brand accounts looking to grow their channels.
Here's the thing: without being able to see how other people are doing, it's hard to see where you stand. If you can't see how many followers or likes others in your industry are getting, it's hard to draw strong conclusions about your audience or see trends.
Our analytics will be in a bubble, completely devoid of context. Our communities will no longer be able to celebrate our success. If you want to protect creators from cancel culture, give them the ability to opt out of real-time tracking. Screwing us all over is not the answer.

— CaptainSauce (@TheCaptainSauce) August 29, 2019
So, if this really is going to be the future of social media, I think more needs to be done for brand accounts or influencer accounts to provide better access to these valuable data sets in the backend.
(All of this means, of course, that you're still going to need to get more YouTube subscribers if you want to succeed on the platform!)
Free Assessment:
How does your sales & marketing measure up?
Take this free, 5-minute assessment and learn what you can start doing today to boost traffic, leads, and sales.