4 Mic-Dropping Tools to Improve Your Video, Audio, Data Privacy, & Social Efforts [IMPACT Toolbox, July 2019]
Morgan VanDerLeest also recommends this free guide, The Beginners Guide to Inbound Sales.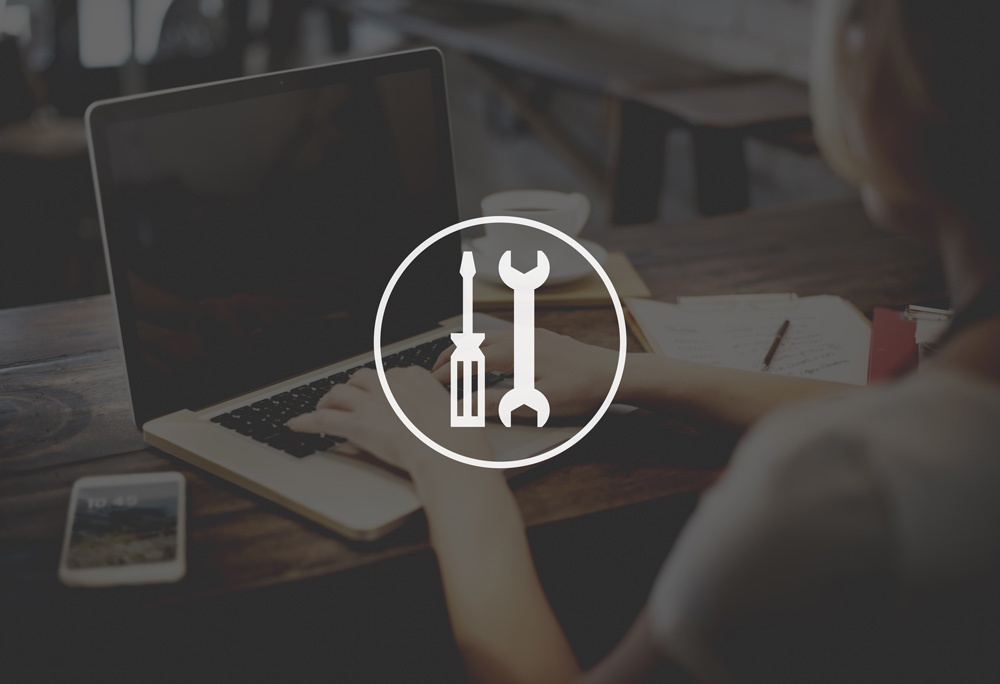 Well, that was a mouthful.
Free Guide: The Beginners Guide to Inbound Sales
Usually, when I am putting together a tools round-up, there's an underlying theme or some connecting element between the tools that leads to a catchy headline.
This time, not so much.
But it was worth it, and I think you'll appreciate the tools below.
Regardless of your business size or your budget, each one can provide an important qualitative improvement on how you are currently doing business, particularly on your website.
Let's dive in.
This article is part of our IMPACT Toolbox series
With IMPACT Toolbox, we discuss all of the latest (and sometimes underrated) sales and marketing tools that you need to try. We make recommendations by category, helping you figure out what tool is best for your situation, and introduce you to tools you may not have heard of otherwise.
Have questions about a marketing tool? Want to know whether or not we've reviewed it? Reach out to us and we'll see how we can help.
Today we're going to look at:
1. VideoAsk by Typeform: The easiest way to add video interactivity to your website
Price: Free to get started, with Pro/Enterprise tiers by request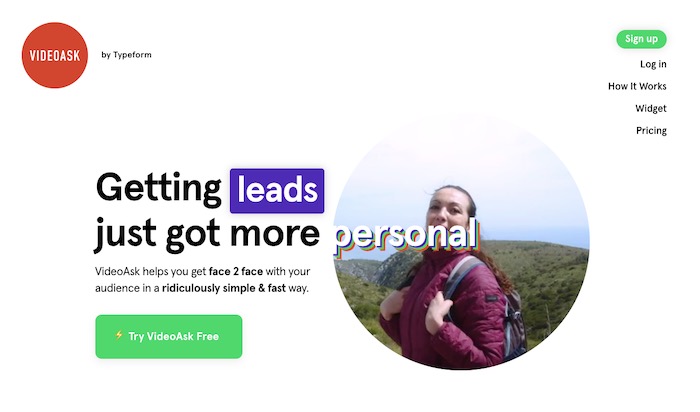 Let's cut to the chase. Video is everywhere. If you aren't using it, you are behind.
How are you using video on your website right now?
One option: VideoAsk by Typeform.
Known for improving the user experience and conversion of forms, Typeform released this tool as an iOS app and website widget originally, and recently added the ability to interact via a web browser and Android.
What is VideoAsk?
VideoAsk is a video-first conversation tool to gather responses from your audience.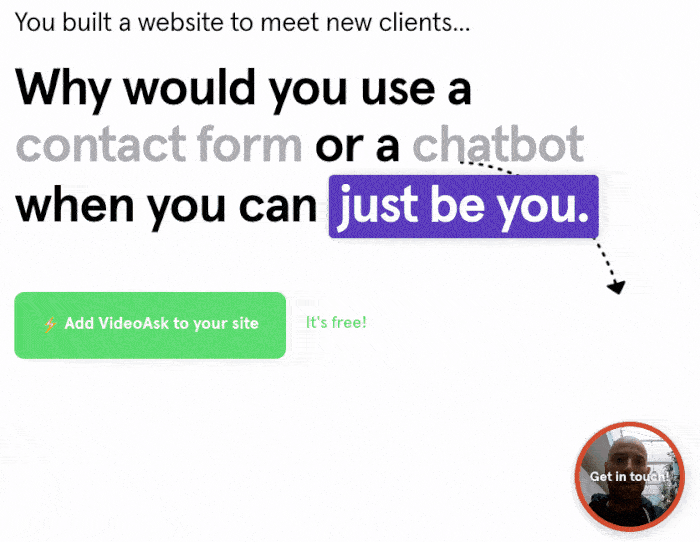 Example of a VideoAsk website widget
Start by asking a question via video. Then you can share a link, include your video as a chat widget like the one above, or embed as an <iframe> in a particular area of your site. Then you're starting to gather feedback from your audience.
For example, what's your favorite IMPACT Toolbox tool? That took me about one minute to record, title, style, and launch.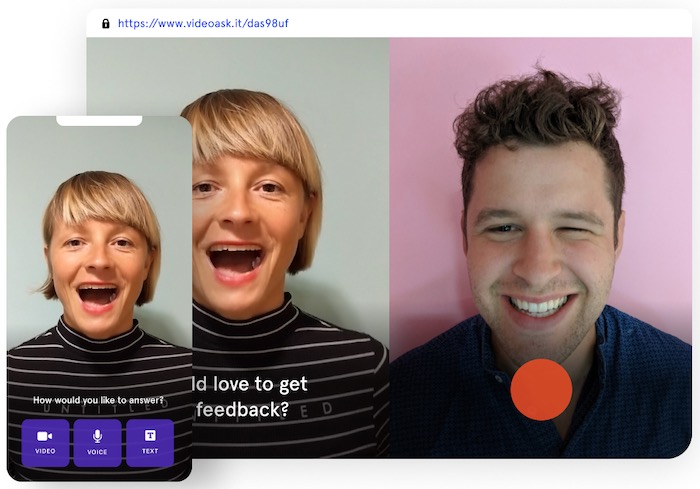 People can respond via video, audio, and text on any device.
You then interact with respondents in your VideoAsk inbox (mobile app or web browser). Get email or push notifications when someone responds, get all the interactions transcribed, and export answers to CSV files.
How does it help with digital sales and marketing?
I will answer that with another question: are you using video on your website and in your sales and marketing right now?
If yes, you may already have a tool that better fits your needs (please let me know what it is). But even so, VideoAsk is specifically designed to be a simple way to get a video in front of your audience and provide them a straightforward way to respond. This helps get videos out of your head and gathers feedback from your audience very quickly.
If not, VideoAsk is a great start.
You know the benefits of video: building trust, engaging your audience, and helping them make a connection with you even before a face to face meeting.
And VideoAsk is very much in line with today's social, unpolished, raw style of video. It allows you to put your face in front of your audience and get their personal feedback in return.
2. Metomic: A beautiful approach to data ethics and user privacy
Price: Free Forever basic option, $40/month Professional for additional features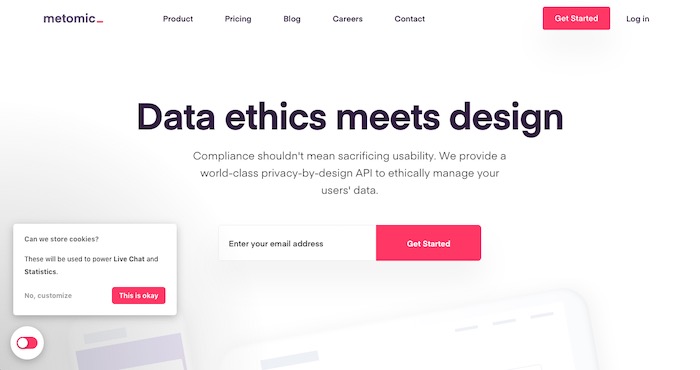 With GDPR and data privacy at the front of many businesses' and consumers' minds, how are you approaching data handling?
Your website platform probably has some form of cookie bar or notice that prevents some data from being saved until approved. But do you really know all of the ways your website is tracking your audience? Do your visitors know? Can they opt-out?
Enter Metomic.
Metomic scans your site for tracking and cookie functions and then enables you to place them behind a beautiful pop-up Consent Manager window. The Consent Manager shows visitors categories of data trackers, what they are tracking, and gives them the option to opt-in with more understanding.
I know what you're thinking. But this is just one more thing to get in the way of gathering data for my sales and marketing efforts.
And you're absolutely right. But sometimes having something in the way is a good thing.
From a pure business perspective, if you aren't playing by the rules, your business could be in serious trouble. Giving your business an added layer of data privacy abstraction could be legally necessary.
But from a consumer perspective, we live in a world of adblockers, required consent, and other data-blocking activities. Your audience wants to know what information is being tracked and why. Even if they opt-out, you have built trust with them.
We have a responsibility, as the people who gather and use this data, to gather it responsibly and to inform our audience as much as we can about our practices.
Metomic gives you a visually-appealing and in-depth way to do that.
How do I use Metomic?
Create an account and scan your site.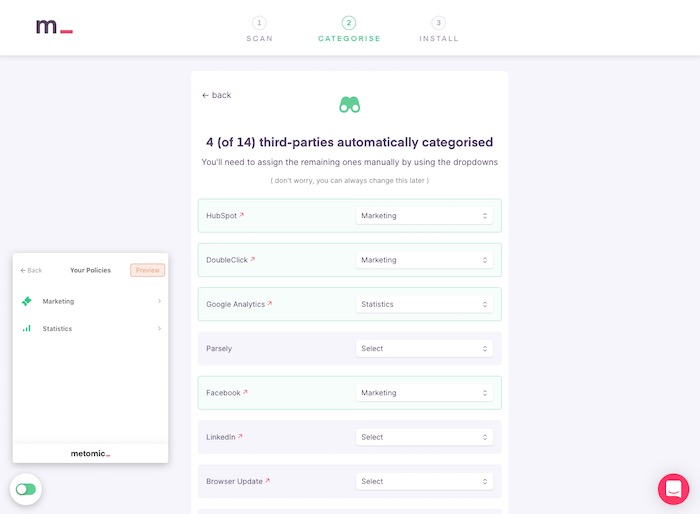 Metomic will pull up the tracking scripts it can find and try to auto-categorize them for you.
Make any changes you'd like there, and then install the script on your site or with Google Tag Manager.
If you'd like to block specific scripts from running until you have user consent, you'll need to make some tweaks to the third-party script as it is included on your site. But once you've set that up you won't need to worry about it again.
A neat upcoming feature is Metomic's Realtime Privacy Policy. If you use its dynamic policy, Metomic will automatically make changes based on the third-party provider you use and how it collects and uses data. That way, your policy is always up-to-date with the latest version.
3. Buffer Analyze: Facebook & Instagram analytics from Buffer
Price: $50/mo (after 14-day trial)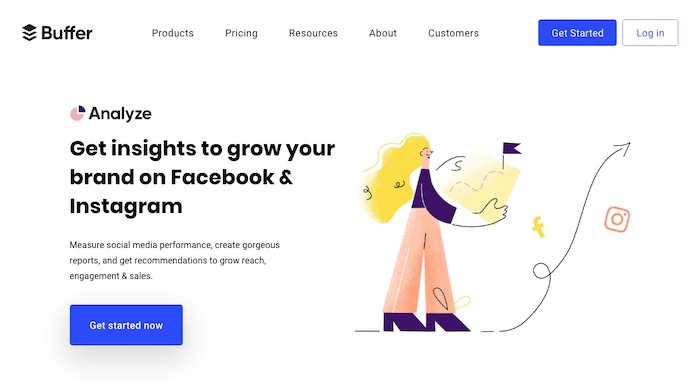 Gathered data is not very useful until you are able to process and analyze it.
Known for its social media scheduling tool, Buffer has been hard at work curating and building unique, best-in-class social media tools to expand its product offering.
The latest addition to that is Buffer Analyze, which provides growth insights based on your brand's Facebook and Instagram data.
You get an integrated, intuitive dashboard to see things like reach, followers, engagement rate, and the latest changes in each.
You'll get aggregated metrics, individual account analytics, data based on your stories and hashtags, as well as audience demographics so you can know whether you are reaching the right audience.

And you'll get answers to questions like:
What is the best day to post?
What post type does best?
What frequency drives the most engagement?
Buffer Analyze is designed to help connect your social media world with actionable insights so you can drive better business results from your efforts.
Find out what is working and do more of it — and what isn't working so you can improve it or drop it.
4. Krisp.ai: A tool to mute background noise during calls and video streaming
Price: Free trial (extended up to one year by referring), then starting at $10/month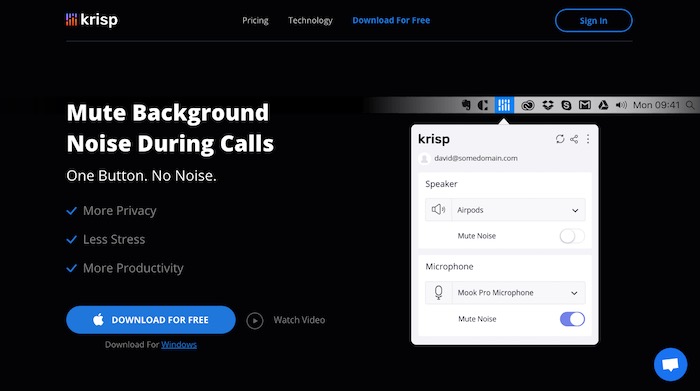 Even though this only related indirectly to digital sales and marketing, it is incredibly useful nonetheless.
Krisp helps mute background noise during video and audio calls and recordings.
It is an app that lives in your menu bar and acts as a digital "middleman" to strip out noise around you (for the microphone) and noise around whoever is talking to you.
You select your input device (whatever microphone is capturing your voice) and your output device (e.g. your headphones) in Krisp's interface. And then in your conferencing or recording app, you select Krisp as the input and output tool. Now Krisp is digitally filtering all of your incoming and outgoing audio for that tool. It's that easy.
All of the filtering is done on your device so you don't have to worry about recordings or snippets ending up on a server somewhere.
Who is Krisp for?
Anyone who uses a computer-based video/audio conferencing tool will want to try Krisp.
We use Zoom a lot internally, and I am always watching my little microphone icon to see if any background noise is being picked up to see if I have to mute myself. When I use Krisp, I notice a stark difference in how much my microphone picks up in the background, so I don't have to mute as often. It's particularly helpful if you are in a busy coffee shop or have a baby in the background!
Another great use case is if you record video or audio and don't have a dedicated studio space. Having a background nullifier like Krisp could be the difference between having to re-record a take, or a prospect clearly hearing your video message.
Make sure your message is heard by trying Krisp.ai.
Video, Audio, Data Privacy, and Social — Pick One Area to Improve Right Now With These Tools
Whether you are getting into video or looking for a way to get more consistent feedback from your audience, trying to improve the quality of your audio calls and recordings, leveling up your audience's data privacy experience on your website, or getting insights from your social efforts, you now have a list of tools that can improve at least one of those areas.
Did you find something useful in our round-up? Let us know how one of these tools helped improve your business in IMPACT Elite! And if there's a specific tool you have questions about, let us know and we'll see if we can help figure out the best option for you.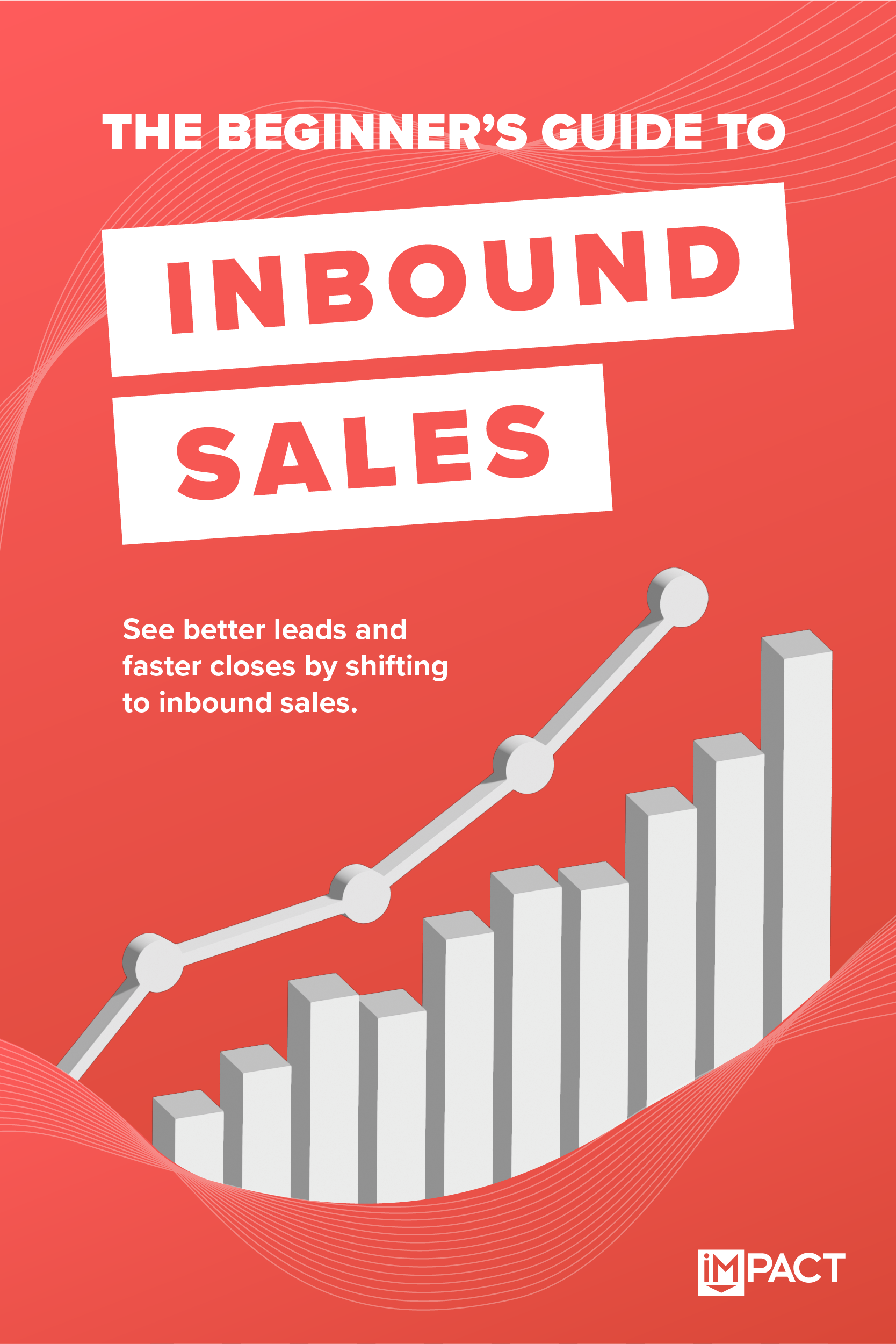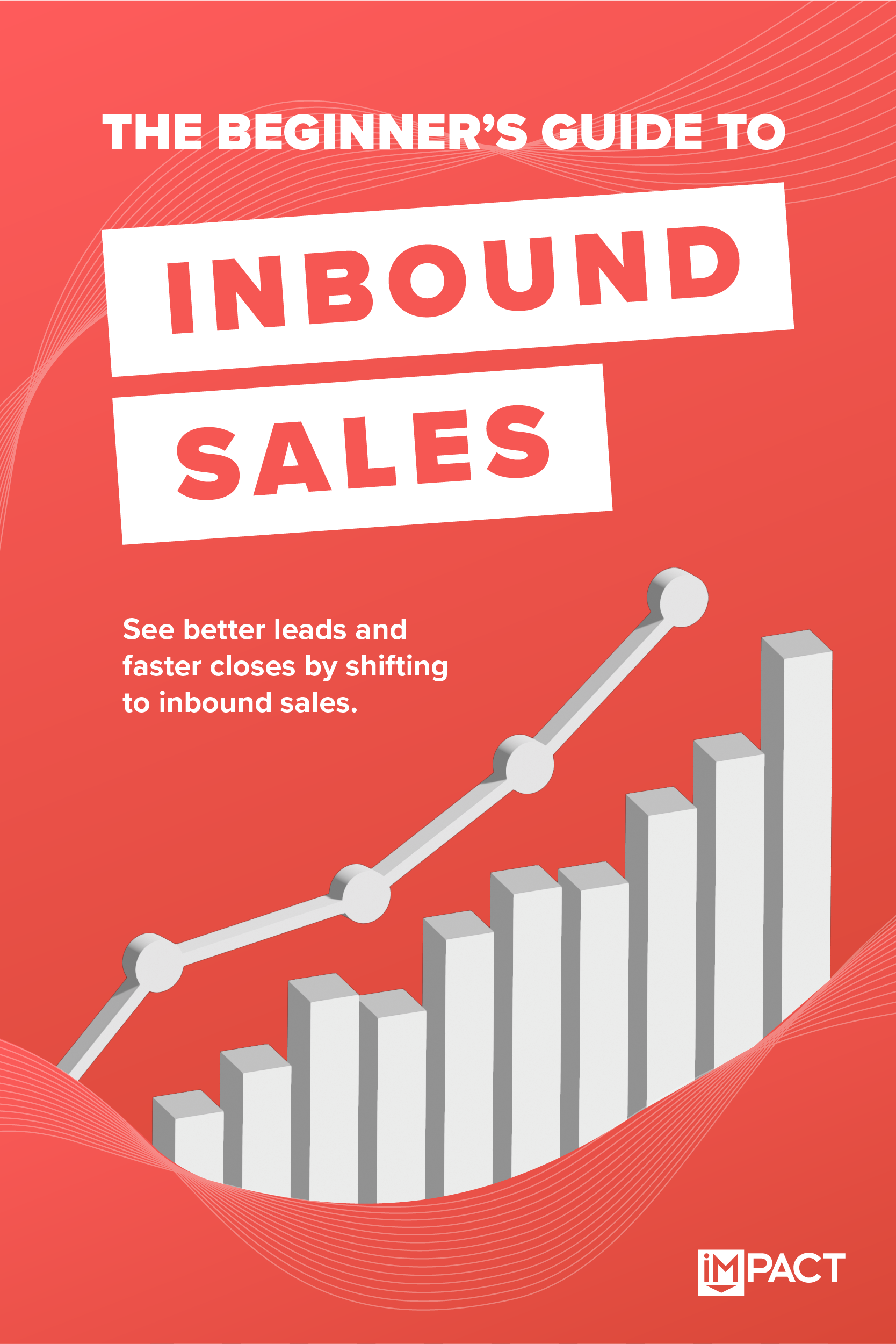 Free Guide:
The Beginners Guide to Inbound Sales
See faster close rates and happier customers by shifting to inbound sales.
In this guide, you'll learn:
Inbound Sales vs. Outbound Seals
5 Steps in the Inbound Sales Process
Getting Started and Troubleshooting
Published on July 25, 2019