Subscribe
Join 40,000+ sales and marketing pros who receive our weekly newsletter.
Get the most relevant, actionable digital sales and marketing insights you need to make smarter decisions faster... all in under five minutes.
Thanks, stay tuned for our upcoming edition.
6-Step Checklist For a Great Client Onboarding Process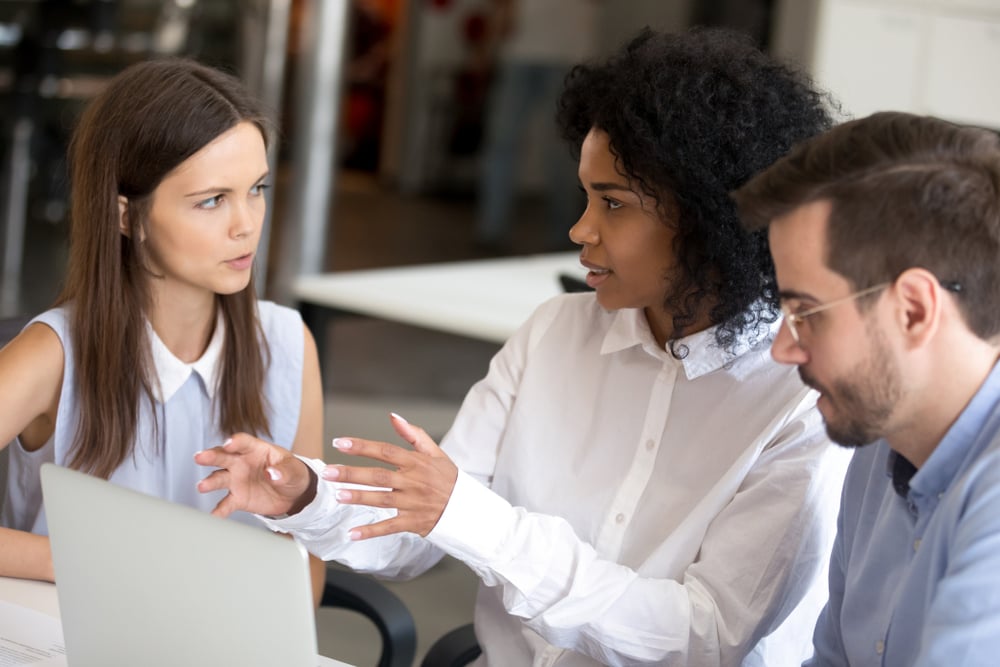 It's finally happened!
All the names have been added to the signature lines after all the meetings, calls, late-night edits, and final approvals. Your company has landed its newest client, and now it's GO time!
Now what? As the sales to service handoff happens, it is important to remember that how you proceed hereafter can make or break the customer journey.
So, how do you ensure that you and the client are set up for success? You need to create an efficient and effective onboarding process.
What is an onboarding process?
According to Tallyfy, client onboarding is:
"the process of welcoming new clients into your business, addressing their questions and concerns, and ensuring they understand the services available to them. Client onboarding is one of the most important functions for any business because it directly affects the client's experience with your company, which will affect profits."
The first 90 days of the customer experience is the most fragile, as well as the most impactful.
Onboarding helps build the customer's confidence in your ability to deliver on what was promised in the sales process.
It's a period of time when the customer is excited and interested in the direction and guidance given along their customer journey. They're ready to build a sustainable plan and dive into everything they need to learn to be successful.
When the health of the relationship and recurring revenue are on the line, it's essential to build trust, get complete buy-in, and establish clear expectations to ensure value during the relationship.
An effective onboarding process helps to enable success and satisfaction, and when properly executed and maintained, it can inspire loyalty and advocacy.
Creating an effective onboarding process
The first step to creating an effective onboarding process is to identify the lapse in your current process. Ask yourself and your team:
How is our external communication?
How is our internal communication?
What are recurring impediments for our team and our clients?
What are the repeatable tasks that could be automated?
What is the happiness level of our clients, and how can we improve it?
Reflecting on these questions allows you to understand and document a better process.
So, what does an effective onboarding process include?
Here is a simple six-step checklist to ensure a successful onboarding program.
1. Welcome the client
The client needs to feel welcome right from the start of the relationship. The welcome process should strive to elicit a response akin to,"Wow, everyone at this party is so nice and welcoming, I'm so happy I came."
In order to do this, you want to personalize this part of the customer experience. This is a great opportunity to show off a bit, go over the top, and start the relationship with a bang.
One example can be to create a personalized email template that is tailored to each individual client, their program, and yes, even their personalities.
How?
HubSpot shared an amazing article on great Welcome Emails!
Another way companies are wowing their clients in the welcome process is by using video. 54% of consumers want to see more video content from a brand or business they support. Welcome videos can be personalized and tailored to each and every one of your new clients or customers.
However, creating video content can be time-consuming.
By streamlining the process and creating one really well-planned and delivered welcome video, you'll be able to save time, all while still personalizing your message.
The video should demonstrate
Excitement
Important information about your company
Team introductions
You can translate excitement by being animated and smiling throughout the video. Let them know you feel excited to get started with the engagement!
Convey your company's values as well as how you operate on a day to day basis. Give major insight into how you communicate, and express your team's dedication.
Speaking of teams, show them off! Get the client used to seeing the faces behind the company.
Here is an example of IMPACT's own "Welcome Video."
Whichever way you communicate with your newly signed client, making sure to welcome them properly will start things off on the right foot.
2. Collect data
Collecting important client information is one of the most critical aspects of an effective onboarding process. Without this information, how can you be prepared to achieve success?
Immediately after the welcome is sent, the data collection process should begin.
Whether it's an intake form, client assigned homework, or access to tools and technology, all these areas are necessary to get your client ready and onboarded for the next steps.
If gathering by intake form, make sure the form is valuable and captures important, necessary information, which may include background about the company, additional tech set up, and much more, depending on what information is actually needed for the engagement.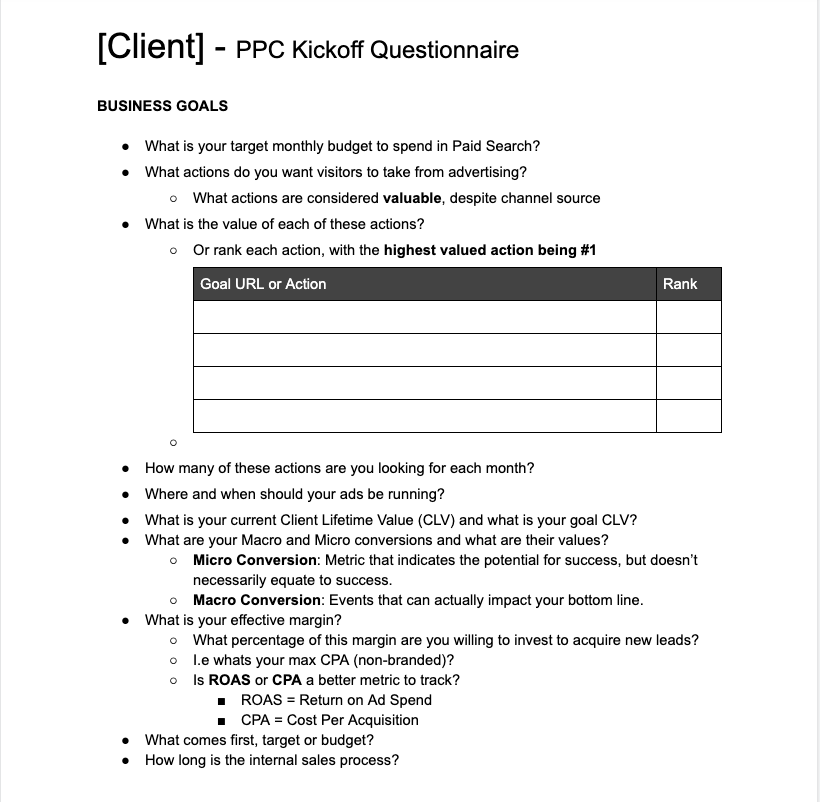 You can even achieve this step through social platforms by engaging with your clients on their territory. This can be done by connecting with them on LinkedIn or following their business page on Facebook while having them also engage with your company's social platforms.
This also helps to build your community and potentially helps them garner knowledge and understanding from others in their space who may be a part of that social community.
3. Clarify expectations
Your sales team is ready to pass off the necessary information from the sales process, which is typically less than half of the overall information needed. Services teams will need to dive deeper to understand additional marketing information such as:
What is or isn't currently working in their current marketing program?
Where are they receiving traffic to their website?
Who is their ideal audience?
Your client's goals should be clearly outlined from the start and backed by actionable deliverables to achieve those objectives.
Clarification of what is expected throughout the lifetime of the engagement is necessary and crucial. To know what your client is looking for in terms of outcomes, you must clarify mid-journey expectations with details like timing, milestones, and feedback.
To achieve success within the relationship, everyone must be involved in the goal-setting process.
Expectations should be realistic, outlined, and followed throughout the entire journey.
4. Communicate internally
Your onboarding program is not only for the success of the client, but also for the success of your organization.
Make sure your dedicated team is up to speed on all things pertaining to the client. This ensures that all processes are followed, and sets the team up for success.
Start by educating your entire team; give them an overview of the new client. Be sure they are prepared for the work involved. Make sure every team member understands the client's objectives and that everyone knows what they're accountable and responsible for.
Assign your team any necessary materials, keep track of notes, and provide access to any assessments, agreements, and any other important documents they might need.
Once they have done their homework and the team is on the same page, then the kickoff call can commence.
The kickoff call is one of the most important first meetings that takes place at the beginning of the client engagement.
This call is crucial, because it ensures your client gets to see your team members put their best foot forward, and it sets the foundation for the rest of your engagement. Not only will you get to know more about the client, but the client will get to know and understand who your team is, as well as the working dynamic of the engagement.
Use this opportunity to get insight into your working relationship, set expectations, go over any lingering questions from the sales process, and finally set goals and plan what success will look like in this new engagement together.
You can now ensure everyone is on the same page before moving forward.
5. Keep communication consistent
Steady flowing and effective communication is critical in starting your engagement, but it is also key in maintaining the relationship.
What are the costs of ineffective client communication?
According to statistics presented by Silver Bullet Group: "Over 5% of your company's annual revenue – that's the cost burden you incur for ineffective customer communication."
How can you get ahead of this cost? Start with outlining a communication process that is effective and entails the following:
A centralized point of contact
Communication schedule
Regular feedback exchange
The right communication tools
When setting up the right team, make sure the client understands who their main point of contact is going to be. This person is usually the team lead, project manager, or strategist, depending on the engagement.
Whoever it is, make sure the client knows and has access to this person from the start. Share contact information such as their full name, email address, role, and their preferred communication method.
The team should also have insight and access to the main point of contact for the client, ensuring the same parameters apply.
When setting up a communication schedule, make sure to identify client and team availability, time zones, and cadence of your calls (weekly, bi-weekly, monthly, or quarterly).
Exchanging feedback with the client is another way to ensure effective communication and consistent work. When providing feedback to the client, make sure to document and review everything you do so that you can give them a specific, detailed summary when necessary.
You'll also want to make sure your team is properly listening to the clients' feedback. Ask them questions. Take a temperature of the relationship. How can you as the team better service them?
Use that information provided to improve the overall client experience and the health of the business relationship.
6. Outline the technology and tools to use
It's crucial for your client to be integrated into the platforms the team will use to manage the project as well as the communication status.
Getting access to your client's tools and technology is essential so you have insight into how they operate.
It is equally important that the client is educated and integrated on the ones that you will need to use in your processes to ensure great communication, keep track of timelines, house a dedicated resource center and much more.
All tools and technology should be outlined in the "welcome email." You should also provide instructions on how the client can access them and get set up.
When outlining what tools and technology may work for your team and client, take into consideration the areas of the engagement that require unified visibility.
Tools may encompass a resource center housed in G-Suite that may include copies of their agreement(s), intake forms, project plans, any other important documents.
Technology may include project management (like Basecamp), billing (e.g. Bill.com), reporting (such as DataBox) and communication tools (we use Zoom).
Ensuring that your client is educated and set up properly on all of your tools and tech is crucial to the efficiency and effectiveness of your onboarding program.
Getting ready for success
Not every client is going to have a perfect onboarding experience. However, through continuous iterations and optimization of your current process, you'll only make it better, your clients happier and more successful, and improve the overall health of your company's relationships.
An efficient onboarding process ensures a solid partnership between you and the client in order to foster loyalty and help with retention.
Free Assessment:
How does your sales & marketing measure up?
Take this free, 5-minute assessment and learn what you can start doing today to boost traffic, leads, and sales.