Circa (née EventGeek) launches a marketer-friendly tool for virtual events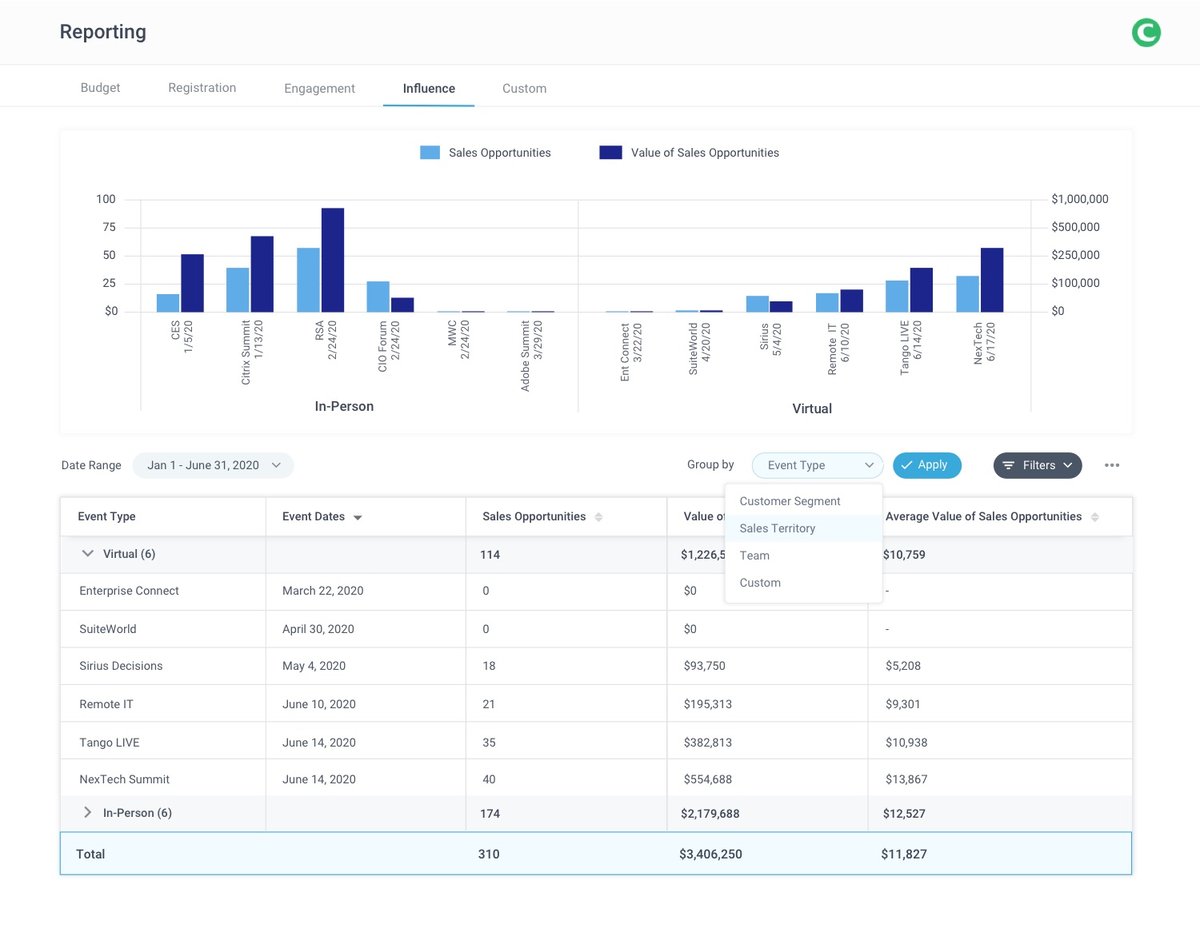 In an announcement made Monday, enterprise event planning and reporting platform EventGeek shared that it has relaunched as Circa, with an updated mission and features geared toward the hybrid-future of events.
Originally, EventGeek helped marketers manage the logistics for in-person events. Going forward as Circa, the company has added more measurement capabilities for virtual events to allow event engagement to be part of the full customer journey.
Some new features to note include:
Integration with well-known video tools including Zoom and On24
New tools to help measure engagement for virtual events including conversion from attendee to qualified sales opportunity
Circa is preparing to be the go-to solution for enterprise companies with a hybrid in-person and virtual event strategy, whether they're hosting or sponsoring the events.
However, Circa will not actually power a virtual event experience itself.
Instead, the tool puts the event into the context of the customer's full journey. Marketers can use Circa to do more personalized and timely marketing and sales outreach based on leads' participation in events.
Due to COVID-19, many well-known webinar tools have expanded into more full-service virtual event solutions. However, this is the first we've seen of an event management company looking ahead and taking a proactive step toward our inevitable hybrid event future.
Not your typical event tech company
Circa enables marketers to track event attendees through the entire customer journey. This is different from most virtual event solutions which live completely outside of marketing automation and CRM tools with, at best, a robust integration to link registration and attendance.
Even before Circa, EventGeek was always a bit different than typical event technology companies. Most event softwares similar to Circa focus on event registration. I spoke with Circa's CEO, Alex Patriquin, who said that's because registration "is the single easiest checkpoint to monetize in the whole event lifecycle."
When building Circa, the team knew their customers are marketers. This meant their customers would be using events as a marketing channel. Whether that's to sell a product or service, the most important goal of events is not to sell more tickets — it's to get more qualified leads.
Alex explained: "if you look at most event tech companies, [selling more tickets] is almost by definition the goal of their ideal customer, the event organizer."
Circa goes beyond what event organizers need and focuses on what marketers need.
"From the beginning we've been thinking about how to better align marketers' goals with the events they produce and the event management tools they use," said Alex. "With Circa, we've adapted that vision to the new COVID-19 world."
As an event marketer myself, I appreciate Circa's focus on marketers' true goals and helping us adapt to what our new normal may be.
Innovation in the virtual event space
While the Circa platform doesn't host events, those who built it are no strangers to the virtual event space. They know what it's like to be in the weeds planning events and even just hosted their own virtual event.
In April of 2020, when Circa was still EventGeek, they hosted their own virtual conference called Reboot 2020.
Unlike most virtual events in the space, this was not just another virtual-event-about-virtual-events. Reboot 2020 featured senior marketing leaders from organizations including Salesforce, Okta, and G2 who shared their experiences adapting their event programs.
It also included multiple virtual event startups like Brella, Hopin, and others to share their recent growth. This was incredibly helpful for event marketers like me who were frantically pivoting in-person events to virtual ones.
Reboot 2020 also pushed the boundaries of virtual events, many of which were popping up at the time without much innovation. EventGeek truly got creative with their conference, which included a virtual yoga class, WFH cocktail and calligraphy party, and more. They even offered virtual event swag packs for those who registered.
Alex said "we learned a ton from Reboot 2020 and how hard it can be to run virtual events effectively."
The birth of Circa
Following Reboot, the EventGeek team spent hours pulling together information from their registration system, Slack (which they used for networking during the event), Zoom (which is how they streamed event content), and their CRM.
They took time to score each attendee based on their engagement at the event in sessions, conversing in Slack, answering polls, and more. They then layered on active sales data and used this to instruct their sales team on how to do personalized outreach based on the content attendees had viewed and their responses to event polls that collected lead data.
Event marketers can certainly appreciate the time and effort involved in this tedious process. According to Alex, "this all took about ten hours of working in spreadsheets, which is bad on its own but worse because priority leads and customers deserve immediate, personalized attention from sales."
After seeing just how challenging and time-consuming the process was, the team at EventGeek knew they needed to do something differently. "So we automated all of that in the new platform. That's Circa," said Alex.
According to TechCrunch, Circa is reusing some pieces of EventGeek's existing technology, but an estimated 80% of the platform is new.
Virtual events need marketer-friendly tools
Circa's primary user is at the senior marketer level. Circa can help marketers responsible for revenue get a unified view of the customer and view event participation as part of the larger customer journey.
Plus, Circa's tools help marketers better measure events just like any other digital marketing campaign. This helps marketers and sales teams better connect with prospects and accelerate pipeline growth through personalized and immediate sales outreach to qualified event attendees.
Alex believes the data shows that "most marketers haven't even tried to adapt their in-person event programs to virtual" or are unlikely to try again after a bad experience.
While some big name companies are seeing incredible registration numbers for virtual events, Alex says this is "not representative of the vast majority of marketers." Even more, he questions these gaudy registration metrics, chalking some gains up to "people dying for community" during the pandemic.
Without the data that tools like Circa can provide, marketers are left guessing as to what is and what isn't working:
"The situation right now is a lot like SEO in 2008," said Alex. "It was very technical and everybody was raving about the benefits of SEO, but very few were actually doing it right. It took a HubSpot to come in, recoin it inbound marketing and make it marketer-friendly and broadly effective."
Just like with SEO, virtual events present a huge opportunity, but the execution and measurement is a bit too technical for most marketers to easily add into their marketing mix. Virtual events needed a marketer-friendly tool to become a truly successful marketing channel and Circa is here to provide just that.
While events may be all virtual right now, eventually in-person events will (slowly and safely) make their way back into the mix. It won't be all at once and it certainly won't start with large conferences and trade shows.
This means we'll inevitably see combination-style events that include in-person and virtual components. According to Alex, "Circa hopes to bring data and intelligence from virtual events into the hybrid experience." This will help marketers make better decisions about how their events drive revenue for the business.
Your virtual event tech stack
While there are tons of virtual event tools out there that can do everything from registration to live streaming to 3D slides that lay over a speaker video, Circa is the first and only tool I've seen that truly focuses on bringing event attendee engagement into the full buyer's journey in a way that helps marketing and sales nurture and close more deals.
If revenue from ticket sales is your primary goal, you probably don't need a tool like Circa. However, if your events are a lead-generation opportunity, you may want to consider Circa.
At the very least, make sure you're taking the time to measure attendee engagement in your events and use it to personalize post-event marketing and sales outreach.
Free Assessment:
How does your sales & marketing measure up?
Take this free, 5-minute assessment and learn what you can start doing today to boost traffic, leads, and sales.