Do you need a sales mentor?: 5 reasons the answer is yes for B2B sales pros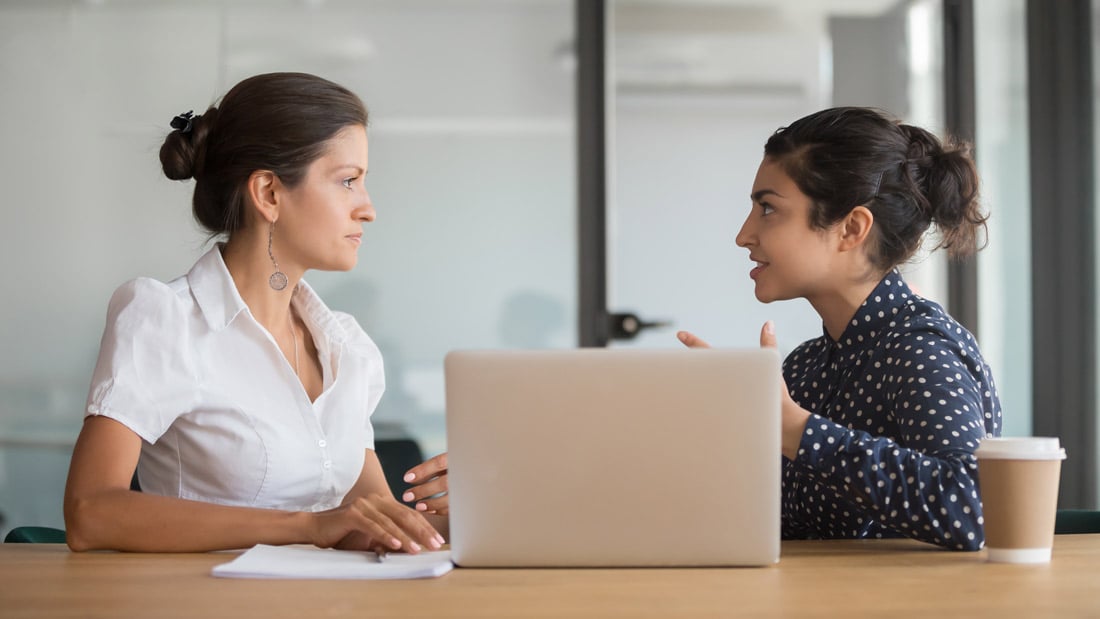 A sales mentor plays a very different role in your sales career than your sales manager.
Your manager is where you go for job-related coaching. Things like guidance on your process, available tools, and best practices specific to your company or team. Your mentor, on the other hand, tends to look at the bigger picture and is more focused on personal and career development for you as a salesperson and professional.
That means your sales manager can only take you so far. In fact, over 47% of sales managers spend less than 30 minutes a week coaching reps on skills and behaviors. According to Forrester's Mary Shea, sales organizations are either "not enabling their managers to do so, their managers don't have time, or they don't know how to do it."
This is just downright concerning, as we know how critical coaching is to a sales rep's success and performance, especially during times of change like we've all experienced due to COVID-19.
Adapting to a new sales environment, like using an entirely virtual sales approach, requires dedicated effort, training, and coaching. You need new and different skills, ways of thinking, and creative ideas for communicating with prospects, customers, and your own team.
This is where a mentor can help.
Mentors can inspire your creativity.
Mentors can be connectors.
Mentors can help you avoid learning things the hard way.
Mentors can help guide your career path
Mentors will challenge your old thought patterns and habits.
Consider these five reasons to invest in your sales career and find yourself a mentor.
1. Mentors can inspire your creativity
Creativity is one of the most undervalued sales skills: companies that foster creativity are 3.5 times more likely to outperform their peers in terms of revenue growth.
But creativity is an innate trait, right? Not necessarily. Creativity can be learned and honed.
A mentor can guide you through this process by reminding you of things you've forgotten about or never considered. For instance, they may prompt you with questions that make you reflect on things you used to do when you were a child.
Channeling your inner-child and the activities you used to do can stimulate your imagination, helping you adapt and solve problems. Or they may suggest trying a new activity as a way to break out of a sales rut.
Think about this when looking for a mentor: To really get the creative juices flowing, find a mentor who has a different background than you. Learning from someone whose experiences differ from your own will help you look at things with a fresh perspective. For example, if you're in software sales then find someone who has experience in other types of sales like advertising or media.
2. Mentors can be connectors
In one of my favorite books, The Tipping Point, author Malcolm Gladwell talks about "connectors." These are the people in a community who know large numbers of other people and are in the habit of making introductions. Connectors usually know people across an array of social, cultural, professional, and economic circles, and leverage their own connections to bring friends and acquaintances together.
The right mentor can do this for you. They can provide access to and introduce you to people who can help fuel your career and get you closer to reaching your professional goals.
Since sales is arguably all about building, nurturing, and maintaining relationships, a little help in meeting the right people can go a long way in leading you to opportunities that you may not have had otherwise. Think warmer leads, more prospects, and better client relationships.
Think about this when looking for a mentor: Does your mentor have the same network as you? If they do, consider finding someone who is outside of your immediate professional circle. You want to expand your network and connect with new and different people.
3. Mentors can help you avoid learning things the hard way
Mistakes are a part of learning, growing, and gaining experience, but sales is challenging enough as it is. That's why having someone who has "been there, done that" can help you learn the lesson without all the heartache.
For example, a lot of sales pros who are just starting out may overlook the need to do certain "basic" things like research and preparation before attempting to reach out to a prospect.
This is an embarrassing experience, to say the least, especially if you're going after a high-level executive who expects to get nothing but value from every conversation.
Find a mentor who has been where you are and faced the same problems. Then, listen, learn, and let them guide you so you know how to avoid making similar mistakes in the future.
Think about this when looking for a mentor: You obviously want a mentor who has been a salesperson and has sales experience, but consider looking beyond the person's title. For instance, finding a business owner who knows the ins and outs of their business can give you even greater insight into sales because they've lived every aspect of it.
4. Mentors can help guide your career path
Weighing the pros and cons of making a career move is challenging. A mentor can provide an unbiased yet experienced opinion that can help guide you in the right direction, especially as they get to know you and can make certain observations about your strengths and weaknesses that you may not be able to see on your own.
For example, a mentor could give you a task or goal to try to accomplish and then watch how you complete the project from a distance.
Perhaps they'll pick up on certain character traits or values that you demonstrated, which could suggest to them you are ready for a leadership role or help you focus on the traits that need work to get there. This is an important observation that would guide their career recommendations for you and steer you into a role you may not have thought you were ready for yet.
Think about this when looking for a mentor: What direction are you trying to take your career? Really consider what you want to accomplish and what type of guidance, support, and encouragement you need to get there. Your mentor needs to align with this.
5. Mentors will challenge your old thought patterns and habits
Being a sales professional requires self-motivation, self-discipline, and self-awareness, but an outside perspective can help you change old thought patterns, break bad habits, and cultivate new behaviors to reach your potential.
Oftentimes in sales, we get so involved in our own routines and ways of selling that once we find something that works we don't (or won't) change it. We stop trying new things, don't ask for feedback, stop practicing and role-playing, and take any shortcut we can find. All of this will put you on the fast track to becoming complacent.
Good mentors are a reliable resource for getting unbiased feedback.
They will give a little (or a lot) of tough love. They will give you constructive criticism and help you create necessary boundaries that you might not be able to set for yourself —boundaries like knowing when to take a break from work to focus on your well-being, or knowing when to walk away from a bad-fit opportunity.
A mentor is also an accountability partner. Working with them to role-play, rehearse, and improvise different sales scenarios will not only help you sharpen your skills but will also help you (and your mentor) spot areas for further practice and improvement that you may be overlooking on your own.
Good mentors give practical advice, encouragement, and support. They can help you see things in yourself — good, bad, or ugly — that gives you perspective. This can help you sharpen your focus and clarify your priorities. Ultimately, helping you break free from any unproductive habits, thoughts, or behaviors.
Think about this when looking for a mentor: You're the only one that can hold yourself accountable, but, mentors can certainly help. What expectations will you have for your mentor when it comes to holding you accountable for changing bad habits? How involved do you want them in the process?
Finding the right sales mentor for you
It takes the right type of person to be a mentor. It also takes the right type of person to be a mentee.
When you're looking for a mentor, you want someone who is trustworthy, successful yet humble, and positive yet realistic. You need someone who is an effective communicator and a great listener.
As you prepare to be a mentee, you need to keep an open mind. Be prepared to show some vulnerability. If you do, then you will greatly benefit from working with someone who can give you professional advice and guide your sales efforts.
When you establish the right mentor-mentee relationship, you'll improve your personal and professional skills while growing your network and expanding your perspective.
Are you ready to find a mentor? You're in luck! We just launched a new 1:1 virtual sales mentoring and coaching program with three different "flavors" depending upon your needs. Plus, for our IMPACT readers, you get one complimentary session with any package you select. Just mention this blog post when you reach out!


Free Assessment:
How does your sales & marketing measure up?
Take this free, 5-minute assessment and learn what you can start doing today to boost traffic, leads, and sales.