[New Data] 3 ways to win more revenue from the 2020 State of Competitive Intelligence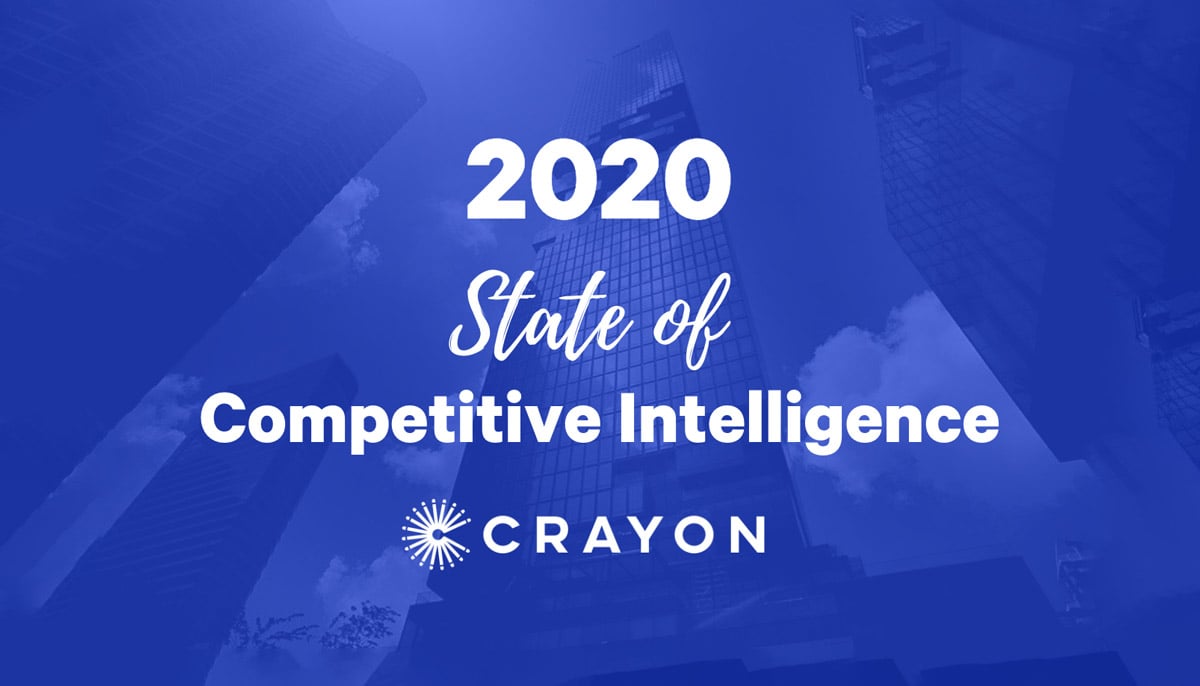 Every business has competitors.
In fact, according to Crayon's 2020 State of Competitive Intelligence Report, each business is battling an average of 29 competitors.
Whether you have just a few fierce rivals or a large universe of opponents, competitive intelligence (CI), or your level of insight into their strategies and behaviors, can be the key to getting - and staying - ahead.
Competitors affect the deals that we win or lose, they affect the effectiveness of our marketing campaigns, and they affect how our marketing messages resonate with our prospects.
If we can get better intelligence on our competitors' moves, then we can turn that into better marketing campaigns, messaging, sales enablement tools, product decisions, and more.
But how do you go from just keeping tabs on your competitors to actually winning more revenue?
Turns out there are lessons we can learn from our colleagues taking on that very challenge.
For those of you not familiar with it, the State of Competitive Intelligence Report is the largest study of the trends and best practices in competitive intelligence and market research.
The 2020 report is Crayon's third annual publication, and digs into the responses of more than one thousand CI professionals (think competitive intelligence managers, product marketers, etc.) and stakeholders (think salespeople, product managers, executives, etc.).
In this article, I'll share three of the biggest actionable tips uncovered from the survey's responses and explain how companies are actually seeing revenue impact as a result. Let's dive in!
1. Set targets for your competitive intelligence
You can't manage what you don't measure, as the saying goes, and that applies to competitive intelligence just as much as anything.
Measuring impact of CI is one of the top challenges of CI professionals, and less than half (44%) even have any key performance indicators (KPIs) to determine how they are affecting revenue.
Those that do take the time to determine KPIs for their work are more than twice as likely to see revenue impact as a result of it.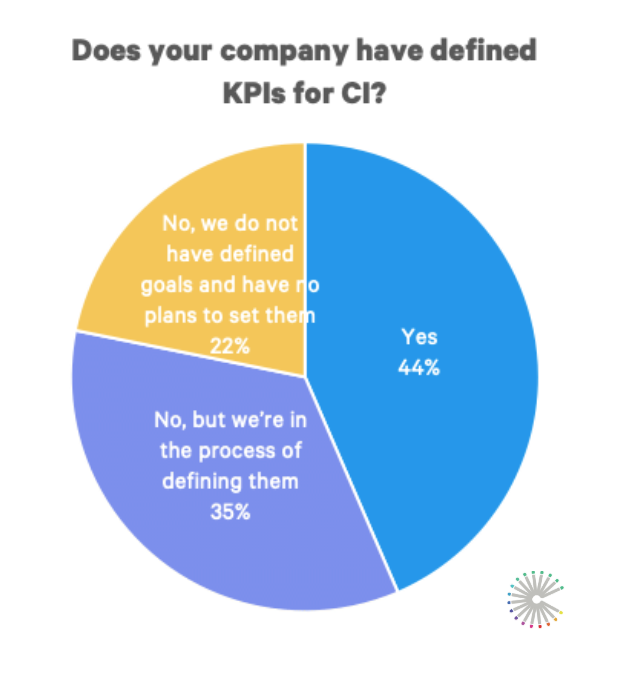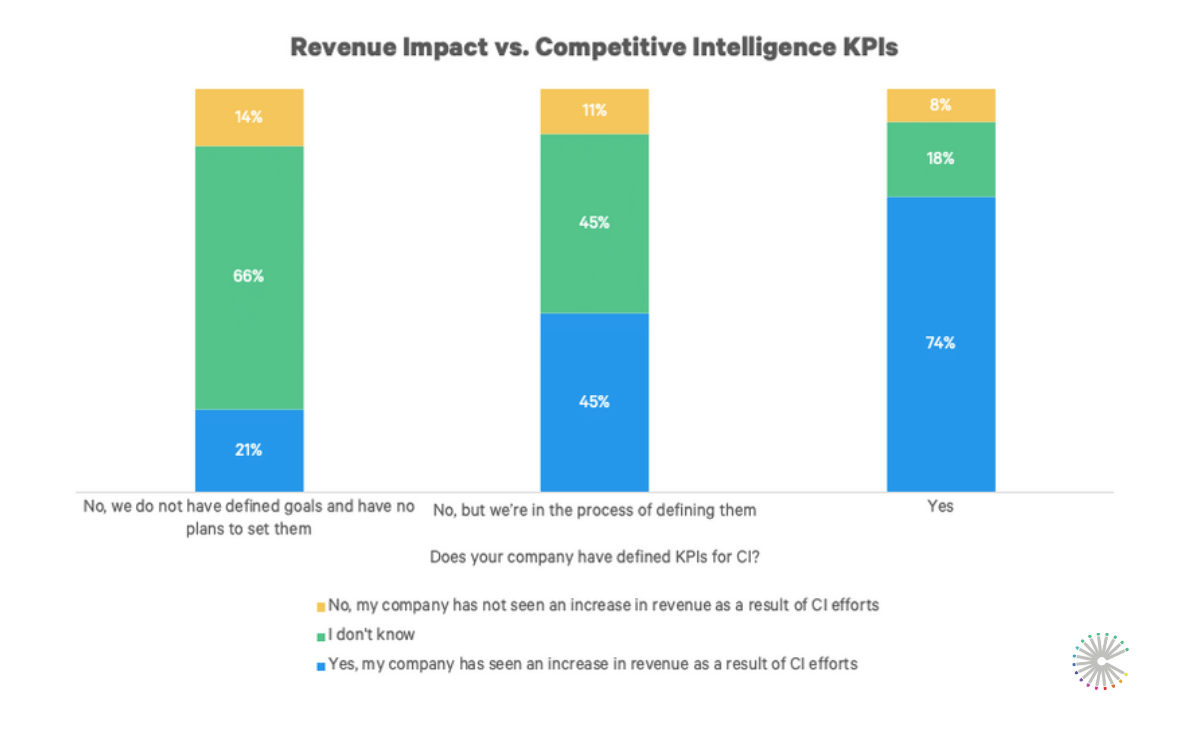 What does this mean for you?
Set targets for your competitive intelligence. Even if they're a work in progress, even if they're more qualitative than quantitative, have something to measure your competitive intelligence work against.
Some of the top CI KPIs used by companies today include qualitative measures, like survey feedback, to see if internal teams are finding it useful.
The top five KPIs used for CI today include:
Revenue
Engagement/views of CI resources
Market share
Customer satisfaction
But more than any one KPI alone, the combination of a few measures can help round out the impact picture for CI. Many teams are indeed using a few metrics to get a better picture of CI's impact.
Making the conscious decision of what metric or KPI you want to move with your competitive intelligence keeps your eye on the ball so that you're more likely to make use of that intel to impact those metrics.
In other words: want to drive revenue with your CI? Set revenue as a KPI.
2. Keep your resources fresh
Competitive intelligence is useless if it's stale and out-of-date.
Updating CI resources like battlecards, competitor profiles, and landscape analyses, is a prerequisite for getting actionable intel into the hands of the internal stakeholders, like product managers and salespeople, that need it.
Also, it turns out that those who update and share intel more frequently are more likely to see that revenue impact at the end of the day.
In fact, those that update and share intel on a daily or weekly cadence saw the best results: they were more than 2x as likely to see revenue impact compared to those that update or share intel quarterly or annually.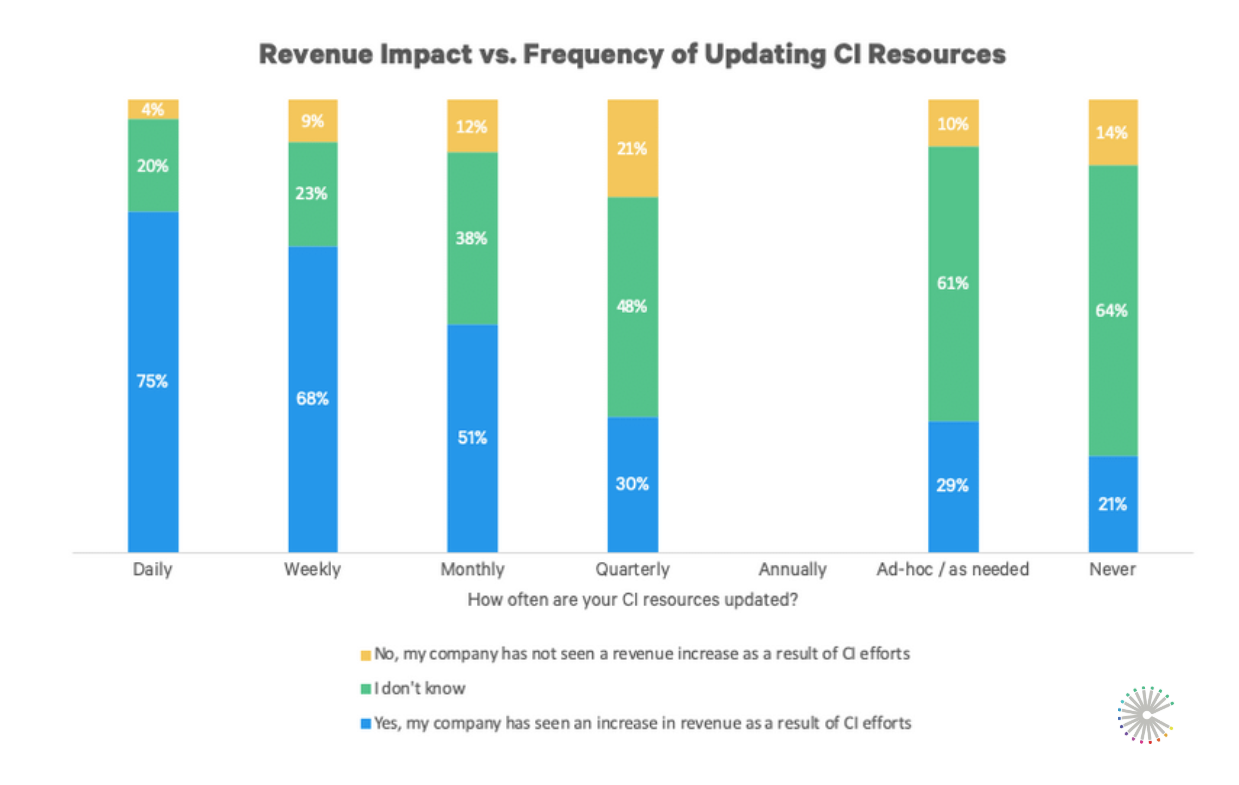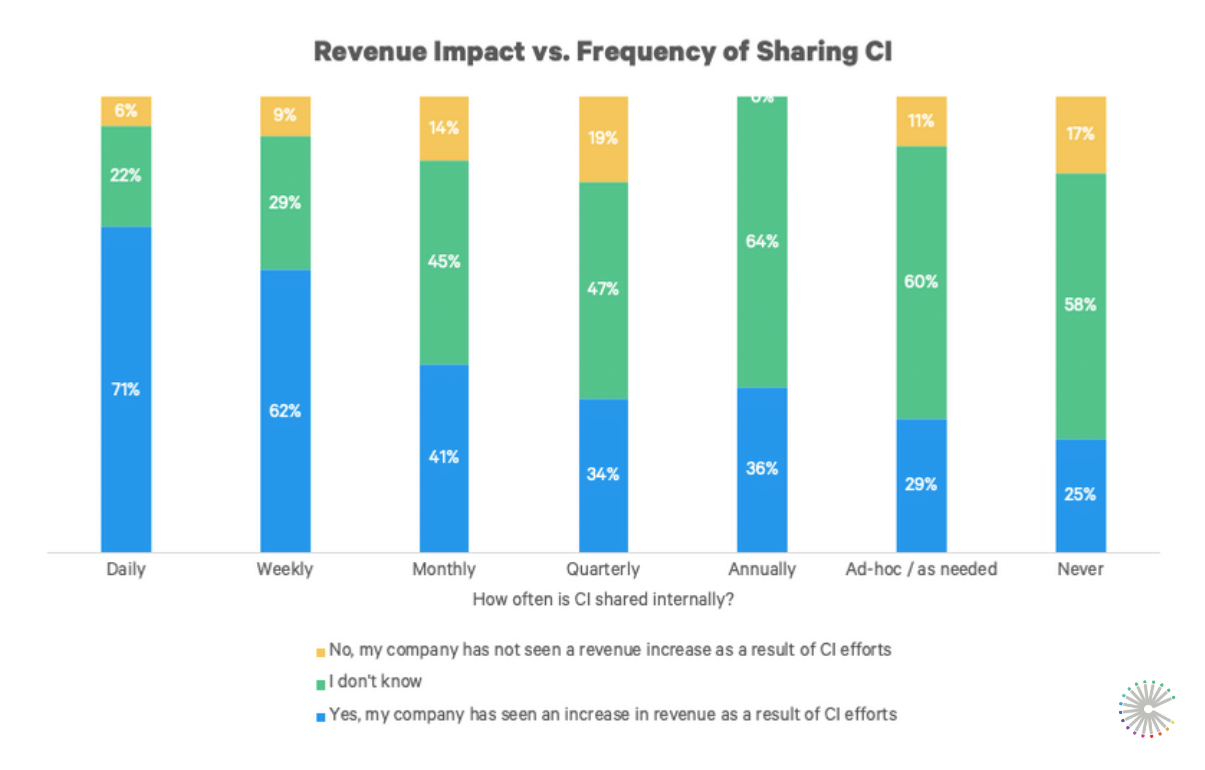 What does this mean for you?
Freshness of competitive resources is table stakes.
Industries change quickly so businesses and their marketing behavior must follow suit. This means that your competitive intelligence from last week may not be relevant this week.
Keeping your competitor profiles, competitive update newsletters, and all of your other CI resources updated can seem overwhelming. But you don't have to do everything all at once -- start small.
Start with one, top priority, competitor battlecard. Then, expand from there to other competitors.
Don't have any competitive resources?
Start with a monthly newsletter for all stakeholders. Then, expand to weekly email recaps of competitor moves, or email recaps tailored to sales, product, etc. In other words, start with one competitive resource, get feedback, then optimize and expand.
And automate what you can - email alerts from Google alerts, Buzzsumo, or any other CI platform can be customized and automated so you can get intel into your stakeholders' hands quickly without extra manual effort.
Getting intel to your stakeholders faster might even invite them into the competitive intelligence process to get their take on competitors' moves as they happen.
3. Enhance your existing workflows and processes
According to our survey, the most effective channels for sharing CI were tools that your teams are using every day: sales enablement, CRM, and competitive intelligence platforms and it makes sense.
Competitive intelligence is not meant to be on an island, something that's done in a dark corner and filed away in a marketer's notebook never to be seen again.
To have an impact on revenue, that information needs to get into the right hands.
For example, if a competitor launches a new product or service offering, your sales team needs to know it. They need to know the product details, the price, the use cases, and, of course, how to position your solution as better.
The best way to get that intel into your sales team's hands (and heads) is integrating it into your existing processes to make them better — for instance, logging in and updating their CRM every day.
While meetings and emails are the most commonly used channels, it's these existing software platforms that are better able to get the intelligence ingrained into existing team workflows.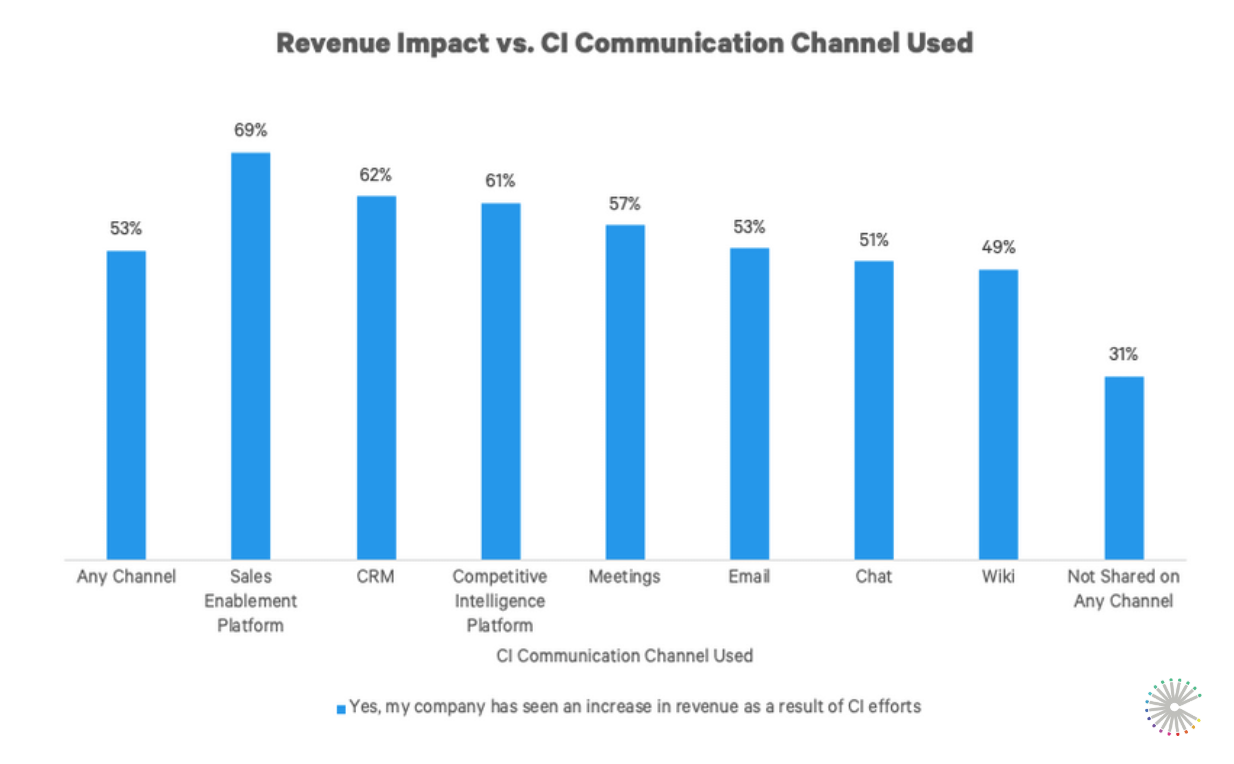 What does this mean for you?
Find the tools that your stakeholders use every day and integrate your CI resources into those platforms.
For sales, this is probably the CRM or sales enablement platform.
Being able to see, front and center in the sales enablement platform, that a competitor has a current promotion going on and how to dismiss it, is the fastest way to get the out of a deal.
For marketers, this could mean direct access to your CI platform, where intel is coming in every minute, rather than waiting for a competitive update report monthly or quarterly.
Direct access to a feed of competitive intelligence allows marketers to jump on new content published or new messaging launched by a competitor to be able to act fast.
Existing team meetings can also be a useful avenue for getting CI ingrained into the company's current workflows.
If you have a weekly marketing team meeting, this can be an opportunity to recap competitor moves and strategize new campaigns. This will help with adoption and engagement of CI resources, and reducing the separate effort required to distribute CI assets.
Eyes on the competition
Want to see results from competitive intelligence? Think through your desired end result and follow the paths discovered by your peers.
Discuss and set those KPIs up front - identify that desired end result and how you'll know if you get there. These will be your north stars.
Make sure you're updating and sharing intel on a regular basis, because fresh intelligence is impactful intelligence.
And get ingrained your teams' workflows - this is how you turn information into action, to ultimately drive that revenue impact.
This gives you the best chance of realizing the full impact of competitive intelligence.
Make sure to check out Crayon.co's 2020 State of Competitive Intelligence for more eye-opening statistics and trends to help you navigate the next year!
Free Assessment:
How does your sales & marketing measure up?
Take this free, 5-minute assessment and learn what you can start doing today to boost traffic, leads, and sales.