7 Must-See Graphs: How Companies Are Using Competitive Insights to Get Ahead in 2019 [New Data]
The market landscape is getting more competitive every day.
In fact, new data from Crayon's 2019 State of Competitive Intelligence report revealed that companies battle 25 competitors on average, and 87% say their market has become more competitive in the last three years.
So, how are businesses standing out in an increasingly competitive landscape?
In this article, I will share 7 eye-opening graphs that showcase how marketers are using competitive intelligence to get ahead and how you can do the same.
Investing More in Competitive Intelligence When There's More at Stake
It's no surprise that more and more businesses are investing in competitive intelligence (CI) as a specified function.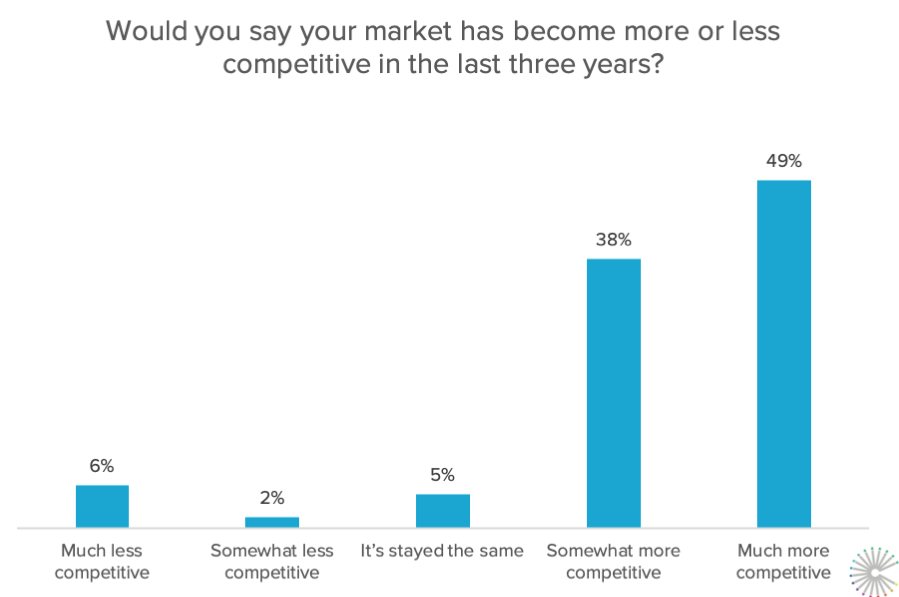 80% of businesses have at least a part-time employee working on CI, and the greater the potential impact of CI - larger teams to take advantage of it or larger sales opportunities to win or lose - the more likely businesses are to invest in it.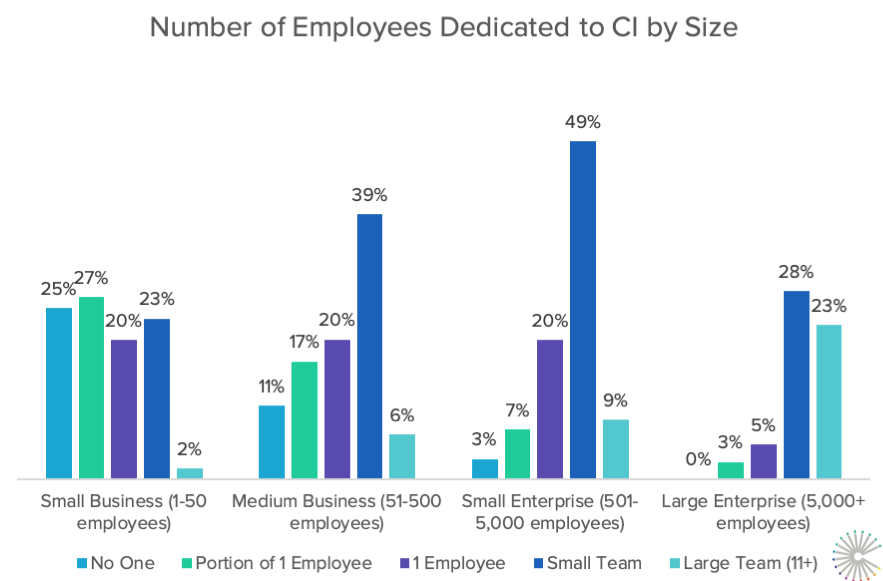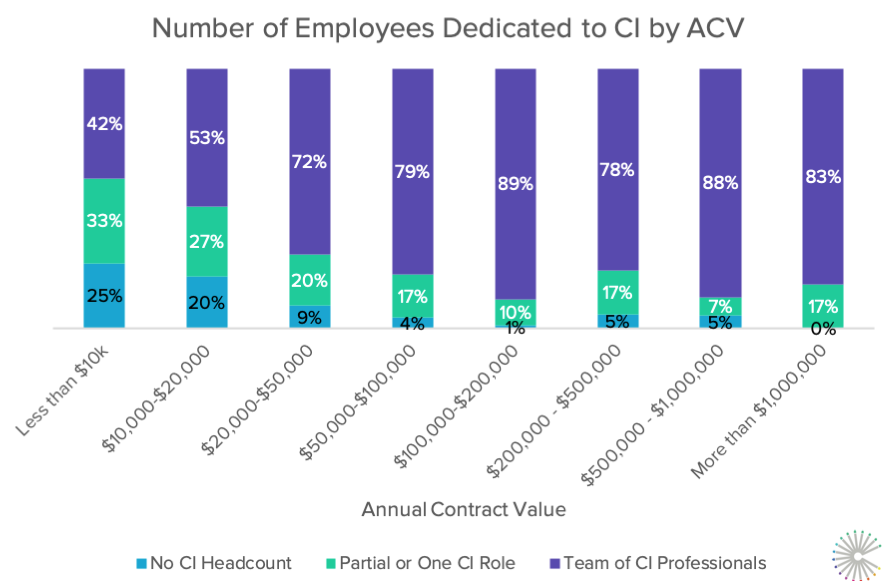 If you're not investing in CI, you can bet that your competitors are and that you'll be at a disadvantage if you ignore what's happening in your market.
You don't need to go from 0 to 60 overnight with your CI program, though.
A great way to get started is to identify a short list of your top 3-5 competitors and a few areas that are hot-button issues: marketing channels, key product differentiators, etc.
Then start capturing and analyzing intelligence related to those themes.
Bringing Actionable Competitive Insights to Every Department
Competitive insights can be leveraged by every team across a business.
The most common use cases for CI included improving marketing performance, enabling sales, and informing product strategy.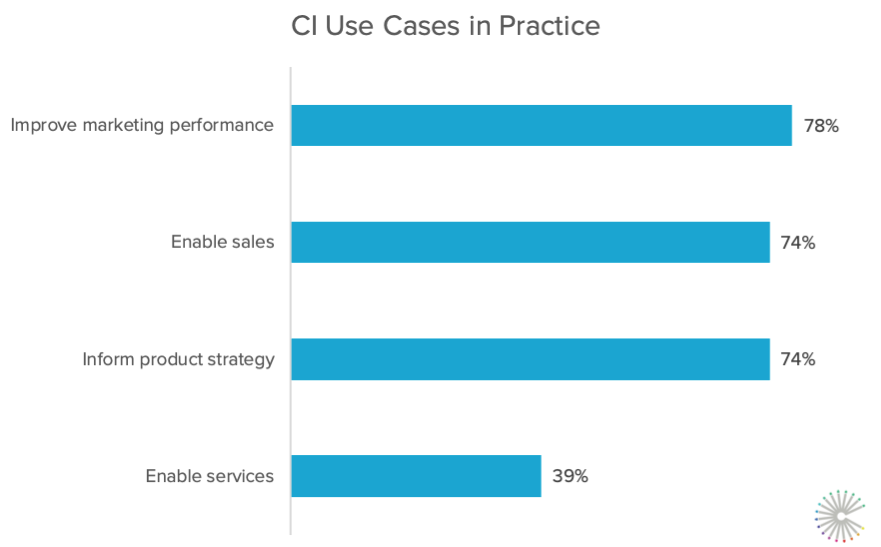 When you're building your CI program, think about all of your stakeholders, including sales, product, and marketing.
Talk with each of these teams to understand what issues and questions are top of mind for them, and then come up with a few themes, insight types, or deliverables that will be most impactful for them.
For example, perhaps your marketing team is looking for a monthly content analysis to differentiate its content marketing strategy.
Perhaps your sales team wants up-to-date battlecards to best position the company in competitive deals.
Perhaps your product team wants deep-dive product information on a particular competitor's product line to support upcoming feature development.
Starting with one deliverable for each team, tailored to a current priority, is a great way to have an immediate impact with CI with limited resources.
Delivering ROI with Competitive Intelligence
The benefits of CI are wide-reaching.
91% businesses say they've seen quantitative results and 95% say they've seen qualitative results from their CI efforts.
When you look at the wide range of goals and key performance indicators (KPIs) used to direct CI efforts, you can easily see both quantitative and qualitative measures represented.
The top five most common metrics were:
Revenue - The top measure of success for CI is an increase in revenue. With CI's ability to improve marketing campaigns and help sales win more deals, this is no surprise. At the end of the day, this is the most critical metric to guide any business initiative.

Sales win rate - A key factor to seeing revenue increases is helping sales win more of their opportunities. Sales win rate, or competitive win rate in particular, is a key measure of success because it shows the company's ability to position their products as the best solution on the market.

Marketing campaign results - There are dozens, perhaps hundreds, of ways for competitive insights to support marketing campaigns. From informing customer review campaigns to inspiring search optimization efforts to differentiating content strategy and positioning, CI has wide-reaching marketing impact. Effectively leveraging CI should translate into improved marketing campaign results.

Sales usage of enablement materials - Taking advantage of CI is like the classic marketing funnel - you need to capture everything happening in your market, analyze and identify insights, turn that into resources, recommendations, and activities for every department, and then, of course, those teams need to actually consume and act on those outputs. Sales usage of enablement materials measures one aspect of that final stage - sales teams consuming competitive enablement resources. This can measure your ability to create useful and accurate resources for sales.

Brand awareness - Brand awareness and press mentions was also named as a key measure of CI's impact, particularly in relation to the company's ability to get positive coverage in relation to other competitors' PR efforts. Some of the factors playing a role here include unique messaging, great customer success stories, and superior solutions - all areas where CI can influence a company's PR success.
Other key measures included market share, executive understanding of the market, early warning of market shifts, and business productivity.

CI programs that fall by the wayside often do so because of the lack of visible benefits to the organization.
This often happens because the organization skips over the step of setting goals and KPIs -- a step that's critical for guiding any initiative.
As you dive into your CI program for the new year, pick 2-3 KPIs and connect the dots between how your competitive intelligence work will support those business metrics.
Use a combination of quantitative and qualitative measures in order to capture the range of benefits CI can bring.
Using Competitive Insights to Get Ahead
Now, more than ever, it's critical for businesses to get a handle on their competitive landscape and arm each of their teams with insights to win.
As we saw earlier, according to the report, more and more businesses are investing in competitive intelligence, which is natural, considering the increase in competitiveness in nearly every market.
Overwhelmingly, businesses agree: competitive intelligence is critical to success.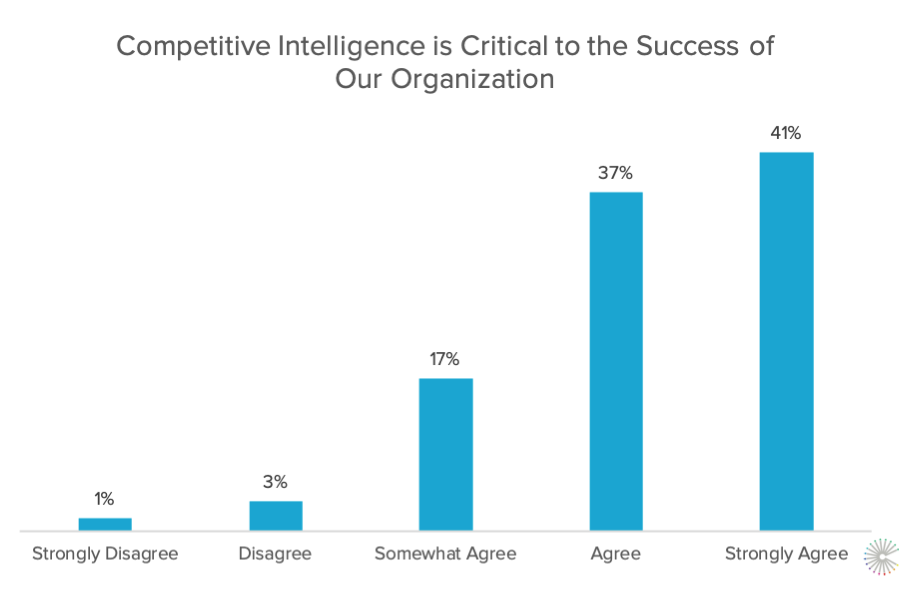 Nearly every industry is becoming more competitive and, coupled with large amounts of revenue at stake, it has become critical for companies to take a proactive approach to understand their competitive landscape and arming sales, marketing, and product teams to adjust their strategies and tactics.
To review all the results from Crayon's study, download the 2019 State of Competitive Intelligence report.
Free Assessment:
How does your sales & marketing measure up?
Take this free, 5-minute assessment and learn what you can start doing today to boost traffic, leads, and sales.