Subscribe
Join 40,000+ sales and marketing pros who receive our weekly newsletter.
Get the most relevant, actionable digital sales and marketing insights you need to make smarter decisions faster... all in under five minutes.
Thanks, stay tuned for our upcoming edition.
Google makes it easier to hide content and check third-party reporting

Have you ever wanted to see if your website content is under investigation from a third-party report? Are you missing that helpful temporary URL removal tool in Google's previous Search Console?
You're in luck.
Google just launched three new removal tools that should help website owners quickly remove outdated and irrelevant content from their sites and gain some visibility on how third parties are reporting their content.
One new removal tool; two new removal insight tools
Google just announced that three new removal tools have been added to Search Console. One of these new tools can be used to temporarily remove content from search results, while the other two tools provide webmasters with visibility into how third-parties are reporting their website content.
These new removals are already live in the Search Console. And you can click this link to see them or navigate to the Index menu and click "Removals."
What's in the update?
Webmasters will notice three options under their Removals section in the Search Console.
1) Temporary removals
If you have a conflicting page you need removed from search ASAP, Temporary Removal should be your go-to webmaster tool. You can quickly flag the page to be removed from SERP for a total of six months. This gives you plenty of time to figure out if you want to revamp or remove the page permanently.
However, it's important to note that Temporary Removal doesn't actually remove your content. Instead, it hides it from search for six months. You'll still need to use a 404 redirect or modify your robots.txt with a "no-index" tag.
Again, the main draw here is that you have time to decide if you want to modify the content or remove it permanently.
Currently, Google gives you two options for temporary removal:
You can "Temporarily Remove URL," which hides the URL from SERP for six months.
You can "Clear Cached URL," which will wipe out the snippet description in the search results for six months — giving you a chance for a recrawl.
Here are some screenshots from the Google announcement: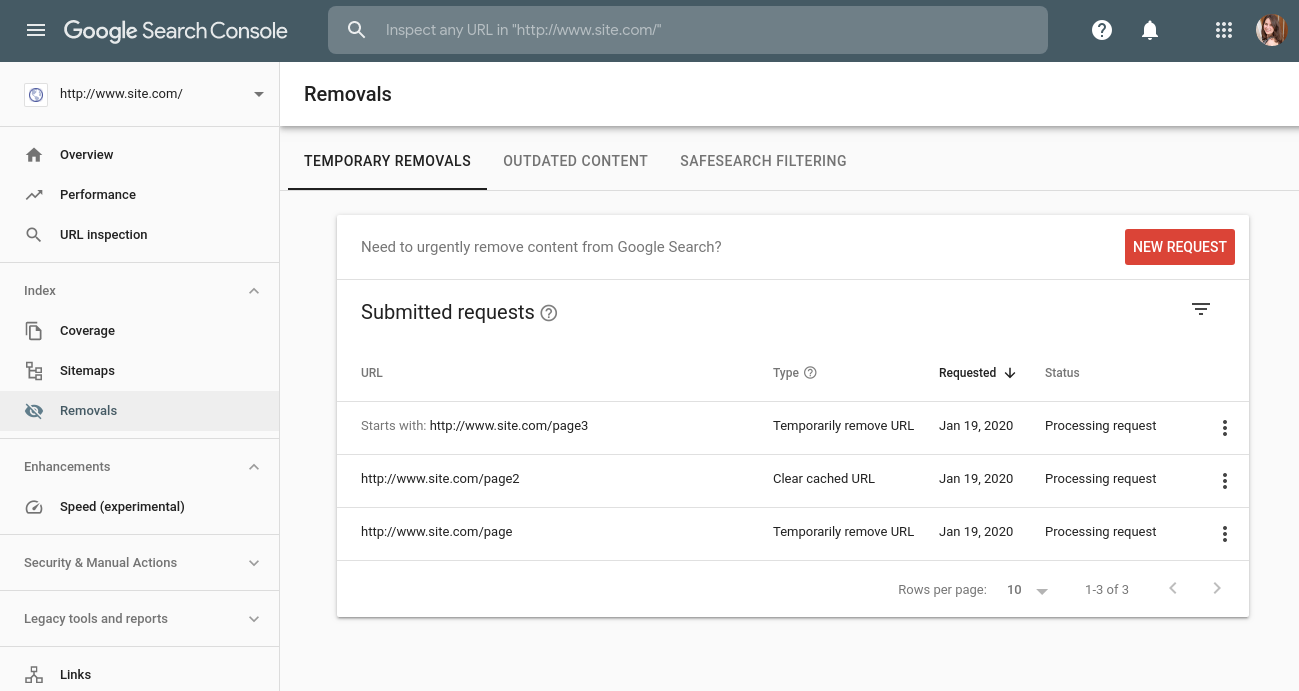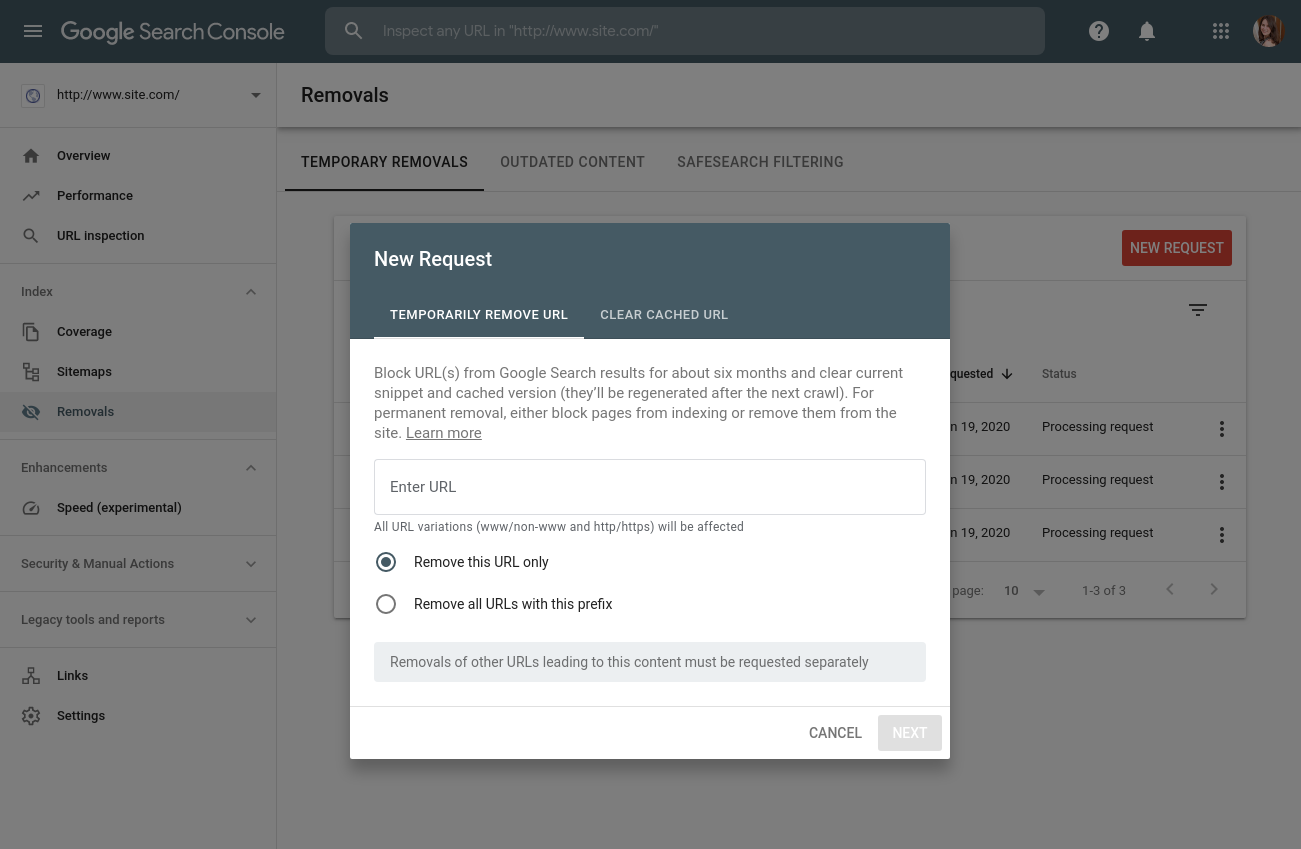 2) Outdated content
Google's Outdated Content tool allows anyone who doesn't own a website to report it because either:
The search snippet information doesn't match the content on the page
Or the page no longer exists
Of course, having your content reported to Google can cause headaches for webmasters. In the past, you weren't necessarily aware of pages on your website that were being reported.
The new Outdated Content tool shows you information on any content removal requests submitted by third parties. You should periodically check this tab to make sure that you don't have any incorrectly listed pages that you need to take action on.
Here is the screenshot from the Google announcement: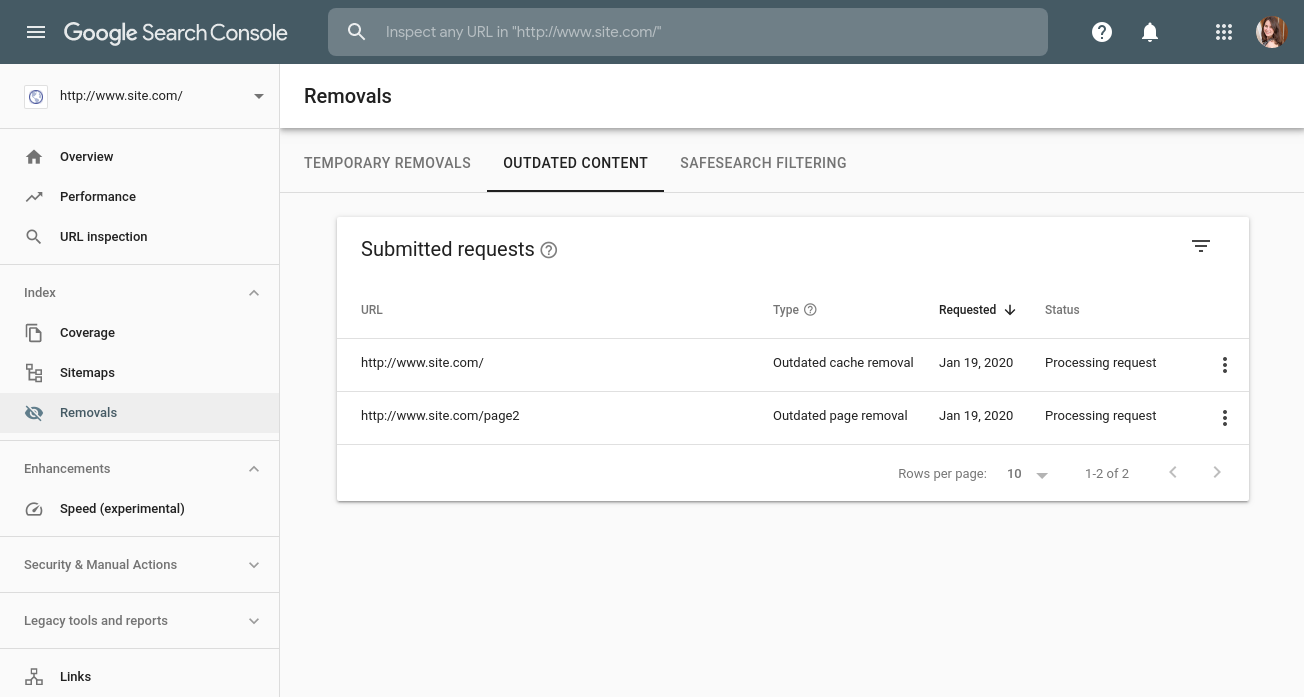 3) SafeSearch filtering
Like the with the Outdated Content tool, Google also allows third parties to report pages that contain adult content that aren't being captured by the SafeSearch filter.
This new removal tool will enable you to see if any SafeSearch requests are made on your website.
This may not seem particularly useful for non-adult websites, but you should still check it periodically. You may have inserted a questionable image or gif, and if you start seeing flags on that image, you should probably remove it.
Here is the screenshot from the Google announcement: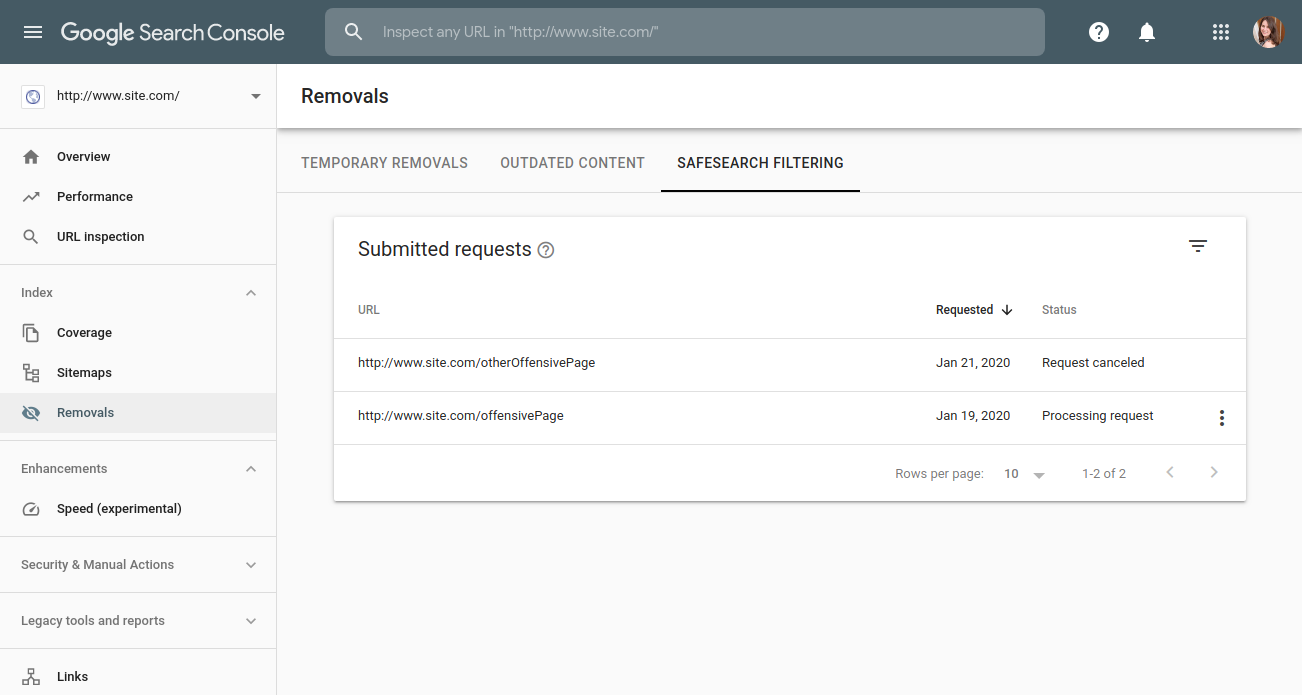 A quick word on removals
There are plenty of reasons to remove a webpage from Google. The content may be stale and out-of-date, or the webpage itself may be a non-content page that you don't really need to show up in search results (e.g., a Thank You form).
But simply pressing a button on the new removal tool isn't going to cut it.
Let's say that you have an old post talking about SEO practices from 2014. Obviously, your most recent 2020 post has more valuable information for modern search algorithms, right? It may seem like your best course of action is to use these new removal tools to get it out of the way.
That shouldn't be your first step.
That content probably has links to it from other blogs, and it's better to 301 redirect that content to your new content to give it a boost. If you just remove the page, you lose six years' worth of links. By using a 301 redirect, you retain +90% of your link equity.
Also, since the Outdated Content tool only hides content for six months, we highly recommend taking further action if you're planning on permanently deleting a page.
🔎Related reading: How to Historically Optimize Blog Content
Google Keeps Rolling Out Search Console Changes
Since Google flipped over to the newer (and more easily accessible) Search Console, we've seen a variety of rapid-fire changes.
Google is dead-set on making Search Console the "single window of truth" into your website environment. In the latter half of 2019 alone, we saw Google add video performance reports, page and website speed reports, reporting for products results, and improvements to index coverage reports.
These new removal tools are another reporting feature that gives you insights into how people are reporting your content to Google.
We expect to see more reporting changes moving forward, and we think this feature will provide webmasters with a great hide function and a long-awaited microscope into third-party reporting.
Free: Assessment
Does your website build trust with buyers and bring in revenue?
Take this free 6 question assessment and learn how your website can start living up to its potential.