Subscribe
Join 40,000+ sales and marketing pros who receive our weekly newsletter.
Get the most relevant, actionable digital sales and marketing insights you need to make smarter decisions faster... all in under five minutes.
Thanks, stay tuned for our upcoming edition.
Google updates Search Console messages to ease integration for users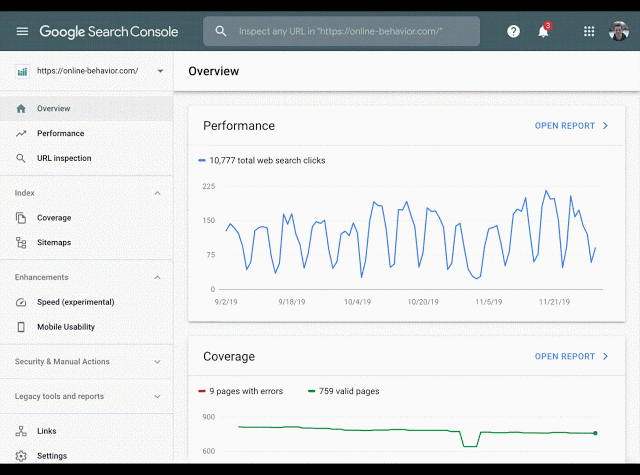 Google has just announced a new feature for webmasters and site owners — an updated version of messages in the Google Search Console tool. While Google has been sending messages through Google Search Console (formerly called Google Webmaster Tools until 2015) for quite a while now, this update is going to simplify how you receive them and how you access them.
Here's some more information on what, exactly, is changing in GSC and how that will impact the way you receive and respond to messages within the Google Search Console platform.
What's changing in Google Search Console messages
The main difference in the new rollout from Google search console is that instead of needing to leave your reports to see your messages, you can simply click the bell icon, meaning you can access your messages directly through the product. This will save you time and make it less of a hassle to view your messages.
According to Google, this change will make it more efficient to work with messages in Search Console and is part of a larger effort to incorporate messaging as "an integral part of the product."
Additionally, Google Search Console is making your messages even more actionable by assigning categories for different types of messages, like performance, enhancement, and overage. This means it will be easier for you to find the information you're looking for about a specific issue. Instead of sifting through a list of unrelated messages, you can get straight to the category to save time.
Finally, Google Search Console has introduced capability for site owners and webmasters to access all of the messages that have been sent to the site. This includes previously sent messages, no matter when they were sent or verified. This update will help new site owners understand some of the history and context behind the site by getting access to messages that have been sent and verified in the past.
This last update will be more useful for site owners going forward. As of the rollout, you can only access messages as far back as May 23, 2019. To see messages from earlier than that date, you'll have to look either in the legacy message list or your personal email (which, of course, won't be very useful for anyone taking over an existing site).
The best way to see older messages, for now, is to look under the sidebar under the tab "legacy tools and reports."
How Google's Search Console messaging improvements help you
If you're a frequent user of Google Search Console, you're probably fairly used to frequent changes.
We've been covering the changes that Google has been making to this tool, like allowing users to examine product rich results and introducing reporting for site owners to discover performance data. The web is constantly changing and updating, and, with that, comes changes and updates from the most ubiquitous company out there (i.e. Google).
These specific messaging improvements in Google Search Console should make it easier for you to find and filter messages so you can stay on top of your site and adapt as needed in real-time. With these new changes, you won't have to sort through loads of messages to find the ones that are relevant to the specific topic you're interested in.
On top of that, you'll be more likely to actually read the messages that Google sends you. It can be a nuisance to leave your report just to read a message, so a lot of site owners tend to ignore messages. Ideally, by reading and reacting to your messages in a timely manner, you'll be better equipped to make changes to help your site.
These improvements will be especially helpful going forward for people who buy existing sites and want to know more about the history of the site by reading previous messages that were sent by Google Search Console.
You'll now be able to understand the context of the site more fully and see how changes were (or weren't) implemented after the previous site owner received messages from Google.
Google's intent with these new changes is to make messaging more integrated within the Google Search Console tool. Making these changes to how you receive, view, and file messages should help site owners stay organized, filter messages that aren't relevant, and get the information they need to grow their sites and stay on top of their site metrics.
If the last year is any indication, Google isn't going to slow down on rolling out changes anytime soon. So, if you rely on GSC for your website, keep an eye out for future changes that will help you manage your website.
Image source: Google Webmaster blog
Free: Assessment
Does your website build trust with buyers and bring in revenue?
Take this free 6 question assessment and learn how your website can start living up to its potential.