Subscribe
Join 40,000+ sales and marketing pros who receive our weekly newsletter.
Get the most relevant, actionable digital sales and marketing insights you need to make smarter decisions faster... all in under five minutes.
Thanks, stay tuned for our upcoming edition.
A Bite-sized Marketer's Guide to All the Latest Google Search Console Changes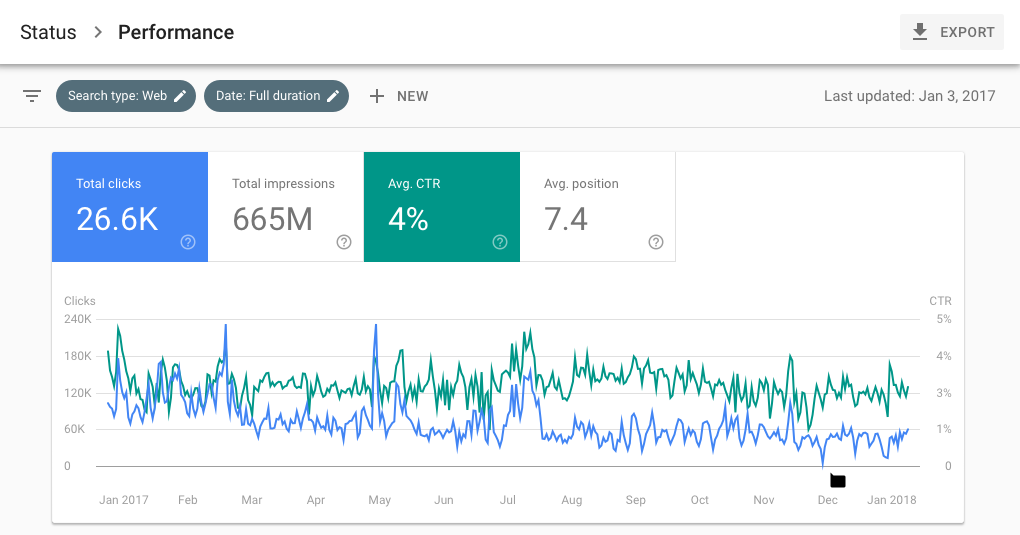 Google has been in the process of re-vamping Search Console for the past year, and have recently been more aggressive in their cadence of updating and replacing various reports.
Since so many updates have been rolling out, they can be difficult to stay on top of - but it's important marketers pay attention.
Google's John Mueller stated during a Google Webmaster Central Hangout earlier this month that Google plans to phase out the old Search Console by the end of 2019.
Furthermore, as they update and replace new tools in the new search console, they plan to phase out old versions slowly.
Due to this timeline, Google strongly recommends that marketers use the new version of each tool as they become available, so they can familiarize themselves with the functionality before the old tool phases out completely.
This, however, is easier said than done.
Laggards Beware!
When you're looking to build a report or check a quick metric, it's often easier to revert back to the tool you're already familiar with than attempting to learn to navigate a new one - I'm guilty of this myself.
While using the old tool may be easier in the moment, it will likely cause a lot of confusion and unnecessary headaches for marketers when Google decides to phase out the old Search Console entirely.
To make it easier on marketers, Google provided a migration guide that lists all the tools that are changing, along with their new functionalities. Here's what you need to know.
What's Better About the New Search Console?
Beyond simply learning about the new tools before the old versions are phased out, the new Search Console offers improvements to old features and reports that can help marketers make more informed, data-driven decisions.
These improvements involve some specific updates to old tools and reports, but in general, provides the following upgrades across the board.
They include the following:
Marketers can view 16 months of search traffic data. This is a significant improvement over the old version, where you can only view 3 months back. Access to this historical data can help marketers see their long-term progress.

More detailed insight. Several updates that all work together to provide more detailed information on a specific page, including page-specific index coverage, canonical URL usage, mobile usability and more.

Better error tracking. Improved tracking of errors, allowing you to better monitor pages with crawl errors, submit fixes, and see if those errors were resolved after Google re-crawls your page.

Mobile optimization. The new Google Search Console works on mobile devices, so marketers can access reports and track progress no matter where they are.
A Guide to The New Search Console Reports and Tools
To make it easier for marketers to jump into the new Google Seach Console, here are all the new tools that have been moved over, what they're replacing, and what different from the old version.
What's it Replacing? Search Analytics.
What Information Does it Have? Track clicks, impressions, click-through rate, and position of different pages or search queries based on a specific timeframe. Users can also compare data from two different timeframes to see progress.
What's Different From the Old Version? This was one of the first features Google added to the new Search Console, so many users are familiar with the new version. The functionality remains more or less the same as the old tool, but it does sport a modernized, more colorful design - and has the ability to go back 16 months instead of 3.
Like the rest of the new reports, it will also soon combine page data into one, unified canonical URL, so you can gauge page performance more accurately across the board.
What's it Replacing? Rich Cards.
What Information Does it Have? Allows marketers to evaluate their rich results, or pages with snippets that tell Google to evaluate it to rank zero in search results. The tool shows what snippets Google was unable to read from your website, troubleshoot any errors, and have Google re-crawl the page once the errors have been fixed to determine if the issue was resolved, which helps marketers streamline the fixing process.
What's Different From the Old Version? The new tool provides more detailed information to help marketers troubleshoot and debug their issue. It also offers a one-click request to recrawl fixed issues to streamline the process.
What's it Replacing? "Links to your Site" report and "Internal Links" Report
What Information Does it Have? View the domains that link to your site most often, your websites top-linked pages from other domains, and the internal links that are used in your site most frequently, among other linking data. You can use several different filters that allow you to see page-specific or domain-specific data.
What's Different From the Old Version? The new Links Report combines the data from the two old reports it's replacing. This allows you to see more accurate data that shows the big picture of how links to your site are being used internally and externally.
What's it Replacing? Index Status, Blocked Resources, and some functionality in the old Crawl Errors Report
What Information Does it Have? View of which of your website's pages have been indexed by Google. The tool also shows pages that were not indexed and helps you learn why so you can fix it.
What's Different From the Old Version? The updated tool carries over all the same information as the old report, but also adds more detailed information from the Google Index. This means that you can see if your pages were submitted or not submitted for indexing, and also view more extensive status reports that helps you see why or why not you may want a page indexed.
What's it Replacing? Sitemaps Report
What Information Does it Have? See which of your sitemaps have been processed for your site, and processing errors, or where you can submit a new sitemap to Google.
What's Different From the Old Version? Overall, the updated report is similar but better designed. Unlike the old report that supported sitemap testing without submission, the new Sitemaps tool will only test your sitemap upon submitting it.
This is to help SEO professionals be more active in the process in an effort to help Google discover the right content for your site, and in turn, improve content tracking and reporting.
What's it Replacing? Accelerated Mobile Pages
What Information Does it Have? Identifies errors that prevent your AMP pages from appearing in search results correctly and helps you figure out how to resolve any present issues.
What's Different From the Old Version? The updated report shows many more error types, meaning if you're still using the old tool, you could be overlooking present errors on your AMP pages. It also offers a streamlined fix flow to request reindexing of pages.
What's it Replacing? Old Manual Actions Report
What Information Does it Have? See if your site has any manual actions issued against it.
A "manual action" is when a human reviewer at Google has determined that one or multiple pages on your site are not compliant with Google's Webmaster Quality Guidelines.
These measures are typically taken to address attempts to manipulate search results. If your site has an issue raised against it, it will generally lead to pages (or your whole site) being ranked lower.
What's Different From the Old Version? In the new Search Console, users can now view their site's entire manual action history in this report.
This history includes previous manual actions issued against your site, as well as any review requests that were submitted by site owners.
This helps you better understand your progress over time.
For example, if your site had a manual action issued against it a year ago that was resolved, you can view that historical data and attribute that event to any drop in position rank during that time period, instead of making incorrect assumptions.
What's it Replacing? Fetch as Google, and some functionality from the old Crawl Errors report.
What Information Does it Have? Provides information on Google's indexed version of your page.
This allows marketers to see what Google sees when it crawls your site, and access the version that Google has most recently indexed. It also allows you to view and fix any crawl errors that are blocking Google from indexing your page correctly.
What's Different From the Old Version? The new tool shows data about the indexed version of your page and the live version, so you can see if there are any discrepancies between the two. Like some of the other new tools, it also offers the ability to request a recrawl right in the same window,
Additionally, the updated URL Inspection Tool includes some new page information - such as the canonical URL of the page, any no index/no crawl blocks, and whether the URL is Google indexed.
What's it Replacing? Old Mobile Usability Report
What Information Does it Have? Gauge the mobile-friendliness of your website by viewing any present issues that render your page unusable on mobile.
Typical issues that Google flags as errors in this report include text being too small to read, links to close together, text wider than the screen, and more.
Since more and more online activity is done on mobile phones, this report is so valuable for marketers to determine if they're delivering an adequate mobile experience to their audience.
What's Different From the Old Version? The new tool offers similar information as the old report, but has a more user-friendly format. It also provides a documented fix flow for webmasters to request re-crawls and reindexing of pages with fixed mobile usability issues.
What's it Replacing? Security Issues
What Information Does it Have? View any security risks or errors your site is currently facing.
What's Different From the Old Version? The new report pretty much replaces the functionality of the old report but has the added feature of viewing your sites security history, like the manual actions report.
This can help you understand the historical health of your website, so you can gain better visibility into previous threats your site has faced in the past.
Marketers Should Be Leaning Into Changes
Like any algorithm update or new trend, marketers should be leaning into these new Google Search Console changes rather than against them.
Based on the changes above, it's clear the new Search Console offers significant improvements over the previous version. These improvements can allow you to make stronger, more informed decisions for your marketing strategy.
No matter how long you avoid it, the old search console will soon be phased out completely.
Marketers and SEO Professionals, take advantage of the new tools while you still have the old one to help you understand where the data you want currently lives, and how best to use it.
Free: Assessment
Does your website build trust with buyers and bring in revenue?
Take this free 6 question assessment and learn how your website can start living up to its potential.