7 Must-See Graphs: How Companies Get Competitive Intelligence in 2018 [New Data]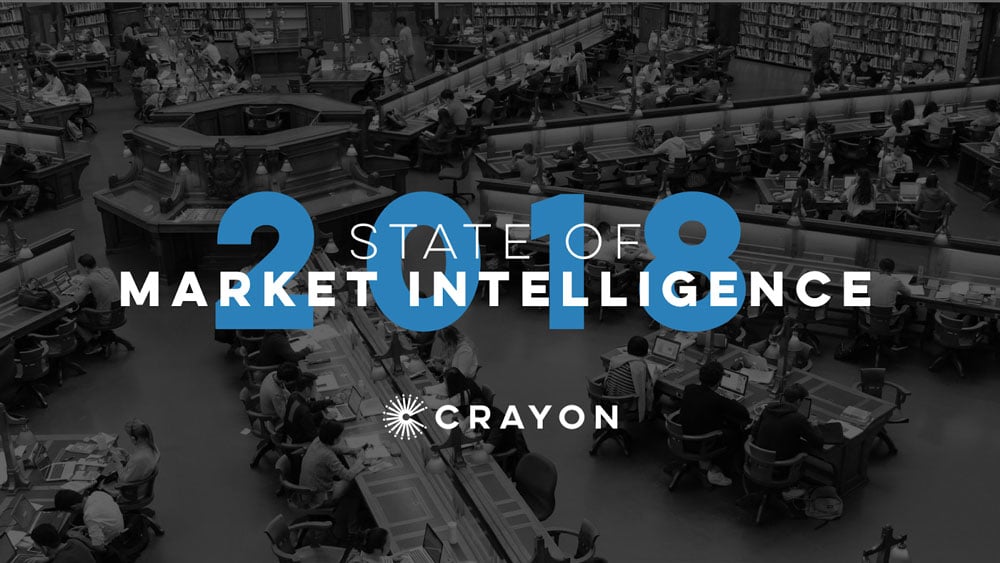 Company digital footprints have grown exponentially in the last decade, and with them, the amount of marketing intelligence available for the taking.
New data from Crayon's 2018 State of Market Intelligence report shows success with competitive and market intelligence relies on getting complete coverage of that digital footprint.
In fact, 77% of businesses said holistic competitive intelligence - intel on every aspect of a company's marketing, products, customers, etc. - is critical to win against rival solutions.

Tracking a Company's Complete Digital Footprint
What does it take to capture intel across a company's entire digital footprint?
It takes going beyond their website to analyze their content marketing and social media accounts, customer feedback on review sites, product details in support sites and forum threads, and more.
The majority of survey respondents did track each of these sources -- but not as often as you might think.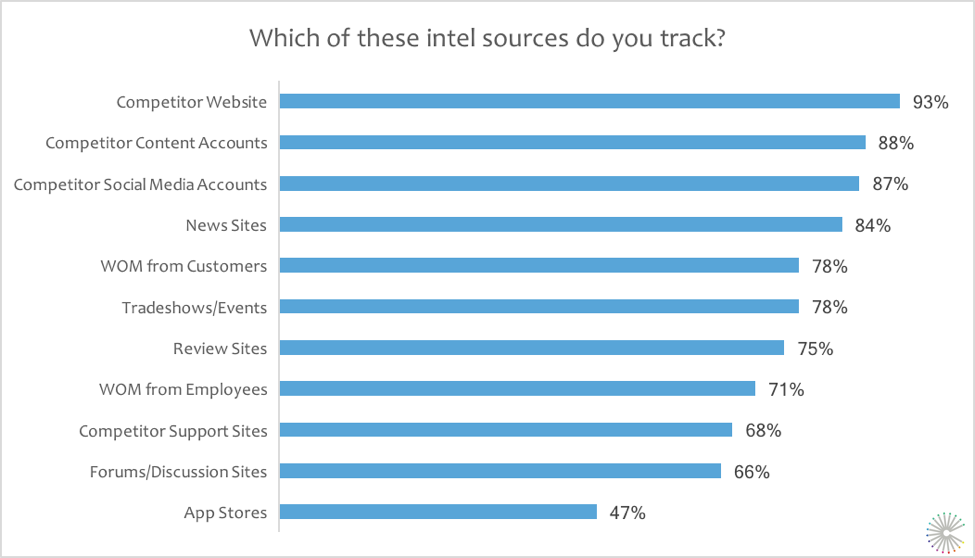 Each of these types of competitive intelligence provides its own insight into a company's strategies, strengths, and weaknesses:
Messaging changes on their website can show how the company wants to present its strengths and differentiation

Content marketing activities can give you insight into the keywords and personas the competitor is targeting

News coverage allows you to identify target news outlets for your own PR, and what story angles are successful at getting coverage

Job descriptions can highlight where the company is going to invest in product development or specific marketing campaigns

Review sites showcase the reality of a company's products and services, and what customers value most - both good and bad

Support sites and forums, too, can give you the unfiltered view into a company's products, sometimes surfacing product videos, gaps, and workarounds

… and that's just the tip of the iceberg
Combining intelligence from multiple sources allows you to piece signals together into an overall picture of a company's inner workings; For example, seeing a competitor remove a CRM partner integration from their website but start tweeting content about content and pipeline management can hint that the company is developing its own CRM product.
Taking Advantage of Timely Intelligence
While 93% of respondents said they monitor their competitors' websites, only 14% do so on a daily basis. Meanwhile, 56% monitor those websites monthly or even less frequently, if at all.
This pattern is typical across many of the other channels as well - a reflection of how time-consuming a task it can be to monitor each of these sources on a regular basis.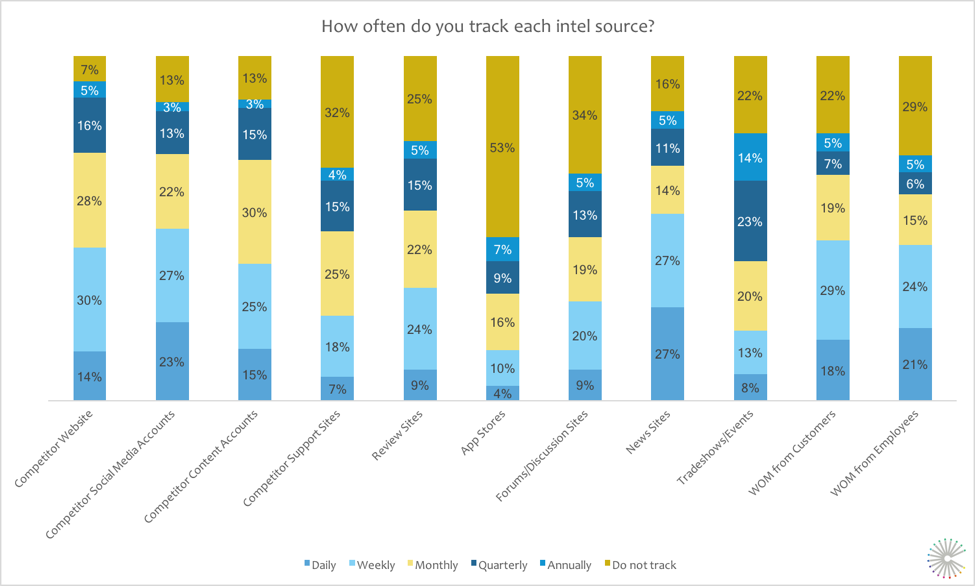 That timeliness, however, is another critical factor in truly taking advantage of intelligence.
79% say it's critical to get intel in a timely manner. After all, once intel is outdated, the company loses its speed advantage to use it before others or before it is no longer relevant.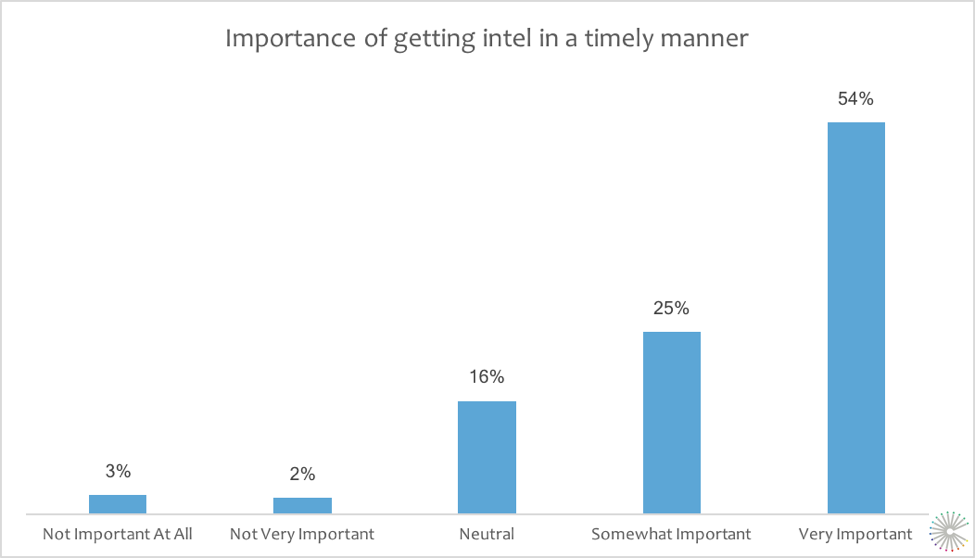 Getting Complete Market Intelligence On Every Audience
The other critical step in getting complete market intelligence is getting that intel on all the key market players; Not just competitors, but also customers, partners, and thought leaders.
While direct competitors are frequently monitored (91% monitor their direct competitors), audiences like thought leaders or aspirational competitors only make an appearance 70% of the time.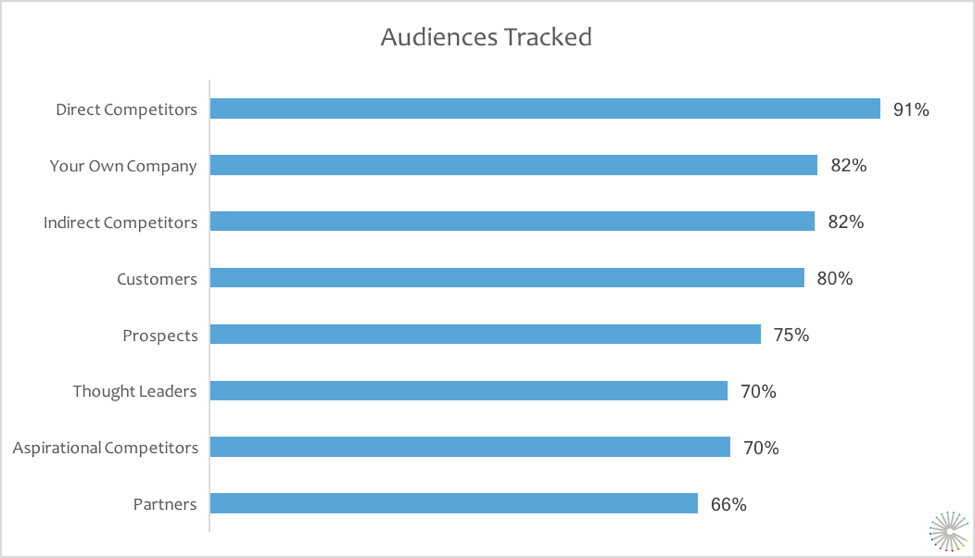 The gap is even more emphasized when you consider how frequently each audience is analyzed - 53% track their direct competitors daily or weekly, while only 17% track their aspirational competitors daily or weekly.
It is often through these less direct audiences that you can get a better understanding of how to win in a market and find inspiration and opportunities for new marketing campaigns.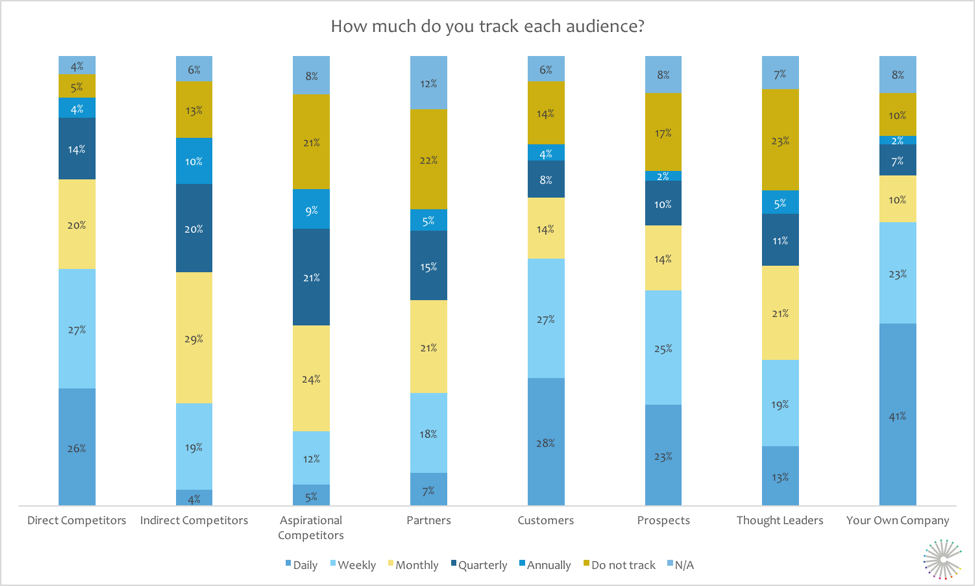 Getting Ahead of Competitors
Now
There is still a lot of opportunity to get ahead of competitors with market intelligence; Many companies are not regularly monitoring their competitors' complete digital footprint, let alone the footprint of other key players in their market.
Perhaps it's because 40% of market intelligence programs have been around for less than one year, and only less than a quarter have defined goals.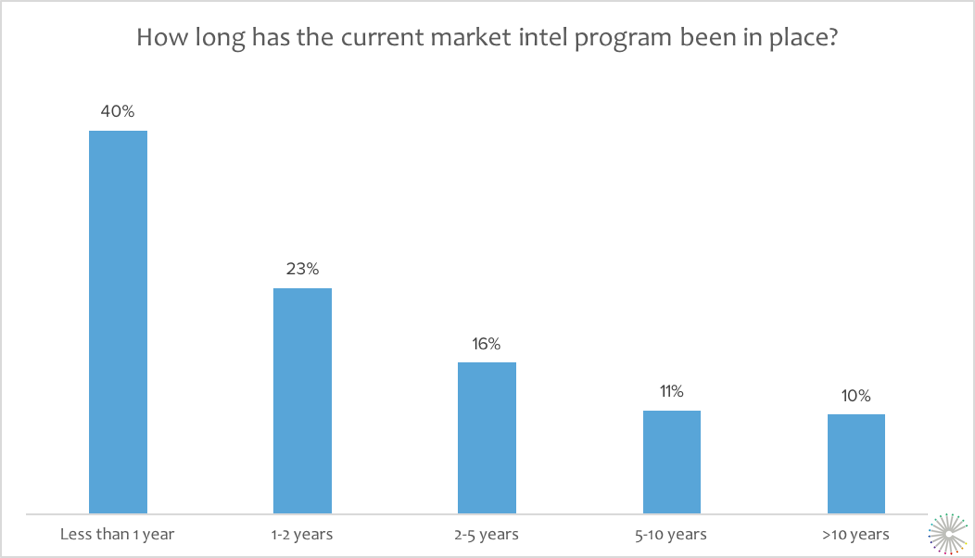 To review all of the results from Crayon's study, download the 2018 State of Market Intelligence report.
Free Assessment:
How does your sales & marketing measure up?
Take this free, 5-minute assessment and learn what you can start doing today to boost traffic, leads, and sales.