10 Jaw-Dropping Web Design, Branding, and Marketing Statistics [Infographic]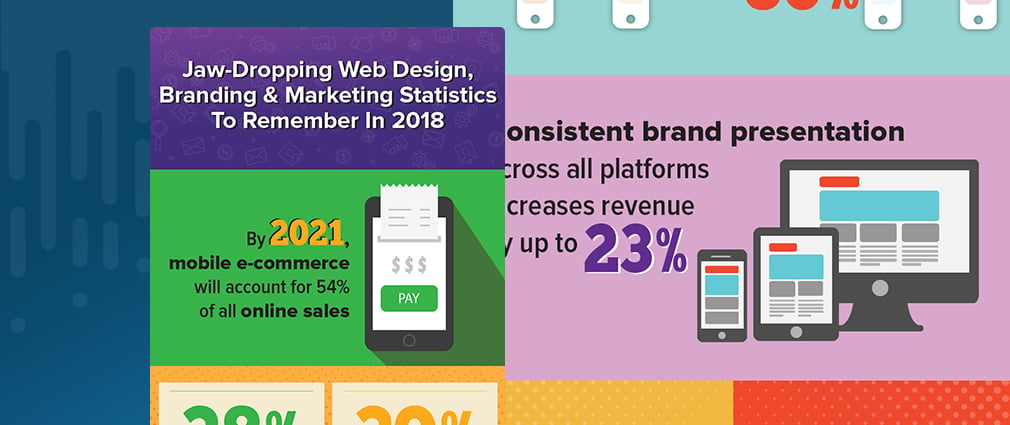 It's amazing how quickly things change in the digital marketing world. We're constantly learning about new tools and techniques to get the most out of our marketing efforts.
The problem is, with so many changes, how do we keep up and where should we be focusing our marketing efforts?
Aside from subscribing to THE LATEST (shameless plug), you can always look to the numbers for the answer.
Companies are regularly analyzing their website stats and releasing studies on what actions influence users online behavior.
The team over at DesignRush, a B2B marketplace, rounded up a collection of some of the most insightful stats surrounding the current state of digital marketing and compiled them into the infographic below.
Some of the stats confirmed what many of us are already doing.
Things such as creating beautifully branded product videos and focusing on reducing website load speeds as much as possible.
Others stats helped provide some insight into the future of digital marketing and gave us a better idea of where we should start focusing our marketing efforts.
Some of the more notable statistics from the infographic include:
By 2021, mobile e-commerce will account for 54% of all online sales.
With consumers spending more time on their phones, it's no surprise that we'll see a growth in mobile eCommerce, however, it's interesting to see that in the next couple years, we'll see this type of shopping surpass traditional online shopping.
This is going to put an even stronger emphasis on having mobile-optimized site that provides users with a simple checkout process.
Long landing pages generate up to 220% more leads than above-the-fold calls-to-action.
Trying to cram all of your page's important information and CTAs "above the fold" is a thing of the past.
This used to be a useful technique in the early days of web design when people weren't used to scrolling.
However, scrolling is second nature nowadays and the people are hungry for information. They don't mind a few extra scrolls to get to the information they're looking for.
That's why we're seeing companies make a shift towards dedicated long-form pages with CTAs naturally included throughout the page.
These pages help increase conversions and better qualify your prospects because users are more likely to take action on something after they feel they've been educated enough on a topic.
64% of consumers say that shared values help them create a trusted relationship with a brand.
A major part of any company's brand is its core values.
These values show people what beliefs and qualities are important to you as a company, and now they can play a major role in whether or not a prospect decides to do business with you.
Many of today's consumers shop around for companies that share the same beliefs as them and once they find that company, they're more likely to become a customer and stay one.
That's why it's important to make sure you have a documented set of core values and that it's easily accessible on your site.
Check out the full list of the stats in the infographic below:

Image Credit: DesignRush
Free: Assessment
Does your website build trust with buyers and bring in revenue?
Take this free 6 question assessment and learn how your website can start living up to its potential.