The 11 best blogging platforms for publishing content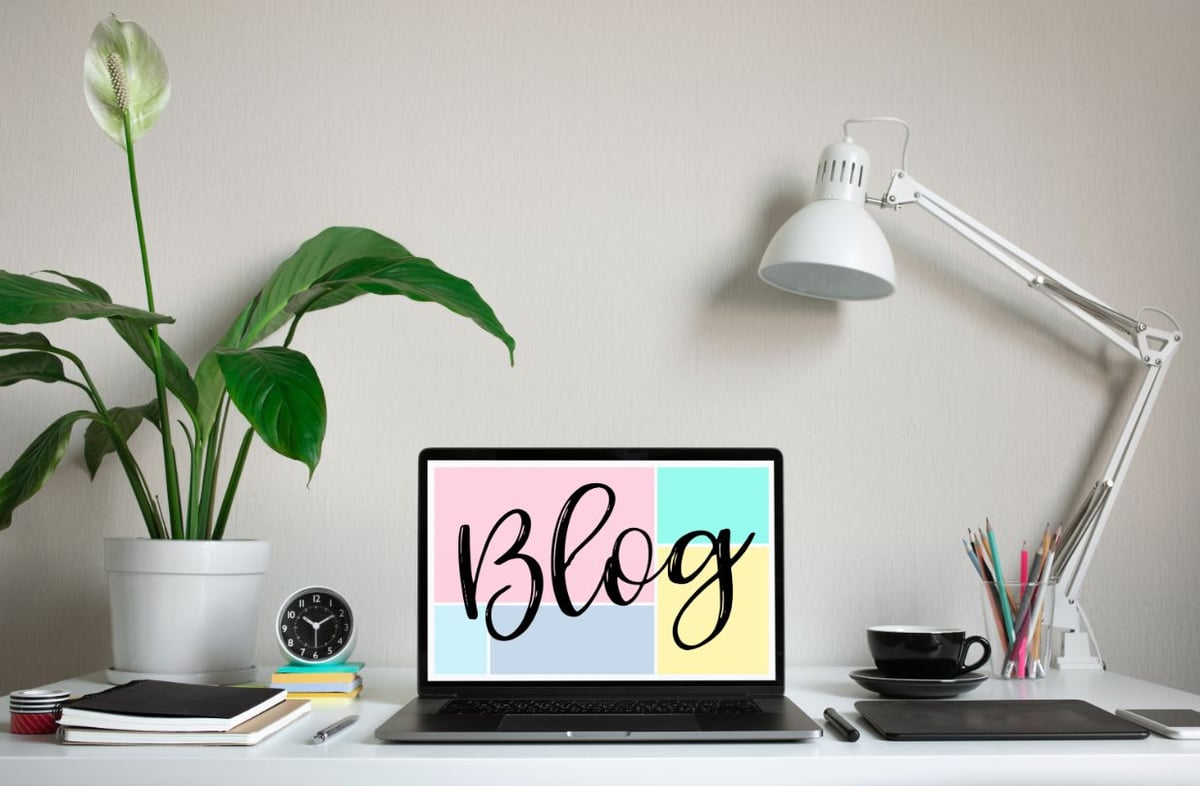 The Top 11 Best Blogging Platforms
WordPress.org
Squarespace
Blogger
Wix
Medium
WordPress.com
Tumblr
HubSpot
LinkedIn
Typepad
Ghost
There are currently more than 512 million blogs on the internet publishing about 5.8 million blog posts per day. That's a lot of content.
That's a far cry from the mere 23 blogs that kick started this whole trend back in 1999.
Since blogging has become such a staple of successful marketing many platforms have sprung up, each with their own strengths — and all claiming to be the best option.
As such, choosing the right blogging platform can be one of the hardest decisions getting in the way of starting your own blog.
Building your blog on the right platform will affect how you manage your content, the cost of maintaining it, and how much effort it will take to run it.
These factors will ultimately affect the success of your blog, whatever your end goals may be.
How do you make the right decision? Consider your options with this curated list of the 11 best blogging platforms in 2020.
1. WordPress.org



WordPress.org is a free platform that allows you to create a completely custom website for your blog. It is also the most popular blogging platform online, powering around 35% of all websites.
Not to be confused with WordPress.com (also on this list), WordPress.org is self-hosted, which means that you set up and manage the system yourself as opposed to outsourcing the technical aspects to be handled by the blogging platform.
This distinction allows for greater customization and flexibility in terms of functionality. For example, if you ever want your blog to also become a membership site or e-commerce site, WordPress.org can be easily extended without having to rebuild a new blog.
WordPress is a strong platform choice, in part, because of the 50,000+ plugins it supports. These plugins extend your blog's capabilities and can help optimize its performance according to your goals.
For instance, many professional marketers use the HubSpot WordPress plugin to maximize what they can do.
The plugin enables a user to connect to an existing HubSpot account, including their customer relationship management system, email marketing services, customer support tools, analytics tools, and marketing automation technologies.
These features help businesses use their blog for both lead generation and better understanding user behavior to improve their marketing and blogging strategies.
Not all plugins are as feature-packed — most perform a single task — however, each has the potential to give your website better reach for more efficient marketing.
Without plugins, your WordPress blog just wouldn't be as functional.
Pro tip: If you want to learn how to set up a blog on WordPress.org, this free WordPress course shows you how to do that using Elementor, a popular and easy-to-use page builder that helps professionals create robust websites with minimal technical skill.
2. Squarespace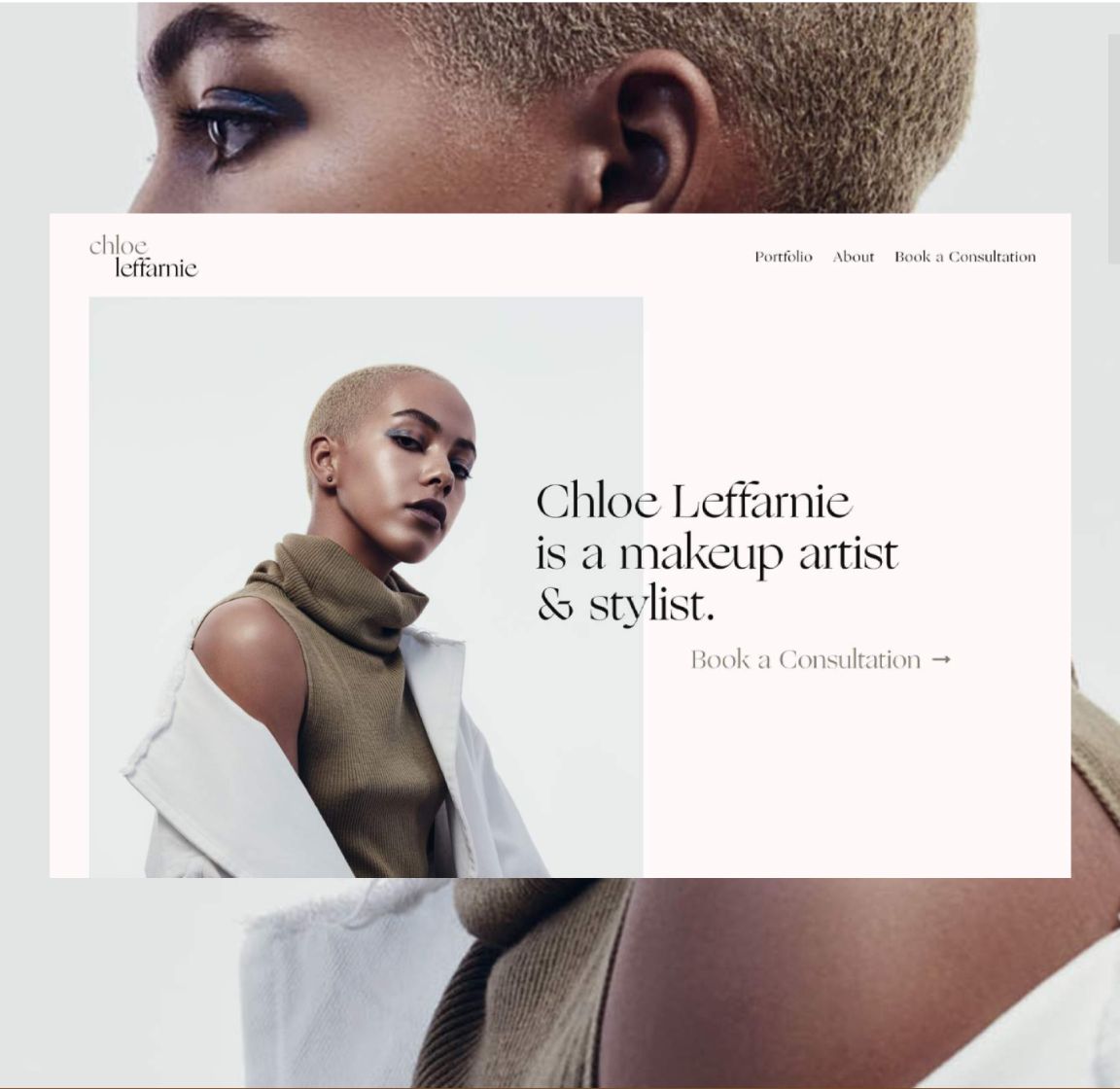 Squarespace is a popular drag-and-drop website builder designed for intermediate-level webmasters.
It's known for beautiful, modern, and carefully-curated template designs and is best for creatives who want to showcase their work, but may not have coding skills.
Squarespace's code-free builder makes it pretty easy to use, however, it's main competitor, Wix, is arguably even easier to use (though more difficult to use well).
You'll definitely want to check out Squarespace if you're planning to build an image-heavy blog, such as a gallery or portfolio.
To start blogging, all you have to do is sign up, choose a great template, customize it to your branding, and you're good to go live.
3. Blogger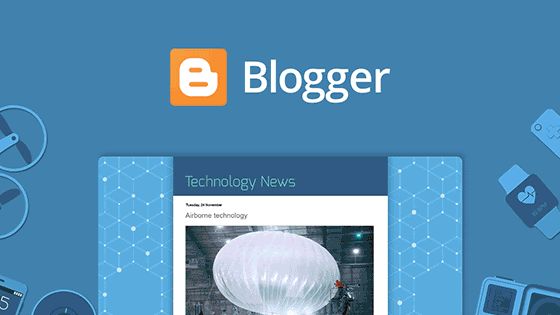 Developed in a Google-owned lab, Blogger is automatically available for free to anyone with a Google account.
It provides all the features necessary to publish and maintain a blog, including a great WYSIWYG (what-you-see-is-what-you-get) editor to add and format content without the need for HTML skills.
With all the essentials covered in terms of a great editing experience and hosted platform, users need not buy or manage third-party tools to help them build and control their blog.
This helps if you're on a budget and don't want to spend too much on these services, but that means your options for customization are also limited compared to other platforms on this list.
Pages are hosted through blogspot.com, a free subdomain that appears in the blog URL, but you do have the option to use a customized domain, such as myblog.com instead of myblog.blogspot.com.
Having the option to use a custom domain is good for both SEO and audience perception (myblog.blogspot.com blogs tend to be perceived as unprofessional).
4. Wix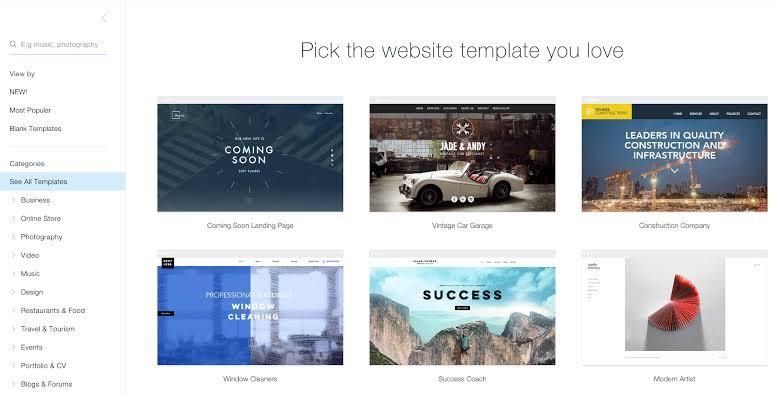 Wix is a top drag-and-drop website builder option, ideal for people who want to build a blog easily and quickly.
If you're a beginner and don't have much time or budget on your hands, Wix can help you just get started.
Wix is free if you use a Wix.com subdomain, which saves you some money.
This setup is convenient for people who don't have the time or interest to monitor the technical aspects of their blog, but users trade off a significant amount of control.
For example, you can customize some important aspects of SEO (like using meta titles and descriptions) but are limited in terms of seemingly trivial things like heading styles (you can't use all styles from H1-H6, just H1-H2 headings).
To use a custom domain that gives you more control over your blog, you'll need to pay for a premium plan.
5. Medium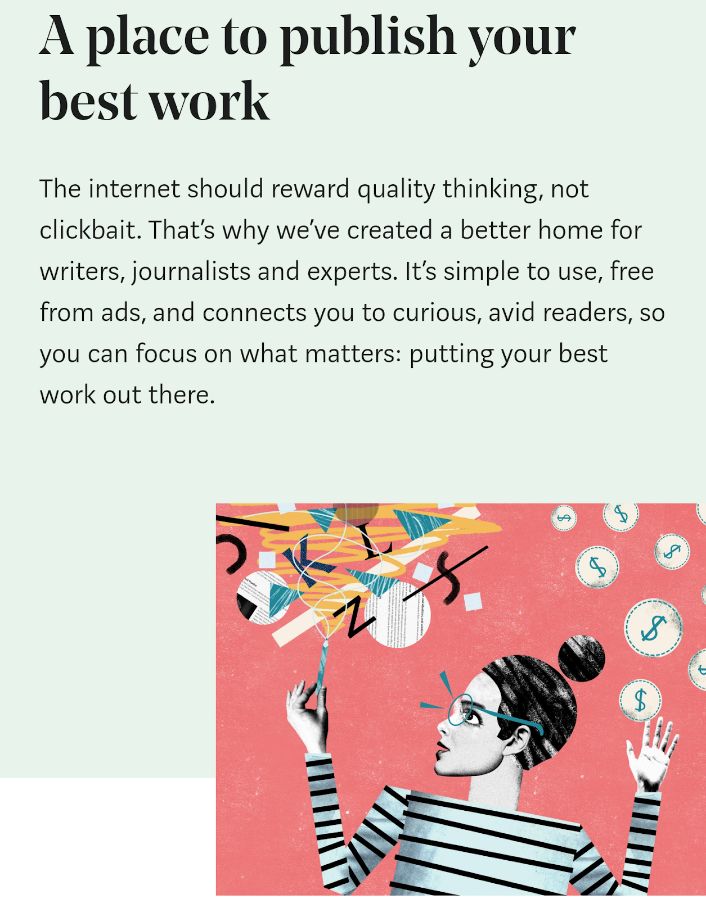 Medium is a fairly bare bones platform in terms of design — focusing on the written word and supplemental visuals more so than individual blog designs. Regardless, it is a powerful platform for bloggers.
This blogging platform encourages people to share their stories then returns the favor by delivering them to the right audience without much work on their part.
Through tagging, users can improve their visibility on the platform, but then the platform does the rest of the work. Its algorithm predicts which stories users will be interested in based on your tags and may pull them into emails they send out.
You can also submit your content to external Medium publications for additional exposure and if Medium opts to feature your blog content with prominence on their platform, you may also have the opportunity to earn money.
All the different possibilities for exposure to new audiences is one of the best reasons to start blogging on Medium.
Published content on Medium is promoted according to how many people vote for it (as indicated by claps). Once you grow a reputation on the platform, it will be easier to get featured in other large publications and reach an even bigger audience.
6. WordPress.com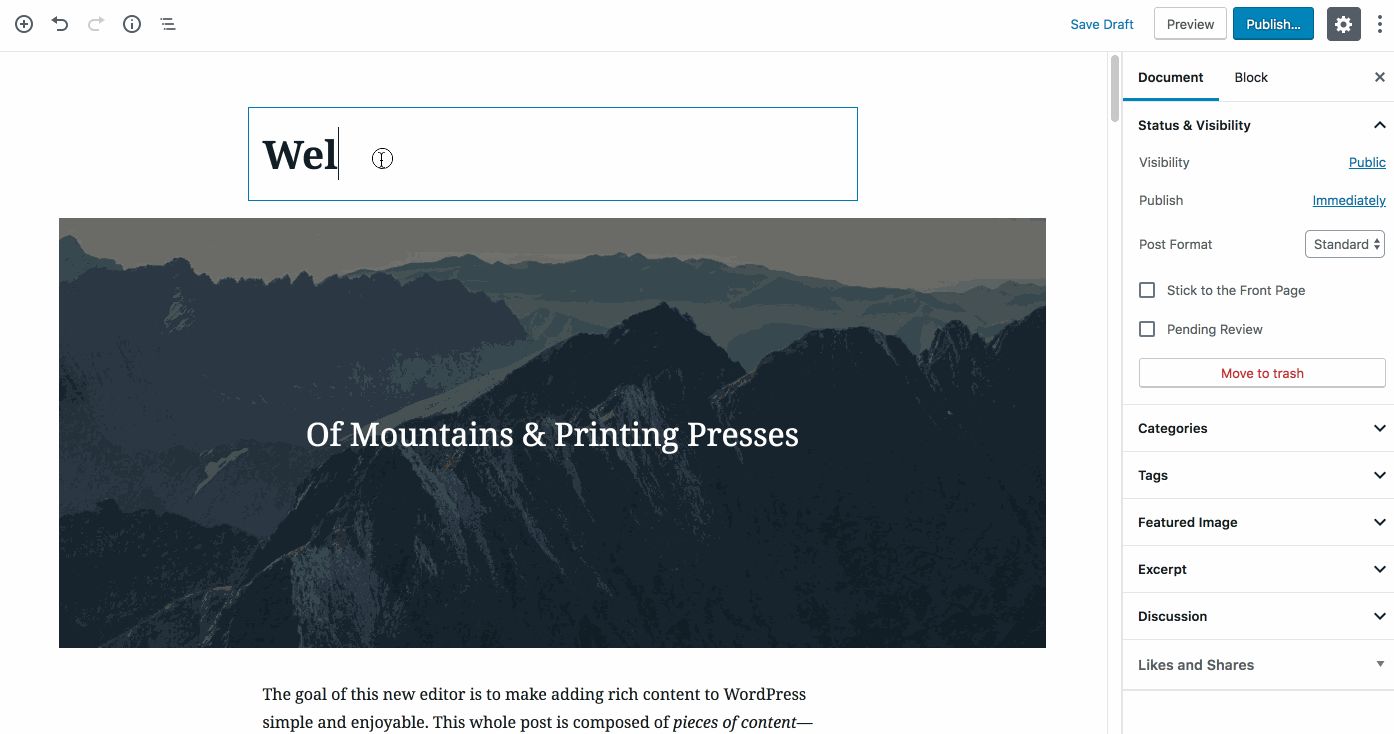 WordPress.com is the younger twin of WordPress.org. While .org is far more popular (and usually what people are referring to when they talk about WordPress), the former is still a formidable competitor as a standalone blogging platform.
The interface is streamlined and easier to set up than WordPress.org because it is solely focused on blogging and publishing; not greater website building or maintenance.
All you have to do is sign up for an account and you can start building your blog right away.
Unfortunately, when using WordPress.com, you miss out on access to most plugins and themes available on WordPress.org.
You'll only have access to basic plugins and designs that WordPress.com is most compatible with, but if you want to customize CSS, you can access that with a paid premium plan.
The customization limits here can feel like a blessing or a curse, depending on your needs, but WordPress.com's simple design helps beginners and professionals alike quickly launch new blogs without the need for technical knowhow.
WordPress.com is a managed platform, meaning you don't have to maintain the technical details around your blog, yourself.


7. Tumblr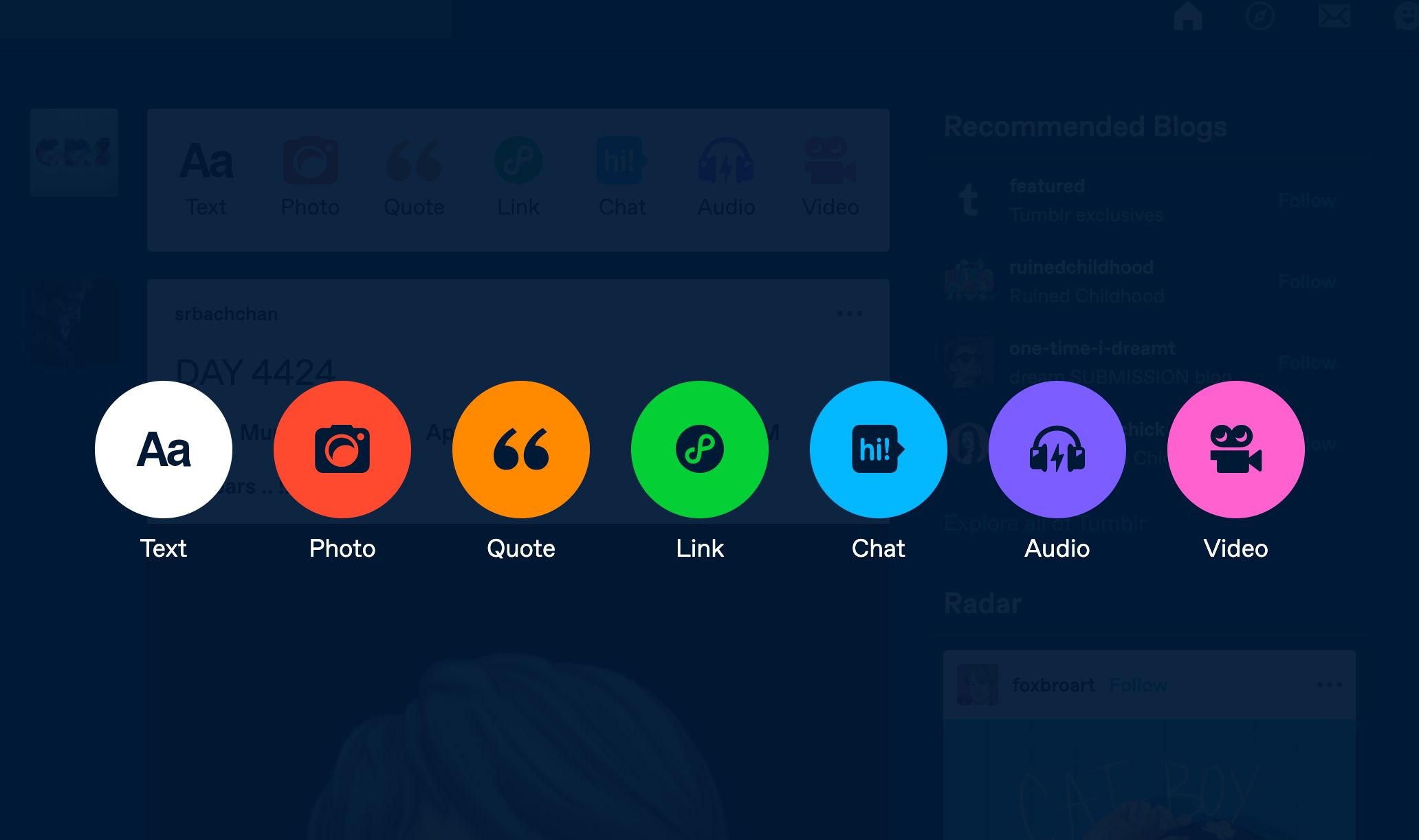 Tumblr has the face of a social media platform and the markings of a blogging site.
Many refer to it as a "microblogging platform" because content shared here is typically more brief and to the point than the more typical long-form blogging.
It also encourages not only the sharing of a variety of mediums (audio, video, graphic, gif), it focuses heavily on the re-sharing or "retumbling" or content posted by others.
In terms of design, there are hoards of templates available (free and paid) to customize your homepage, however, unless you're familiar with HTML, customization is quite limited.
Overall, Tumblr is a simple platform designed to help users share and create content casually.
Since it is so easy to get started on the platform, however, it is a great place to test out a concept. Many users create one or multiple Tumblr blogs to serve a very particular niche of interest.


8. HubSpot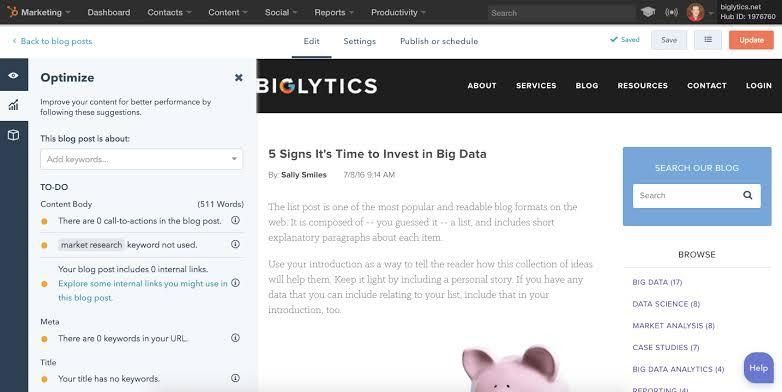 Though not a standalone product, HubSpot offers a complete suite of blogging tools to help you build, publish, and optimize your blog.
It is a great option for marketers and small business owners who don't just want to publish, but to generate leads from their blog, among other things.
Features include pre-made blog post blueprints, which help you quickly format and publish, as well as analytics that give you insights into your marketing strategy.
The HubSpot blogging tool comes as part of a bigger content management system (CMS) package (you can't use the blogging platform on it's own), but with it, you get tools for lead management, marketing automation, email marketing, search engine optimization (SEO), and integrations with other useful tools to take your content marketing efforts to the next level.


9. LinkedIn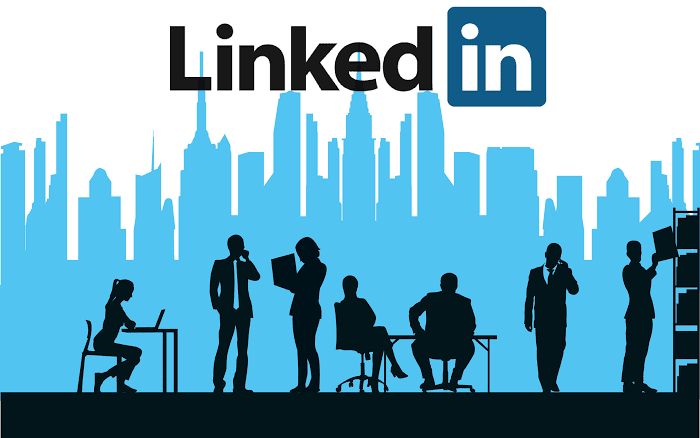 LinkedIn's publishing feature has previously been referred to as LinkedIn Pulse but today, it has grown so much, it exists without this naming distinction. According to LinkedIn, users publish more than 130,000 articles every week.
As a social media network, first and foremost, LinkedIn is a convenient place to share expertise with your audience and reach more business buyers as the platform boasts 675 million active monthly users, with 40% logging in daily.
Unlike Facebook, which has experienced heavily declining organic reach, good LinkedIn organic reach is still quite achievable for the average user.
If your article is good enough to get noticed by LinkedIn editors, it could also be shared in daily or weekly news features, creating new promotional opportunities that can help you build your audience.
Blogging on LinkedIn is free but with a paid subscription to LinkedIn Premium, you'll have access to more in-depth data about your account, including the performance of your articles.
10. Typepad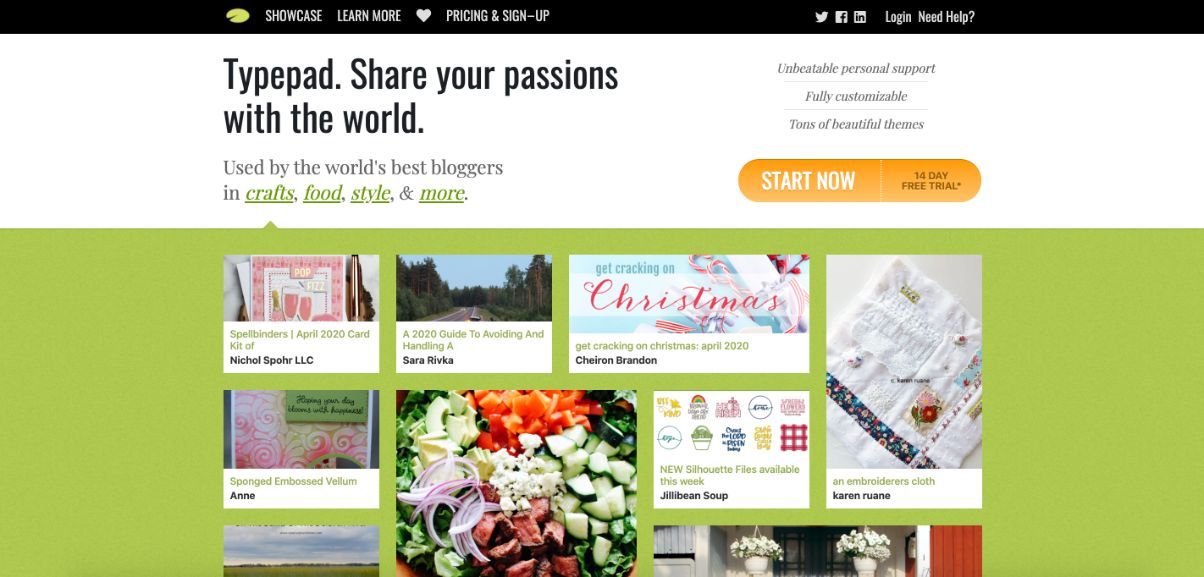 Typepad was a pioneer premium blogging platform.
Although its market share has reduced significantly as competitors join the race, the fact that this platform has been around since 2003 speaks to its strength.
While it's not free, Typepad proves its value by offering more than most free services — unlimited storage, priority support, and custom domains.
It's also loved for its reliability with an almost 100% uptime. The only major incident that shook the platform's reputation happened in April 2014 when it went down for about six days after a DDoS attack.
Opening an account is easy. You can choose to start with a 14-day free trial, but you'll need to provide billing information to activate it.
Overall, Typepad is user-friendly with a straightforward dashboard and lots of room for customization. You can publish content from your computer, phone, or email. You can also sell products (or services) and run ads on your blog if you choose.


11. Ghost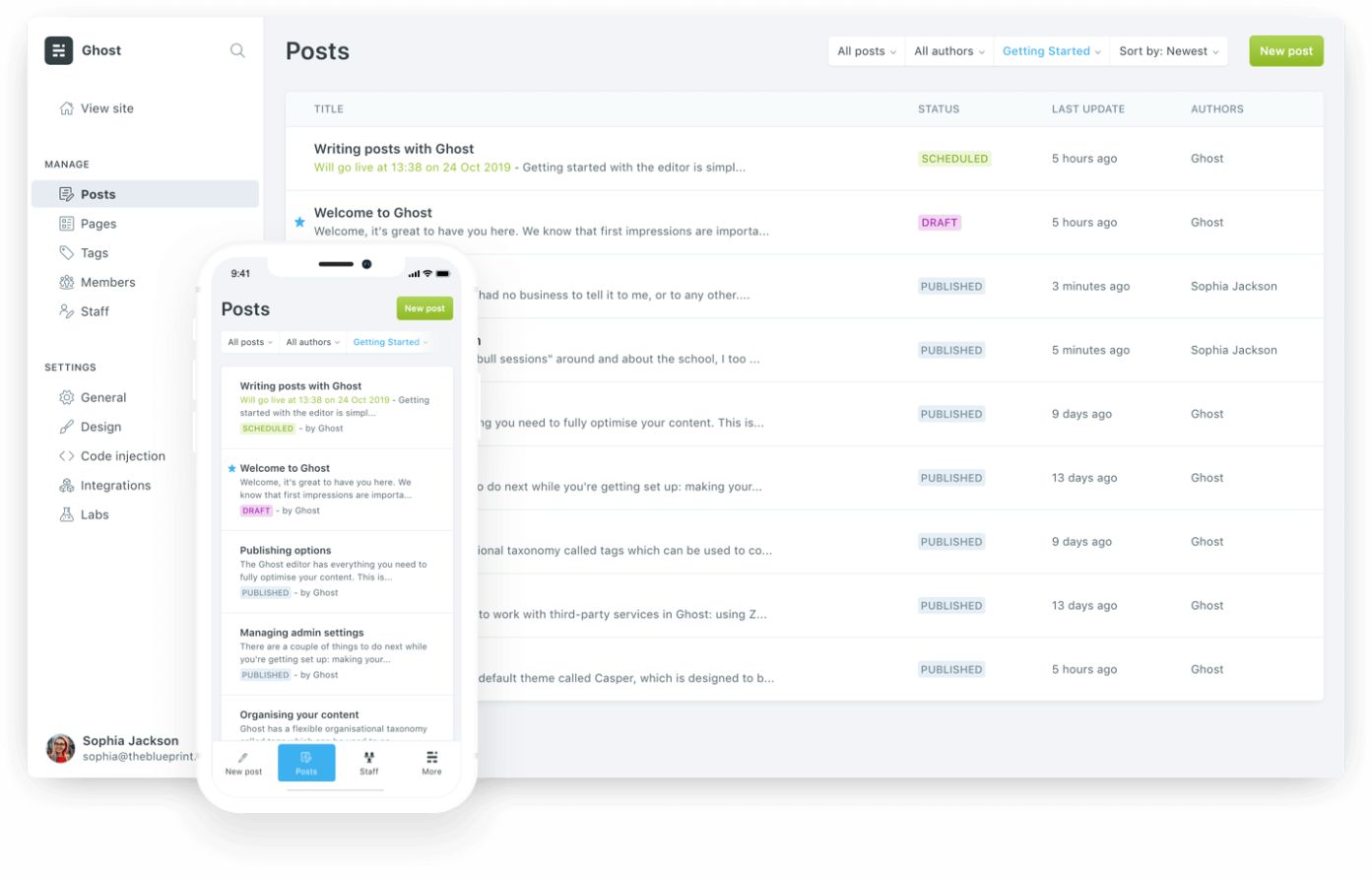 Ghost is a simple blogging platform that has recently started to gain popularity. While the interface is fairly bare-bones, like Medium, Ghost provides an enjoyable writing experience thanks to a beautiful and powerful rich-text content editor, scheduling tools, and collaboration tools.
Like WordPress, Ghost is open-source meaning you can use it with any compatible web host and extend it for your unique needs.
Truly, this platform is best suited for developers (or developer implementers), as its headless content management system offers lots of flexibility.
Ghost also offers built-in support for email newsletters and SEO, in addition to the ability to create a membership business and accept payments. It can also integrate with hundreds of popular third-party tools for extended functionality.
Test it out for yourself on Ghost's managed platform with a 14-day free trial.
Blogging with the best
This list represents some of the best blogging platforms of 2020 you can use throughout the next decade.
When choosing a platform, always consider your goals, first and foremost. Determine your necessary level of control (full or partial) and consider any other potential benefits to your business of choosing one option over another.
Have you tried any of these blogging platforms? What was your experience like? Let us know in the comments and feel free to add any great tools we may have overlooked!
Free Assessment:
How does your sales & marketing measure up?
Take this free, 5-minute assessment and learn what you can start doing today to boost traffic, leads, and sales.