Subscribe
Join 40,000+ sales and marketing pros who receive our weekly newsletter.
Get the most relevant, actionable digital sales and marketing insights you need to make smarter decisions faster... all in under five minutes.
Thanks, stay tuned for our upcoming edition.
The marketer's 5-point guide to thriving in a sales environment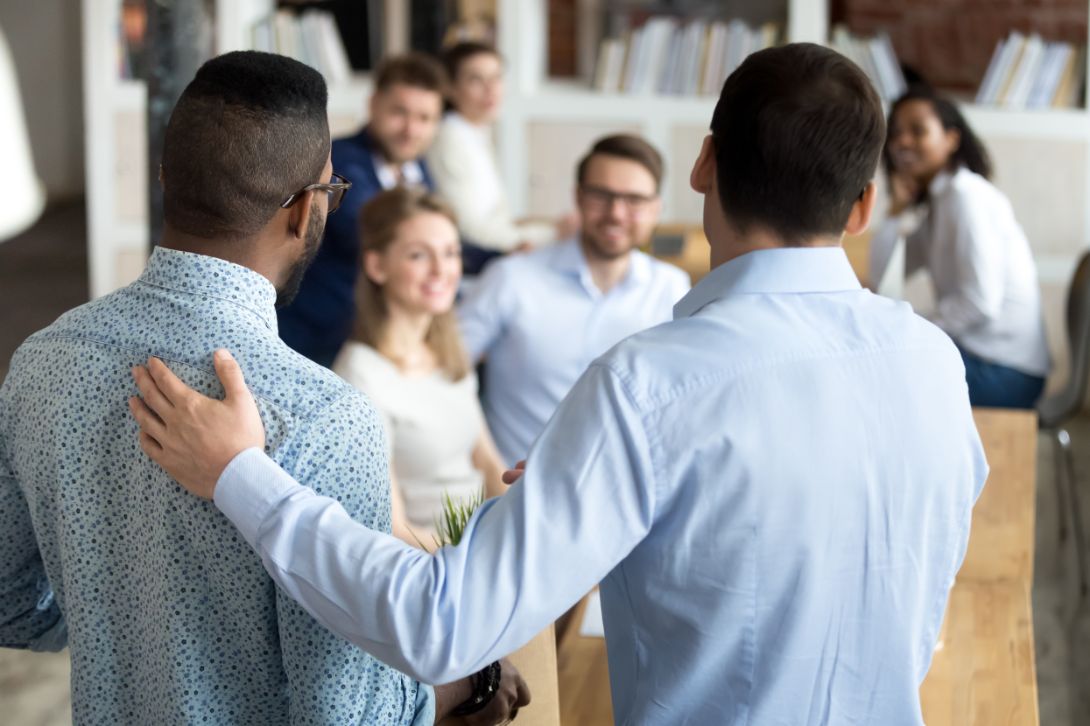 Sales and marketing goals can sometimes seem to be paddling the canoe in slightly different directions. If you work for a sales agency, sales enablement tool, or in sales-centric work culture, this one is for you.
Quick question: If you're a marketer, how much of your marketing strategy is directly aligned with sales efforts? If you're a sales leader, how much of your sales activity utilizes marketing materials?
As a marketer, I've spent seven years creating content on everything from ad spend data to employee advocacy on social media. Now, as of 2020, I've taken on an audience I've never written for before: salespeople.
This has taught me to be concise. It's taught me to get specific. It's taught me about the customer. More than anything, however, it's taught me that both sales reps and marketers have a ton to learn from each other.
Even better yet, it's taught me you don't need a VP of sales enablement before jumping into sales and marketing alignment.
I'm no expert (but you should listen to me anyway)
I recently started as head of content at Wiza, a bootstrapped startup focused on lead generation.
In my first 60 days, I doubled our traffic, quadrupled our backlinks, and captured snippets, but it's not necessarily the metrics I'm most satisfied with; It's how much I learned about the sales space.
I was the second hire here.
The CEO started his sales career before launching a cold email agency and the head of growth ran his own cold email agency before joining the startup.
Then came lil' ol' me, with plenty of content marketing experience but very little experience aligning those efforts with sales.
(Read: None. Zilch. Zero).
In the past few months, I've learned a lot — both from Wiza's small team and others in the space (including this blog).
More than anything, I've learned that alignment means more closed deals and more marketing revenue. Pure and simple.
Without aligning sales and marketing efforts, you risk:
Losing out on revenue
Mixed messaging
Wasted budget
Unclear targeting
Increased customer acquisition costs
Both marketing and sales teams will run into plenty of barriers to sales and marketing alignment. In the long term, you'll need to set up formal processes for overcoming those barriers.
But you don't have to have the perfect plan to get the ball rolling. I'm not here to talk about formal processes and KPIs and MQLs (we're a bootstrapped startup, remember).
I still have a long way to go, but here's what I've learned so far about leading a sales and marketing alignment initiative.
5 informal ways to align and thrive in a sales environment
Even if you're not a team leader, these are a few ways you as a marketer can help build sales and marketing alignment into your team, from the ground up, and thrive in a sales-focused environment.
Here are my top five.
1. Leverage your sales leaders' voices
Marketers tend to write most of the content at any given company, but that doesn't mean everything needs to come from the head of content.
A prospect wants to hear from the person they're working with; the experienced sales rep they're building a relationship with, not a content marketer.
Plus, sales reps likely have first-hand insight into the customer's needs that marketers typically don't.
So turn to them for guidance!
Look at ways to incorporate your sales team into social, collateral, and articles. Posts from your sales lead or founder will add credibility and variation to your content.
I've split our content into a handful of categories: SEO, thought leadership, and "get to know us" articles. The only posts I'm listed as the author on are SEO-focused.
For the remainder, I take some extra time to talk to our founder or head of sales. In some cases, it means simply asking a few clarifying questions about use cases, user questions, or positioning.
For other posts, it means asking them to outline the most important bullet points. Then they get the byline because they are the subject-matter experts.
2. Absorb sales content like crazy
When I first started at Wiza, I asked Stephen and Hans for their go-to sales blogs and resources. Then I spent 60 minutes every day for my first month absorbing posts, podcasts, and webinars from those horse's-mouth sources.
Here's what they recommended:
Choose one of these resources and spend just 15 minutes a day reading through the content.
Five hours a month should lead to a better understanding of sales language, motivations, and priorities. It may not impact your marketing activities directly, but it will certainly impact your relationship with the sales team.
3. Join sales conversations
As a marketer, you can learn a lot from Intercom chats or sitting in on a sales demo.
No, it's likely not in your job description, but you'll get a quick and firm grasp of common user questions, critical lead objections, and the unique use cases of your product.
Before we brought on our first sales rep at Wiza, I spent a lot of time in Intercom.
Without having to put pen to paper, I learned a lot about our users and market position in those first 60 days.
I quickly came to know the competitors our visitors were considering, the pain points our users were trying to solve, and (most importantly) why users were choosing us.
And don't forget to ask questions! Why and how go a long way to building understanding.
All of this knowledge is invaluable when it comes to aligning your marketing efforts with sales needs and goals.
4. Share the love
Eventually, in your alignment efforts, you'll get to the point where sales can determine the metrics for an MQL and marketing can contribute conversion rate optimization efforts to outbound, but if you're not there yet, there's no need to wait to get started.
Share the metrics you're using, the successes you're seeing, and the hiccups you're running into. As marketers, we have both a lot to offer sales and a lot we can learn from sales.
Is sales' cold email seeing high open rate but low conversion? Offer to get on a call to discuss messaging from a marketing perspective.
Are your pages seeing high traffic but reduced CTR? Talk to sales about what they use as their top value prop and test it out on your organic efforts.
Numbers don't have to be 100% formalized to be valuable. By being open to receiving and giving feedback, you'll likely see a lift in your metrics.
5. Downplay the differences
Don't forget: There isn't a huge difference between marketing and sales these days.
Many popular business maxims are true for both marketing and sales:
"sell benefits, not features!"
"get to the point!"
"it's all about customer success!"
"be empathetic!"
Instead of talking about a specific project or deliverable as either sales or marketing, treat it as a collaborative effort (even if one person owns it).
Everyone is bound to learn something in the process. If you learn more about sales and your sales team learns more about how (and why) you create marketing content, alignment will follow.
At the end of the day, both sales and marketing exist for the same reason — to generate revenue for the business.
If you keep that in mind and strive to understand one another, you will be much better equipped to achieve this goal in the long-run.
Take your first step
You don't need the perfect plan in place for sales and marketing alignment. You just have to take the first step.
Each month, Wiza's CEO walks us through the month's challenges for each of our respective areas: sales, content, growth, and product.
By taking the time to understand each of these areas, I can create marketing materials that accomplish all of our goals — supporting sales, capturing the value of the product, and building a foundation for growth.
All it takes is a 60-minute conversation. The point is: you don't need a big initiative to get sales and marketing alignment off the ground.
These are a few ideas that take minimal effort, but can get the ball rolling:
Ask for a 30-minute meeting with a teammate that fits your ICP. Come with a handful of questions ready.
Look at the emails your sales reps are sending. Identify one way you can improve them from a marketing perspective and one way you can use them to improve your own content.
Sit in on a demo. Take notes on the prospect's questions and the sales rep's answers.
Ask one or two sales reps if they would like to work with you on increasing their presence and engagement on LinkedIn. Treat it as a pilot social selling project.
Use sales' lead generation efforts to create your next retargeting or ABM campaign.
Which step will you start with?
Free Assessment:
How does your sales & marketing measure up?
Take this free, 5-minute assessment and learn what you can start doing today to boost traffic, leads, and sales.