What is repelling content and how can you use it to increase sales?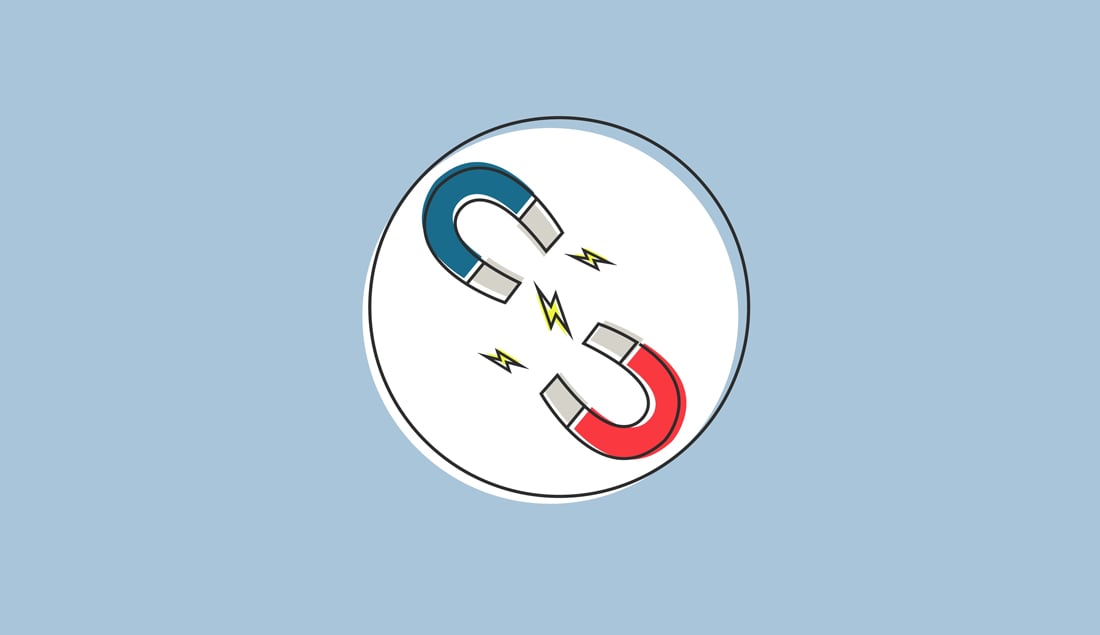 You wouldn't ordinarily put the words "repel" and "content" together, right? When we think of content marketing, we think of using it to increase our search engine rankings, website traffic, and ultimately, leads and sales.
We think of it as a way of attracting people to our business. Not pushing them away.
But, actually, "repelling content" is vital. Repelling content discourages those who aren't the right fit for your business from continuing their journey with you. It speaks directly to the "wrong-fits" and says, "We're not right for you," preventing them from absorbing your team's time and energy.
What is repelling content?
If you were to ask yourself if your business is the right fit for everyone, what would you say? The majority of businesses would say no. When we're honest with ourselves, we know our product or service is not a good match for everyone.
🔎 Related: Why you should talk about how you're not right for in content
The trouble is, we tend to create content for our ideal customers while shying away from creating content for those who aren't the right fit. This is because we fear missing out on business. Even if that individual does not see the most success working with us, it's uncomfortable and difficult to turn that money away.
But the truth is, when you repel the wrong-fits, you enable yourself to do more business with your ideal clients. In fact, you increase the trust and loyalty with the "right-fits" by showing you're not just out for a quick buck. Ideal clients respect your honesty and transparency, and also see more success when they sign on.
In They Ask, You Answer, Marcus Sheridan talks about how important it is for bad-fit clients to disqualify themselves from working with you (without communicating with you). This is exactly the aim of repelling content.
🔎 Related: What is They Ask, You Answer?
Ultimately, repelling content is content that directly explains who is unlikely to see success with you, so that they don't end up making a purchase they regret and having a negative experience with your organization.
And this process should happen quickly because as IMPACT's Rachel Palmateer rightly says:
"The intention is to be very transparent and forthcoming with those who are looking for direction when visiting your website so they don't waste their time."
But who's not a "right-fit"?
There are many reasons someone might not be the right fit for your business. This includes but is not limited to:
They don't have a big enough budget.
They don't have foundational elements or prerequisites needed to see success.
They need or want something that you don't offer.
If you're in services, it could even be as simple as a personality clash — your communication styles, values, or personalities are just too different.
Ultimately, the goal is to pre-qualify prospects before they get in touch.
How repelling content helps increase sales
So, we know how repelling content can save time, but how can content that is designed to repel people actually increase your sales?
Repelling content not only prevents the wrong people from contacting you in the first place, but it prevents you or your sales team from wasting time on these contacts.
When a wrong-fit gets in touch with your team, a chain reaction of events follows. Your sales team will have to speak to them. Emails will be exchanged. Perhaps phone calls or Zoom calls. Your sales team might even create proposals or pitches for this person/company.
🎓 IMPACT+ course: Creating memorable, money-making content for dummies
Imagine a salesperson wastes two hours per week with a prospect who isn't the right fit. Over a year, that's 104 hours. Multiply that by the salesperson's hourly wage, and that's a lot of time and money. Repelling content helps your team not spend time closing a deal that will ultimately end badly and frees them up to focus on right-fits.
Even worse, repelling content prevents bad-fits from becoming clients or customers.
Bad customers can lead to a big source of stress. And it's something my partner and I have struggled with in our business. When you take on the wrong fit, you're not just wasting time and money, you're zapping energy.
You can become resentful, and it can impact the love you have for your business. Furthermore, you may find yourself having to issue refunds or reimbursements should someone not have the experience they expected.
When you stop bad-fits in their tracks, you can avoid all this.
You also build trust and loyalty with the prospects you actually do want to work with. Your ideal clients will understand that you're selective about whom you work with and, in turn, feel part of an exclusive group.
They'll see that you don't prioritize getting business above all else. You only work with those whom you know are right for your product or service. When your ideal clients see you communicate this, it goes a long way for building trust and making people want to work with you.
There's another surprising way repelling content helps increase sales. When you're open and transparent about whom you don't work with, many people (even those who aren't the right fit) will respect and remember what you said.
This means that even if someone is not the right fit right now (e.g., perhaps they don't have the budget to work with you), they may remember you and return in the future.
They'll remember you because you were the honest and unbiased voice who said, "Hey, maybe you shouldn't spend your hard-earned money with us right now."
How to create repelling or "bad-fit" content
Every business is different and therefore every piece of repelling content will differ. But to start creating repelling content, you'll need to understand what and who needs to be repelled.
Here are three things to consider about creating repelling content:
1. Consider how you don't want to be treated
One of the best ways to start is by considering how you or your sales team don't want to be treated by your customers.
This could be not being paid on time, not having your time or expertise respected, or simply not working with individuals who share your values and beliefs.
I coach businesses on how to get more leads and sales from their websites. But when we were web designers, we hated being treated like "yes-men/women" — just "techies" who were told exactly what to do and expected to do it, a situation where our input wasn't welcomed.
So, we created a simple article called "10 reasons we're not the right fit for you." And the first point was, you guessed it, "You Want a 'Yes Man/Woman.'"We made it clear that if this was the type of person someone was after, we weren't right for them.
2. Consider who won't find value in working with you
It's easy to repel those who are rude and dismissive (and a few years in business gives you more and more experience of this!), but what about those who just won't find value in your products or services?
When we were web designers, we found that new business owners struggled to see an ROI from their new website. This was because they hadn't yet established their brand or their target audience. They hadn't tested out their products or services.
🎓 IMPACT+ course: Assignment selling content is the greatest sales tool
Because of this, when it came to launching their website, they were starting off in a huge deficit. They had to make that money back quickly. It was incredibly stressful for them (and us too).
From this experience, we learned that new business owners shouldn't invest thousands on a website unless they have other foundational elements established. We decided not to take on new business owners as clients.
Then, we created content — Why New Business Owners Shouldn't Invest Thousands in a Website — to explain the reasons we didn't take on new business owners as clients.
So, ask yourself the question — what makes someone not quite ready to work with you? Where do your customers need to be to get the most out of your products and services? What do they need to have in place before they sign on?
Create content sharing these criteria so readers may be able to qualify or disqualify themselves without additional help.
However, you can consider creating content aimed at those who aren't yet ready for your products or services but may be one day.
When we published the article about why new business owners shouldn't invest thousands in a website, we had clients come to us later on in their journey. They'd read the article, took our advice, and when the time came to get a website, they came to us because they trusted us.
Another excellent example of this type of article is IMPACT's If I'm not a good fit for They Ask, You Answer, what can I do?
This article educates those who believe that the principles taught in the book, They Ask, You Answer, aren't applicable to their business. It helps these specific people by giving them tips on how to grow their business or organization by using different strategies such as building an email list or investing in social media.
At the end of the article, it encourages the reader to really examine if The Big 5 principles taught in They Ask, You Answer are applicable to their business.
It educates people with the mindset that They Ask, You Answer is not right for them. It's still incredibly helpful. And I imagine a lot of people will come back to the principles once their mindset shifts.
3. Consider what you don't have the capacity to do
What don't you do in your business that your customers often ask you about? This is usually because you don't have the capacity to do it, or doing so would require you to branch out beyond your current product offering.
Once you understand this, you can create content that explains what you don't do and why. There's zero point in spending time with someone if they want something you don't offer.
A fantastic example of this is from Denise Cowle, a book editor who published a blog post on 8 reasons you shouldn't hire me to edit your writing. Denise openly states that she doesn't work with people who have written "a fiction book" or anything "highly technical or scientific." She also explains that she's not a writer and will not write for her clients.
This discourages anyone from getting in touch with her that needs any of those services, but simultaneously gives them guidance by including links to her recommended contacts in these areas, such as fiction editors or editors specializing in STEM subjects.
You can, and should, still help people, even if they're not the right fit. They will remember you for it.
Creating this kind of content can feel daunting, but there's no point wasting time (both yours and your prospects) if someone wants a product or service you don't offer.
Where to start with repelling content
Get your team together and go through the three buckets with these questions in mind:
How don't you want to be treated?
Who won't find value in what you offer?
What do you not have the capacity to do?
Once you've done that, you'll have the foundations to create amazing content that repels the wrong-fits and attracts your dream customers.
But there's another benefit to producing repelling content: It holds you accountable.
Sometimes, we might be tempted to take on that customer whom we know in our gut isn't the right fit. We might be tempted to offer a service or product we wouldn't ordinarily offer just to please a prospect. We may take on a client who isn't quite ready to get the most out of our products or services.
Producing repelling content makes sure that we hold ourselves accountable. So we don't get tempted to bend our own rules.
If you want to know more about repelling content, and other content you can create to attract those dream clients you'll love to work with, check out the Content Fortress course. And the good news is, our IMPACT readers will receive 20% off the course with the discount code 'IMPACT'.
Free Assessment:
How does your sales & marketing measure up?
Take this free, 5-minute assessment and learn what you can start doing today to boost traffic, leads, and sales.