5 ways B2B sales pros can increase influence with c-level buyers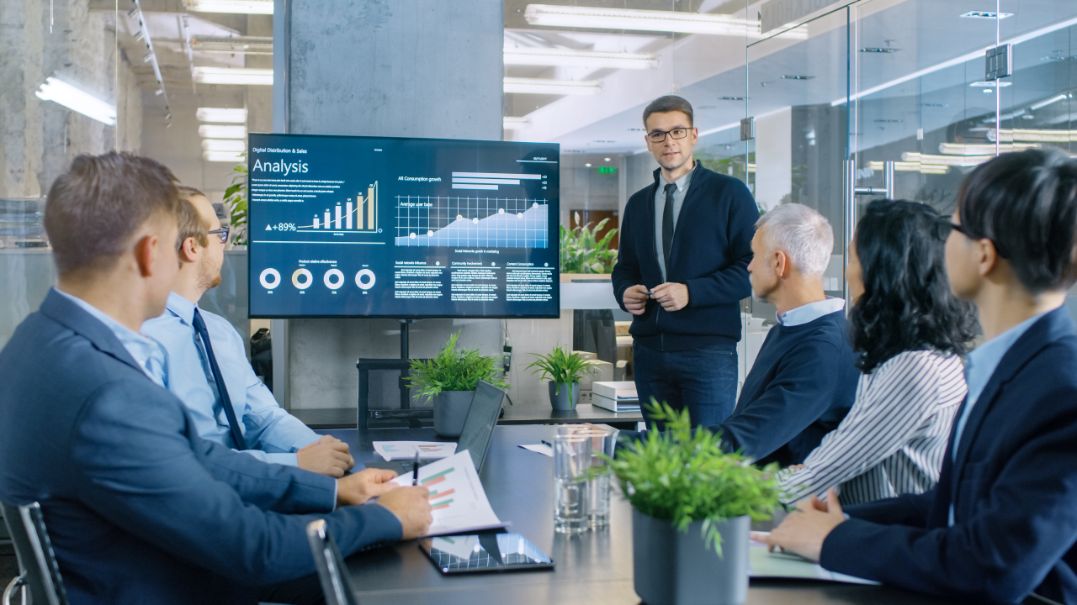 C-level meetings with prospective buyers are hard. They often require a different approach and mindset from other sales meetings, but they're critical to closing more and bigger deals.
Conversations with c-level executive buyers usually lead to bigger deals because they are the ones driving strategic decisions about what their organization needs to invest in, and they hold the ultimate budget authority.
Unfortunately, many sales pros simply don't go after c-level meetings because they are intimidating.
What should I say? What should I ask? What if I mess up?
These are all valid concerns — especially because research shows many c-level executives are not fans of sales meetings.
Eight out of ten say the sales meetings they take are a waste of time. 75% think reps don't demonstrate knowledge of their business, while 77% say reps don't present solutions that address the specific issues they face.
C-level prospects are under pressure, strapped for time, and filter any and all requests through a very narrow lens. If you are not catering to their needs and goals, you aren't going to win them over.
If you want to elevate how you influence and sell at the CEO or the executive level in an organization, then you need to speak the language of leadership.
That means making the value of the conversation clear as well as how you can deliver outcomes while managing risks.
That's really what leaders care about: How can they deliver specific business outcomes and manage the risks of pursuing those outcomes?
When you steer your conversations towards this type of discussion, you can go down the path of starting to become a trusted advisor and work with your client in partnership rather than being perceived as someone that's just trying to sell to them.
Sales professionals can confidently have conversations like these with c-level executives by leveraging the following five ways to increase influence with B2B buyers.
1. Do your research!
First things first. Research, research, research.
Yes, it may seem like I'm stating the obvious but, as noted above 75% of executives say reps don't demonstrate knowledge of their business. So, it's worth repeating.
To add insult to injury, reps claim their meeting preparedness merits a "B" grade on average but c-level buyers rate them an "F"!
Room for improvement? I believe so.
Gather information like what the company does, who their customers are, who they are, and what their product, service, or solution does, but your research also needs to go beyond the basics.
Buyers favor sellers that demonstrate a deep understanding of their company's business needs, customer needs, competitive landscape, and overall industry.
You should always seek to be a customer of your prospective client, or talk to some of their customers, as part of your own research and adopt a perspective on how that experience could be improved.
When it comes to getting well-versed in a prospect's business drivers, strategic objectives, key challenges, and industry news, internet research is a start, however, if you want to impress at the executive level, you should be expected to pore over not just their target company's website, but also its 10-Ks, quarterly earnings reports, etc.
Although these documents are intended for investors and shareholders, sellers can extract a ton of useful nuggets of information that can be leveraged for personalized outreach, uncovering a timely reason to reach out, better understanding the prospect's challenges, better understanding their business, and getting accurate insight into the risks, strategies, and operations of the business.
For example, you can review the report to find answers to questions like: Does the report mention a strategic risk that your company helps to solve? Do they highlight a company initiative that you can add value to? Perhaps you've helped a competitor who previously had a problem mentioned in this report?
It's an opportunity to speak their language and align with their strategies around desired business outcomes.
2. Develop your point-of-view statement
When you get the opportunity to meet with a c-level executive, you need to bring your A-game.
That means walking into the meeting with a captivating point-of-view, or perspective, in terms of why this person and company should be compelled to work with you.
And no, I don't mean delivering your elevator pitch.
Your elevator pitch is about you. Your point-of-view is about them.
Your point-of-view statement is a combination of your industry knowledge, what you know about their company's business drivers and strategic objectives, and how you can help them achieve their objectives and gain a competitive advantage in their market.
Your research and due diligence will help you develop this type of point-of-view statement.
Because let's face it, you can't (or shouldn't) engage until you've done your homework and earned the right.
However, it's a delicate balance.
You need to appear confident but not cocky.
To demonstrate and validate your knowledge and insights, you need to use humble, respectful language.
For example, you could say something like:
"I understand sales are lagging, and you're looking to grow through acquisition; is that right? If you could reallocate budget to free assets up for these activities, would you be interested in that? I have an idea I'd like to share about how you can do that."
From there, the meeting can transition into more of a two-way conversation.
Starting your meeting in this way communicates that you are prepared and knowledgeable about both the customer's business and the marketplace while demonstrating you've thoughtfully considered and visualized the benefits of working together.
Developing your point-of-view is critical to the c-level conversation because it explains how you are uniquely positioned to handle their challenges and provides a compelling reason for why they should work with you.
3. Find your internal coach or champion
If you can identify and get to the decision-maker at your prospect's company right from the start, good for you!
You have an excellent opportunity to create sales momentum and shorten your sales cycle.
But, if you're working with someone lower in the chain of command, you've got your work cut out for you.
You need to find an internal champion within the organization who will advocate for you.
For example, if the ultimate decision-maker is the Chief Revenue Officer (CRO) and you can't reach them, cultivate a champion in the VP of sales or sales manager. Help them layout a business case to their internal stakeholders as to why they should learn more about your solution.
In fact, don't stop at just one internal coach or champion, cultivate multiple stakeholders in the organization and educate all of them on your solution.
c-level executives don't make decisions in a vacuum, they enlist the help and opinions from their own trusted team and internal advisors.
4. Leverage referrals and warm introductions
C-level executives guard their time and their calendars, and rightly so. That's why you should leverage referrals and warm introductions at any chance you get.
91% of B2B purchasers' buying decisions are influenced by word-of-mouth. And, 88% of B2B decision-makers rely on word-of-mouth (online and offline) for "information and advice."
If you want to land a meeting with one of the leadership team members at your target account, one of the only ways to make that happen is through a warm introduction from someone they know and trust.
Scour your network of connections to find a way in. Start by using LinkedIn.
Ever heard of six degrees of separation?
It's very possible you are already connected to someone on LinkedIn who could make an introduction for you.
For example, 2nd-degree connections are people who are connected to your 1st-degree connections, and 3rd-degree connections are connected to 2nd-degree connections.
But remember, a person's LinkedIn connections are not a commodity; they are built on a foundation of trust and respect. Your colleagues don't want to risk annoying or alienating these trusted connections, so give them good reason to make the referral.
Once you come across a match, send a friendly LinkedIn InMail message or email to your connection. In your message, justify your request by explaining why you want to connect with the prospect. In other words, outline the value you can offer.
If you can demonstrate how the prospect will potentially benefit by engaging with you, your connection is much more likely to give you the referral
5. Position yourself as an industry thought leader
People buy you before they buy what you're selling.
Building your personal brand and establishing yourself as an industry thought leader will increase your influence significantly, especially with c-level executives who themselves are usually highly sought after experts.
It's no easy feat - it takes patience, persistence, and perseverance - but the payoff is well worth the effort.
Thought leadership, simply put, demonstrates expertise.
Done right, it creates awareness for you as an individual sales professional as well as your company as a whole.
One of the most effective, scalable ways to build thought leadership and connect with your audience is by creating content.
That could be writing for your own blog, your company's blog, publishing an article on LinkedIn, or even creating a script that you use to record a video of yourself, then, sharing it on your social media channel of choice.
It gives you a platform to create and share content that is directly relevant to the decision-making process of your buyers.
Valuable and insightful content that resonates with your target buyers will immediately differentiate you from other sales professionals who are only focused on pushing their products, services, or solutions.
Ultimately, thought leadership increases your ability to more easily gain trust, credibility and engagement.
Increase your influence
Selling to c-level executives is a different ball game. You have to be able to talk the talk and walk the walk.
That means you have to be thoroughly prepared to differentiate yourself from the noise.
Executives aren't eager to answer a bunch of discovery questions. They want sellers to alert them of threats they haven't foreseen. Or opportunities that are hiding undetected.
If you want to increase your influence and win over the executive c-level buyer, then you need to focus on how you work with and connect with key people in your buyer's organization, how you develop and deliver your point-of-view, and how you support your position as an expert with data and insights.
Are you ready for your next c-level meeting?
Whether you're new to sales or a seasoned pro, you need to walk into each and every meeting armed with the right information. Download our interactive information gathering worksheet and make sure you're collecting the information you need to better qualify your prospects.
Free Assessment:
How does your sales & marketing measure up?
Take this free, 5-minute assessment and learn what you can start doing today to boost traffic, leads, and sales.