4 Early Stage Marketing Tools With Huge Business Potential [IMPACT Toolbox Apr 2019]
Morgan VanDerLeest also recommends this free guide, The Inbound Marketer's Guide to Search Engine Optimization.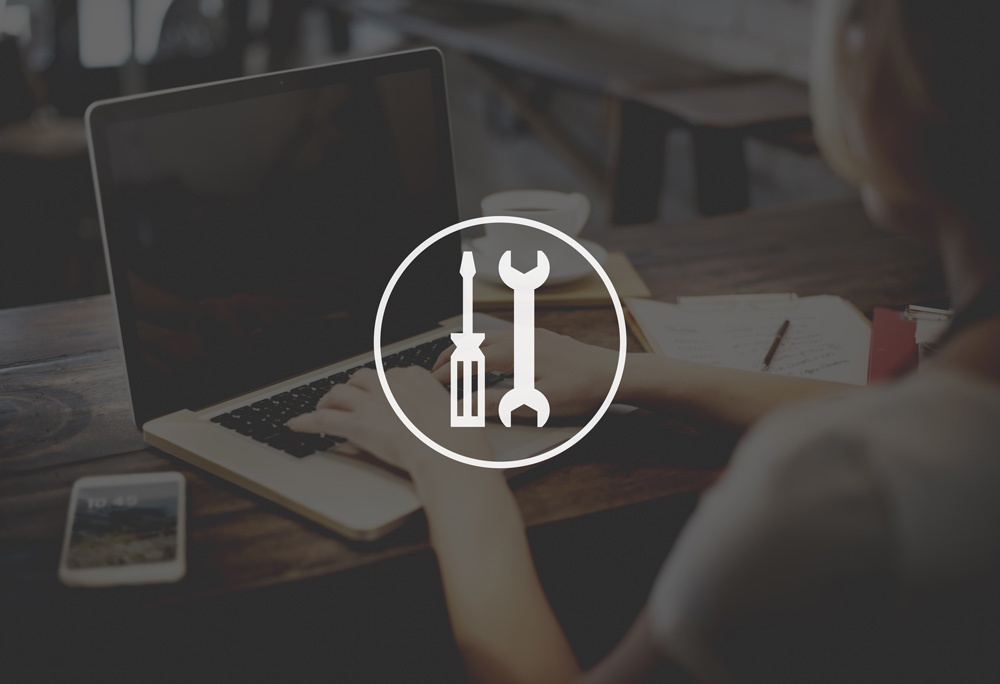 Timing is everything.
When it comes to new products and services, we tend to hold off until it is more established to try it, but sometimes using an early stage tool can provide you some great benefits on top of those provided directly by it.
The biggest is having the opportunity to shape what the final tool will look like.
New product teams tend to be very open to feedback and have quick iteration cycles. Your feedback could help shape a tool into something that could be even more beneficial to your business.
Free Guide: The Inbound Marketer's Guide to Search Engine Optimization
On top of that, you can often get a great discount by signing up early. Sometimes that discount can even mean free services for an extended period.
This month, I have found some great new tools that can replace or add to your marketing arsenal that, at the time of this writing, are providing excellent introductory pricing (or free access)!
This article is part of our IMPACT Toolbox series.
With IMPACT Toolbox, we discuss all of the latest (and even underrated) marketing tools that you need to try. We make recommendations by category, helping you figure out what tool is best for your situation, and introduce you to tools you may not have heard of otherwise.
Have questions about a marketing tool, whether or not we've reviewed it?
Reach out to us and we'll see how we can help.
Today we're going to look at:
1. engageLively - Interactive Content Backed by Analytics
Price: Free while in Beta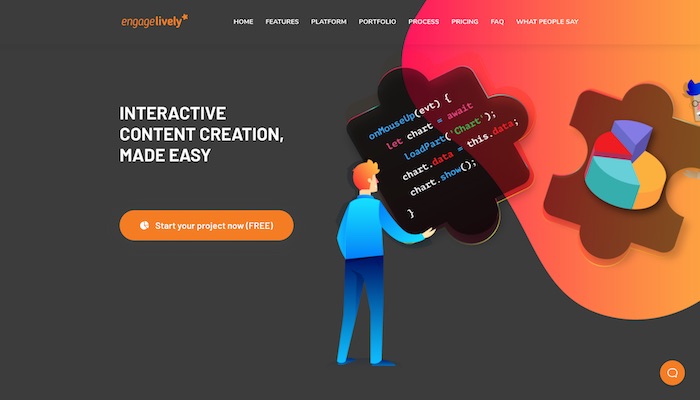 As marketers, we know the power of the big three content mediums: text, audio, and video.
Each serves a series of purposes and they feed into one another to help build a strong, cohesive communication platform with your audience.
But how does your audience engage with that content?
With text, they read.
Maybe click on a link, share a snippet with their audience, or comment below an article. While incredibly useful and powerful, this is a mainly passive medium.
With audio, they listen.
One of the reasons podcasts are so big is because people can listen while doing something else. Like text, you can encourage someone to take action or hope that they do something with the information you provide, but at the end of the day, still a passive medium.
Video changed the game.
Here's something that could really grab hold of attention for some period of time, combining text and audio with powerful visuals.
With some tools like Vidyard or Wistia, we can see how long someone watches a video, when viewership drops off, or add a call-to-action near the end so we know someone watched the whole video and wants to take the next step.
But what if that video is open in another tab? Or they pushed play, and stepped away from their computer? How do you know someone is really engaging with your video?
Like the other mediums, it's hard to know what part of your video content really stuck with someone, or where they found the most value.
That's the problem engageLively is trying to solve.
By taking the big three content mediums and adding interactivity, now we can get a much deeper understanding of our audience and what is important to them.
You can answer questions like:
How long did someone engage with this piece of content?
Which pieces did they interact with the most?
What part of the interaction were they in when they clicked the call-to-action?
What steps did someone go through before hitting submit on this calculator?
engageLively is a platform where you can build interactive content and track how people use that content. Your content is made up of HTML, CSS, and JavaScript, so there are no special tools or players needed.
Some examples of content created on their platform include: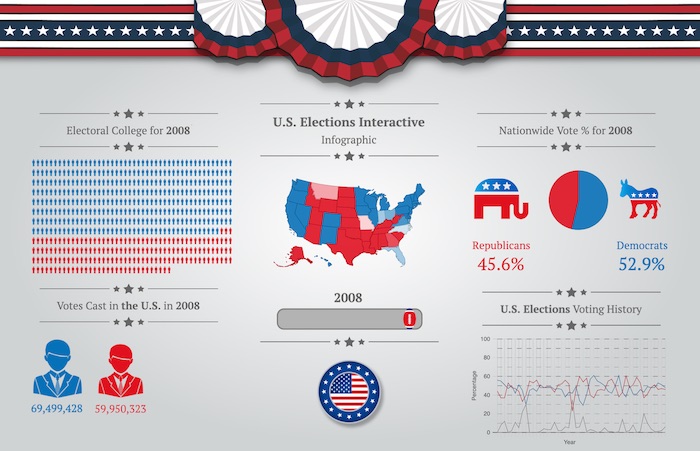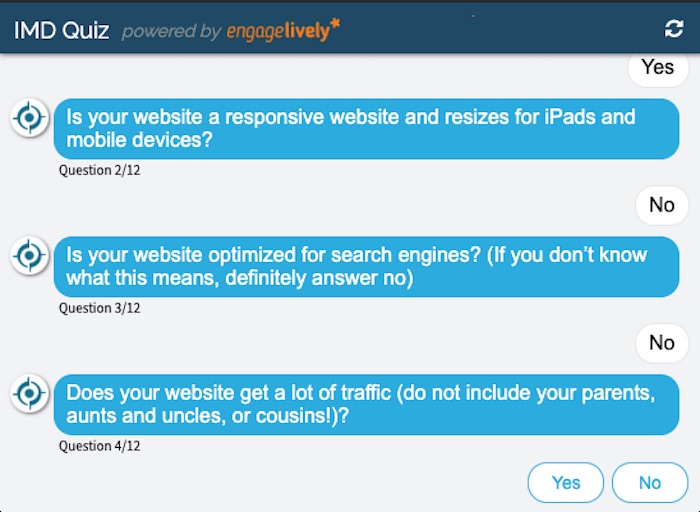 You may be thinking, "My developers can do all of this for me right now… why would I use another platform?"
You're asking the right questions.
As a developer, content like this is absolutely possible, but unless your dev team is setup to handle custom tool builds, you're starting mostly from scratch every time.
And then once they're built, you'll need to set up tracking for all of the interactions. Doable, but tough.
Another way to think of engageLively is as a platform for interactive content, similar to how Vidyard is a platform for video.
Your developers could setup a server to host your videos, and build in tracking and call-to-actions, etc. But chances are you are not going to do that (that's a decision you need to make for your business).
Setting up an account is simple (and free while they're in beta).
Once you login, you're greeted with a blank page and some recent projects (populated for you if it's your first login). You can jump into some other projects to see how things work, or start from scratch.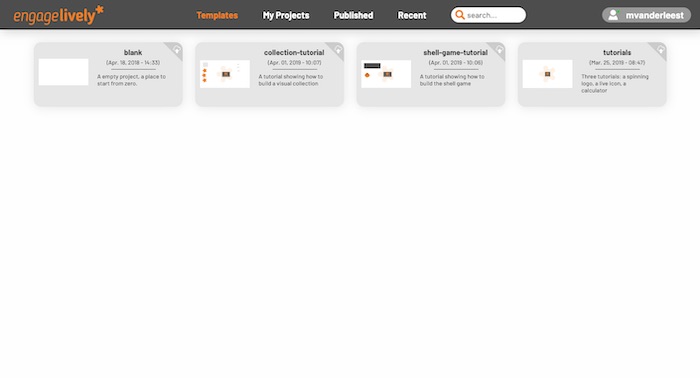 It's definitely more developer-friendly right now, but as long as you understand a little code, you'll be fine playing around.
And they are actively looking for feedback, so if you run into an issue or have a question, you'll be able to get an answer.
In addition to the sample projects, you can view tutorial videos for getting set up and they're rumored to be starting regular screencasts where they'll walk through basic and advanced setups.
It would take much longer to go through a full-blown tutorial. But when you sign up, you'll get an email with the option to Book Your Free Demo. Take advantage of that while you can get one-on-one face time with their team!
2. Zag.ai - Artificial Intelligence for Your SEO
Price: Currently $99/mo with introductory pricing, Lite plan coming in a few months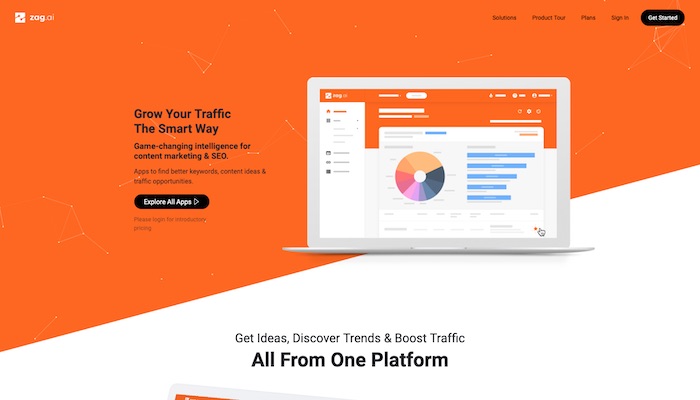 I can hear your thoughts from here.
Not another SEO tool… Morgan, please!
Just hang on, listen first.
What comes to mind when you think of SEO tools?
Big dashboards, lots of individual tools, and loads of information to comb through. Testing multiple keywords and their variations, cross-checking against other sources. It's a full-time job (quite literally).
Zag.ai is taking that workflow and giving it a much-needed boost with Artificial Intelligence.
You have my attention.
There are three main product categories:
Market Research
Traffic & Link Sources
Analytics and Insights
Market Research
In Market Research, you'll find tools for keeping up and staying ahead of your market. Things like:
surfacing the best performing content around the web in the last 30 days (blogs, email headlines, ad copy, etc)
scanning news media so you can jump on the news as soon as it breaks (newsjacking)
showing competitor traffic by keyword and page, and
a keyword tool that gives you topic ideas and audiences from a single keyword (based on "zooming out" to find related topics, interests, people, and organizations
These general tasks can probably be done with your current SEO tools and some manual work on your part -- But who has time for that?
Traffic & Link Sources
The tools in Traffic & Link Sources will help you:
Find recent discussions around the internet for your target keywords, so you can jump in with your own content shortly after it was asked for
Check how your competitors are getting publicity, links, and traffic ("Great artists steal")
Targeting search traffic that has clicked on Google's first page of results and setting up ads for the keywords that would hit those pages
These are probably a little harder to do with your current set of tools.
The key here is timeliness. Surfacing discussions that are no longer top of mind (like searching for them after the fact in your social network of choice) may not do you any good. This can even deliver same day traffic if you can catch engagement at the right time.
Analytics & Insights
Lastly, Analytics & Insights is Zag.ai's largest collection of tools.
With these, you'll be able to:
Find opportunities to boost search traffic based on your current search console
Determine what content is best performing for conversion, what turns visitors into customers
Know which channels are best for your business, including customers, revenue, and fastest sales cycle
Geo-target your best users, which is one of the easiest ways to bump ROI on your paid channels
Identify your key influencers that have audiences that responded well to your content or offering
As opposed to the other categories which handle external sources, these tools are all about getting more out of what you already know. Just like some of the best and easiest revenue comes from the customers you already have, some of the best insights come from the data you already have.
As of writing this article, Zag.ai has a 14-day free trial prior to their standard $99/month plan (introductory pricing, will be $129/month later), but there is also a Lite plan coming within a few months.
The Lite plan only has access to five apps at a time and has a few other limitations, but could be a great way to get your feet wet for pretty cheap.
3. Intravert - Monetize Your Community with Ads You Control
Price: $0/mo +7.5% fee per transaction, or $49/mo +2.5% per transaction (plus Stripe fees for both)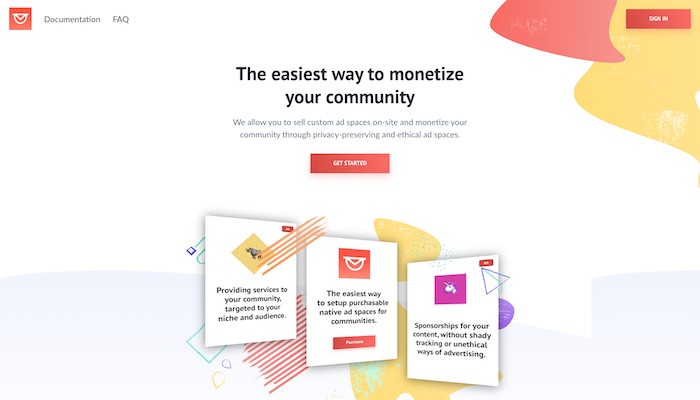 Do you currently use Google AdSense to monetize your website content? Or would you like to monetize your website content but haven't found a solution yet?
Intravert is a potential revenue opportunity for your business by offering custom ad space based on what you approve. There's no algorithm behind the scenes or forced styling from another brand; you choose how an ad looks, where it is, and who books that space.
Right now, there are just a few customization options. Ads can be text, image/banners, or a combination. They can have some default styling applied, or be completely customizable.
The two default placements are:
Banner - which sits in the sidebar or as part of your content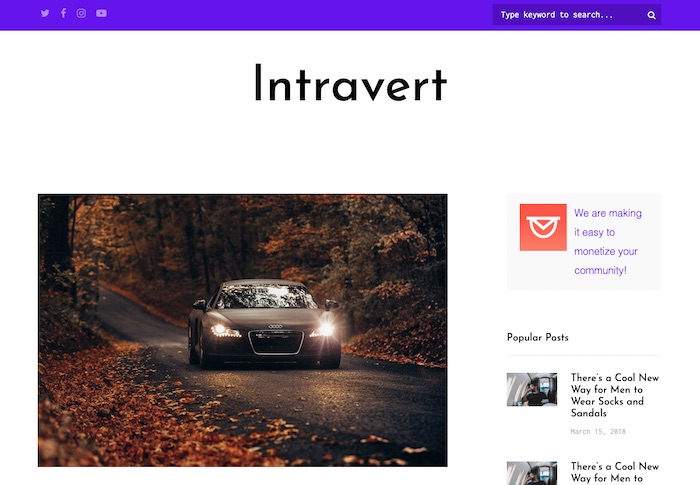 Sticky box - floats on top of your content; an example being a "hello bar"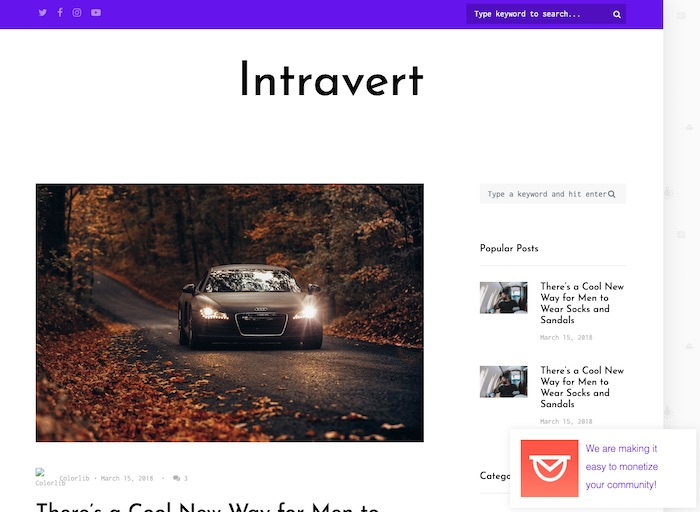 The sign up process is fairly quick and includes connecting Stripe for payments.
After you sign up, you'll get access to your own dashboard, where you can setup Ad spaces around your site.
You will need to drop two lines of code roughly where you would like the ad to show on your website (some custom styling can take care of the rest).
Then, for each ad placement, you'll set up a placeholder that will show when the space is not booked.
When a potential advertiser clicks that, they'll be taken to a booking screen with timeframes, ad details, and payment info. When they complete the form, you will get an email notifying you of the request and you can confirm or deny the placement (depending on what you want to show your audience).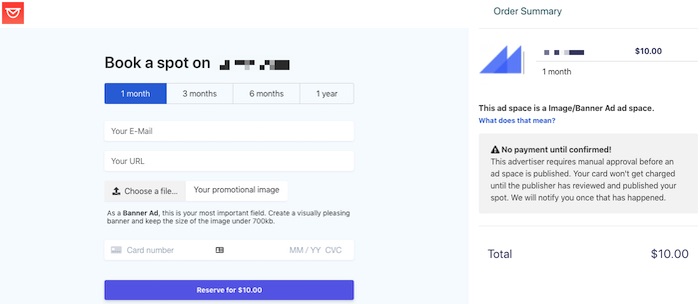 An important note: this booking is by ad space, not globally on your site. So, unless you set this up as a global element (same code for multiple places on your website), then the advertiser will only book on one page. You should specify that in your placeholder text so advertisers know exactly what they're requesting to book.
Intravert is free to get started, with a transaction fee of 7.5% applied in addition to Stripe fees. There's also a premium option that costs $49/month which reduces the Intravert fee to 2.5% and has some additional features like a personalized checkout process.
Whether you use Intravert probably comes down to how you are monetizing your content (it at all).
If you have a development team that can handle your own version of native ads or if your content drives revenue for you in another way, then Intravert may not be a great fit, but if you have some steady traffic and an audience that would benefit from advertising curated by you, then give Intravert a try.
4. GrowSurf - Unlock the Power of Refer-a-Friend Marketing
Price: Free plan for basic functions, Paid starting at $66/month (but free while in Beta)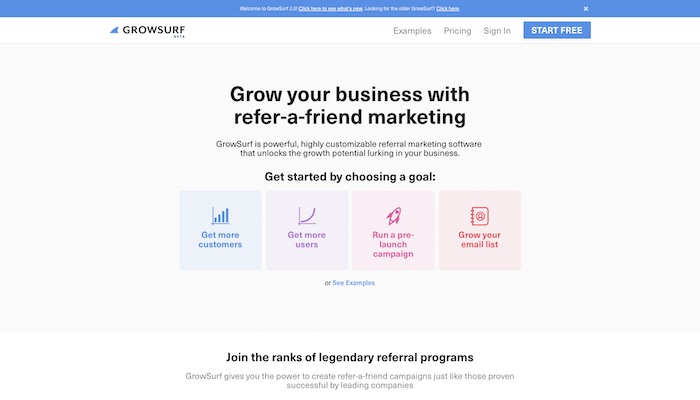 I must admit, this one is pretty exciting.
When GrowSurf was first announced over a year ago, I took it for a test drive and found it to be quick and easy to get started with referral marketing.
And now it's back with some big upgrades for Version 2.
GrowSurf is a refer-a-friend marketing tool that helps you give benefits to people for referring others to your site/product and gives you full tracking capabilities throughout that process.
There are four types of referral reward programs you can setup:
Single-sided - this is when you reward someone for referring a friend (ex. Receive $10 for each referral who buys something)
Double-sided - reward both people for a referral (ex. Send a $20 credit to a friend and receive $10 when they purchase)
Milestone - rewards based on specific referral milestones (ex. Refer 2 people and get a branded bag, 5 people and get a free ticket to our event, etc )
Leaderboard - reward the top referrer(s) for your campaign (ex. Move up the early access list with more referrals)
The campaign setup process has a nice walkthrough of all the options you have, including:
different reward types
design of the share widget and referral screen overlay
emails that will follow up
additional options (like Zapier, referral credit window, etc)
campaign installation on your site
Each stage has some examples and/or tips, so even if you're coming up blank you'll get a little jumpstart.
After a campaign is published, you'll have access to a campaign dashboard.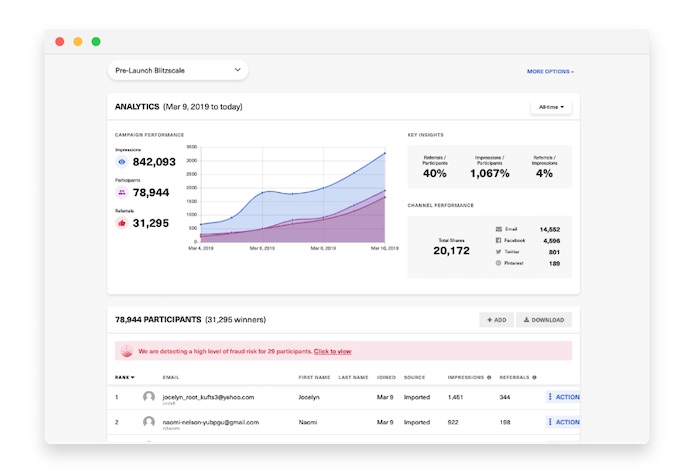 This shows all your analytics such as Impressions, Participants, and Referrals. Plus key metrics and the participants in your campaign.
Here's a look at more of the basic features: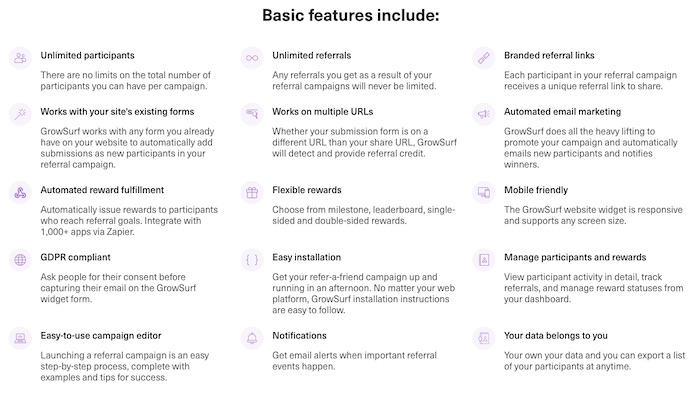 GrowSurf was created because their team wanted a tool that was relatively inexpensive (with a free option), was easy to plug in to your current website/product, and had a strong feature set.
They weren't able to find a tool like that on the market, so they built their own. And just to prove their point, they made a mega list of the other referral program tools so you can compare to your heart's content.
While there is a free option, you'll want to pay to get more campaigns and email credits. As of this writing, there is a 14-day trial and then 100% free access during the beta. You'll just need to fill out a feedback questionnaire to request your free access (you can email team@growsurf.com to request that).
Save On These Tools & Help Shape Their Future
Get in while the getting is good!
All of these tools are early stage so you'll have the opportunity to reap their rewards, help shape their future, and get free or great introductory pricing.
Did you find something useful in our round-up? Let us know how one of these tools helped improve your business in IMPACT Elite! And if there's a specific tool you have questions about, let us know and we'll see if we can help you figure out the best option for you.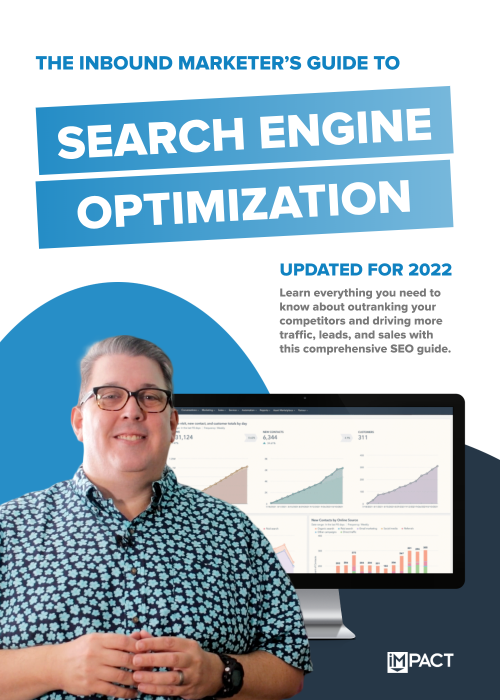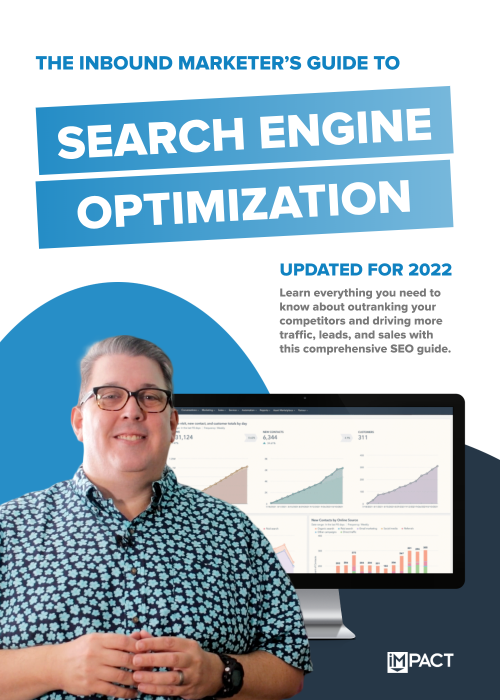 Free Guide:
The Inbound Marketer's Guide to Search Engine Optimization
Generate more traffic, leads, and sales with search engine optimization
In this free guide, you will learn:
What search engines are and who uses them.
What search engine optimization is and how it works.
Best practices for search engine optimization.
Published on April 24, 2019