7 ways to generate leads & boost revenue with your company swag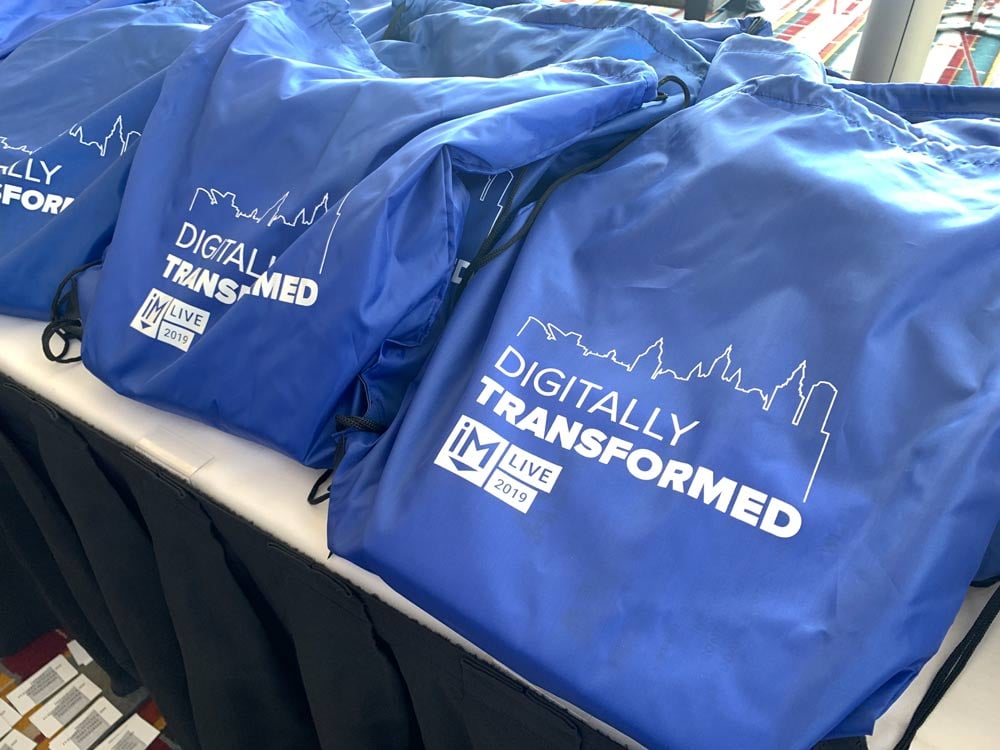 In marketing, your job typically comes down to two things: winning customers and keeping customers.
Every facet of it — social media, email, conferences, branding, digital ads — should ultimately be contributing to those end goals.
One item that isn't necessarily thought of in that vein, however, is company swag.
Always considered more of a nicety than a necessity, things like t-shirts, stickers, and other branded company merchandise are never thought of as serious, reliable, and scalable ways of winning new customers.
But they should be!
When paired with some strategic marketing know-how, company swag has the ability to seriously boost your lead count, and ultimately, your revenue.
That said, here are seven sure-fire ways to use company swag effectively and boost your revenue.
1. Give it away at conferences
Now, giving swag away at conferences is hardly a novel idea, as it's impossible to walk through any conference hall without leaving with some kind of swag.
It's definitely still worth doing though, as 85% of consumers remember advertisers who give them a shirt or hat, according to ASI. And, if you're savvy about how and when you give away your swag, it can result in high-converting leads.
For example, at this year's Adobe MAX, Adobe's annual creative conference, Abstract gave away t-shirts to every attendee who went through a demo on-site.


This was advantageous for two reasons:
They targeted highly-qualified leads, as anyone participating in a demo is certainly more qualified than the average event attendee.

Only handing out swag to qualified leads means you won't have to order enough for the entire conference, thus saving on the cost of swag.
For tips and tricks on picking great swag, check out this post, but for the TL;DR version, here's what you need to consider:
Don't cheap out –– aim for high-quality swag items

Make sure it matches your company culture

Be inclusive –– make sure you have something for everyone
2. Use it as a prize or incentive
Leads are something every digital marketer should be concerned about.
Your job is to fill the marketing funnel with as many qualified leads as possible, then guide them from the first time they come across your brand all the way to becoming a customer.
One simple and highly attractive way to generate them online is to hold a drawing for a free swag in exchange for an email address (or more information if you'd like).
Swag incentives work for this because, well, people love it. Faced with the option to share their email address to download your new whitepaper or win a free t-shirt, a lot of people are going to choose the latter.
Plus, swag is a really economical means of lead capture here. Depending on your vendor, swag prizes It can cost you anywhere between:
$3 per month for a pack of stickers

$7 per month for a t-shirt

$15 per month for a water bottle
All in all a pretty darn inexpensive means of capturing new leads.
Design software company InVision used this strategy really effectively in the past.
The company had a prominent designer create a chic t-shirt design, then had a simple pop-up on their website offering a chance to win the shirt in exchange for opting in to their newsletter.
The promise of something physical and tangible (even if it's just a chance and not a guarantee) has the chance to draw in leads that may not be as interested as whitepapers or free resource downloads.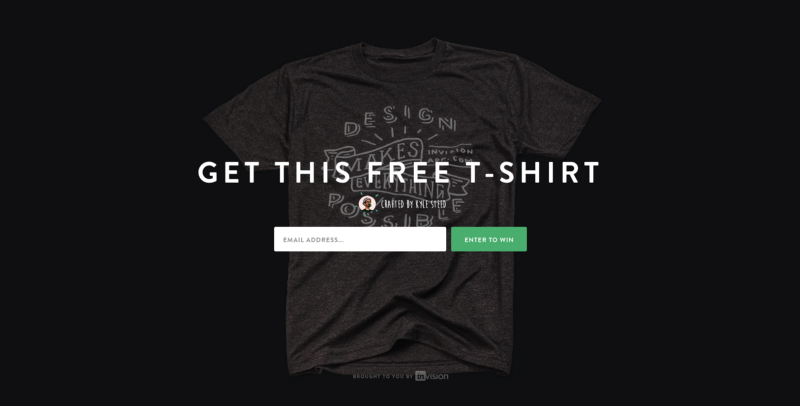 Since the shirt reads "Design Makes Everything Possible," if they entered their email it's likely because this shirt resonates with them. So, odds are they are at least a somewhat qualified lead as well.
Sticker Mule ran a similar campaign on Instagram earlier this year, giving away a free t-shirt on Instagram as part of a broader 100 days of giveaways.


You'd have to ask their marketing team how many leads were generated during those 100 days, but I'm willing to bet it was pretty darn high.
3. Retaining existing customers
Another simple, popular way to use company swag effectively is to send it as a reward to first-time customers.
When a lead becomes a customer for the first time, they're still in somewhat of a honeymoon phase with your brand. You got them to say yes, and now they're excited to start using your product or service.
There's a lot of revenue to be had in retaining and growing existing accounts.
In fact, according to Bain and Co., a 5% increase in customer retention can increase a company's profitability by 75%.
That's why keeping this positive momentum going is really important. Deploying swag here can provide huge value, as you'll continue to delight them while building trust and rapport.
We've actually been doing this at Real Thread for the past year, sending a free t-shirt along with a couple of stickers and a handwritten note from their Account Manager.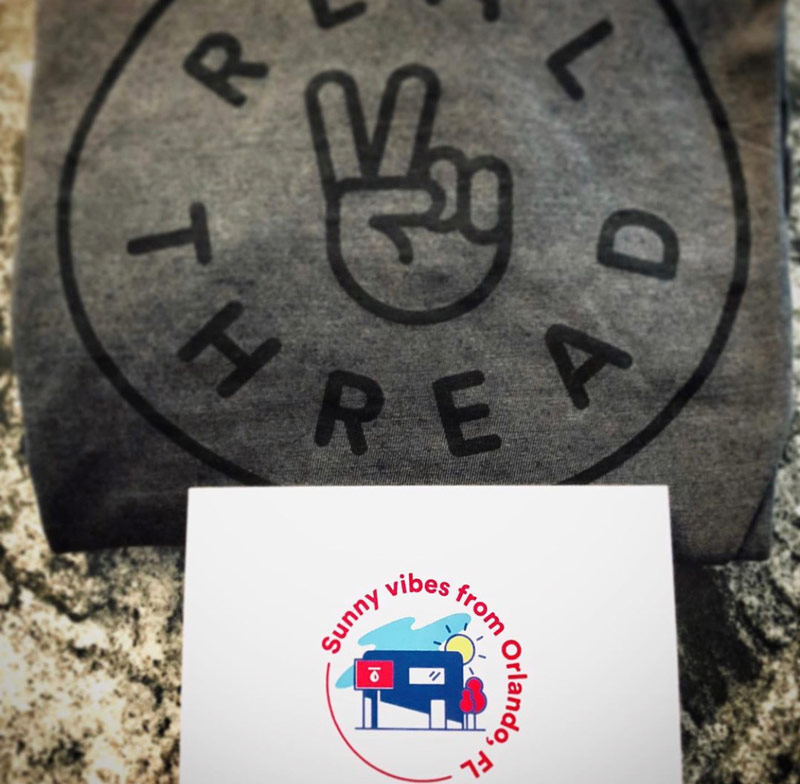 It's a really simple step in the process, and we've received incredible feedback from customers who love the personal touch.
4. Incorporate swag into your advocate program
Gamification is a pretty big buzz word in the marketing world right now.
If you're not familiar, gamification is the application of typical elements of game playing (i.e. point scoring, competition with others) to encourage engagement with a product or service.
One way this plays into swag is offering it as a reward for certain activities.
Activities like leaving a review, using a new product feature, liking something on social media, or sending a referral are all activities that could easily merit company swag as a reward.
New Relic recently used t-shirts as an incentive to have users agree to participate in giving regular feedback about their product.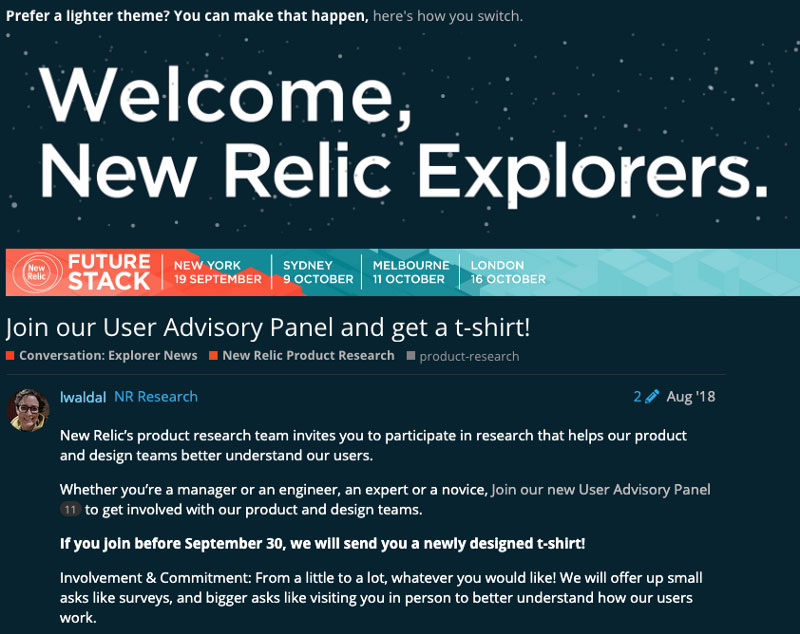 Bonus points to them for giving a "newly designed" t-shirt, as it creates a sense of exclusivity. Plus, setting an end date of September 30th creates urgency to get more people participating.
Employing swag in this way continues to keeps your existing customers engaged, helping with retention and your ability to gain more revenue from that account down the road.
You can also include social sharing as a part of your program, which can help expand your reach and open you up to more revenue opportunities.
5. Incorporate swag into your sales process
Another way to use company swag to boost revenue is to incorporate it into your sales process and outreach to prospects.
Sendoso is a platform that integrates your CRM or Marketing Automation platform to send gifts to prospects currently in your sales funnel.
So, rather than your sales team sending an annoying "just reaching out" email, they now have the opportunity to provide value while getting in front of this lead.
AlterG, a medical device company, used Sendoso to send 141 prospects a branded tumbler, a postcard from their local rep, and the chance to earn an Amazon gift card by booking a meeting with that rep.
From those 141 deliveries, 34 opportunities were created, building over $1 million in potential sales.
Clearly, using more than just phone and email proved to create loads of opportunities that may not have been there otherwise.
6. Send swag to ambassador & influencers
We mentioned sending swag as a reward to first-time customers, but now let's talk about sending them to power users and advocates who will get the word out about your brand.
Word-of-mouth is a powerful marketing tool. In an age where 75% of people don't believe ads, but 92% of them believe word-of-mouth from friends, it's helpful to have influential voices actively advocating for your brand.
The first step here might look like identifying a segment of your customers who are "power users" –– people who use your product regularly and have been customers for a long time –– or thought leaders, people who have influence in your particular field.
Once you have a group solidified, offer this group some company swag, or in the case of influencers and thought leaders, a free trial of your product as well, no strings attached in exchange for talking about it.
Being generous with your product and your swag has the potential to seriously increase word-of-mouth referrals which can turn into more leads and more customers.
And the more generous, the better.
In his book Contagious: Why Things Catch On, author Jonah Burger, a professor at the University of Pennsylvania, details how book publishers will often send him free books in hopes of him promoting it to his students.
While this is pretty common, one particular publisher once sent him two books, with a note explaining why they thought the book would be good for his students, but they also mentioning that they sent a second copy so that he could pass it along to a colleague who might be interested.
This is helpful from a word-of-mouth perspective in that it gets the recipient of your package to start thinking about who it's most relevant for, and then personally referring your product to them.
If for every piece of swag and/or free product trial you send, you include another with a similar note, you'll be actively encouraging a very targeted word-of-mouth referral, which has the potential to pay off in a major way.
7. Outfit your team with great swag
Speaking of ambassadors, your biggest brand ambassadors should already be inside company walls.
People, including prospective customers, pay attention to what employees say about a brand, so ensuring that employees think highly of your company is important.
There's also a growth impact that comes with keeping employees engaged. According to Gallup, Highly-engaged business teams result in 21% greater profitability.
Clearly, keeping employees engaged is important from both a reputation and a revenue perspective, but how do you do it?
One way to do that is to give them great swag. It may sound trivial, but the branded merchandise you give out at your company can not only delight your team but give them the assets to promote your brand without any effort.
Every time that t-shirt is worn or someone catches a glimpse of that branded pop socket, is a new impression and opportunity to have a conversation that could eventually turn into business
When swag is done well, it will keep your employees happy and thinking highly of you, enhancing the overall employee experience in a positive way.
Put swag to work
So, does swag work as a serious, reliable, and scalable way to win customers?
Well, maybe not on its own, but when strategically used to capture leads online or at conferences, retain existing customers, and engage your employees, company swag can have some serious impact on your lead count, and ultimately, your revenue.
Start putting swag to work! Figure out what types of swag fit best with your audience and where in your marketing plan they will fit, and you're sure to see some incredible results.
At Real Thread, we make it easy to order soft custom t-shirts that your prospects, customers, and team actually like to wear. Click the button below to start creating swag that gets your brand noticed.

Free Assessment:
How does your sales & marketing measure up?
Take this free, 5-minute assessment and learn what you can start doing today to boost traffic, leads, and sales.