Google Question Hub beta available in US, here's what you need to know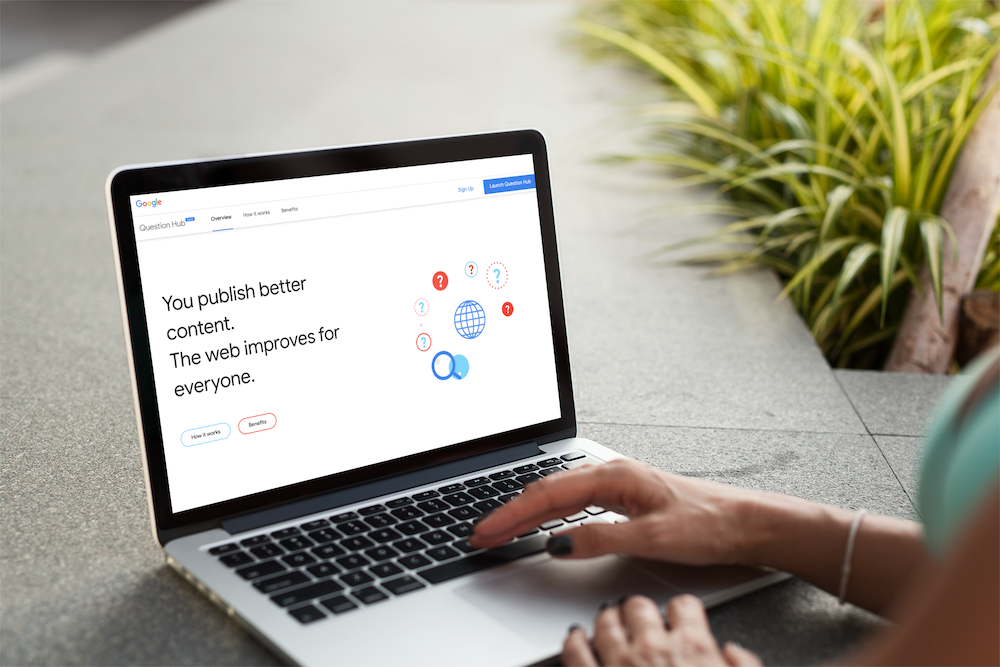 Haven't heard of Question Hub? Don't worry, you're not alone.
Google originally launched Question Hub in 2018 in India, Indonesia, and Nigeria because it found it didn't have enough content indexed to answer users' questions. For a search engine, you can see how that'd be a problem.
They've now rolled out Question Hub in beta for United States-based publishers to help boost search results and the content available for users.
On the Question Hub page, Google describes it as:
"[A] tool that enables creators to create richer content by leveraging unanswered questions. Question Hub collects these unanswered user questions and surfaces them to bloggers, writers, and content creators like you."
Basically, it gives you the ability to see questions that have been searched but yielded poor answers/results and that Google wants to get responses for. These are great opportunities for new, valuable content to be created and fill in a gap in the search results.
Inside Question Hub you'll submit an article that answers that specific question for Google to review, and hopefully, rank high in the results for it.
How to leverage Question Hub
First, you'll need to have a Google account that is attached to a verified Google Search console. If you don't have access to a Search Console, here's how you can verify. Or, ask your webmaster to add you as a user.
Something I found was Question Hub is not currently available with Google Workspace accounts, so you'll need to verify a standard Gmail account in your Search Console to actually use the feature.
Once you actually launch Question Hub, you'll be greeted with topic options that you can add to your account.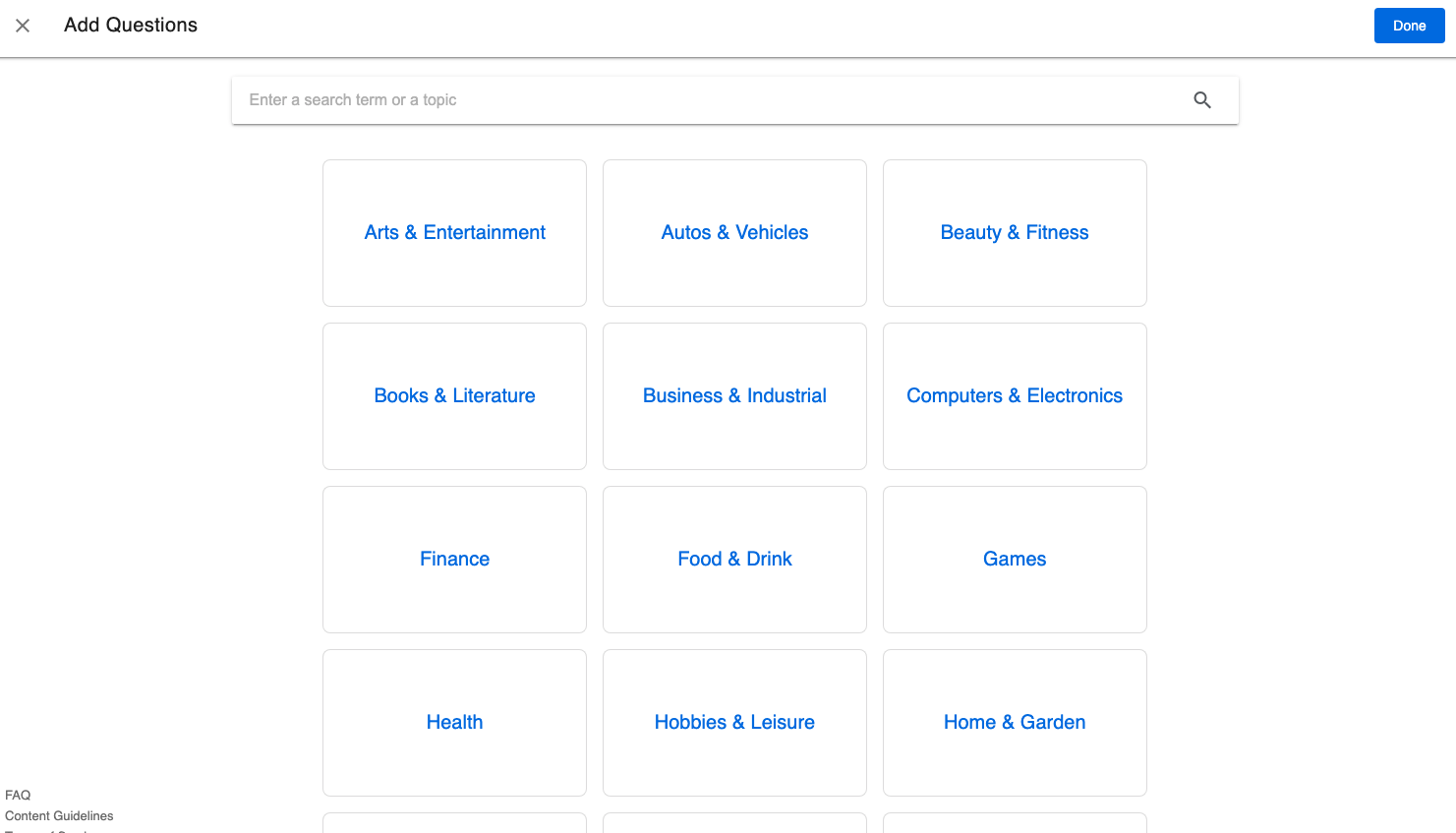 These will be the feeds of questions you're interested in answering. Once you start searching for and adding search terms or topics, you'll be able to review the questions that have limited content currently indexed.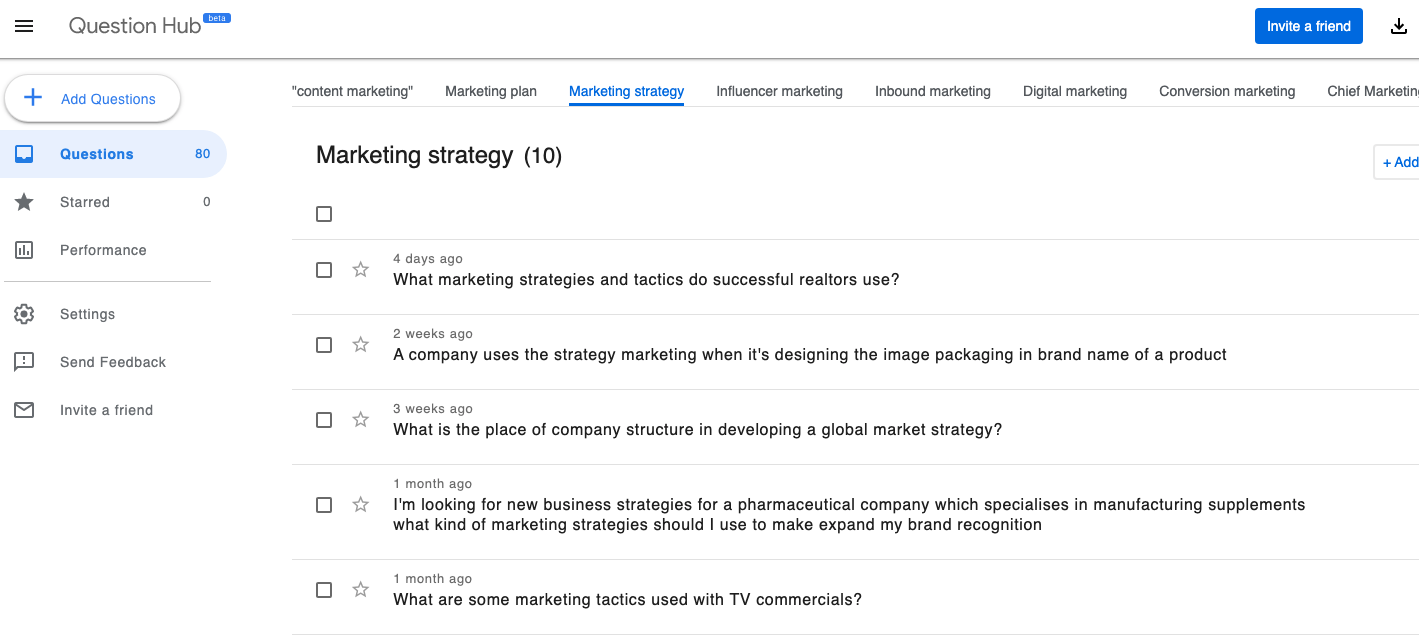 From there you can select which questions you have an index-worthy article response for and submit it for Google to review — and hopefully add as the go-to response.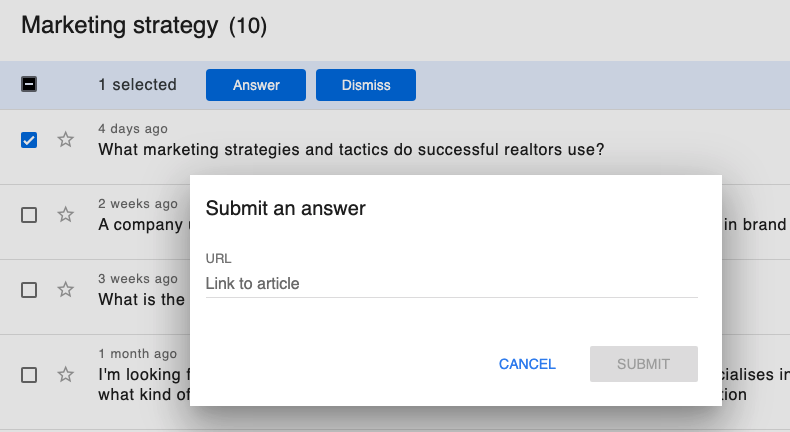 Once submitted you'll actually be able to see articles have performed based on the questions answered.
Why it matters for you
Question Hub affords you a new opportunity to create valuable, user-focused content that can drive better prospects to your company. It's a prime opportunity to rank for questions that don't have great content responses, and capitalize on that gap in the search results.
While not all of the questions for your categories and terms will be valuable, answering a few frequently asked questions that have poor results is a great way to improve your current content strategy.
So, jump into the beta and start seeing what content gaps need to be filled and how your company can be the trusted resource to answer those questions.
Free: Assessment
Does your website build trust with buyers and bring in revenue?
Take this free 6 question assessment and learn how your website can start living up to its potential.