Google's New Update to Image Search: Swipe to Visit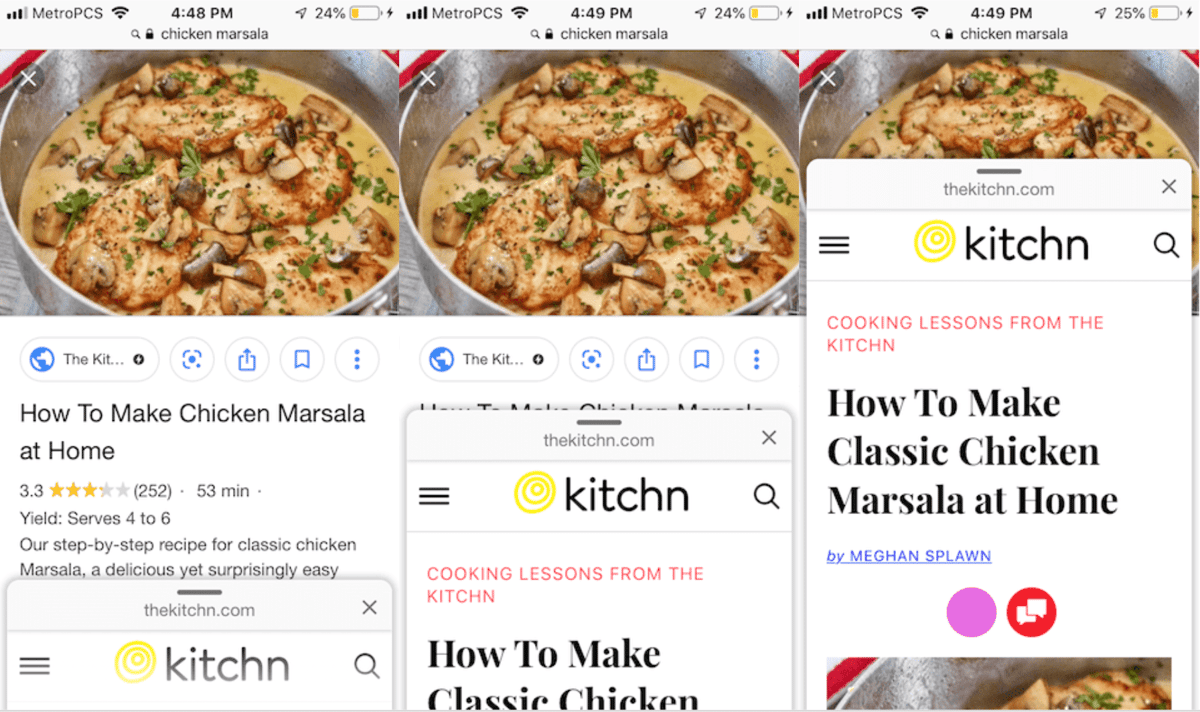 When you hear the word Google, what comes to mind? Probably something with online search — but what kind of search?
Are you thinking of the times you've planned out making a nice dinner and typed in "how do I make chicken marsala" as a plea for help? Or maybe it's when you realize you're running late for your appointment and you yell out to your phone for directions.
While traditional and voice search are ingrained in our lives, Google's latest feature update is for the other kind of search: Visual.
You may have had those experiences when you're either searching for a very specific looking piece of clothing or something else that's ambiguous enough that you don't have the exact words to find exactly what you're looking for. Or maybe it's just an "I'll know it when I see it" type of thing that you type in Google and immediately click on images.
The new Swipe to Visit feature
Google's new Swipe to Visit capability on mobile visual search is a new AMP-powered feature in Google Images that makes it easier for the searcher to view the webpage the image they click on belongs to.
For instance, if you see that perfect chicken marsala dish that you know you want to create, you can simply swipe up on the preview link to see the recipe on the page instead of clicking on the image, waiting for the page to load, and then potentially needing to hit the back button if it's not what you were expecting.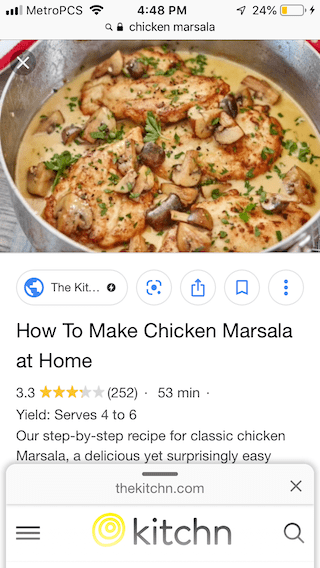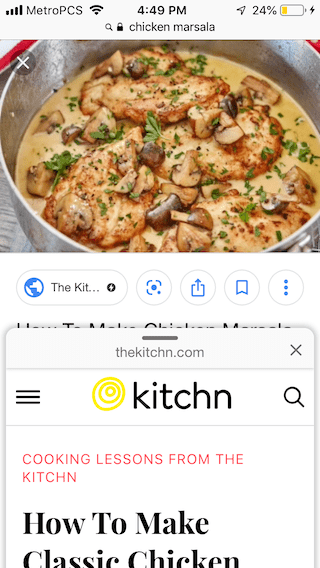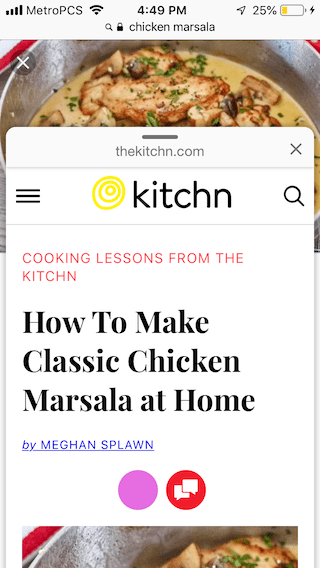 Swipe to Visit in action!
When a searcher clicks on an image in the search results, the corresponding page automatically gets loaded on the bottom of the search result so you can get a sneak peek of the web page without actually clicking on it. The searcher can then swipe the preview link up to view the page, and just as easily swipe it back down if it turns out to be not what they're interested in seeing.
Essentially, this makes it easier for the searcher to visit and browse website pages without all the commitment and strings attached. When the user swipes up, it counts as a page view for the publisher. If they end up sticking around on that page or click on any other internal links on that site, they'll open in that same tab and replace the Google results page.
The feature offers a better user experience by quickly making the page easily accessible and then dismissible.
What this means for marketers
Swipe to Visit is only for publishers who support AMP. For those that do, there's no additional action that's needed to activate the feature.
For a quick refresher, AMP stands for Accelerated Mobile Pages. It's normally characterized by a lightning bolt image near a search result, which indicates that it is a lightweight HTML page that will load more quickly for mobile devices. While this speed doesn't have a direct official weight or benefit in terms of Google Ranking, with Google's Mobile First initiative and corresponding algorithm updates we know site speed and load times do play a factor in user experience, which can indirectly affect SEO rankings.
For publishers with the Swipe to Visit feature enabled for their site content, they'll be able to track the traffic data of "swipe ups" in Google Search Console. There will be a new performance report added for Google Images that will be called "AMP on Image Result."
Going beyond Swipe to Visit
The popularity of visual search is only increasing. That's why content creators and publishers shouldn't only focus on the content that'll get to the top of search engines, but also the best practices for images and other collateral on their site. This means image size and compression, alt-text, and keyword-friendly captions.
This new update should also be a firm reminder for marketers that we're not just trying to produce and rank for written content, but that images have a unique place in search as well. If you aren't already putting effort into optimizing and using best practices around the images you use on your site, here's yet another reason to do so.
Free: Assessment
Does your website build trust with buyers and bring in revenue?
Take this free 6 question assessment and learn how your website can start living up to its potential.