Subscribe
Join 40,000+ sales and marketing pros who receive our weekly newsletter.
Get the most relevant, actionable digital sales and marketing insights you need to make smarter decisions faster... all in under five minutes.
Thanks, stay tuned for our upcoming edition.
Google's Real-Time Content Insights Will Help Publishers Attract New Audiences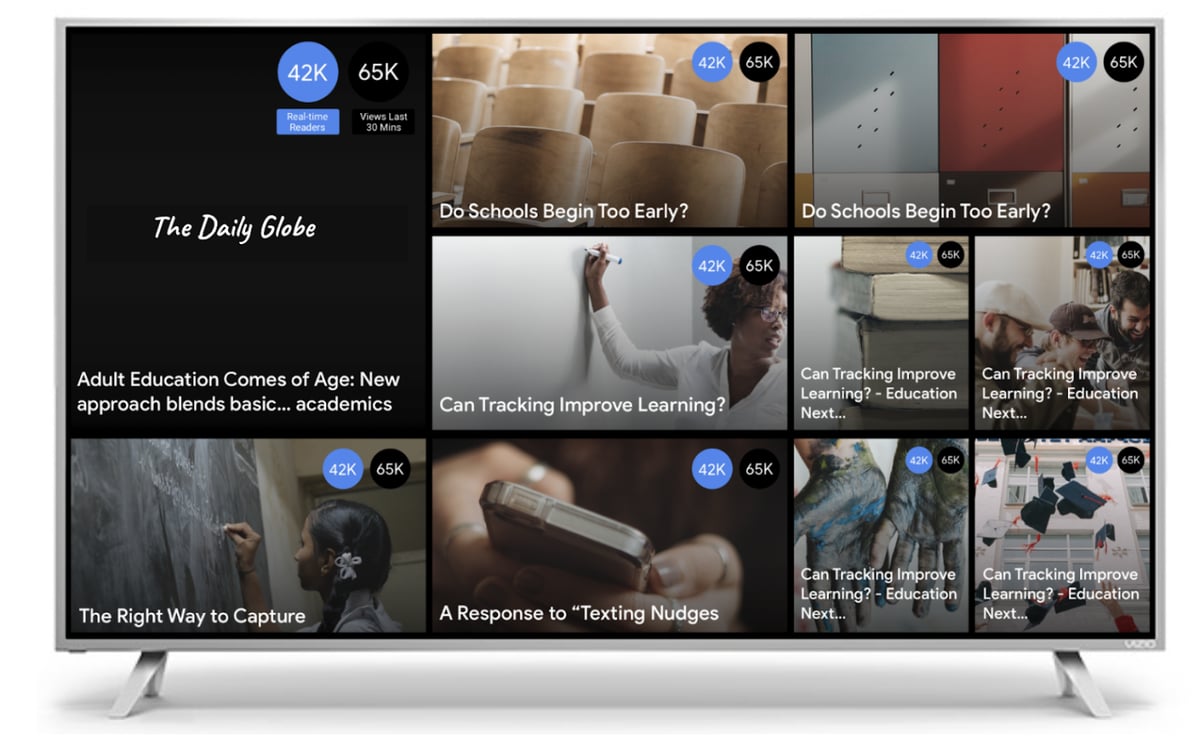 Over the past year, Google has taken on a $300 million News Initiative, where they announced intentions to develop tools and best practices that will help strengthen the quality and efforts of independent journalism publications.
Since the announcement, Google has made significant strides towards its goal.
They have several different tools in beta testing, like Newspack, and a few that have just launched for the public.
One of the tools developed for this initiative is News Consumer Insights. News Consumer Insights takes data already in the publisher's Google Analytics portal and makes it more useful for the publisher to make informed decisions.
For example, it provides insights into different audience segments and shows the likelihood of them becoming paying subscribers of the publication. These are based on user behavior like average sessions in a given time period, average session time, and pages per session, combined with industry benchmarks.
This can help publishers decide what groups they want to target with ads and other campaigns.
This week, Google announced they're expanding this tool, adding in an additional feature called Real-Time Content Insights.
This tool builds upon the data from New Consumer Insights, allowing publishers to see what's happening on their site at that particular moment, making insights more useful and actionable on both the business side and the journalism side of the publication.
What is Real-Time Content Insights?
Like the name states, this tool allows you to see your publication's performance in real-time.
Because things change so quickly in the news world, these insights are powerful in keeping things moving.
Google explained the tool as:
"Real-time Content Insights (RCI) [is] built to help newsrooms make quick, data-driven decisions on content creation and distribution. Journalists will be able to identify which articles are the most popular across their audience and what broader topics are trending in their regions. RCI also helps newsrooms visualize their data with a full-screen display mode."
In other words, just like the NCI tool, Real-Time Content insights takes data from Google Analytics and uses it to inform publisher-specific metrics.
Instead of using it to provide audience data, however, it uses it to gauge what the publisher should be posting in order to attract new readers and encourage return visitors.
Honestly, I'm a bit surprised that this tool came after NCI.
While audience data is extremely valuable, if you don't have a good handle of what you should be posting to build your audience, you could argue it doesn't really matter how well you understand your current base.
If you're not posting the most trending, valuable information, your target visitors probably won't be able to find you, and in turn, you won't have anyone to become a subscriber, etc.
This tool will undeniably provide publishers the valuable insights they need to stay on top of trends, post relevant content, and monitor the performance of it at a much quicker cadence than they had before the introduction of this tool.
Marketers & Brand Publishers, Get On Board!
As we've said several times in past articles: We're all publishing companies.
If you're posting blogs to your website, by definition, you are a publishing company.
We know how powerful blogging can be for your business. It helps you get found, showcase your industry expertise, and build trust with your audience before they ever even fill out a form on your website.
Many marketers will see this tool and think it's only for local newsrooms, but that couldn't be further from the truth.
If you're already creating a keyword strategy, editorial calendar, and creating content on a consistent basis, why wouldn't you want insights that can help you do those things even better?
With Real-Time Content Insights, you can see how your posts are being perceived by your audience, and identify questions, concerns, or interests your target audience wants you to write about that you may not have thought of before.
It seems small, but it could make the difference between an interested customer finding you or losing that business to a competitor.
Contrary to what some say, blogging for business is certainly not dead --but it is changing.
Keeping up with the new trends and tools that are available to you is key to staying competitive and having success from your efforts.
Free: Assessment
Does your website build trust with buyers and bring in revenue?
Take this free 6 question assessment and learn how your website can start living up to its potential.