How Google is Building for the New Consumer Journey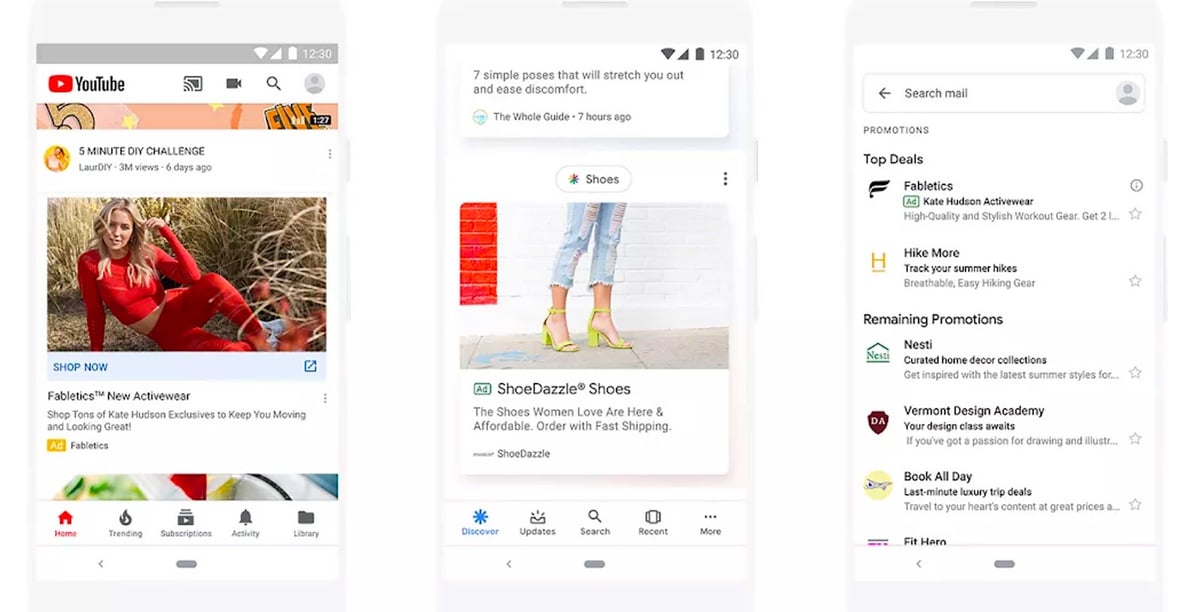 It's that time of year again when Google unleashes its latest product innovation announcements at the annual Google Marketing Live event.
As a Google Ads Specialist, I am always excited to see the anticipated additions and changes to ads that will be rolling out before the end of 2019.
Last year's event introduced us to Responsive Search Ads, Showcase Shopping Ads, and Smart Campaigns, and this year did not disappoint as a follow-up.
The three announcements I'm most excited about are Gallery Ads, Discovery Ads, and the Redesign for Google Shopping.
So let's dive right in and check out to these new offerings.
1. Discovery Ads
Google started the event with a bang by announcing Discovery Ads.
Looking to inspire and engage consumers across multiple Google properties?
Discovery Ads are native ads that will allow advertisers to have rich, relevant creatives run across the YouTube home feed, Gmail promotions and social tab, and the Discovery feed. Keep in mind ad targeting is handled through audiences and not keywords.
This innovation is a huge indication of how Google is looking beyond search intent to cover a wider market.
As my good friend Iris Hearn wrote about in her deep dive review, "Google discovery ads aim to help people find your product before they search for it."
Just like Gallery Ads, Discovery Ads will be mobile first as Google takes advantage of the intent data signals and inventory surfaces it currently has to make a play for a fuller funnel.
Use them to create visually interesting, audience-targeted native ads without a social network. Heads up, Facebook!
Pro Tip: Keep in mind that you must launch a Discovery Campaign in order to run Discovery Ads. Meaning that they will not run within the same campaigns as your text-based search ads. This will allow you more flexibility with your budget and targeting.
Quick Specs for Discovery Ads:
5 Headlines
5 Descriptions
1 Landscape Image and Logo
2. Gallery Ads
This latest innovation for search advertising is a carousel format that will allow customers to swipe through images and expand the gallery into a vertical view where they can swipe down to go to the advertiser's site.
These types of ads are perfect for telling a brand story or introducing a new product line, especially on mobile because you have the ability to include several images in a carousel format.
Google's Gallery Ads will only show at the top of the search results page on mobile devices, they will not show on desktop searches. One of the main benefits of this is that your ad will consume more real estate for those searching for your brand on their mobile device.
Pro Tip: Keep in mind that Gallery Ads are strictly a new ad format, which means that they will run along with your traditional search text ads. In other words, they are in the same keyword auction as your text-based search ads.
Quick Specs for Gallery Ads:
4-8 Images
70 Character Tagline
3 Headlines for call-to-action Experimentation
3. Enhanced Experience with Redesigned Google Shopping
Google is looking to simplify the shopping experience for consumers and, to be honest, lure shoppers away from Amazon.
With the announcement of a redesign to Google Shopping, consumers will now get personalized product recommendations based on their shopping histories, search histories, and shopping lists. This makes, as Google mentioned during the announcement, "no two Shopping home screens...look alike."
More powerful search, filter, and product sorts will also be included on the new home screens.
Presenters also showcased additional key options to purchase directly from Google or online retailers, or to direct users to a local store to make a purchase in person.
Pro Tip: Keep in mind that merchants will need to adopt Shopping Actions, which enable the consumer to purchase straight through Google, making for an effortless shopping experience. Shopping Actions is commission-based and not a CPC model in which revenue share varies by category, as it does with Amazon.
What Do These New Ad Types Mean for Google Advertisers?
Google brought the heat this week and, as someone who spends most of his days in the trenches with Google Ads, I have to tell you that this new batch of goodies is proof to me that Google is listening to its users, consumers, and advertisers.
Whether you are an agency or an advertiser, it is critical that you pay attention to the shift that is taking place.
Google is moving towards a full-funnel experience, and we as marketers can take advantage of these new tools and ad types.
I, personally, am looking forward to testing both Gallery and Discovery Ads for some of our e-commerce clients, many of whom use multiple marketing platforms.
Stay tuned as we test and develop the perfect formula for cross-channel advertising success with Google's new tools.
I highly recommend that you take some time to get more familiar with all of the announcements from Google Marketing Live and start looking for these new changes to show up in your account. And, as always, test, test, test!
If you have any questions or want to talk more deeply about Google advertising, hit me up in IMPACT Elite. I would love to dig into it with you!
Free: Assessment
Does your website build trust with buyers and bring in revenue?
Take this free 6 question assessment and learn how your website can start living up to its potential.