Storytelling: How Marketers Handle Objections like a Sales Pro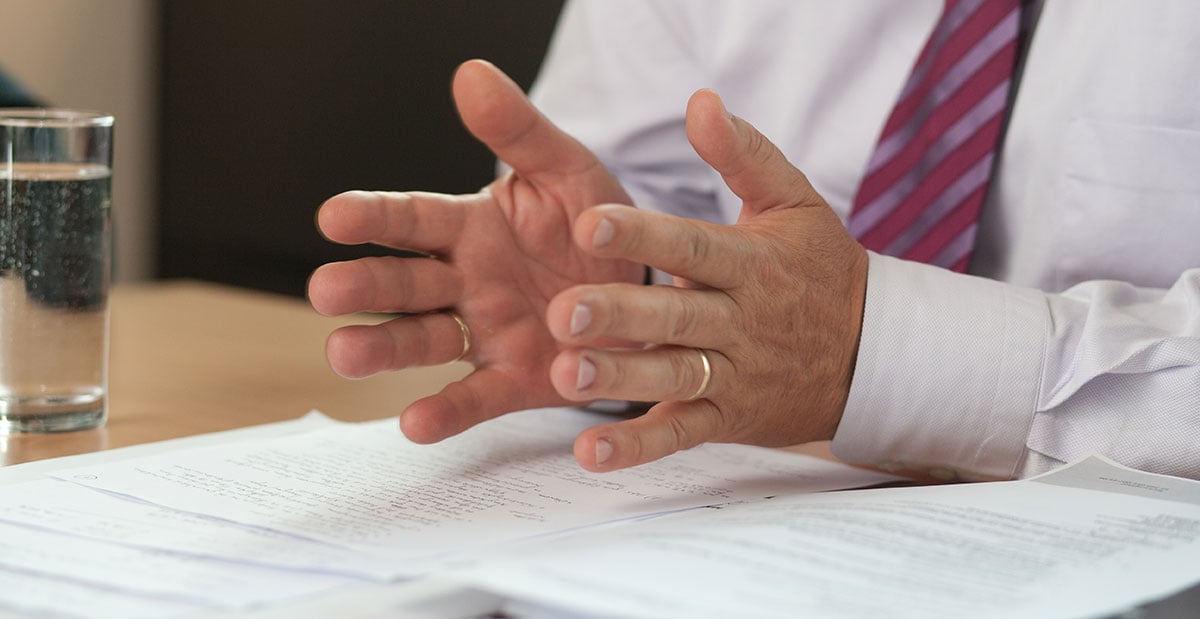 Pitching that next great marketing idea to your boss? Let's face it - marketing is often met with some pretty serious scrutiny, so the best thing we can do is be prepared.
This article outlines a process called LAER, defined by Dimensions of Professional Selling, that will undoubtedly help you handle any objections like a true professional.
Why do we need this?
Historically, great ideas have been met with great opposition. Proposing new marketing ideas within your organization can be no different. Unfortunately, we know how frustrating it can be to bring a great strategy to the table only to have the idea shot down.
Often times, the issue is not the idea, but instead how it is presented. Take into account a few of the reasons why something might be met with resistance:
It's new and scary

It seems like a lot of work

It doesn't align with someone's personal agenda
With that being said, properly knowing how to handle objections can be a valuable tool to the professional marketer.
So, enough background - let's dive into the LAER framework.
What is LAER?
LAER is an acronym for Listen, Acknowledge, Explore, and Respond. You can think of them as steps to take when responding to professional objections.
Listen
Listening is the MOST important skill you can have when understanding how to respond to someone's objections. Even though listen is the first step, it really applies to the entire process.
You must take active care to not interrupt, even though you may not agree.
When you actively listen, you show people that you respect how they feel. You also show that your response will take into account how they feel.
Acknowledge
When it's your time to talk, always start with by acknowledging what you've just heard. It's so important that people know that what they're saying doesn't fall on deaf ears.
By acknowledging, you say, "I get it."
This doesn't mean you have to agree with your objector, but instead that you are meeting them at their concerns.
Acknowledging doesn't always need to be verbal. If you're face-to-face, a simple head nod at the right time can say, "I'm listening and understand."
Explore
In my opinion, this is the step that most people miss. Consequently, it's also the most powerful step in the process. When you explore, you ask questions that allow you to better understand why people are objecting.
If you simply assume that you know why they don't agree, you will often only touch on the surface of their reasoning when you respond.
Here's where the ever powerful 'why' comes into play. By asking people why they are objecting, you uncover what makes them feel uncomfortable.
Here's the key, and HubSpot's Brooke Freedman said it best, "seek to understand, not to be right."
Go into the Explore process knowing that while you may not agree with the objections, the person objecting does. Your job at this point is not to align what you hear with your beliefs, but completely understand theirs so that you can respond them realistically.
Respond
Here is everyone's most practiced part. The only difference now is you'll have all the information to respond to what actually matters based upon your following of the previous steps.
The key here isn't to tell someone why their way of thinking is wrong, but to lay out all the facts and let them determine what makes the most sense.
Mastering LAER
In a nutshell, proper LAER technique involves listening intently to what someone is saying, acknowledging that you understand their objections, exploring deeper what pain they envision that's driving that objection, and finally, when you fully understand the pain, responding to it.
Used correctly, and in the right order, those four techniques make for masterful objection handling.
Let's run through a typical (non-LAER) objection handling scenario:
New-Idea Nate: "It's my belief that investing 100k into fax machines for our tech-startup may be a bad idea with all of the great cloud-based document sharing options available."

Old-School Sam: "No way. I've always had luck with fax machines. I don't see why we would change."

New-Idea Nate: "We should change because fax machines are expensive and they don't interface with modern technology well."
The problem with the way Nate handled Sam's objection is that he jumped right to responding without taking the time to Acknowledge or Explore. Those two steps would have allowed him to understand where Sam's objections came from.
Maybe Sam had a bad experience with changing technology, or maybe she's worried about the reliability of an offsite solution. Nate doesn't know, and therefore, can't respond appropriately to Sam's concerns.
A typical, untrained, professional will often jump too quickly to respond. Trust me, it feels really natural to jump right to that step, especially when you think you have the right solution.
However, a well-trained response involves working your way through Listening, Acknowledging, Exploring, and Responding.
Let's see what that looks like using the same scenario:
New-Idea Nate: "It's my belief that investing 100k into fax machines for our tech-startup may be a bad idea with all of the great cloud-based document sharing options available."

Old-School Sam: "No way. I've always had luck with fax machines. I don't see why we would change."

New-Idea Nate: "I understand that fax machines have worked well for you in the past. I've had good luck with them too. Are there any other reasons why you want to stick with them?

Old-School Sam: "Well, I'm mostly worried that the new solution won't work. Fax machines just work. I don't see the reason to change."

New-Idea Nate: "Trust me, nobody wants a solution that causes more problems than it solves. From my experience, however, cloud-based solutions are extremely reliable. Plus they have the added benefit of not being hardware dependant, like fax machines which need constant preventative maintenance. If we find spend some time finding a rock-solid solution, would you be willing to entertain it as an alternative?"
What was different this time? Nate took the time to understand the heart of Sam's objections. Not only did he acknowledge that Sam's objection was reasonable, he uncovered the real pain: concerns over reliability. This allowed him to tailor his response and present the facts.
LAER, everywhere.
When I first heard about this technique, I had mixed feeling of both nervousness and excitement. I was excited because I knew how much it could improve my conversations, but I was nervous because it feels like a lot to get down at once.
The important thing I quickly realized, however, was you don't need to get this perfect on the first go. When listening to great communicators, listen to them handling objections and slowly work bits and pieces of the technique into your own approach.
The day after I learned this technique, I was on a call with a sales rep from a large tech company that you likely use for professional networking. He was presenting the value of their paid services to me and a colleague, and naturally, we told him our reservations with IMPACT's adoption of the paid platform. What do you think he did? He walked us through LAER and through the process dove much deeper into what really mattered to my colleague and I.
Curious if he closed the deal? Click here to shoot me a tweet to find out.
If you consciously think Listen, Acknowledge, Explore, Respond while on both ends of objection handling it will quickly become a natural part of your communication skills.
Crush it!
Kyle
Free Assessment:
How does your sales & marketing measure up?
Take this free, 5-minute assessment and learn what you can start doing today to boost traffic, leads, and sales.