How Much Content Is Too Much for eCommerce Pages? Google Weighs In.
Iris Hearn also recommends this free guide, The Inbound Marketer's Guide to Search Engine Optimization.

If there's one lesson that's stayed consistent with digital marketers over the years, it's that content is king.
However, this rule often gets misinterpreted as more content is needed on your web pages when this isn't always the case. This is especially true for most eCommerce websites.
Free Guide: The Inbound Marketer's Guide to Search Engine Optimization
How Should eCommerce Sites Approach SEO?
Unlike service-based or SaaS companies, eCommerce sites often don't require as much written content for the user (and Google) to understand what they're selling.
This was brought to light in a recent Twitter discussion started by EcomChat, where they posed the question "How do you identify whether product pages need to be improved overall, or individually which need to be optimized?"One user answered:
A1) From #SEO, i'd be worried about duplicate or thin/weak content on product pages as that really can thwart product visibility, particularly for a huge set of products. SEO needs to be in on this before it hits the website. #ecomchat

— Andrew Martin (@AndrewDoesSEO) March 18, 2019
This sounds legit, right?
Google's bots are crawling your site identifying keywords for context clues on what your site is about and they'll pick up on any duplicate content between pages, while users can usually physically see product photos so they often don't need an overly detailed description to understand what they're buying.
This can lead to eCommerce companies spending an unnecessary amount of time stuffing keyword-enriched content onto category and product pages to please search engines, to no real benefit to the user.
What's a online shop to do?
To help eCommerce marketers understand how to best optimize their pages for SEO, Google's John Mueller stepped in to share his thoughts.
He, along with many other participants in the chat, highlighted the importance of optimizing your site for your visitors, not just catering to what we think is best for Google's algorithm.
The Content "Sweet Spot" for eCommerce Sites
The question sparked much debate among users on how big of a role content plays in the SEO of product pages, and what's considered the "sweet spot" in terms of the amount of content on each page.
Twitter user James Gurd commented on this scenario, citing this TopShop webpage:
e.g. Topshop. Would love to know how many customers have ever read that paragraph. The links to top sub-categories, or trending products/campaigns makes sense. #EcomChat pic.twitter.com/hlcB4aiuzk

— James Gurd 🌝 🇬🇧 (@JamesGurd) March 18, 2019
He has a point - how much value is that content really providing?
Other users chimed in with other examples they've seen this "content stuffing" on category pages, one noting John Lewis's retail store which has this same unneeded paragraph, but it's located all the way at the bottom of the page.<
and e.g. John Lewis have about the same amount of text, but they stick it at the bottom of the page with a long old scroll... it's not there for humans to read #ecomchat https://t.co/E1yngyTakH

— Andrew Martin (@AndrewDoesSEO) March 18, 2019
I visited the link he provided myself, and I had to swipe my trackpad thirteen times to get to the content.
As he points out, the content is clearly not meant for humans, it's all for the algorithm.
Not only is this content not helping the user, but it's taking up valuable real estate on your page that can actually turn visitors off.
Google's John Mueller Weighs In
To bring clarity to the situation, Webmaster Trends Analyst John Mueller at Google chimed in with his thoughts.
Another thing to consider is the purpose of your page; what's the user-intent you're trying to cover? If you're adding random information to a category page, is it still an ecommerce page for users with "shopping" intents? Make up your mind, focus, don't blindly stuff text.

— 🍌 John 🍌 (@JohnMu) March 18, 2019
In other words; put yourself in the user's shoes. When they're on the page, where are they in the buying process? Thinking about user intent will help uncover if the content is necessary to their experience, or if it will largely be ignored.
Like many of Google's recommendations, Mueller encouraged site owners to prioritize the needs of the user over worrying about the algorithm.
For example, if you're on a site buying clothes, what would you find valuable on the page?
A short paragraph talking about the different styles you offer probably won't provide too much value, people can see the images themselves (or view the alt-text for visually impaired users - make sure that's updated!).
Instead, think about what on-page elements will actually enhance the user experience.
While these will vary by industry, they can generally include:
Links to relevant subcategories - Say you're on a clothing website and are looking at shoes. Relevant links could lead you to boots, heels, etc., allowing the user refine their search and find the product they're looking for

Showcase new or trending products - If you have a list of new or bestselling products in a particular category, you could link it here to help guide users on what they want to buy

Recommended or related products - For example, if you're selling camera equipment, you could link camera cases, lenses, etc., on the category page to show users what else may be useful to them based on what they're currently looking at.

Products specs - what is the product made out of; how long, wide, etc. if applicable.
Takeaway: User Intent is Everything
I've said it a million times and I'll say it a million more: If you're doing what's best for the user, you'll be rewarded in search results.
This is why attempts to "hack" the algorithm don't work, and even if they do in the short term, it's unlikely they'll continue to perform above competitors who are acting based on user needs.
Above all, a big factor Google looks at beyond keywords, beyond site speed, and many other small details - is how users are interacting with the page.
Any activity that deters users from your page - whether it's dead ends, slow pages, or just not being able to find what they're looking for - will have a much greater impact on dragging down your ranking than not having a few extra keywords.
Conversely, when you make clear, easy to navigate sites that allow your users to find what they're looking for and discover new things they didn't realize they were interested in, it's a much stronger indication to Google that your site is something users want to spend time on.
So solve for the user. If your website is intuitive, that'll speak louder than any keywords.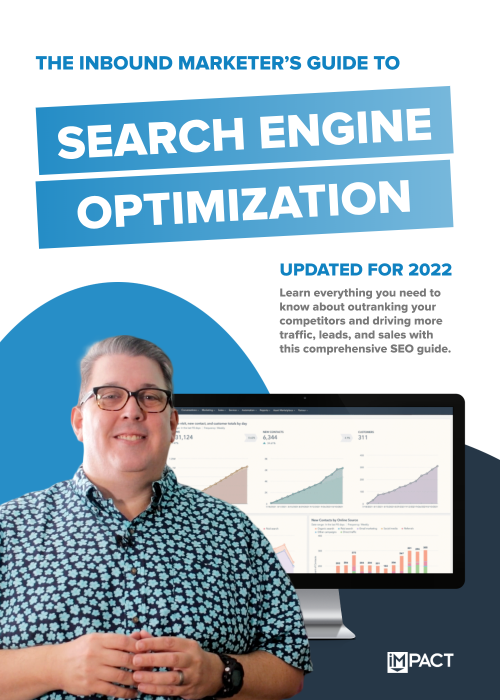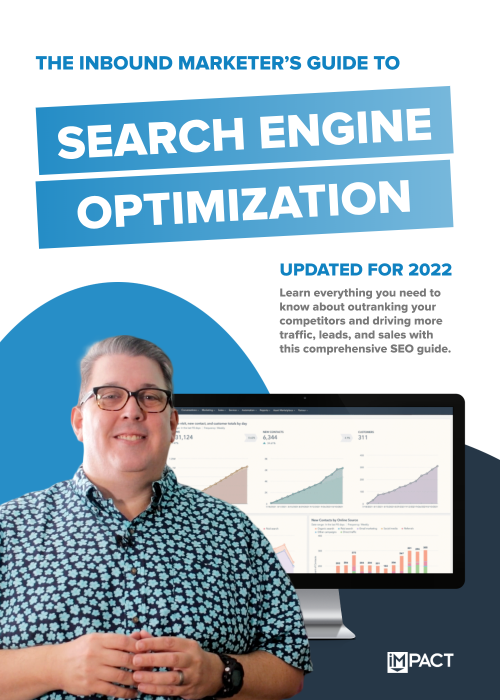 Free Guide:
The Inbound Marketer's Guide to Search Engine Optimization
Generate more traffic, leads, and sales with search engine optimization
In this free guide, you will learn:
What search engines are and who uses them.
What search engine optimization is and how it works.
Best practices for search engine optimization.
Published on March 22, 2019