How to Fix Your WordPress Editor After Gutenberg Update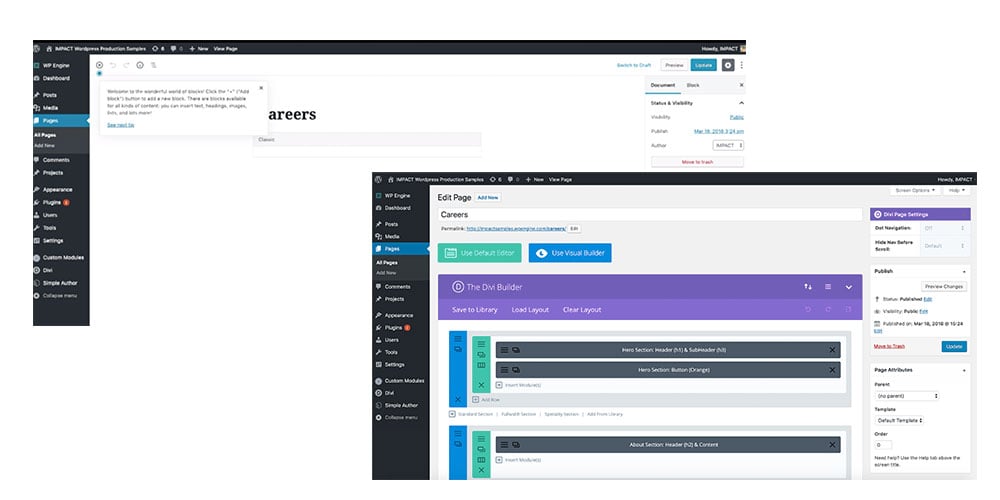 If you missed the news back in November, WordPress rolled out another update called Gutenberg.
Among many under-the-hood improvements, the most noticeable change is a complete overhaul to its WYSIWYG (What You See Is What You Get) editor. Check out Joel's article on meeting Gutenburg, WordPress' New Visual Editor and all the ins-and-outs it has in store.
You may be saying to yourself, this is great and all Melissa, but I spent the money and time looking for this perfect theme and drag-and-drop editor that is easy for me to use when building out my website, so I don't want this update.
That's awesome -- but, you should be updating your WordPress.
The Dangers of Having an Outdated WordPress Install
As you know, you should always keep your WordPress up-to-date for security reasons. If you don't your website is more vulnerable to getting hacked.
So, even though some drag-and-drop editors, and themes are still working to catch up on this WordPress 5.0 update, don't hold off on doing your update.
But when you do, you may notice something...
How to Fix Your WordPress Editor After the Gutenberg Update
As theme and plugin providers work to update their own page builders -- the precursor to this new editing experience -- it may seem that your content has disappeared when you go to edit an existing page.
If they have updated, you may see your page looking like this.
But never fear! We have a solution for you to get your editor back up and running.
In the video below from our WordPress Guru, Daniel, we'll show you how to get it back up and running until your current theme's drag-and-drop editor (like WP Bakery, or Divi, etc) releases an update for the new WordPress.
TLDW (too long didn't watch). If your normal page editor isn't there. Follow these steps.
Go to Plugins
Add New Plugin
Look for the plugin Classic Editor - this should be plugin #3 on the list when the page loads. If not, just search for Classic Editor.
Click Install Now (best practice: make sure to backup your site before installing any plugins)
Click Activate
Verify it was installed and there are no issues
Once activated go back to the page you are trying to edit and your old editor should be back up and running.
If your theme and plugin providers haven't updated their own page builders to work with WordPress 5.0, this is a good interim fix until they have had time to roll out their updates.
So, don't wait on them! If you don't update to WordPress 5.0 until your theme has an update, you have a greater risk of being hacked.
Also, if you update to WordPress 5.0, and don't implement this fix, you will not be able to make any changes to your page.
While this may seem like a hassle, don't let it stop you from updating. The consequences of not updating to WordPress 5.0 are far greater than the time it takes to fix this glitch.
If you update your WordPress install, and run in to the issue after trying to get your old editor up and running feel free to reach out to us in Elite. If you are not part of Elite, come join the community.
Free: Assessment
Does your website build trust with buyers and bring in revenue?
Take this free 6 question assessment and learn how your website can start living up to its potential.