HubSpot announces annual INBOUND event is going virtual in 2020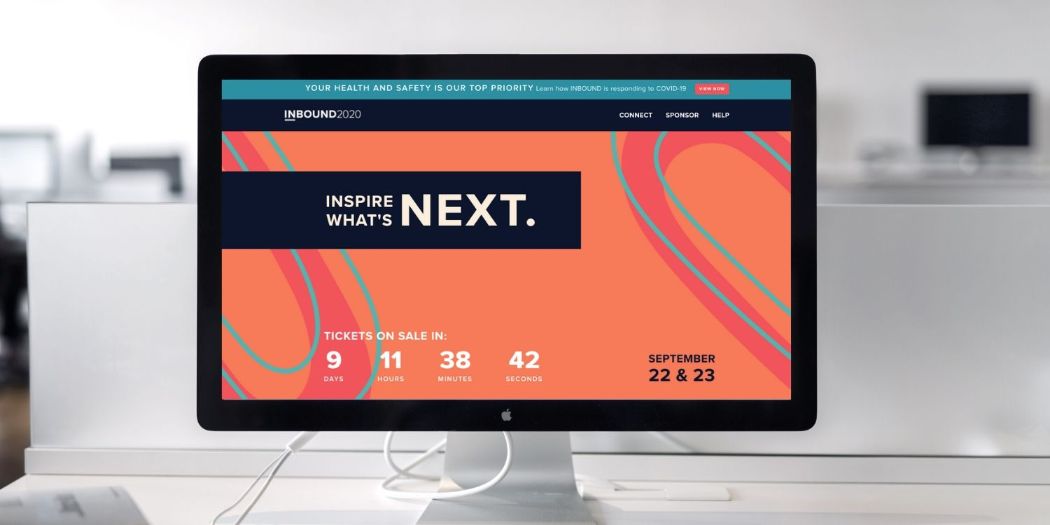 HubSpot recently announced that INBOUND will move to a fully digital event this year in the wake of the COVID-19 health crisis.
The event was originally scheduled to take place in Boston, August 18th-21st, but will now be 100% online and take place September 22nd - 23rd. Tickets for the updated event will go on sale June 1st.
INBOUND is traditionally a three day, in-person conference that gathers business professionals from almost every industry and includes inspiring keynote speakers, breakout sessions, interactive activities, HubSpot-exclusive product updates, and more. It's a great opportunity to inspire and educate your team, as well as grow your network. Last year's conference boasted around 25,000 attendees.
HubSpot's announcement puts to rest any looming questions potential attendees had surrounding such a large conference in our current climate, and now allows the team to adjust their plans and shift their mindset to prepare for a virtual event.
Even though the event is going digital, there is no doubt that HubSpot will work hard to try to make it a success.
INSPIRE WHAT'S NEXT: Announcing that INBOUND will not be in person this year, means that we're finding new ways to sweep you off of your feet. INBOUND 2020, an immersive digital experience is for YOU, get ready to co-create with us! *Refunds are automatic* https://t.co/L3FEAya4Is pic.twitter.com/6VCHWMMCX6

— INBOUND (@INBOUND) May 19, 2020
We are anxious to see what an event like INBOUND will look like online. In the past, INBOUND has been framed as not just a conference, but an immersive experience with over-the-top displays and exciting entertainment.
So we have to ask, can an event like this be replicated in a digital environment? How will HubSpot deliver that type of value online?
We can expect more events going virtual
It will be interesting to see what HubSpot creates for the virtual version of INBOUND. It's one thing to deliver educational value over a digital interface, but a larger immersive experience will be challenging to replicate online.
However, it's important to note that virtual events can be great and can carry a lot of value, even though some of that may look different than at in-person events. With the changing landscape we are experiencing today, we are likely to see more traditionally in-person events go virtual.
This shift is challenging the notion that in-person events are the only real option for a large and engaging industry and professional gatherings.
The COVID crisis has pushed organizations to face the challenges of what it looks like to interact with large groups via a virtual interface. One of the biggest challenges being, how can we keep a bigger audience engaged online?
IMPACT's Director of Community and Events, Stephanie Baiocchi, has firsthand experience with this, as she took IMPACT's scheduled conference, Digital Sales and Marketing World, and turned it into a successful online event earlier this spring.
"We found that our attendees got a ton of value from the virtual conference, and that we were able to maintain high engagement through creating the right content for our audience and operating in a system that allowed for interaction. Incorporating live chat into presentations allowed attendees to ask questions and interact directly with the speakers (for our pre-recorded sessions)."
Will you take your event virtual?
While we will have to wait a few months to see what this virtual version of INBOUND looks like, there's no question that we will see more virtual events popping up before then.
As more organizations are turning to online events during this time, it's possible we will see this trend continue in the coming years, even when events no longer have to be digital.
Whether it's a webinar or full-scale virtual conference, virtual events can be more cost-effective for both attendees and the host and, in some situations, can attract and engage with a larger audience — that is, if you have the right team in place and give it as much attention as you would an in-person event.
Does your business have an in-person event coming up that you are considering moving online? Check out our Virtual Event Consulting where we can coach you on how to go virtual.
Free Assessment:
How does your sales & marketing measure up?
Take this free, 5-minute assessment and learn what you can start doing today to boost traffic, leads, and sales.