Subscribe
Join 40,000+ sales and marketing pros who receive our weekly newsletter.
Get the most relevant, actionable digital sales and marketing insights you need to make smarter decisions faster... all in under five minutes.
Thanks, stay tuned for our upcoming edition.
Which IMPACT video service is right for your organization? [+VIDEO]
Welcome, fellow business leader who recognizes the importance of video in a modern digital sales and marketing strategy, particularly in light of recent events.
Now, I could start this by throwing out a handful of fun facts about why video is so powerful. But if you're here, you don't need to be convinced — you're all in and understand that video is going to help you achieve your most aggressive digital sales and marketing goals.
Instead, you want to learn which one of IMPACT's video services (if any) are right for you.
Also, since this probably is not the first article you're reading from IMPACT, allow me to be more forward here. This isn't a fun, clickbait-y piece of content that's going to give you a bunch of zippy facts to chew over during today's lunch break.
Instead, this is a meaty, in-the-weeds topic that was most likely given to you as a homework assignment, so that you have a better understanding of our video services. (If that's not you, and you're just here because you're curious about our different services, welcome! Happy to have you here, too!)
The good news is your effort of going through this content will pay off. By the end of this article, you will know if now is the right time to invest in video strategy, as well as whether or not IMPACT is the right video agency partner for you.
Furthermore, you will be able to recognize the purpose of each IMPACT video service and the different outcomes that come from them. You will also understand what the "typical path" is when working with IMPACT on the use of video. Finally, you will know the questions to ask your leadership team to determine which IMPACT video services make sense for your organization, if any.
OK, let's dig in.
Are you ready to embrace a culture of video?
The best time to consider working with IMPACT on any of our video services is after your entire organization understands and believes in the principles of They Ask, You Answer.
🔎 Related: What is They Ask, You Answer?
Your company's leadership team should also agree that video is a medium that your prospects use to learn about your industry. Moreover, video should be seen as a fundamental piece of your marketing strategy for the next three to five years, one that requires a heavy financial commitment with the recognition of low ROI during the first year or two.
The process involves the hiring of a full-time videographer. It often involves the purchase of video production equipment and a video hosting subscription, like Vidyard.
It also requires consistent, company-wide internal training regarding the cultural adoption of using video in daily work-related activities beyond just sales and marketing roles.
Ultimately, it is never a short journey for an organization to learn to properly produce and use video that has never done so in the past.
Every company has its own specific challenges to overcome, but the companies that are willing to make the multi-year commitment to becoming the most trusted visual educators in their space rarely regret the effort and money it takes.
Now, with that out of the way, let's get into the meaty stuff. As I said before, it's dense, so let's kick this part of the conversation off with a video.
What's the difference between IMPACT's video services and how do they work together?
What would an article about video be without a video, am I right?
What is the typical timeline for working with IMPACT to insource video?
I am so glad you asked! Here's a handy infographic to help you understand the timelines associated with each of our services: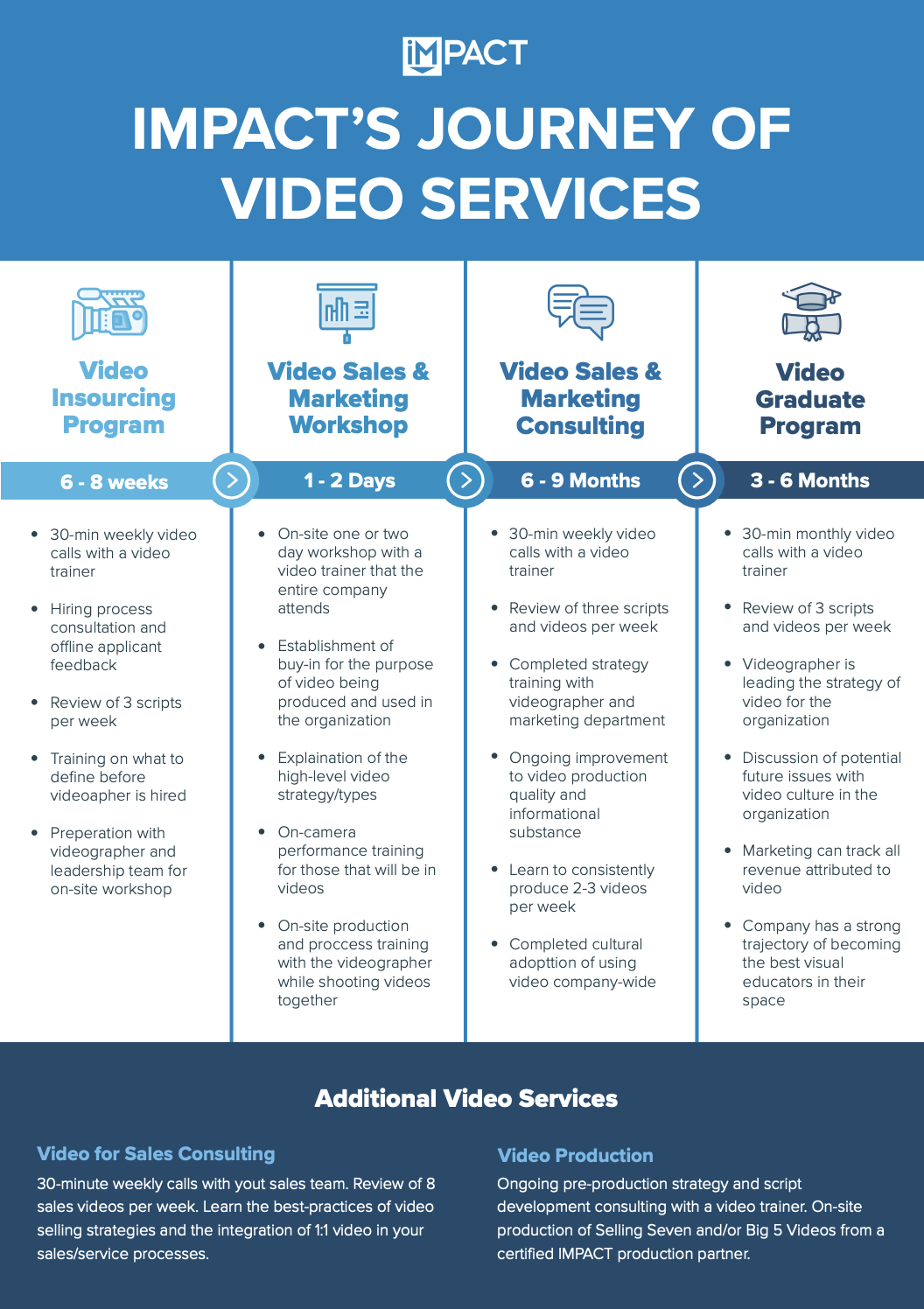 Is my organization ready to bring video in-house in the first place?
Answer these questions honestly to decide if your organization is ready to make the commitment to video:
Do we have the financial resources required to purchase video equipment, software, and training and also employ a videographer for a minimum of three years?
You should anticipate annual direct costs ranging from $65,000 to $85,000 for all expenses that will be required during the first few years, including human resources, equipment, time, and production costs.
Have we discussed the use of video with the entire company in the past?
Often, months of preparation and training should come before hiring a videographer. It's important to introduce these concepts to your company in a way that helps them to recognize the purpose and value of doing video in the first place.
For any inbound activity to be truly effective, the entire organization needs to understand and believe in the strategy. They need to see the value of doing so at a role-specific level.
Will my organization be able to buy into using video in their processes?
For a company to get the most value out of an in-house videographer, all other departments need to understand and believe in the value of video being used within their daily processes — for example, using video in the sales process.
If your team members only think that video will be used to make YouTube and social media videos, then they are most likely not truly bought into the utilization of a videographer. The value should not fall on deaf ears.
Can my team commit the time required to assist in the production of video?
Investing in video properly requires ongoing time investment from everyone in the organization. Your videographer will oversee a lot, as they will be in charge of formatting the strategy, coordinating the creation process, and creating the videos, but they do not operate within a silo.
Everyone in the organization will have a hand in the video creation process and the involvement should be a line item on everyone's job description.
Will members of my team be motivated to become comfortable being in front of the camera?
On-camera performance takes practice — usually a lot of it. Ask yourself if you have a culture of employees that are committed to put in the work required to get comfortable being on-camera. If people don't see the value in this effort, they will become skilled at avoiding the videographer and the productivity — as well as the morale — of your videographer will suffer.
Am I comfortable with a heavy amount of resistance from team members that don't see the value in sales & marketing videos?
It's not uncommon for internal resistance that could even lead to a "shedding" of sales and service team members who do not believe in the cultural and strategic changes when insourcing inbound activities. This is especially true when insourcing video.
This is often a required phase of adopting an inbound culture in general, and you need to ask if your organization is prepared to ruffle those feathers.
Can we find other ways to create sufficient videos without hiring our own videographer?
Of course, there are a myriad of ways to leverage the value of video without abruptly hiring a videographer. It's important to make sure that your company has shown value in video by testing out some ideas.
This could be as simple as making a "client review request" video with a cell phone. The method doesn't necessarily matter, it's just important to recognize that there are many ways to cut your teeth with video strategy before the pulling the trigger on hiring your own videographer.
Although, keep in mind that the companies that see the most success with video have brought their efforts in-house by investing in the right talent.
What does my organization need to commit to if we want to work with IMPACT to become the best visual educators in our space?
Does our entire organization understand and believe in the principles of They Ask, You Answer?
We can talk about process improvements and production tips all day, but if this box is not checked, your efforts on video strategy are almost guaranteed to be misdirected.
Before your organization works with IMPACT on any video service, take the time to learn about what They Ask, You Answer is, as it is the philosophy at the heart of everything we do and teach. Moreover, this is the strategy that we train businesses to properly execute.
If your team understands it before, you will save a significant amount of time and headaches getting aligned with your IMPACT video trainer.
Have we trained our organization on the types of videos that IMPACT teaches its clients to create?
The vast majority of the videos that you will create with IMPACT will fall into either The Big 5 or The Selling 7 categories. Understanding these video categories front-to-back before agreeing to work with IMPACT will bring you the most value from our video services.
Do we truly believe that we can become the most trusted visual educators in our industry with years of hard work and dedication?
I can almost guarantee you that "testing the waters" with video will not yield your organization any results. This isn't something that you can half-commit to if you want to be an IMPACT case study.
The timeline is almost never less than two to three years of hard work. You will sometimes make ineffective videos. Your company will have a serious challenge to transparently present all the information that needs to be discussed. You will not always check all the "best practices" boxes that we teach you.
And that's OK. It's all part of the process, but it's also something that you have to recognize and agree to before beginning. Don't work with IMPACT if you're not "all in" on the journey.
Do our long-run objectives align with what IMPACT's case studies strive to achieve or do we want to achieve something different?
If your organization is looking to accomplish something peripheral to what IMPACT teaches, then there is most likely a better-fit service provider out there for you. We focus solely on creating heroes within industries that become the most trusted visual educators in any given space.
If you're just looking for the ability to make business-related videos or grow a YouTube channel subscriber count, then be upfront about that with our team so we can help to point you in the right direction.
Is our organization prepared to dedicate a minimum of nine months of working with an IMPACT video trainer?
Even with all the offline education that can be accomplished in our learning center, there is very little wiggle room for shortcutting the video training process. It's less about the speed at which our team transfers knowledge, and more about how effectively your organization can consistently implement the teachings.
The common pitfalls are rarely possible to avoid and cultural adoption of getting an organization excited about using and producing video is never a quick journey. Do not let your organization lie to itself and say, "We're different when it comes to insourcing video" — it will only lead to mismanaged internal expectations.
Which IMPACT Video Service should my organization start with?
Video Production if there is not yet a company-wide buy-in to invest in insourcing video. This service will be the best approach to prove the value of video for your sales and marketing processes.
It only requires that the marketing/leadership teams understand and believe in the principles of They Ask, You Answer.
Ready to learn more about IMPACT's Video Production Services?
Video Insourcing Program if there is proper buy-in to invest the time and money to insource video, but the video strategy and videographer hiring process has not begun.
This service will deliver the best internal hiring and on-boarding process of a first-time videographer within your organization. It will also ensure that the videographer is being properly positioned within the company culture to be set up for success.
If you're not already in conversation with one of our sales team members, schedule a time to talk to us about this service.
Video Sales and Marketing Workshop if there has been a videographer working within the organization for at least a few months, but there is either not a company-wide understanding of the purpose of the strategy or there is missed expectations on the results from the videographer.
The workshop will be the perfect company-wide realignment about the purpose and strategy for video within the organization.
Ready to learn more about IMPACT's Video Sales and Marketing Workshop?
Video Sales and Marketing Consulting if there has been a videographer working within the organization for six or more months and the entire company both believes in the value of the video strategy and also understands the principles of They Ask, You Answer.
If this is the case, then the workshop can be skipped and ongoing consulting can be the starting service, where IMPACT strategy and best-practices will be refined. This will ensure that your organization's video department is being as productive as possible and is truly on the path to becoming the most trusted visual educators of your industry.
Ready to learn more about IMPACT's Video Consulting Service?
Free Assessment:
How does your sales & marketing measure up?
Take this free, 5-minute assessment and learn what you can start doing today to boost traffic, leads, and sales.