Is Google's New Homepage Discover Feed A Swing And A Miss?
This week, users saw Google's September announcement about a new homepage come to life.
The search engine's homepage added a 'Discover Feed,' targeted at delivering relevant and noteworthy news or articles that you'll care about - without even having to search for them.
Great news, in theory, for users who want things curated for them and marketers trying to generate traffic for their articles - except the algorithm isn't quite perfect just yet.
What is Google's Discover Feed?
Google's new discover feed is a collection of articles (thought to be curated just for you) on the homepage of Google's site.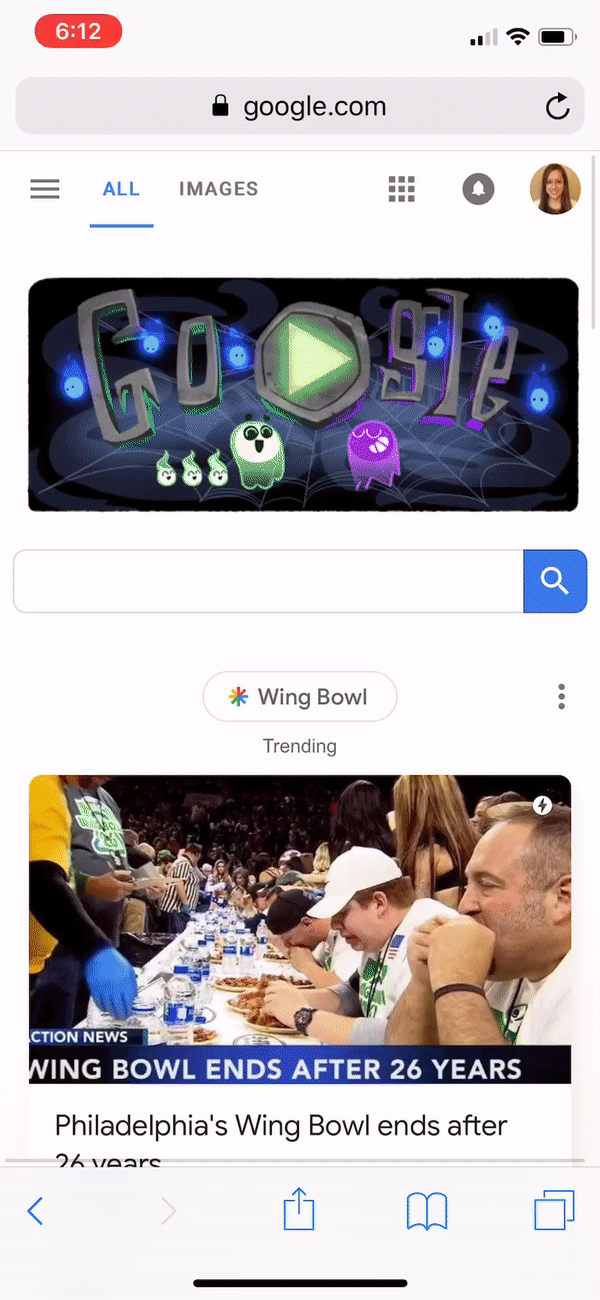 Check out the video above. The Google homepage went from the simple, intuitive search bar to the search bar and news feed.
For me, the articles that are being shown are very broad- ranging from politics to pop culture. The concept is that it curates articles based on your searches - or you can customize what you'd like to see.
While the idea was a good one, it seems as though the kinks haven't been worked out from an algorithm standpoint just yet.
My initial reaction was that this definitely isn't the most customized view of articles I need to see today and others have been left feeling the same way.
A lot of people out there testing the discover feed have found it to be less intuitive than they'd like. If they remove a topic, it's simply replaced by another topic they also don't like.
Some have tried to customize the feed, but the alternate results are still not relevant.
There's a whole other concern of fake news as well.
Many popular publications and social networks have communicated their efforts to combat inaccurate news at the tops of feeds with both their algorithm and by monitoring likes/comments/reporting etc. but, it's unclear at this point how Google plans to approach this with its Discover Feed.
In addition to all that, a lot of people have been left asking "why do I need this?"
People get their news from many places - but I understand why Google chose to make this change.
So many people come to the search engine everyday, anyways, so this continues to support their mission - to provide searchers with the information they're looking for (now, even before they search it).
If they can provide the searcher for what they're looking for before they even search it, then Google's purpose is served much quicker.
What You Need to Know About Google's Discover Feed
Here's what you absolutely need to know about the Google Discover Feed.
As a User:
Though it was announced in September, this concept isn't new - Pixel users have been seeing it for a while.

The feed is not perfect yet. Hopefully, Google will notice this and make some updates soon.

Users can customize the articles they see, and tell Google which ones they don't like. You can read how to do that here.

Users can turn this feature off - so it may not be worth it just yet to go all in on optimizing for feed. People may be put off by the current results of the feed and may opt to turn this off. This article explains how.
As a Marketer:
There's really no way to currently measure your appearance or views from the feed. We can assume as popularity increases we may get this data.

All articles that show in the feed are AMP optimized. We haven't seen one that isn't, yet.

All of the articles are 'news like' which makes sense because it's positioned more as a news feed.
How Do You Get Your Content to Show Up in Discover Feed?
With this just recently being announced and showing up for users, I'm sure we'll start to find out more about best practices, ways to appear in these searches, and data in the future, but, for now we know two things:
If you think that your content is fit for this type of feed, ensure your pages are optimized for AMP.

If your content isn't fit for this type of feed yet, but you could write more 'news' type articles, try incorporating these topics into your editorial calendar to see how your audience reacts to it, and if you can get it to show in your ideal buyer's discover feed.
Stay tuned for more info in the future as we find out more about ranking/appearing in the discover feed.
Free: Assessment
Does your website build trust with buyers and bring in revenue?
Take this free 6 question assessment and learn how your website can start living up to its potential.