Native Video Ads Could Be Coming to TikTok in the Near Future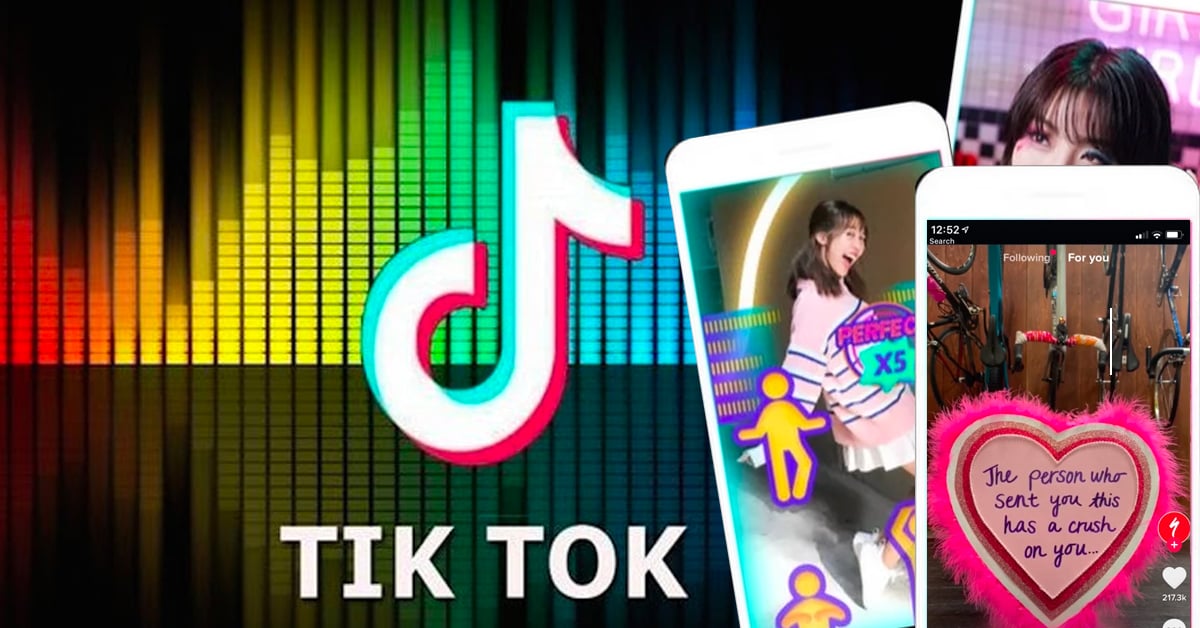 Earlier this month we introduced you to TikTok, the latest video sharing app that is quickly catching the attention of influencers and, in turn, marketers.
At the time of our last post, the opportunity for brands to advertise on TikTok was something we were anticipating but had no confirmation of, however, just this past week, TikTok was actually spotted testing native video ads within their platform.
This could lead to exciting marketing opportunities for brand growth in the near future.
What We Know About TikTok's Low-Key Ad Testing
Earlier this week, the first native video ad spotted.
It was for Specialized, a bike retailer, and showed up in the main feed similarly to how ads show on Facebook and Instagram.
The video was labeled "Sponsored" and otherwise appeared normal except for the blue "Learn More" button that directed users to tap to get more information.
Right now the "Learn More" button is taking users to the brand's profile on TikTok, but we are thinking that this button could easily be altered to directs users to the advertiser's website in the future.
In addition to testing out native video ads, TikTok has also added a few new features to the profile page that include what appears to be a version of a "verified account" badge and a pop up banner overlay that appears at the bottom of the profile page directing users to "Go to Website" or to "Learn More."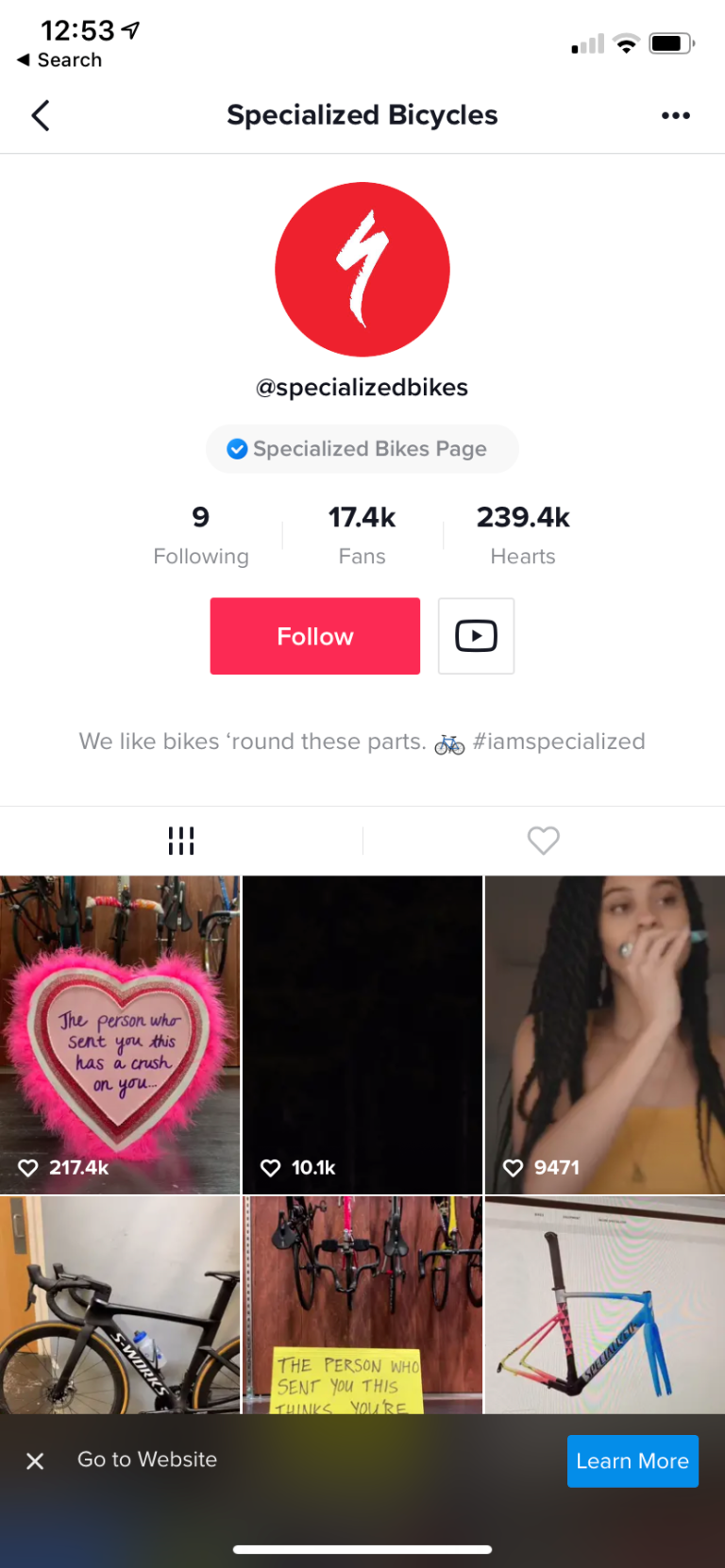 Both new features are highlighted in the screenshot above.
Below the @specializedbikes username you can now see a "Specialize Bikes Page" and a blue checkmark.
On other social networks, checkmarks usually indicated a user whose account has gone through a verification process of some sort, increasing the credibility of what they post and letting consumers know this account is official.
TikTok user profiles did not previously include this.
They generally only include a username, however, we have seen some cases where certain users have other labels such as "popular creator" or Official Account" but these are usually denoted with a yellow/orange check mark.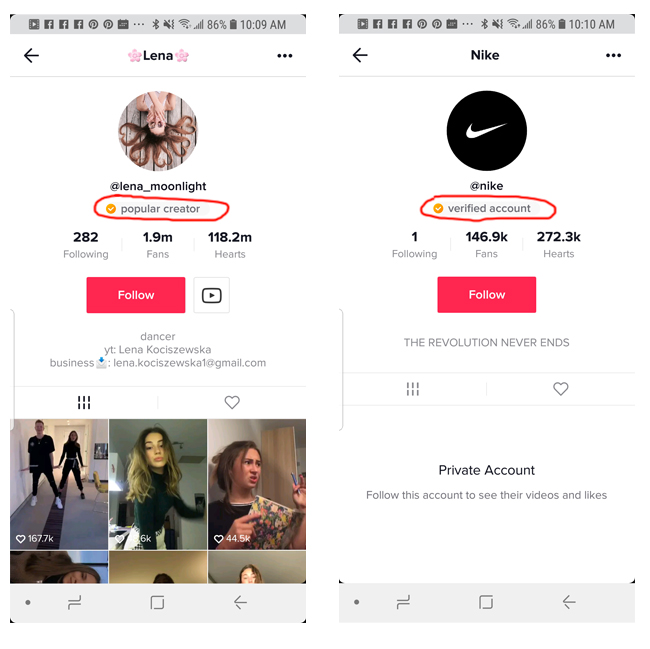 In the test ad, the "verified account" badge appeared consistently on the app, however, the overlay banner did not.
Strangely it only appeared sometimes and the "Learn More" button did not work as intended, simply opening the profile again. My expectation was that the button would take you to the brand's website.
This glitch and a few others reported involving sponsored music indicate that the video ads are very much still in beta and are not ready to offered to the public just yet.
Why Marketers Should Pay Attention
TikTok's expedited growth and popularity with the millennial generation, along with the rise of video engagement, make it a platform we all should be paying attention to.
At IMPACT, we have seen massive success with native video on Facebook and Instagram and are excited to see where things go with TikTok.
While it's hard to say if the advertising portion of the platform will take off with as much success as the others, I definitely think it is worth checking out, especially is your target audience is active and engaging on TikTok.
So, Start Experimenting
It's yet to be seen if TikTok can leverage their unique platform and grow with the same success as its predecessors by offering value to brands and users alike, however, it never hurts to experiment and see where things go.
Download the app, set up a brand profile and start testing the waters. When more product advancements take place, you will be primed and ready to capitalize.
Free Assessment:
How does your sales & marketing measure up?
Take this free, 5-minute assessment and learn what you can start doing today to boost traffic, leads, and sales.