Should You Delete Your Facebook Account? Responses from Our Community [+VIDEO]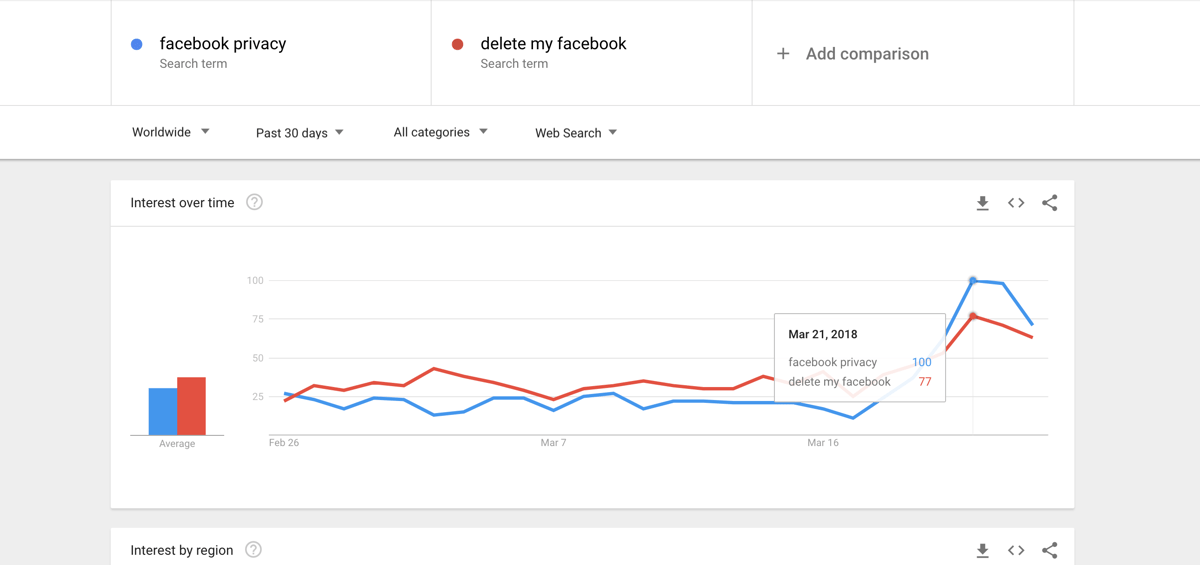 Cambridge Analytica, a data and analytics firm focused on political communication, has been accused of harvesting data from millions of Facebook profiles that was then used to specifically target and influence people on social media during the 2016 Presidential election.
While Facebook's founder, Mark Zuckerberg, responded saying "This was a breach of trust, and I'm sorry we didn't do more at the time. We're now taking steps to ensure this doesn't happen again." many feel this wasn't enough.
As a result, searches for "delete my Facebook" came rolling in and the #deleteFacebook hashtag was trending within hours. As users began to delete their accounts it became known that Facebook has been collecting more data than many originally thought including call history and SMS data from Android devices.
As the manager of a vibrant Facebook community of thousands of inbound professionals I couldn't help but wonder what our community was thinking. Then I thought, why limit it to our community?
I quickly created a survey and shared it throughout IMPACT, my social networks and encouraged others to share as well. The results span a variety of age groups, roles and viewpoints.
A Breakdown of Our Surveyed Audience
We surveyed a variety of people ages 22 to 65. About 50% of the respondents were between the ages of 22 and 29.
Among this group were many marketers and salespeople as well as a variety of other professions including titles such as law clerk, public relations executive, pharmacy technician, paralegal, health counselor, music teacher, singer-songwriter, and more.
Responses from Those Who Are Considering Deleting Their Facebook Accounts
Of the people we surveyed, 21% said they were in fact considering deleting their Facebook accounts. While not all the answers were related specifically to this threat to personal data privacy, some were focused on that.
An inbound marketer who preferred to remain anonymous responded saying "A company that large and with that much user information has an obligation to be THE model of social responsibility. But, more importantly, they should WANT to protect their users and it blows my mind when they don't. Just to clarify: I hold Google, Apple, Verizon, AT&T, Samsung, Comcast, etc. all to this same standard."
Three members of the IMPACT team also said they were considering deleting their accounts. While one was considering it more because of the negative effects Facebook has on his life in general, the other two said they don't have confidence in or trust Facebook and related applications to keep their information secure.
IMPACT Elite member John McTigue said: "I'm concerned that my data may be used in ways that I don't approve of or authorize. I also feel that FB has violated privacy policies and/or made them so obscure that they mislead users."
Finally, an anonymous marketing consultant responded: "Facebook has had a lot of PR blunders recently, this one being the most significant. My usage on the site has decreased over the years which has contributed to negative feelings about the site. Frankly, the pros of using the site are no longer outweighing the cons."
Responses from People Who Are Keeping Their Facebook Accounts
Of the remaining nearly 80% of respondents who do not plan to delete their Facebook accounts, majority shared similar feelings including being responsible for their own data privacy and finding a lot of value in Facebook, both personally and professionally.
IMPACT Elite member Kaitlyn Casso said: "Not only will all of my memories disappear but I have found a new love for Facebook groups this past year. Between this awesome group and even groups that hit my personal interests like hiking and traveling. I've found them to be so useful when looking for quick advice rather than spending hours doing personal research. And it connects you with like-minded people!"
IMPACT Elite member Paul Wolfer said: "I feel like my life would improve if I deleted my Facebook account, but I've really grown my side business a lot with it (and Instagram), so as much as I have issues with it, I feel kind of stuck."
Many also said they do make an effort to put as little personal data on Facebook as possible and that they know their data is spread around regardless. Whether it's by Google, Facebook, Amazon - they understand it's a risk associated with using these platforms and services.
Jason Rose, a marketing strategist at IMPACT, weighed in saying: "I also try not to let the newsfeed algorithm dictate my media consumption habits. Facebook only has as much power as you give it. I do believe Facebook to have a net negative effect on our society as a whole, so it takes some mental gymnastics to stay on it. I think of Facebook like I think of the diner you all hang out at in high school. The food sucks but you are there because everyone else is."
Many said they use it to connect with friends and share photos and until there is something better than Facebook, they'll likely stick with what works.
Maggie Kamm, a mother and law clerk, responded: "It's how I keep my long distance family and friends in the loop about my life. Most of them are not on twitter. My school also posts a lot of updates and news on Facebook pages rather than via email."
A graphic designer shared: "I've had my Facebook account since right before I started college in 2005. It has chronicled my entire adult life. There is simply too much information, too many people I connect with on a regular basis and too many news sources for me to stray away from."
Furthermore, there were quite a few responses noting how important Facebook is to many businesses. Responses included sentiments such as:
"It's such a big part of my business...it's just not an option."
Myrna Arroyo, a marketing consultant, said "I've always advised my clients to make every effort to convert their followers on social media into leads by asking for emails, getting them subscribed to a blog, etc.... your website and email and phone list are yours. That way if Facebook were to shut down one day you'd still be able to reach your prospects."
Deleting Your Facebook Probably Isn't the Answer
As many have already noted, deleting your Facebook won't fix our privacy nightmare. Whether we're willing to admit it or not, we're likely being tracked by everything in our digital lives. From search engines to cell phones, your information is being logged, stored and tracked in a multitude of ways. However, most would agree that does not make it acceptable for that information to be abused or used illegally.
A public relations executive responded: "My data is everywhere. I shop at Target = Hacked. I had a Yahoo email = Hacked. I used Equifax to monitor my SSN after my identity was stolen = Hacked 2.0. And any sane person will admit they know Russia hacked the last presidential election, so our own votes aren't even safe. I downloaded 50+ apps to my phone, which all have varying amount of data about my life. We live in a world where ethics will take a backseat to the right number ($$) in capitalism. Take a deep breath, take a fake Buzzfeed quiz about which Golden Girl you are and move on. Facebook is here to stay. There is no platform out there like it to replace it."
A marketing manager responded: "It doesn't seem that big of a deal to me that they used data to target political ads. Politics is a business and businesses advertise to get money. [...] It definitely seems fishy and unethical to try to influence votes, but it sounds like it is just targeted Facebook ads and content. I personally take everything I see on Facebook with a big grain of salt - I don't believe everything I see on Facebook, so just because I see a political ad doesn't mean I will immediately believe it."
While getting completely rid of online search, cell phones, credit cards, and all e-commerce engagement is probably unrealistic for most people, you can take better control of your privacy online.
Taking Control of Your Privacy Online
While learning how to stop third-party apps from accessing your Facebook data does not fully solve the problem, it's a good first step.
Annette Sugden weighed in with a couple of powerful thoughts: "I turned off the option to use facebook to log onto apps and websites and permissions for any 3rd party app to have access to my profile. Also even before the Cambridge Analytica revelation, I stopped participating in anything that could be mined for identity and other nefarious data collection purposes like those memes where you comment with what your Star Wars or other pop culture name would be based on private information like your full name and/or birthdate.
It's too bad though that unethical people and criminals ruined games with facebook friends and fun quizzes to escape stress temporarily. Also now consumers trust Facebook and marketers even less. Data could be even more of a dirty word.
But we need data to help businesses and consumers find each other by serving up information and content that's more relevant to their interests and needs. I'm not a marketer to manipulate others, but to help others. It makes me really angry what some people have done, including Cambridge Analytica."
Carina Duffy, a marketing strategist at IMPACT, said: "While I think what happened is super messed up and not okay, people are manipulated in more ways than just on social networks, and in my opinion manipulative people and organizations are going to find ways to manipulate these people whether or not they're on Facebook."
While having a way to respond to your customers' questions in real time is important - there are many ways to accomplish this. I know I find a lot of value in Facebook (especially in our community) but I also accept that it won't be around forever. I do my best to pay close attention to my privacy settings and I try not to log into external sites using Facebook just because it's a little faster.
What are your thoughts? Will you be updating your privacy settings and deleting third party app permissions? Are you considering deleting your Facebook account entirely? Let us know in the comments or join us in IMPACT Elite to continue the discussion.
Free Assessment:
How does your sales & marketing measure up?
Take this free, 5-minute assessment and learn what you can start doing today to boost traffic, leads, and sales.