Subscribe
Join 40,000+ sales and marketing pros who receive our weekly newsletter.
Get the most relevant, actionable digital sales and marketing insights you need to make smarter decisions faster... all in under five minutes.
Thanks, stay tuned for our upcoming edition.
Snapchat Simplifies Ad Creation Process with "Instant Create" Feature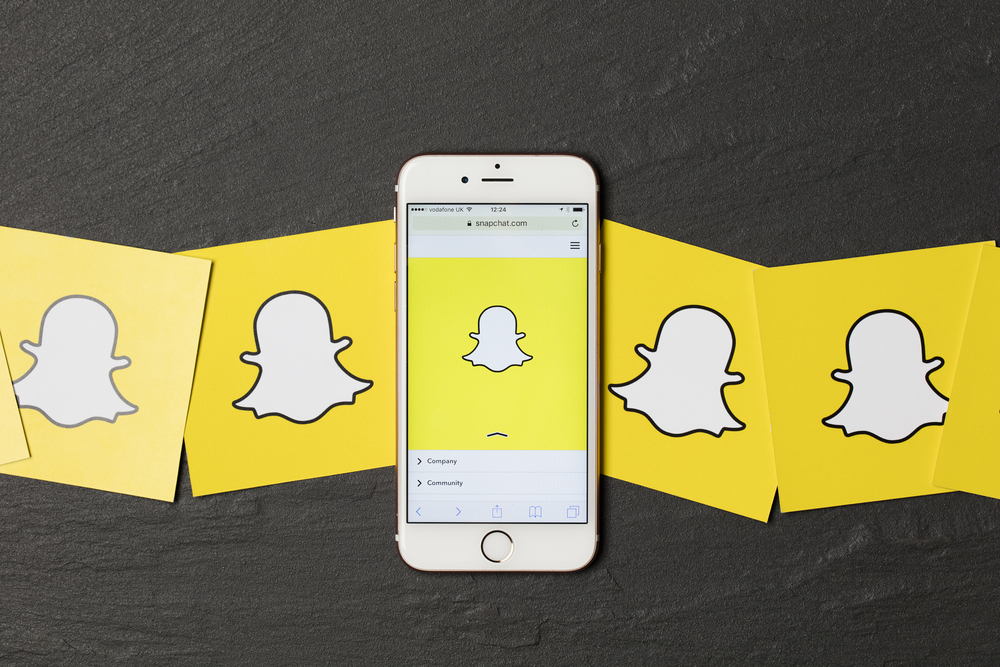 Snapchat is introducing an easier way to create ads on the platform.
The company launched "Instant Create," a tool that offers a simple, three-step process to create ads optimized for Snapchat.
Instant Create is designed for businesses with limited resources who may not have the time or expertise to go through the entire ads creation process.
Taking steps to simplify digital ad creation has been a recent trend among top ad platforms over the past year.
Recently, Facebook upgraded its Video Creation Kit so video ad creation could be more accessible for all marketing teams.
Similarly, Instagram has been spotted testing a stop-motion video tool for Stories that allows marketers to experiment with video without requiring technical equipment or expertise to do so.
Even third-party apps are emerging to help marketers solve this pain point. We recently reported on Trash, an app that uses AI to create social media videos out of a series of uploaded clips.
So, it's easy to see why Snapchat wanted to hop on the bandwagon and release its own user-friendly ads feature.
The motivations behind these tools are simple: Businesses want to produce ads to increase exposure, but these ad platforms are so complex, they often require a specialist to help.
However, these smaller teams may not be able to invest in the help of a specialist — so in turn, they won't spend any money on the platform.
Because these platforms earn the majority of revenue through paid ads, lowering the barrier to entry was necessary to capture all the lost revenue.
That being said, here's an overview of Snapchat's Instant Create feature, and how it can help teams produce better ads in a fraction of the time.
How does "Instant Create" work?
Now, when you navigate to "Create Ad," Snapchat's ads manager, users will have the option to select "Instant Create" or "Advanced Create."
1. Identify your ad objective
Once you click on "Instant Create," you'll be asked to choose between three advertising goals: website visits, app installs, or app visits.

Depending on which option is selected, you'll be prompted to enter information about the website or app you're promoting.
2. Customize your ad
When you choose your objective, you can select if you want Snapchat to pull photos directly from your website and import them into the Ads Manager Media Library.
Alternatively, you can also opt to import custom ad creative.
Once you've selected the right image for your ad's creative, you simply put the final touches on your ad by providing the following information:
Brand name
Ad headline
Call to action
Caption (optional)
Brand logo (optional)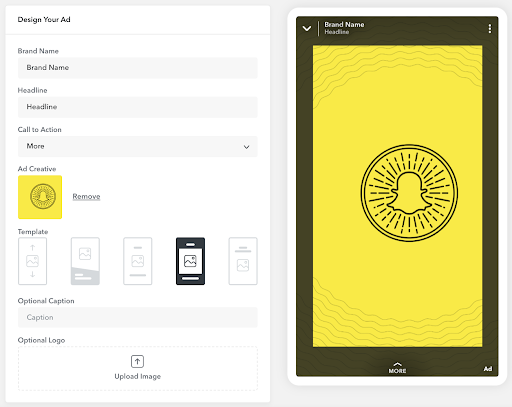 3. Select targeting
After your ad is complete, you're directed to select ad targeting information.
To keep it simple, Snapchat offers a limited number of targeting options so new advertisers can easily navigate the process.
Basic targeting features include demographic and location-based targeting. However, if advertisers want more options, they can click "Show Advanced Targeting" to access more specific targeting features like interests, custom audiences, or devices.
Once that's complete, you just need to select your budget and duration for the campaign. Again, Snapchat purposely keeps this feature simple as well, showing exactly how much ad spend and campaign duration will impact how much activity the ad generates.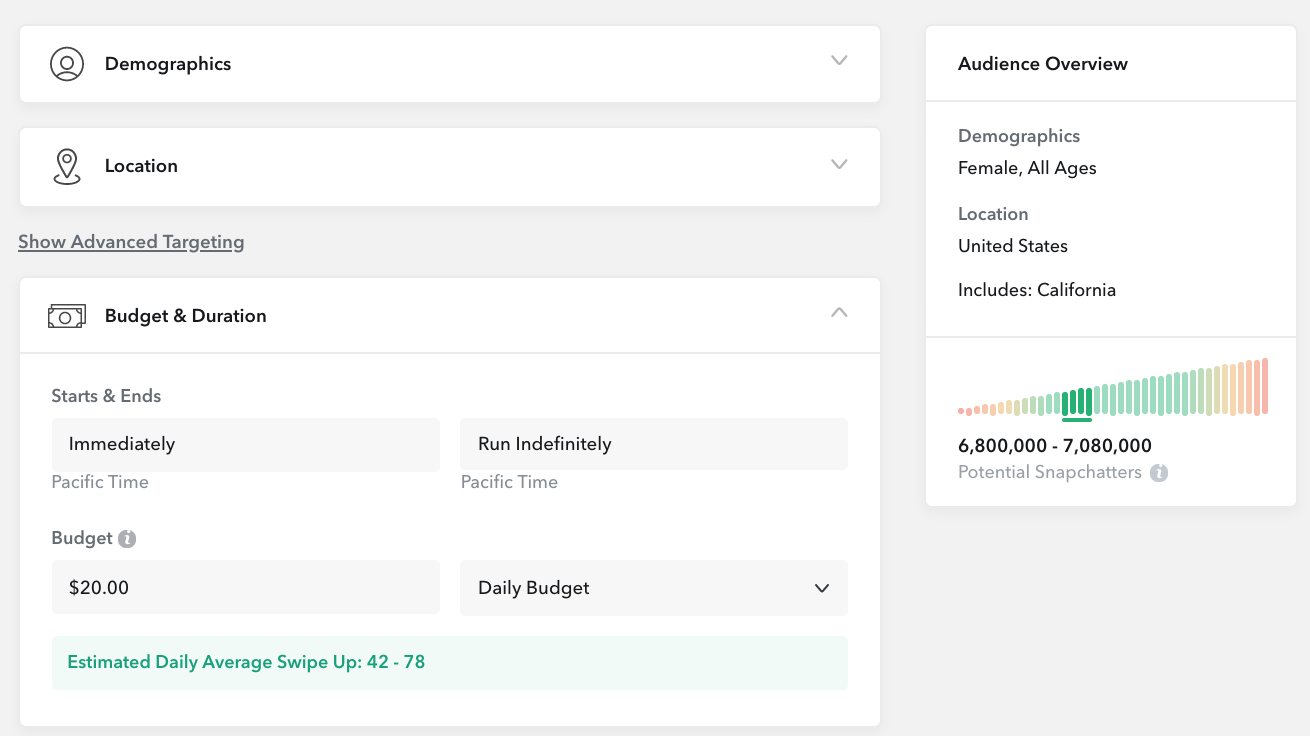 Before you dive in, it's important to note that Instant Create only supports Snap Ads, meaning single ad sets including an image or video that features an attachment.
If you want to access other ad types (Stories Ads or Product Ads, say), or your campaign features multiple ad sets, Advanced Create may be a better option for you. As the name states, it's more technically advanced than Instant Create — so new advertisers may want to test the waters with Instant Create before diving in to the more complex option.
Creating ads is a snap!
One of the biggest differences between modern marketing and traditional outbound tactics is that it gives smaller businesses the opportunity to compete on a more level playing field.
Think about it: a decade ago, it was a lot harder for small and medium businesses to get in front of the right people.
Now, with digital ad platforms, businesses of any size have the ability to showcase their brand to their target audience, and it's certainly cheaper (and more effective) than local TV commercials.
These platforms represent an important opportunity for these small businesses to build brand awareness.
Options like these provide businesses a way to test the waters with different platforms without needing to invest the time and money in learning these apps.
Moreover, these tools also ensure that the final ad product will be well-optimized for the platform, and look on par with other advertisements people are seeing.
With more and more people spending time online, updates like these are important for not only these advertisers, but for the ad platforms as well to keep adding new customers and generating more revenue.
Free Assessment:
How does your sales & marketing measure up?
Take this free, 5-minute assessment and learn what you can start doing today to boost traffic, leads, and sales.