Facebook Upgrades its Video Creation Kit With All-New Features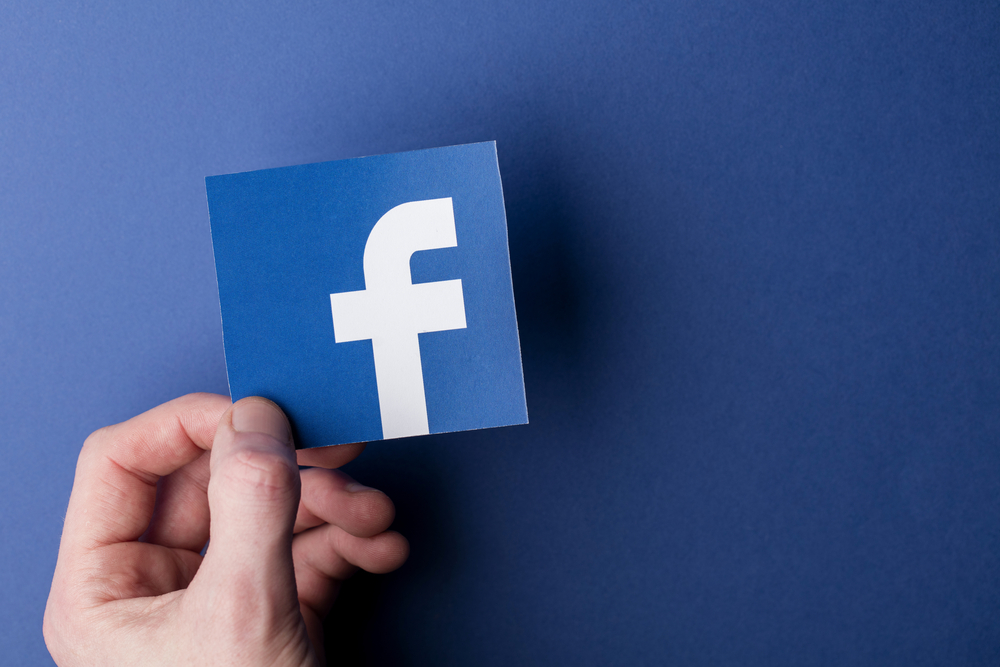 Facebook has added new tools and features to its Video Creation Kit to make it easier for advertisers to create and share video ads on Facebook.
Facebook's Video Creation Kit first launched in August of last year, offering a simple way to turn a brand's existing image or text assets into mobile-optimized marketing videos.
The great thing about Facebook's Video Creation Kit is that you don't need a full in-house video team to create great marketing videos – making this type of advertising more accessible to small businesses that want to make the most out of their marketing spend.
Now, with Facebook's expanded toolset, the new Video Creation Kit offers even more to advertisers looking to get started with video.
What's New in the Video Creation Kit?
Easily Optimize Videos for Different Ad Placements
When you create an ad in Facebook, it can be shown in several different locations – like in Feed, Stories, or Instagram – all of which have different preferred aspect ratios.
Previously, if you wanted a specific video to appear in all of these different placements, it would require the video to be re-edited with different sizes.
Fortunately, Facebook has eliminated that headache for marketers.
The Video Creation Kit now allows you to turn a single video into multiple videos with varying aspect ratios for different ad placements.
Not only does this save significant time in the ad creation and editing process, but it also allows advertisers to be more agile in experimenting with different video formats. For one, it's less of a time investment to create all of these video formats. Secondly, once a campaign is launched, marketers now have the ability to quickly adjust formats mid-campaign if one placement is performing better.
New "Save Draft" Feature
Previously, if you began creating an ad in the Video Creation Kit, you had to finish that ad in the same sitting.
In our industry, it's not always realistic to do this. After all, it's likely other people need to approve something before launch, or you might have the time to start something, but not necessarily to finish it.
Thankfully, Facebook has given advertisers a "Save Draft" feature so this is no longer a problem.
Honestly, I'm a bit confused as to why this wasn't a feature of the initial launch – but I'm sure it's something users will appreciate. Now, if you're working on a video and need to stop, you don't have to obsess over keeping that browser tab open. You can simply save the draft and revisit later.
It's also helpful for marketers who want to iterate on previous campaigns or tweak small elements to A/B test without having to start over.
New Single-Image Templates
When the Video Creation Kit launched, it included four templates for advertisers to choose from.
These included:
Promote a Product: a six-second template featuring 2-5 images focusing on one product, with the goal of generating interest and sales in that specific area.
Sell Multiple Products: a six-second template featuring 4-7 images designed to showcase a selection of products. This could be used to promote current offers or to drive sales and awareness for featured products.
Showcase Product Benefits: a 15-second template featuring 5-10 images designed to showcase benefits, features, or different uses of a specific product.
Drive Product Discovery: a 15-second template featuring 1-6 images designed to showcase your product line and show viewers what makes your brand unique, with the goal of enticing them to visit your website to explore further.
While these templates are great, they may not fit each brand's advertising goals or objectives.
Now, Facebook has added three additional templates for advertisers that want to opt for a more specific and focused advertising video.
Facebook calls these "single-image templates", and they are designed to take a "static image and add visually engaging motion to capture your audience's attention."
The single-image templates include two six-second options to showcase either a square or horizontal image, and one nine-second template that allows a longer spotlight on a single image.
Examples of all three can be seen below:
Additional Custom Editing Options
Along with new templates, Facebook has also added additional features that can help advertisers find options that better align with their branding and specific campaign.
First, there are now 20 additional font options for text overlays to customize your videos and make your ads stand out.
Second, new seasonal stickers have been added as an option to include in videos. These stickers can range from holiday to event-specific add-ons that make ads seem more festive, fresh, or seasonally relevant to your audience.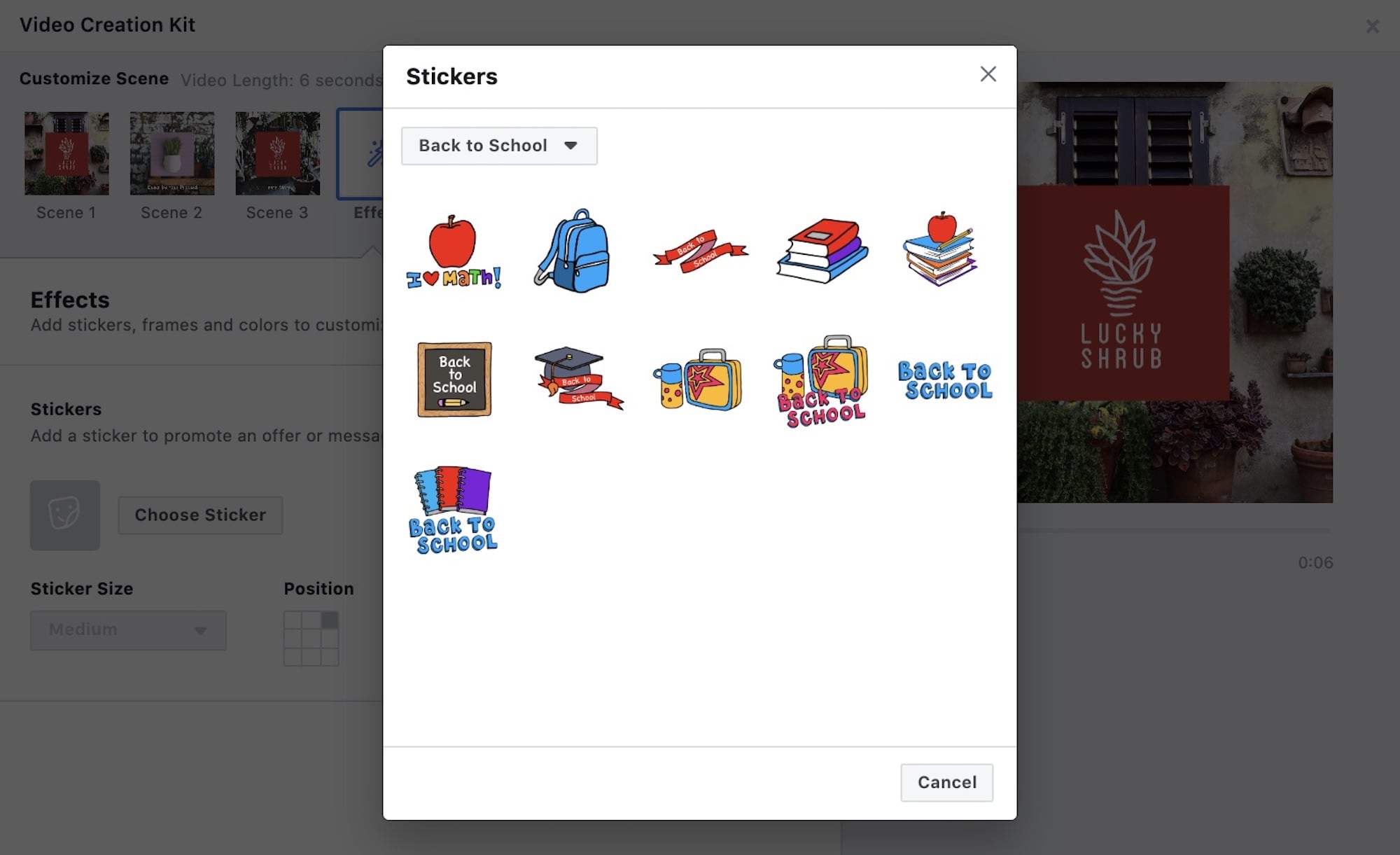 You can find stickers in the "effects" tab in the Video Creation Kit. Use the drop-down pictured above to find the category you're looking for.
Final Thoughts
While these updates may seem minor, it's important that Facebook is offering options for businesses to create quality marketing videos without needing advanced technical expertise to do so.
Digital advertising is no longer a nice-to-have asset. Businesses, big or small, need to use platforms like Facebook to get in front of the people that matter to them.
Facebook is great ad platform not only due to its large audience, but also because it accommodates advertisers of all skills and budgets. Inexperienced advertisers or teams with limited marketing resources can find success, and more advanced players also have the freedom to use more custom options to share their work with the world.
With these new features, Facebook is enabling advertisers to try out new options with their ads while also helping them create these videos faster and more easily than before.
Free Assessment:
How does your sales & marketing measure up?
Take this free, 5-minute assessment and learn what you can start doing today to boost traffic, leads, and sales.