Details & Fine Print: Tips for Planning an Attractive Free SaaS Trial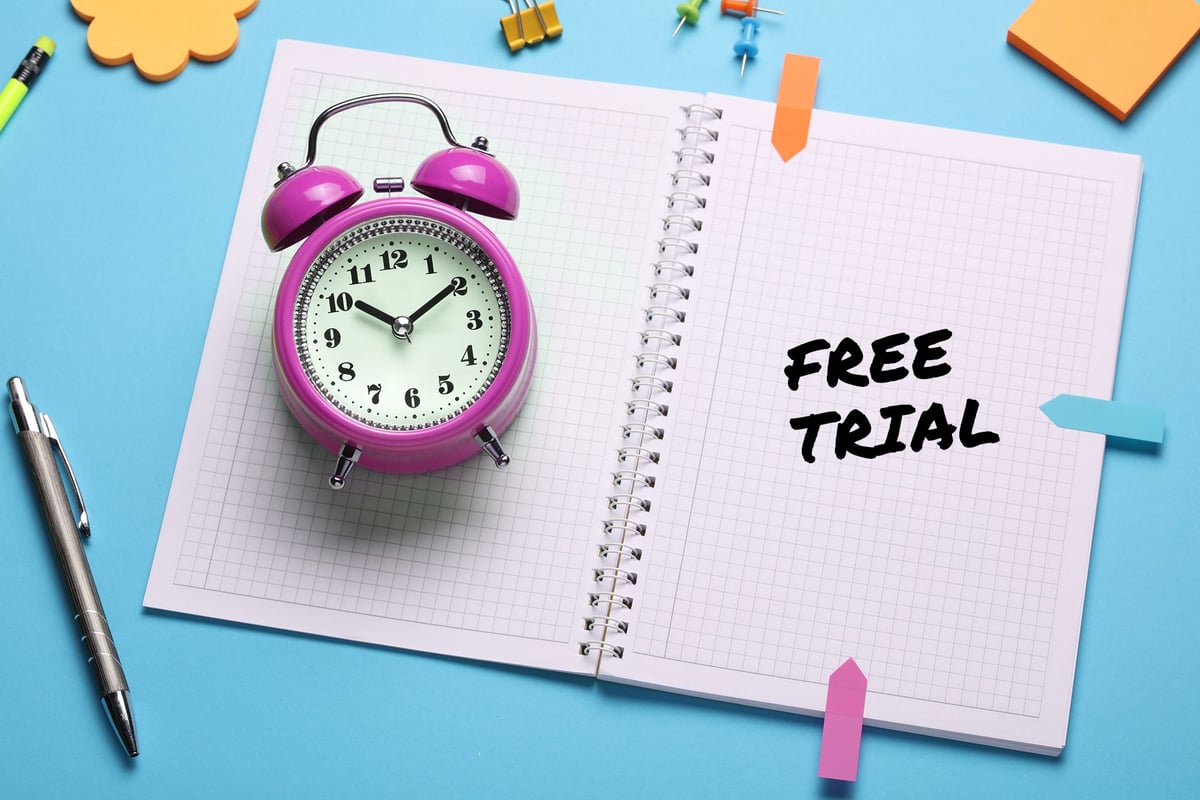 Nothing sells your SaaS (or any product for that matter) like letting people try it for free.
But that doesn't mean you can just swing open the doors and let people run in.
Offering a free trial of your SaaS requires planning and some important strategic choices before finding its way to your prospects.
Taking into consideration your ideal customers' wants/needs and the associated business costs, you want to carefully plan the details of your SaaS trial, including the length and what's included.
All of these factors can affect the overall appeal of your trial and its ability to attract and convert new users.
Terms and Conditions
Once you work out the details, you want to be upfront and clear about your terms and conditions, or "fine print." People are often skeptical of free trials and need to be assured that there isn't a "catch." With this in mind, make sure to outline:
What's Included (and What's Not)

Trial Length

Communication Between User and Your Company

What Happens After the Trial (including Cancellation & Upgrading)
Inclusions & Limitations
The type of free SaaS trial you offer is usually determined by the limitation you set and there are several variations to choose from:

Feature Limit

– This type of limit allows users to test your software without its full features. This makes the limited features look

"exclusive" and in turn more tempting

, but unfortunately, prevent the user from test driving the full experience.
Usage Limit

– A usage limit restricts how many times a person can use the software or how many actions they can perform with it. Ideally, this leaves them wanting more, but if you set the limit too low, you run the risk of leaving users feeling dissatisfied or thinking you're "stingy."
Output Limit

– This is a format you may recognize from many mobile apps. An output limit alters the output of a product, usually in the form of a watermark on the output material (or something similar). The advantage is that users typically get to use all of the features and are compelled to upgrade with each output, but the resources/planning needed to prevent modification might not be worth the hassle.
Capacity Limit

– This limits the amount of data that can be inputted into the software (i.e. a certain number of contacts), but use this carefully. If the performance of your software suffers under high volumes of data input, your trial users may be up for an unpleasant surprise if they upgrade.
Nagware

– As the name suggests, nagware allows users to use all of the features, but with a periodic reminder (or "nag") to upgrade. You typically see this with lower-priced software and doesn't typically yield the best results. One of the most well-known of these is Winrar.
While each of these has its pros and cons, in general, we recommend forgoing feature limitations in favor of a time limit.
Feature limits deprive prospects of the chance to truly experience your software and grasp its full value.
Although it makes sense that limiting features may pique curiosity and entice users, it ends up being less effective than allowing them actually test those features out.
I mean, it's hard to miss something if you never had it in the first place.
If you're going to offer a free trial at all, put everything you have out on the table, so people won't have any lingering questions or doubts about your paid experience.
Plus, the most important selling points are going to vary from user to user. While one user might get to test everything they care about within the guidelines of a limited free trial, others won't. It's more effective to give them the reigns to use the software as the normally would.
Trial Length
With a market swimming with freemiums, you may be asking yourself, why go for a free trial instead?
Well, to put it simply, limiting free use of your product to a trial creates a sense of urgency.
A trial is your chance to make a person fall in love with your product and come to rely on it and if they do, limiting their experience to a set amount of time will force them to act quickly to avoid a lapse in service or losing of their valuable tool.
Too short of a trial and you may not pique interest; too long and you risk losing interest or urgency.
According to a survey of 550 established enterprise SaaS companies, 41% offer a 30-day free trial while only 18% offer a 14-day free trial. Recently, more marketers are advocating the 14-day trial as most effective, but every audience is different.
While it will take some testing to determine what the most effective length is for your buyer persona, here are some of the most popular for to begin your planning:
7-Days (used by Litmus)

14-Days (used by KissMetrics, Dropbox, and Treehouse)

30-Days (used by HubSpot, Netflix, Hulu, and Zendesk)
Analyzing User Behavior & Improving
A good way to pinpoint the perfect length for your trial (or determine other features for that matter) is by analyzing your users' behavior.
When you first start your trial, you'll want to monitor the way people are interacting with it, how long it takes them to get acclimated, and regularly become active, and ideally, make a purchase.
On average, people who actively use a SaaS for three days or longer into their trial are four times more likely to convert into a customer, but this obviously depends on the nature of your specific software. If people seem to be taking a long time to adapt your SaaS, this may be a sign that more guidance or follow-up is needed.
Paying attention to things like this will help you not only help you improve the trial experience for users, but also optimize it for conversions. The more you wow your leads during their free trial, the easier it gets to convert them to paying customers in the long run.
11 Tactics for Generating 3x More Trial Users
The content above is an excerpt of our new playbook, "11 Tactics for Generating 3x More SaaS Trial Users a Month." To get all 11 tactics, learn more about the benefits of a free SaaS trial, and following up afterward, get your free copy of the playbook here or by clicking "Get it Now" below.
Free Assessment:
How does your sales & marketing measure up?
Take this free, 5-minute assessment and learn what you can start doing today to boost traffic, leads, and sales.