4 tools to get more out of your video meetings [IMPACT Toolbox April 2020]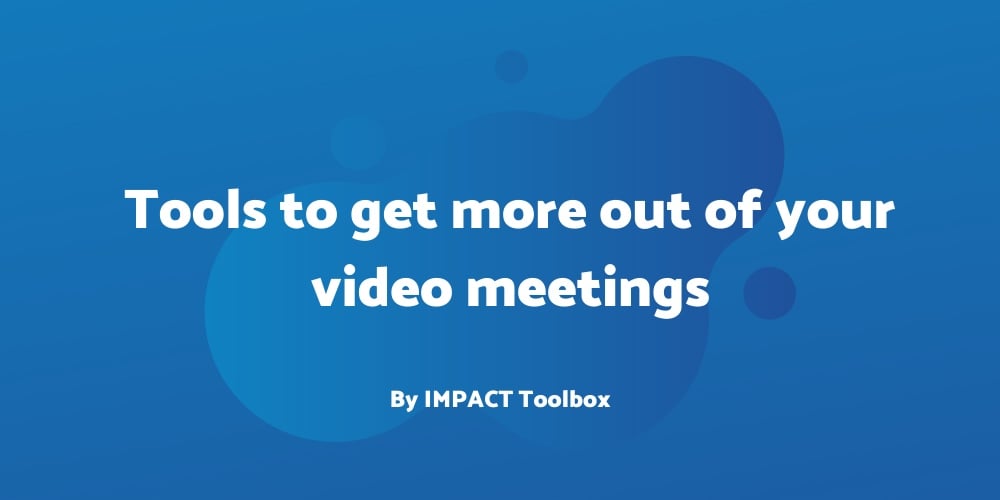 Unless you're living under a rock (and I wouldn't blame you for it), you've probably been on a Zoom meeting lately.
You may even be on one right now.
(Sorry, Mary; my internet connection dropped. Can you repeat that?)
It's crazy to think how quickly the world has gone virtual.
For the companies that could, there was a whole swarm of tools available to take standard day-to-day working to this whole new format.
Maybe you've even zeroed in on one and love it.
But just because you have your main tool doesn't mean you're taking the best advantage of it.
Do you record your video meetings?
And if so, do you do anything with them after or are they floating out in the ether?
What if you could maximize the time you already spend in those meetings by adding a tool to your workflow?
Today, we're going to look at four tools that focus on having more effective video meetings, with an emphasis on tools that work with Zoom (and one under-the-radar alternative).
This article is part of our IMPACT Toolbox series.



With IMPACT Toolbox, we discuss all of the latest (and sometimes underrated) sales and marketing tools that you need to try. We make recommendations by category, helping you figure out what tool is best for your situation, and introduce you to tools you may not hear of otherwise.

Have questions about a marketing tool? Want to know whether or not we've reviewed it? Reach out to @morganandrewv on Twitter and we'll see how we can help.
Today we're going to look at:
1. Drift Video for Zoom - Share and track views of Zoom meeting recordings
Price: Requires Drift Video account, Free version, Pro starts at $10/user/month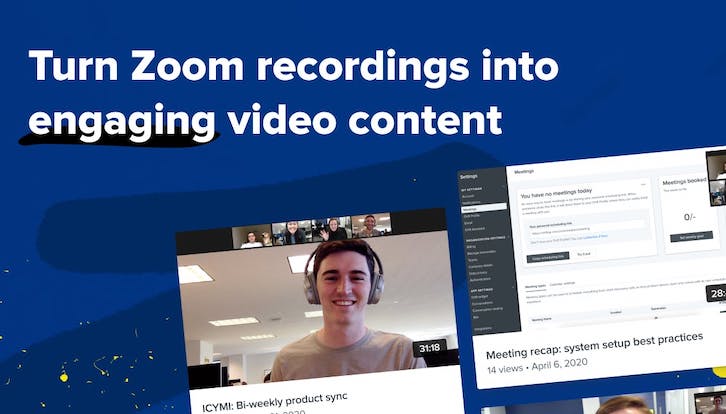 One of Zoom's handy features allows you to record a meeting to review or share later, and it either gives you a local video file or saves the recording to the cloud so you can share a link.
But that's the extent of the recording feature.
If you need to know someone watched the recording, control who watches it, or anything else, you'd need to use another tool to make that happen.
Drift has recently announced an integration that makes that process easier and analytics more friendly.
With the Drift Video for Zoom integration, you can save your recordings to the cloud, access those recordings directly within Drift, and then share all or part of the meeting with Drift's video tools.
And you can track views, control link privacy, and even chat with people viewing your video.
Who is not a fit for Drift Video for Zoom?
First of all, if you're not a Zoom user, then don't waste your time.
Drift may add other meeting tools down the line but Zoom is the most popular and was just released so it might be a bit.
Also, this tool won't help if you aren't a Drift user.
That being said, if you need to get started with conversational marketing or need a video marketing tool, Drift is a great option.
Their current video plans are inexpensive and could make a substantial difference in your sales and marketing processes.


2. Actionable Background - Take better advantage of your Zoom background real estate
Price: Free with Cardify watermark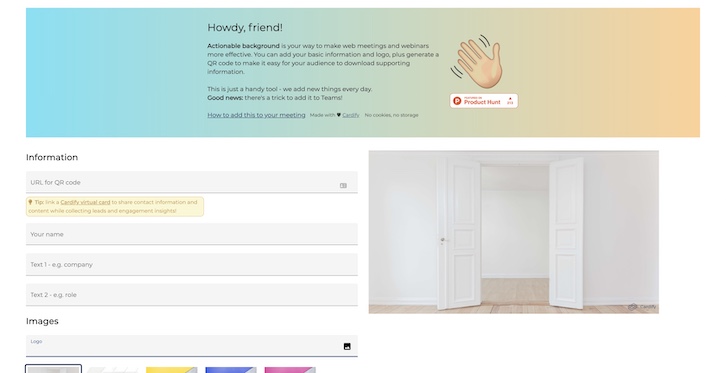 This tool is straight to the point.
Zoom allows you to set a virtual background.
When you enable that, the tool will detect whatever is behind you in your video stream and replace it with the image you've selected.
Maybe your current backdrop is boring or messy or seeing yourself on a beach makes you feel like you're actually on a beach; whatever your reason for using this feature, it can have a huge effect on your call.
It's not just about aesthetics though.
Have you thought about what else you could display? Perhaps contact information or next steps for your viewer?
Actionable Background is a free tool that helps you make your Zoom background more...well, more actionable. It enables you to display information that enables whoever you're meeting with to take action after the call ends.
You spend so much time in Zoom calls, you should do everything you can to enable your audience to progress during and after the call.
With Actionable Background you can easily create a background with the following:


A QR code which gets created for you by adding a URL to their builder
Contact details (three fields of text that you can use however you like)
Your company logo
Your own background image (that everything else gets applied to)
A background blur over your image
This is particularly useful if you're in a sales or prospecting role.
If you're regularly talking to people that may be seeing you for the first time, then using the logo and contact details will reinforce who you are.
Or if you have a direct takeaway for them that a slide would be overkill for, you could use the QR code with specific action text instead of contact details to encourage that takeaway or action.
If you don't use Zoom but your video conferencing tool allows you to use a digital background, then this could still be a useful tool for you.
You may want to check if the default aspect ratio is different for the video, but that should be pretty consistent across the board (default 4:3, sometime an optional 16:9).
If you're relatively creative, you would have a little more control using a tool like Canva.
That would give you complete flexibility over different types of content, locations, and the look and feel of your background, but Actionable Background will help you move quickly by only requiring a few form fields to be filled.
Who is not a fit for Actionable Background?
Again, if you're not a Zoom user or your meeting tool of choice doesn't allow custom backgrounds, then this likely won't help you.
If you're not in a sales or prospecting role, these backgrounds may not be as useful to you. When meeting people who already know you, or have a specific purpose, then having extra details on your background may be more distracting than effective.
3. Fireflies AI - Your Zoom assistant for recordings, transcription, and search
Price: Free option, Pro features starting at $10/month (if paid annually)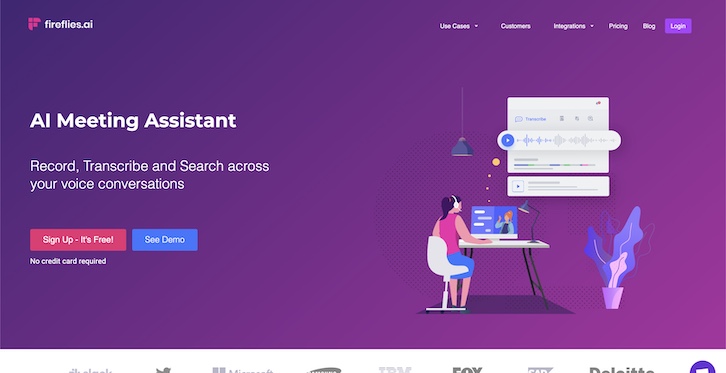 So you've made it easy to share your Zoom meetings and made them more actionable for others, but how do you make them useful to you afterwards?
You could have someone on the call taking minutes so you can keep track of what happened and who is responsible for any follow up.
You could drop the recording into transcription software and make it more easily searchable.
You could take notes during the meeting and copy them into your CRM afterwards.
Or you could use Fireflies.
Fireflies helps you by recording your meeting, transcribing it, and syncing enriched data to your CRM all without needing an additional set of hands.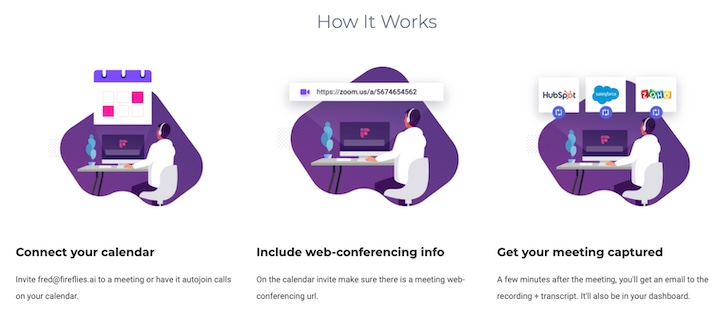 It's easy to get a meeting logged. Just add fred@fireflies.ai to your meeting invite and make sure there's a Zoom (or Google Hangouts) meeting link on the invitation.
A little after the meeting, you'll receive an email that contains your recording and transcript (or you can just check your dashboard).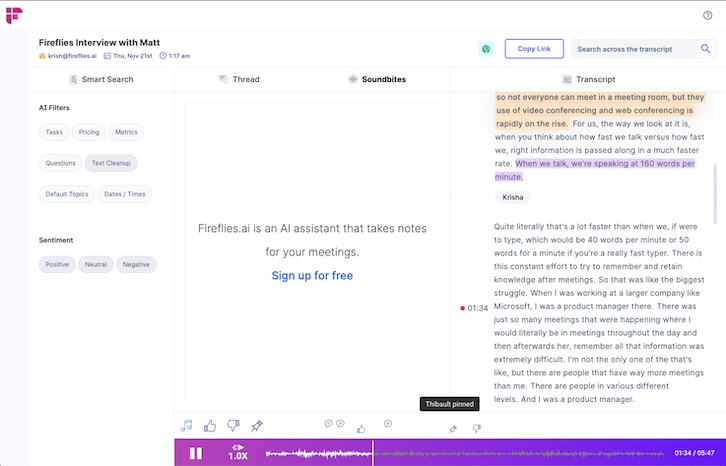 Above is an example of a transcription.
It highlights the active sentence as it plays, and keeps track of time-stamped events of the people interacting with the transcription.
Fireflies will even take notes for you and sync them to your CRM.
No doubt you'll likely want to still take your own and verify (at least for the first few calls), but that could drastically improve the quality and quantity of your contact data notes.
It's proven that most humans cannot multitask, so if you're speaking or actively listening, you can't also be taking good notes.
Even if you have someone taking good notes, if you don't have a way to easily reference and search those notes then you've lost a lot of the benefit of having them.
Leaning into a tool like Fireflies that automates the tedious aspects of this process and enables you to get more from the meetings you're already having could be a huge win for you.
Who is not a fit for Fireflies?
The main use-cases for Fireflies right now are sales, recruiting, and internal use. If your role falls outside of those, then you may have to stretch or tweak the tooling to work for you.
If you're not using a CRM, you won't be taking full advantage of the tool either, although the Zapier integration can be used to send the automated notes to more than just CRMs.
This would be useful if you just need to log notes for reference somewhere like a Google Doc, or if you want to email a copy of the notes to someone not in the meeting.


4. Whereby - A wonderful video meeting alternative if Zoom isn't your thing
Price: Free plan, Pro starts at $10/month, Business starts at $60/month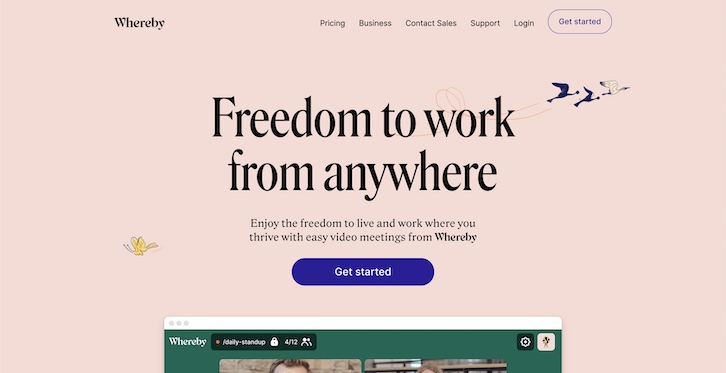 As the world has turned virtual, many individuals and companies have turned to Zoom to get the next-best thing to an in-person meeting — but it's not right for everyone.
I won't sugarcoat it: Zoom has seen a lot of scrutiny around privacy and security lately.
They are pushing updates, and they're still a huge player in video conferencing, but I would not blame you for wanting to know about other options.
Microsoft Teams or Google Hangouts are potential alternatives, but those tend to be most useful to the companies using the extended suite of tools for each respectively.
(And if they were such phenomenal tools, then why would companies be using an alternative like Zoom, right?)
Enter Whereby: a delightful, browser-based video conferencing application.
What does browser-based mean?
It means you (and your meeting attendees) won't need to download an app to attend your meeting (although there is an iOS app if preferred versus a mobile phone browser).
Whereby has the essential features you would get from Zoom (some features vary by plan):
Gallery view (multiple people on the screen at once)
Screen sharing
Recording (small add-on to Pro plan, included in Business)
Secure conversations
Reactions
Depending on your plan, you can also have branded meeting rooms (custom logo and background) or even a custom domain.
The big feature that Zoom just released that is missing in Whereby is breakout rooms, but that may not be a selling point for you.
Unless you have regular larger meetings that need to break into groups and come back to a main room (like workshops), then you won't miss it.
They do have a free version, so you could try that out (with up to four participants including yourself) to see how you like the look and feel.
Who is not a fit for Whereby?
Whereby is a solid video tool, but there are some limitations on the size of meetings. They can hold up to 50 participants, and only 12 can be on video at one time.
So if you use video conferencing for company meetings with more than 50 employees or want everyone on video, it won't work well.
Hopefully these caps increase as the world continues to go virtual!
Take your video meetings to the next level
The world is moving quickly right now.
And the businesses that take the best advantage of what's available to them will have the best chance of success.
I know changing the way you work isn't easy.
But lucky for us, the 21st century has a lot of awesome tech that can make your work easier, more efficient, or both.
When it comes to video conferencing, integrating a tool or two can unlock an entirely new experience for you and the people you work with.
Now is the time to try new things and set your own "new normal."
Get to it.
Did you find something useful in our round-up? Let us know how one of these tools helped improve your business in IMPACT+! And if there's a specific tool you have questions about, let us know and we'll see if we can help you figure out the best option for you.
Free Assessment:
How does your sales & marketing measure up?
Take this free, 5-minute assessment and learn what you can start doing today to boost traffic, leads, and sales.