Vidyard reviews 2020: Honest opinions from real users like you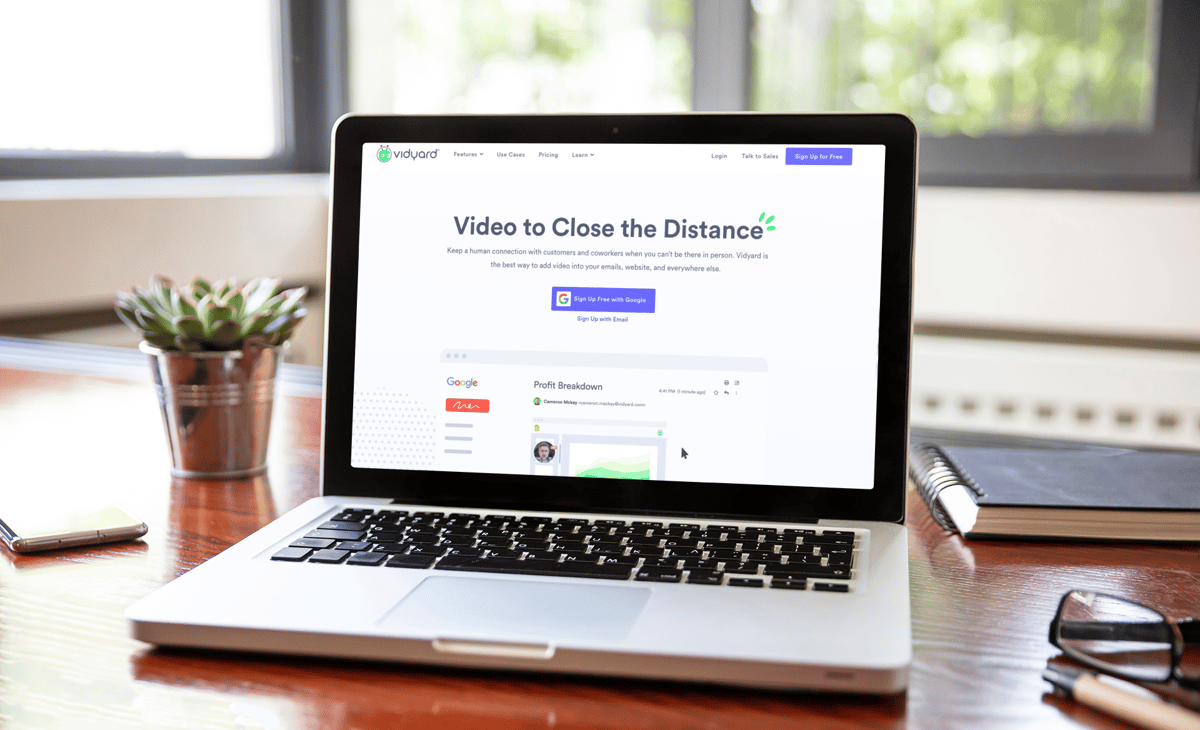 In the middle of a global pandemic, many of us have had to adapt the way we do business.
Many people find themselves working from home for the first time in their lives, trying to navigate and determine how they can take their in-person interactions and turn them virtual.
Whether you're a salesperson used to communicate with your buyers in person, or you're a company that is trying to improve communication and interaction with your workforce, chances are you're turning to video.
At IMPACT, we've been a mostly remote company for quite some time which has encouraged us to lean into video in every way possible. One of the tools that we heavily use here is Vidyard.
What is Vidyard? Vidyard is an all-in-one video creation tool that allows you to record videos and share them without ever having to rely on a production team.
But is it too good to be true?
I'm here to give an honest review of Vidyard as a video tool based on my personal experience, but I'll also be sharing insights gathered from real user reviews on G2 and Trust Radius.
This article is broken down into a series of factors that you should consider when deciding on a video platform.
I dive into ease of use because no one at your organization will want to use a tool that they can't easily adopt; features because you need to know what will be at your disposal; support if you ever have problems, and price because, well, if you can't afford the tool, it doesn't matter how good it is.
Ease of use
One of the features you should consider when deciding on a video tool is the ease of use.
If the user experience of the tool causes more time and pain than is worth, someone isn't going to spend time figuring it out and using it in their day-to-day.
Since I began using Vidyard, its ease is one of the things I appreciated most.
It's incredibly simple to be able to record a video from my computer and send it to people within seconds. In fact, all you have to do is download their Chrome extension, select what you want to record, and hit the "start" button.
Then when it's done, the tool automatically has a share link generated for you.
You are also easily able to do a screen share of a specific tab or your entire desktop in your video recordings. This is great if there is a document or item that you need to walk through.
Vidyard also makes it extremely easy to do basic edits of a video.
If you stumbled on your words or otherwise need to cut something out, you have the option to delete and trim sections you don't want right within the tool.
Now, this is not an extensive video editing platform. If you're looking for a tool that allows you to add music, effects, etc. this isn't what it's used for, but it is great for on-the-fly clips.
If I was writing this article a few months back I would have said that one of the cons was that it wasn't incredibly intuitive when it came to navigating around the platform, but recently Vidyard made some updates that fixed those issues.
What are other people saying about Vidyard's ease of use?
Based on the average of reviews, TrustRadius gave Vidyard an overall 9-10 for usability.
"Vidyard is very easy to use. I got my entire team set up and creating videos within a day."

Reviewed on G2 by Emma S.
"Vidyard makes it super easy to record + send videos 1-1 to visitors and prospects and receive valuable insights live and in real-time when people view. Whether it's 1-1 over email or on our site, we're able to serve up relevant content that's completely on-brand. It's also very well integrated into the suite of tools we use, most importantly HubSpot that drives our business so Vidyard is easy to access from anywhere."

Reviewed on G2 by Ravi P.
"Really easy to make simple and short videos. Probably the best tool out there for that but if you wanna make some quality content you might wanna look elsewhere. Also wish they had a mobile app."

Reviewed on TrustRadius by Jon M.
"It is very easy to use. It is intuitive: the work portal is very simple to use; it has a limited layout. It just does what it does: shoot videos of your tab or workspace, then processes and stores for you to use in emails or to share as a link."

Reviewed on TrustRadius by Robert F.
Features
When looking for a video tool, it all comes down to what your organization's specific needs are. Are you simply trying to record videos and send them out, or are you looking to host videos, check out analytics, and add in branding and calls-to-action?
There is no shortage of features when it comes to Vidyard depending on which plan you have
Some of my favorite features are the ability to add calls-to-action.
This will allow you to include links to landing pages, products, or meetings links making it easier for your viewer to take the next action you mention in your video.
Another feature I used quite often when I was in a sales role was the ability to create playlists.
It allowed me to easily pull together different video content our marketing team put together talking about different services and frequently asked questions. This made it easy for prospects to have handy rather than having to hunt down different video links.
One of the perks of having a playlist is you're easily able to create custom playlists of your video content whether it be about services or FAQs for a prospect.
Another valuable feature if you're a paid member is the ability to to brand the landing page your videos live on.
This ensures that you have brand consistency and allows you to take advantage of the real estate and provide links to navigate around your website or to include other calls-to-action.
I also love the ability to see who is watching my videos and how many times. The analytics provided, like these, help give insight into where leads are in their buyer's journey and gauge their interest and sales-readiness.
This is also helpful from a marketing standpoint as you're determining who is moving from being an MQL to and SQL.
Recently, Vidyard also announced a few new features that have made the platform even more valuable:
For Pro, Teams, Business, and Enterprise users there is now the ability once a video has been shared to allow viewers to comment and ask questions on the sharing page.
This makes it incredibly easy for viewers to interact with the person who sent the video versus. having to go back and email. It's one less step that the user has to take.
There's also now an Android app! Previously only available on iPhones, now Vidyard users with Androids can record videos on the go as well.
Users now also enjoy more privacy features. Pro, Teams, and Business tier users can secure their videos by using custom passwords. They can also apply single sign-on settings to ensure that videos can only be viewed by internal employees.
This helps companies who have tight regulations about the information they share utilize video without worrying about the risk of it being accessed by outside parties.
Lastly, Vidyard now allows you to add notes when recording (see below). This field is totally eye-level; that way if you want to bullet out things to say, you have it easily available to see when recording a video.
If you've been struggling with video and being able to remember what you want to say, this is a great way to have notes handy and for it to not be as obvious that you're looking elsewhere to remember what you wanted to say.
What are other people saying about Vidyard's features?
"We get immediate alerts when the videos are being watched and re-watched. We regularly see Sales Outreach videos being re-watched more than 10 times. Great lead signals!"

Reviewed on TrustRadius by Eric M.
Customer support
Support Provided by User Type (Source: TrustRadius):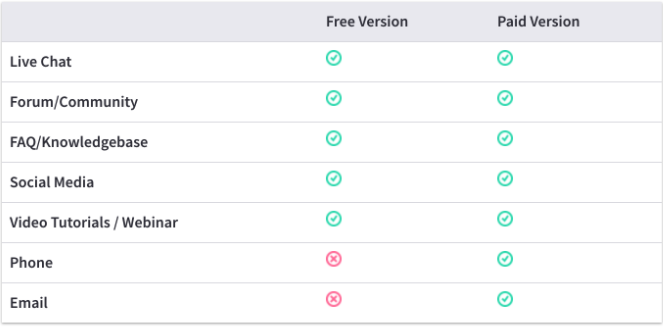 With live chat, email, phone, and a variety of other support options, my personal experience with support from Vidyard has been nothing short of world-class.
Any time I have any questions or need advice on tips or tricks the team there has always been open to jumping on a call or working through issues in a timely manner. In fact, customer support happens to be one of the areas they are best known for.
If you are starting out and don't have much experience with 1:1 video or a video hosting platform, they do a great job of providing resources and walking you through how to be successful with it.
But don't just take it from me, here are some reviews about their customer support from
TrustRadius.
What are other people saying about Vidyard's support?
"These guys get support. Even in the early days, they were so good at making support human-focused. They are responsive and quick."

Reviewed on TrustRadius by Andrew D.
"Proactive, supportive, they listen to feedback and respond. Easy to engage with, very responsive."

Reviewed on TrustRadius by Eric M.
Pricing
When it comes to the pricing of any product, you can't beat free.
Vidyard offers users a free for life option which includes unlimited personalized videos, and the ability to embed up to five videos on your site.
This plan is a great way to test the waters and see what you think of the tool, but it does leave a lot to be desired.
With the free version, you are not able to access the majority of the platform's features mentioned earlier, nor are you able to edit the landing page to match your branding.
It will work for you if you're just looking to record quick, no-frills videos, and don't mind that branding doesn't match your company.
More flexibility comes with a cost. Pricing starts as low as $80 per month and goes up to $850 per month. If you're enterprise, they do custom pricing.
Vidyard is more expensive than its primary competitor Wistia, but Wistia makes you pay an additional 25 cents per video.
Pricing really will come down to how many people you will have using the tool, and how you'll be utilizing your video hosting.
What are other people saying about Vidyard's pricing?

"The pricing used to be quite expensive but it is now much more affordable for an individual plan so no complaint here."

Reviewed on G2 by Mac E.
"Our marketing department was able to track revenues generated through videos sent to customers and prospects."

Reviewed on TrustRadius by Michele R.
Should you choose Vidyard as your video hosting platform?
I personally really enjoy using Vidyard, but I do think it comes down to what your specific needs are as a business and what you're looking to pay.
As a paid tool, this is good for companies who are looking to take advantage of multiple features for sales and marketing teams. The features you have access too as well as the insights will help you make educated decisions and grow your video efforts.
Vidyard has more pros than it has cons and has made my job much easier.
If you're looking for more information on reviews, I would highly recommend checking out G2 and TrustRadius and using their side by side comparison tools to better understand how they stack up against competitors in their space.
Free Assessment:
How does your sales & marketing measure up?
Take this free, 5-minute assessment and learn what you can start doing today to boost traffic, leads, and sales.