How a Website Redesign Helped One Operational Intelligence Company Up the Ante
Vin Gaeta also recommends this free website performance assessment.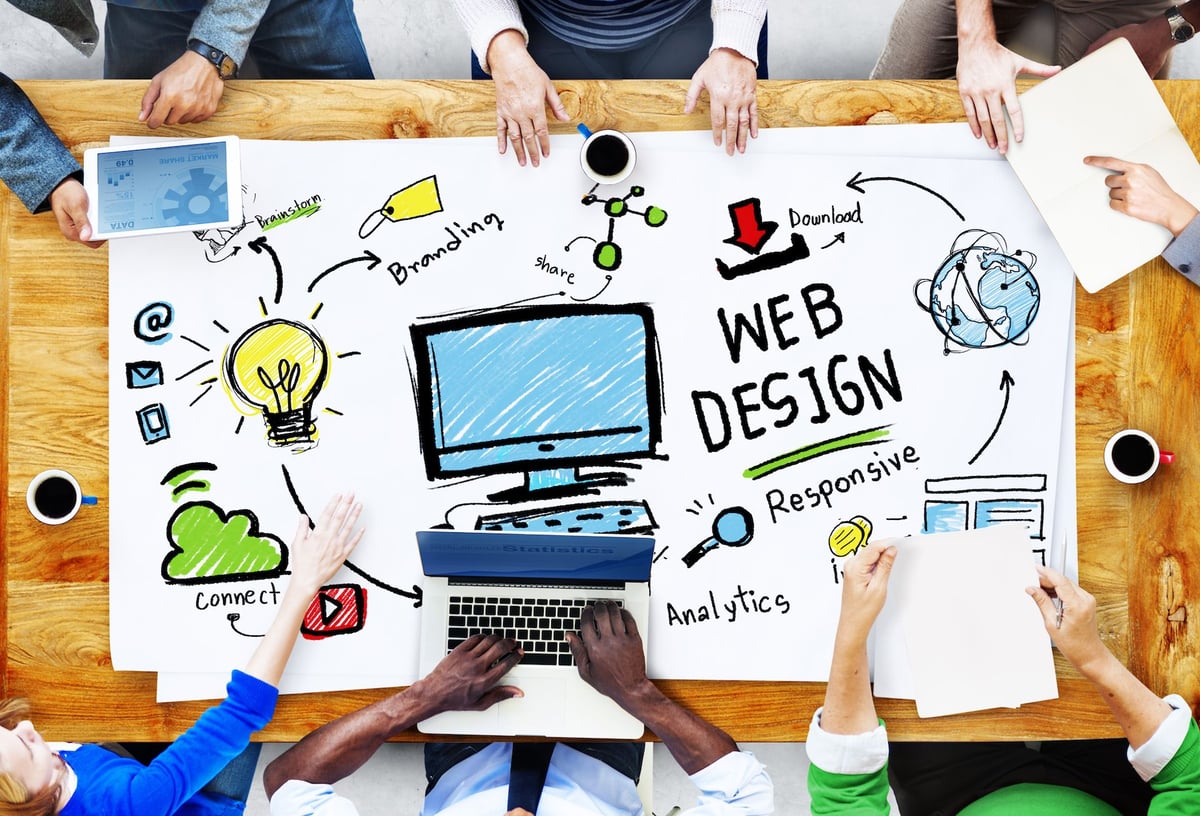 VizExplorer is all about data. Its operational intelligence software helps companies in the Casino, Sports/Events, and Manufacturing industries gain amazing insights into their user data and visualize it in real-time.
Rather than spending hours analyzing reports in order to optimize gaming floor layouts, improve relations with players, and devise the best, most effective marketing campaigns to bring in the right to users, VizExplorer allows casino operators to consolidate their player and slot machine data to gain valuable insights into player preferences and slot performance.
Armed with these insights and VizExplorer's suite of operational intelligence tools, operators are empowered with the right information to make the best business decisions.
By helping companies visualize their real-time data from numerous sources, VizExplorer is improving the way clients make educated business decisions. The only problem? As impressive as their software was, their website was coming up short, which is why they came to IMPACT for help.
The Challenge
VizExplorer's suite of solutions was impressive -- the website and user conversion path, not so much.
The main challenge they faced was overcoming a dated design, based on old branding, and a lack of conversion points in critical sections. As a result, VizExplorer wasn't seeing a large amount of site conversions and knew they needed a change. The original site had some valuable content, but it lacked a solid Search Engine Optimization (SEO) foundation.
Without an SEO strategy and multiple, optimized conversion points, new users weren't finding the site and the ones that did followed a limited path that often failed to convert them to leads.
Our team knew that utilizing HubSpot to help their team with SEO was key to VizExplorer's success. The information on the site needed to be built out.
Each product had only a small blurb on a long-scroll page, without any conversion points for the user to take a next step in their journey. The content also lacked keywords that users would be searching for to find their products, and focused solely on what the product offered (but without detail).
The VizEplorer team wanted a visually stunning site that captured the essence of their dynamic software suite and humanized the brand. Incorporating their brand colors was important as well as conveying the power of their software via screenshots and video.
Finally, the site needed to be developed in the background with the current site still accessible to the user base.
What We Did
After reviewing the site for conversion rate optimization opportunities, we focused on what was essential for the new website to be successful.
It was extremely important that we humanize the products and illustrate the power of VizExplorer's solutions.
With this in mind, we knew the main element of the site had to be stunning visuals of the software. The previous site had limited screenshots, usually one per blurb about the product, and was one item we knew would help the users on their journey.
Our first step was finding a product page layout that showcased numerous screenshots and tons of great information about each offering, without overwhelming the user or requiring them to scroll down a large page.
Because VizExplorer's clients are in heavily visual industries, we wanted to bring that mindset to the website. We knew giving the users a realistic look into how the product will help their company was extremely important.
The VizExplorer team created amazing videos to showcase the products in the environments in which they are used, namely casinos, entertainment/sporting arenas, and manufacturing sites, providing the user a real world look into how the products are used.
The Results
Based on the level of SEO optimization needed from the original site, and conversion paths we identified, we were confident that we'd see a spike early on with the new site.
One month after the launch in July, traffic was up 16.86%, leads were up 133.34%, and one customer had closed.
We also saw a reduction in bounce rate year-over-year not only on specific pages, but sitewide as well. VizExplorer's homepage bounce rate in August '15 was 54.37%, which reduced to 47.08% in August '16; the site-wide bounce rate dropped from 58.45% to 52.16% and is still improving.
It was a pleasure working with the VizExplorer team to create this amazing site.
Key Takeaway: Put the User First
Having an optimized and well-strategized journey/conversion path for your user is absolutely critical. It's important to review your website from the user's point of view, and ensure you have all the necessary content and imagery needed to educate them on their journey.
Putting the focus on the user, making sure you answer all the questions they're likely to have, and illustrating exactly what you do succinctly will allow you to achieve similar results in conversion rate as well as reduce your bounce rate. Remember, at the end of the day, it doesn't matter if you like your site.
If your users don't find what they want in it, it won't perform.
Need some help with your website? I'd be happy to talk about what we did for VizExplorer in more detail or even some things you can try.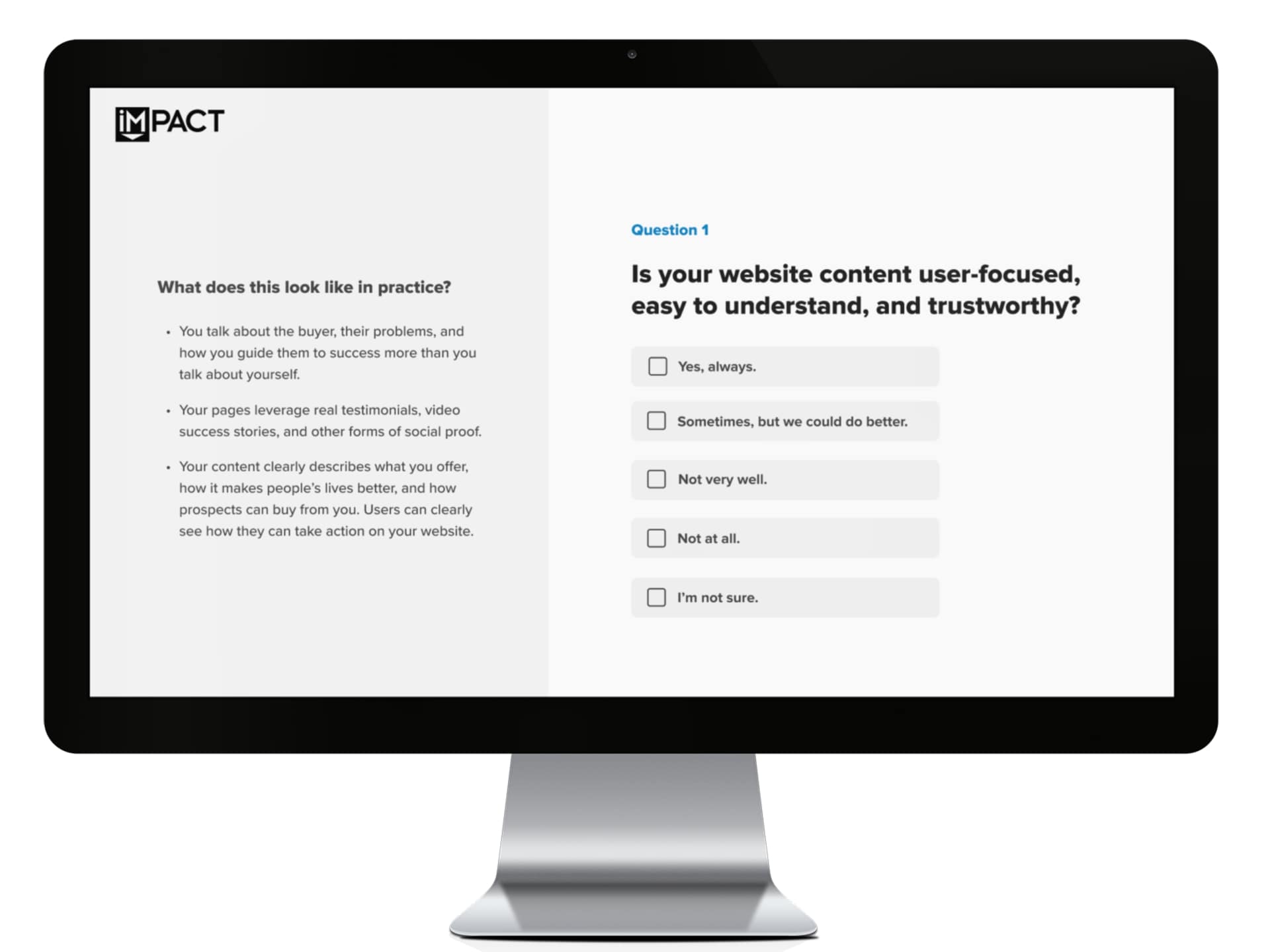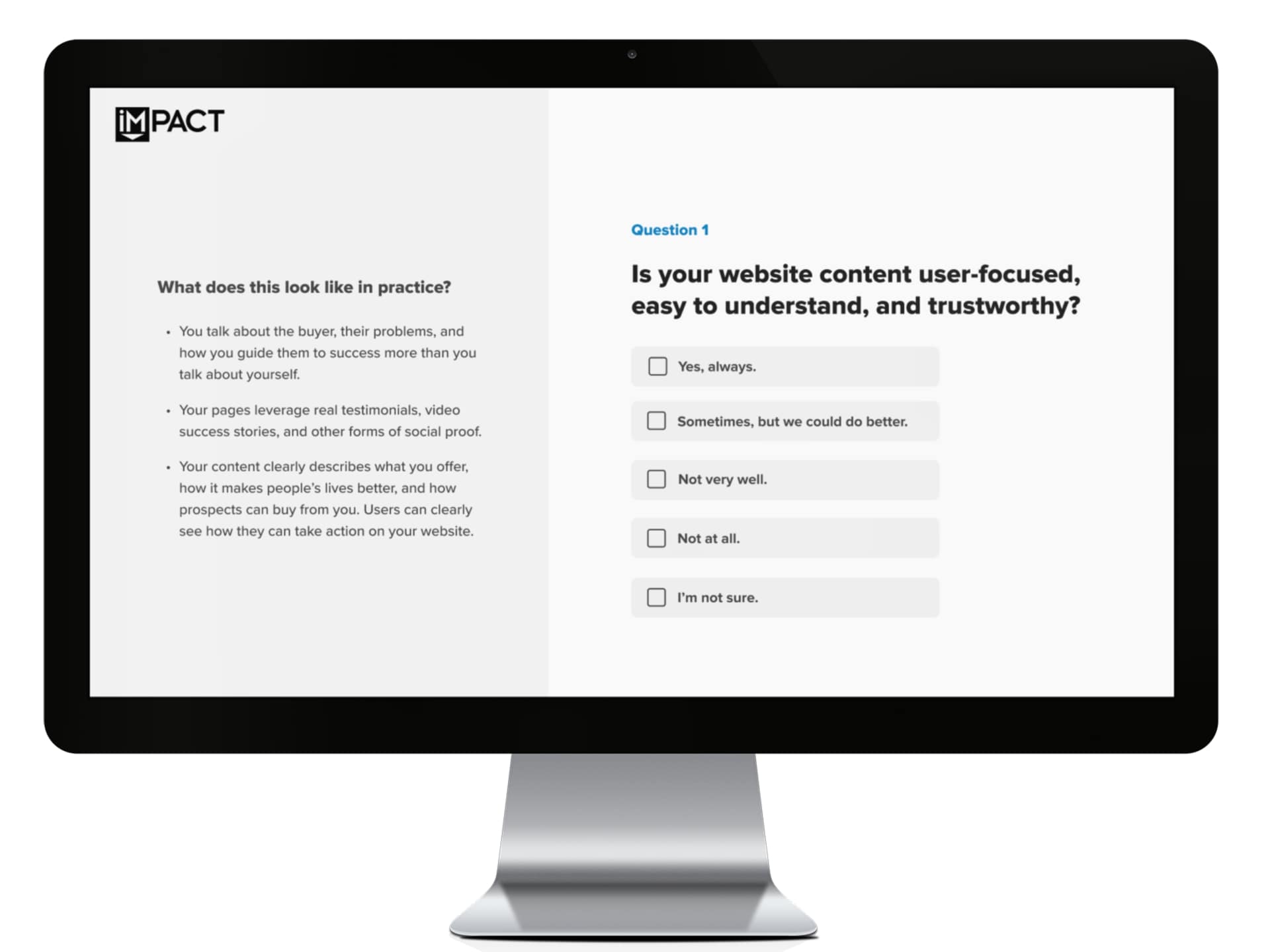 Free Assessment:
Website Performance Assessment
Does your website build trust with buyers and bring in revenue?
Take this free 10 question assessment and learn how your website can start living up to its potential.
Published on September 22, 2016