6 website trends you need to know in 2020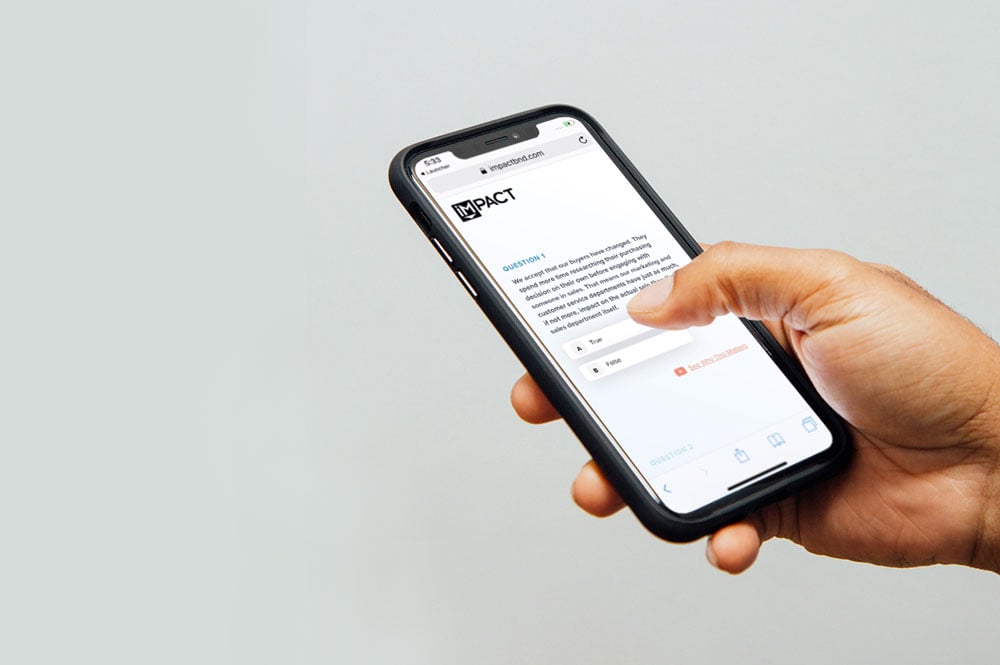 Top Website Trends for 2020
VUI - Voice user interfaces

Video content

Pricing

AI and chatbots

The mobile-first experience

Self-selection
Trend is a funny word when it's used to talk about websites. It's not like when the clock strikes midnight on January 1st, websites will magically start trending a certain way.
But perception is nine-tenths of the law and if your site feels outdated in the new year, that can—and will—hurt your business.
Join the IMPACT coaches for a deep dive on a new topic every month in our free virtual event series.
Before we get started, let me say this: a lot of these trends are not new.
What is new is that you can no longer ignore them.
Some website trends stand the test of time. They evolve from a trend to a requirement because they create a stronger website experience for users.
A lot of what we'll see in 2020 has already started and we will see well beyond 2020 because they all lead back to answering questions, being educational, and creating a better user experience immediately.
"Consumer ignorance is no longer acceptable for a website experience."
- Marcus Sheridan
With that in mind, let's explore what are user experience trends (or should we say necessities) in 2020.
1. VUI – Voice user interfaces
Thanks to Voice User Interfaces (VUI), a movement is slowly starting to capture a similar experience on a website that we have with Alexa, Siri, or Google Home.
A VUI makes spoken human interaction with computers possible. It uses speech recognition to understand spoken commands and answer questions, and typically text-to-speech to play a reply.
While voice control is becoming a bigger part of our everyday lives, the technology still can't completely control our web experience.
That's why the big five tech companies (Amazon, Facebook, Google, Microsoft, and Apple) have all recently invested billions in developing and improving their AI assistants.
Let this sink in. Voice will power 50% of all searches by 2020. In fact, some people think that the need for keyboards will be gone in five years because of voice control. (Though I don't share this opinion.)
The new iPhone iOS 13 even has voice control which allows you to control every aspect of your phone, without ever laying a finger on it. Websites can be managed with your voice doing all the work.
Watch this quick video of one of our developer's Morgan navigating a website with the new voice control.
As this technology advances to make websites more accessible to everyone, it will be interesting to see where this takes website interaction.
For a deep dive on how to start thinking about a VUI from a design standpoint, this is a great guide to help wrap your head around the concept.
Interestingly enough, Amazon even offers training courses on how to design and develop Alexa skills.
2. Video content
IMPACT has preached this for a long time. The power of video as website content is not going away and will only grow stronger in the coming years.
The statistics speak for themselves:
Video is expected to make up 82% of internet traffic by 2021.
Cisco
85% of consumers want to see more video content from brands.
HubSpot
On average, people spend 2.6x more time on pages with video than without.
Wistia
A website is 53x more likely to reach the front page of Google if it includes video.
Insivia
Businesses should continue to put video at the forefront of their brand and engagement. However, don't just put a video in your hero or request a demo section and call it a day. You need to think about the user experience and how video throughout will help answer the visitor's questions and fulfill their needs.
Consider trying the following:
Walk people through very specific questions on products or services. If you have 10 FAQs, create 10 videos to answer each.

Don't just talk about your company culture, create videos the show it in action

Create a product video. Just seeing a photo of a product is no longer the norm. People want to see what it looks like in real-world situations.

Have a video on your careers section with interviews of employees and all that your company has to offer.

Once visitors get to thank you pages after filling out forms, have a thank you video!
The most important thing is to have video with a purpose. For more on videos that get results and have a specific purpose, explore The Selling 7.
3. Pricing (It's no longer the elephant in the room)
Do any of these reasons to not include pricing sound familiar?
My pricing is too complex.

Customers won't understand the value of my service.

Competitors will learn about my prices.
These can't be excuses anymore.
People visit websites to have their questions answered and the biggest question for a lot of customers is "What's the price?!"
IMPACT has taken on the herculean effort of educating clients that pricing is on their website.
Think about it: when you shop online, you expect to know what you're going to spend.
That pair of snazzy rust-brown boots has caught your eye. The price is right there.
They may not be the cheapest, but you can't stop thinking about them because they are handmade, built to last for years (if not decades), waterproof, and ultimately gorgeous (this is of course a hypothetical — it's not like I have my eye on a certain pair of boots).
It is the job of the brand to focus on telling the story about why them and what makes their boots so amazing and worth the price compared to the others.
If they don't and just hide their price instead, people are going to assume they're too expensive or that the company has something to hide.
Showing your price is a sign that you're trustworthy. You're not trying to mislead people or waste anyone's time.
Whether you are ecommerce or B2B, prices matter. And the sooner we start treating our website as opportunities to shorten the sales cycle while providing real information, the better.
It's not as intimidating as you think to implement pricing on your website.
Start by working with your sales team to determine the high level steps they go through when working with a prospect to determine pricing. Then list out all the factors that can drive price either up and down.
After that, work with the sales team to nail down the most common pricing questions from prospects. Finally, put it on your website in the most digestible way as possible.
To dive way deeper and see some great examples of website pricing, check out this article.
4. AI and chatbots
According to Gartner, Inc., 25% of customer service and support operations will integrate virtual customer assistant (VCA) or chatbot technology across engagement channels by 2020, up from less than 2% in 2017.
Plus, by 2020, it is predicted that 85% of consumer interactions will be handled without a human agent.
Why?
People expect to be able to get in contact with a company 24/7.
Luckily, chatbots can field questions at times of the day that live chat can't and guide people to specific pages to complete desired actions like booking a consultation.
While right now chatbots have limitations of how far they can advance a conversation, the need for instant gratification and more realistic interactions will only push advancements further.
Drift, for example, is currently expanding the rollout of a chatbot platform that features "context-switching."
This technology allows it to respond to customers even if they switch topics—which most chatbots can't do.
Whether people's lifestyles are hectic, their jobs are ultra-demanding or they simply expect answers when they want them, ultimately as businesses, our job is to provide answers as best and as fast as we can. If not, our competitors will.
Here's some great examples of chatbots and information on how to build your own.
And let's face it, we must all accept our eventual robot overlords.
5. The mobile-first experience
This one isn't really new or a trend for that matter. The mobile experience has been important for a long time and isn't going anywhere.
51.65% of global internet traffic comes from a mobile device, so, it's no longer acceptable to think of your website's mobile experience as a secondary option.
The majority of your site visitors are most likely (and your data analytics can tell you for sure) visiting your website on mobile at some point and there are steps you can take to make sure you're giving them a good mobile experience.
First, determine how your site visitors are using your site on mobile.
For example:
Are there lots of searches? If yes, have you made the search experience voice-friendly? Is search super easy on mobile?

If you're an e-commerce site, is the mobile checkout process seamless? Are you helping them find complementary products easily?

Are visitors easily able to customize their experiences with personalized choices that work even on mobile?
Whatever the visitor is there for, content is king on mobile. Make sure there aren't any unnecessary design elements that are distracting. That often involves removing some elements that are on the desktop version.
It's also necessary to make sure your website is not slow.
Speed will determine the duration a visitor will be on your website. If there's the slightest delay in the experience, they're gone. A great way to test the speed of your website is the Google speed test. This will provide a comprehensive report and actionable items to improve the speed of your website.
An easy way to find out how your website is performing overall on mobile is to take the Google mobile-friendly test. The results will tell you exactly is not working and give you the opportunity to improve it.
6. Self-selection
People love to "choose their own ending" as much as they love instant gratification.
Self-selection tools, sometimes known as self-configuration tools, allow a website to give a customer a custom experience.
Take it from our director of web strategy and design, Stacy Willis:
As consumers, we no longer have time for "generic" experiences that are the same for every single person that chooses to partake in them. Instead, we expect custom experiences that give us exactly what we want, when we want it.
Self-selection is accomplished with a series of questions leading to content that speaks directly to a visitor's specific situation.
With them, people instantly get feedback and recommendations any time of the day, helping determine the perfect products and services for them—ultimately shortening the sales process.
People are more informed when they eventually need to make a decision about a purchase.
This is especially helpful for products that many may have friction to purchasing online (think mattresses, bras, makeup, where people typically like to try before they buy.)
Underwear company True & Co has a great example of this kind of "support" (get it?).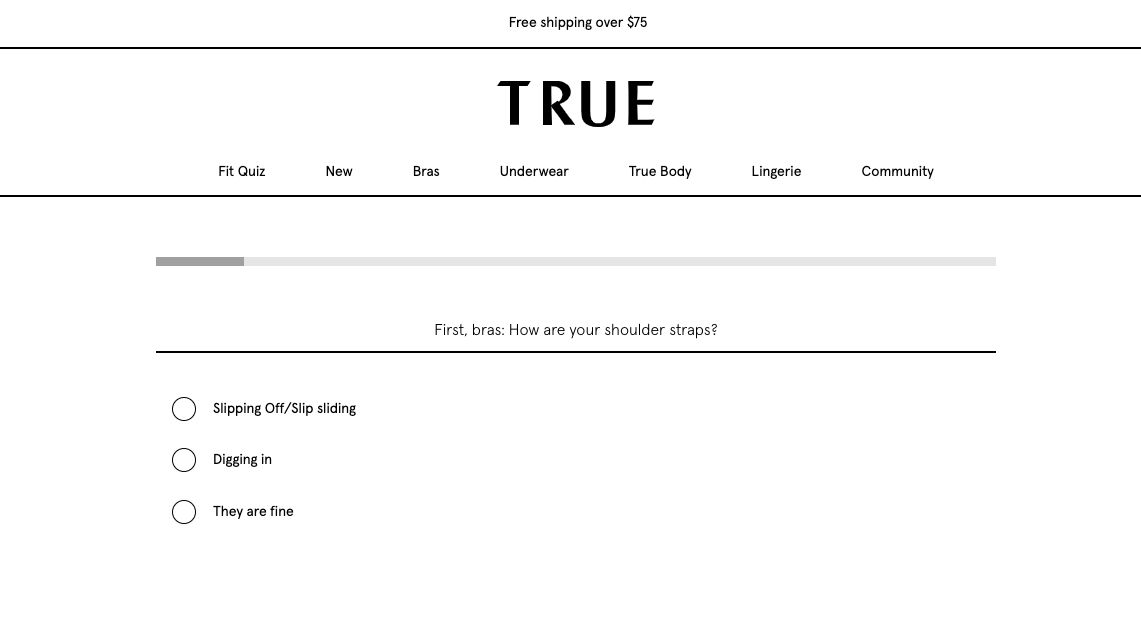 As companies try to create more unique experiences for us consumers, 2020 will give us more websites with quizzes and tools that offer a unique, educational path.
Here's a more comprehensive look at self-selection tools and how to use them for your business.
Get ready for the future
You can find endless articles about B2C website trends, B2B site must-haves, and shiny e-commerce plugins, but everyone consumes online now.
And regardless of your industry, you need to think about creating websites that function how users want—even if they don't know it yet.
Voice user interfaces are altering how we interact with our devices. Videos help to educate and answer questions. They allow the user to see how your business can help them.
Pricing has become a necessary inclusion on every website that offers a service. Chatbots offer instant gratification as the ultimate customer service window. Self-selection tools offer a custom experience for users on your website.
And having it all work seamlessly on their phone for how they prefer to browse, whether through touch or talk, is the most critical trend of all.
Join the IMPACT coaches for a deep dive on a new topic every month in our free virtual event series.
Published on October 29, 2019