What will the post-pandemic workforce look like? [New Report]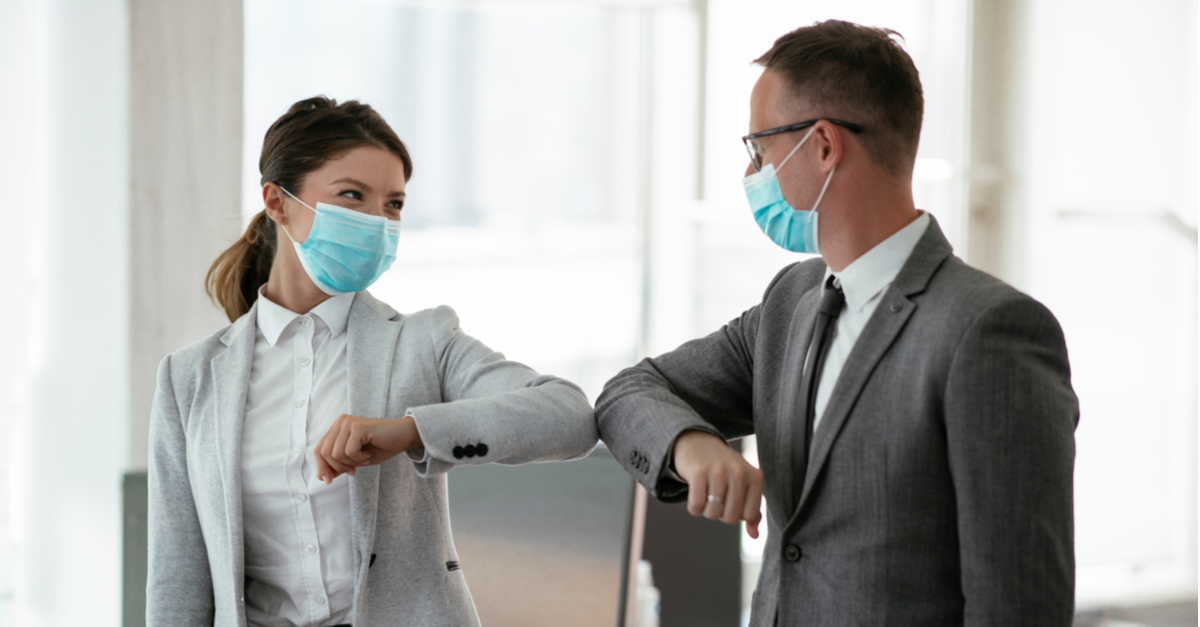 Like many of you out there, the team here at IMPACT, myself included, experienced a lot of changes to our workplace since the pandemic hit in March. 2020 has been a whirlwind of a year.
Recently, McKinsey surveyed 800 global executives to document the wide-ranging effects of the pandemic. The results of the survey suggest a disruptive period of workplace changes still lies ahead.
Most companies have been forced to adapt — and will have to keep doing so as they face the acceleration of digitization and automation, increased reliance on independent contractors, and permanent remote work policies.
The McKinsey survey population represents a full range of industries in eight countries. Half of the respondents are based in the United States, and the rest work in Australia, Canada, China, France, Germany, India, Spain, and the United Kingdom.
The respondents represented businesses of different sizes, and market shares: from less than $1 billion in revenues to greater than $10 billion.
Greater digitization and automation
Since COVID-19 took hold, we've seen unprecedented restrictions on travel and physical interactions, resulting in drastic changes in buying behavior. This has forced companies to change the way they operate.
Based on the survey, 67% of companies have accelerated automation and their use of artificial intelligence since the start of the pandemic. This includes automation of business processes, like bookkeeping and reporting, which would otherwise be manual processes.
In regards to digitization, companies have embraced remote working tools like Zoom to enable their employees to be productive while working from home.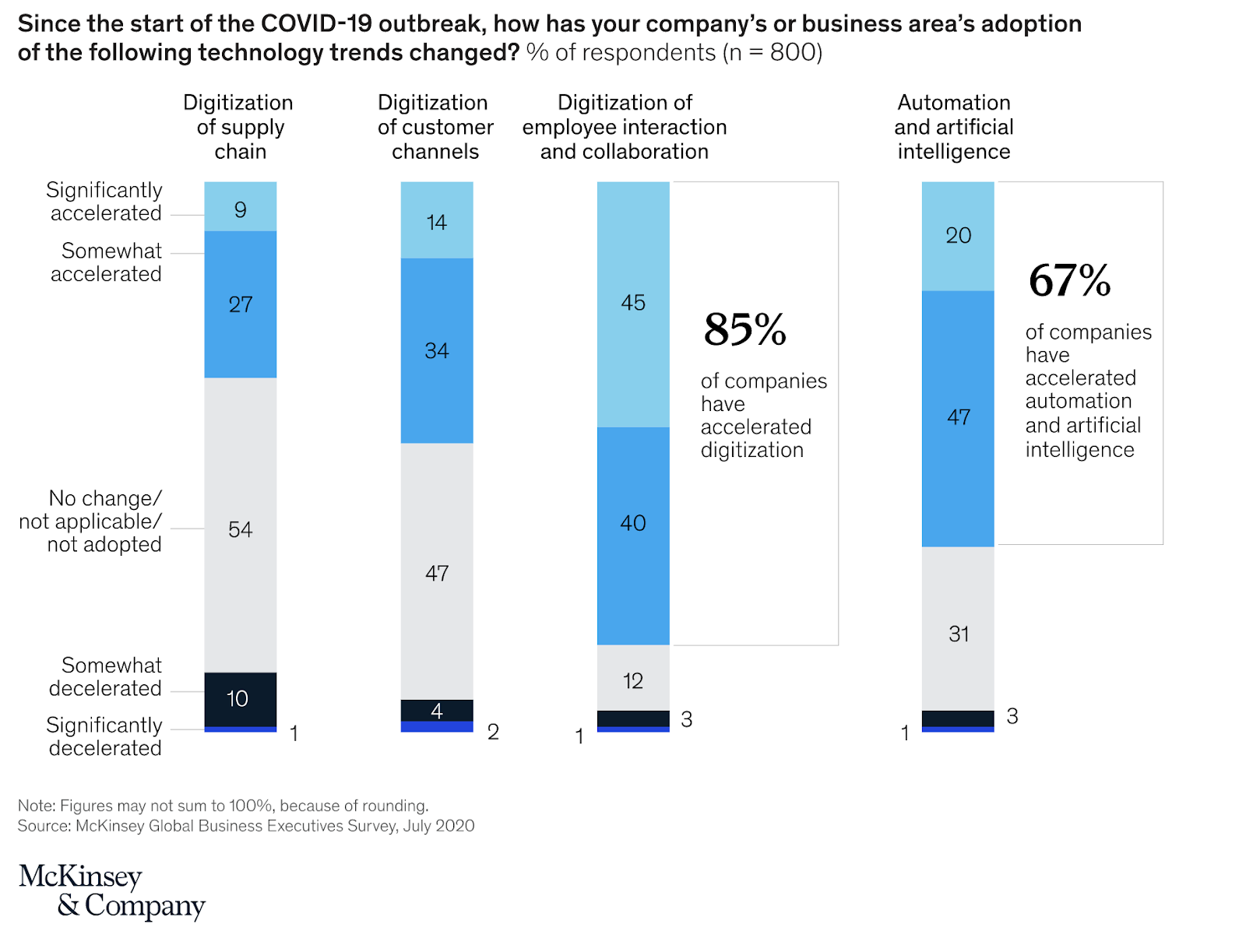 Bringing in the help of experts
Another interesting trend is the demand for new roles and use of outsourced experts to strengthen certain key areas of the business:
Workplace health and safety
Digital learning and agile ways of working
Technology and automation
83% of survey respondents said they would hire more health and safety employees, 68% plan to hire for tech and automation, and 45% are focusing on investing in digital learning and agile ways of working.
This may mean using an independent contractor, hiring more experienced players to your team, or even leveraging a coach to help guide your team.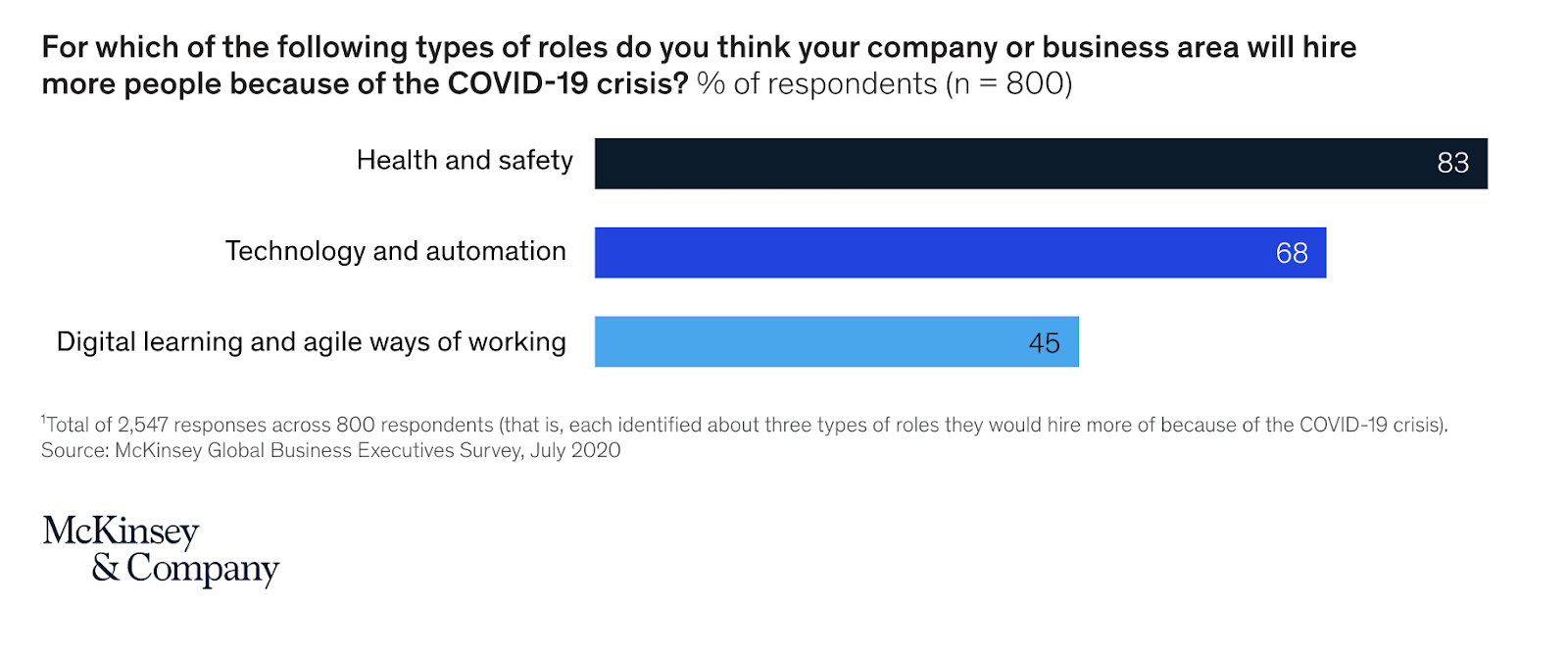 Is remote work here to stay?
The short answer is yes!
Remote work is here to stay, but likely not for everyone or every day.
Before the pandemic, remote work was not widely embraced, as companies worried about its impact on productivity and corporate culture.
COVID forced nearly all companies to adapt, and, based on survey responses, a lot of business owners and management teams were pleasantly surprised to see that their teams were still productive, despite working from home.
Approaching the end of the year, employees want to know what's next after reopening. It will be important for companies to address what their future holds for their remote work policies.
What comes next?
COVID-19 already has dramatically changed the way many jobs are done, and employers are now planning how best to leverage benefits from those changes as they prepare for business post-pandemic.
Historically, innovation has driven changes beneficial to workers and humanity at large. For example, innovations related to artificial intelligence are reducing the need for repetitive, mundane tasks. This will empower people to focus more on creative and interpersonal aspects of work.
At IMPACT, we teach our clients how to optimize their digital sales and marketing through automation and leveraging their digital audience.
But, we've also focused on greater digitization and automation internally as well.
Specific to my role as the head of accounting and finance at IMPACT, I focused on optimizing our payables and benefits systems, and rolled out two new platforms: Divvy and Human Interest.
Divvy allowed me to have more control over our spending while working remotely, and Human Interest helped to automate about four hours per month of manual accounting work.
These new workplace trends hold the promise of greater productivity that will fuel broader well-being and work-life balance.
Free Assessment:
How does your sales & marketing measure up?
Take this free, 5-minute assessment and learn what you can start doing today to boost traffic, leads, and sales.