4 American Household Brands that Value Context and Personalization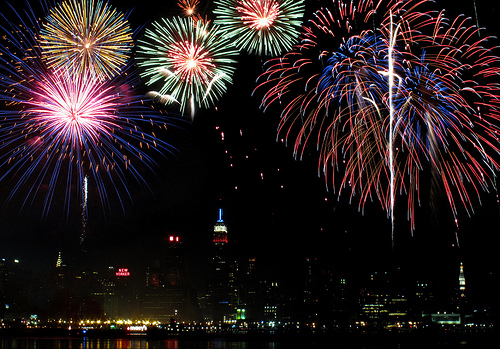 July 4th is when Americans celebrate the birth of American independence. This iconic day is celebrated by many through fireworks, parades, concerts, and the American classic BBQ's.
I don't know about you but I will be spending the day with family and friends, soaking up the sun and enjoying a hot dogor hamburger.
There's no better day to recognize American household brands, especially those companies that are providing value to their customers.
Unfortunately, not every brand truly values providing context for their users and customers.
If you didn't already know, context is about using the content you already have on your website to grab the attention of visitors and leads. Through content, you are able to have one-on-one interactions with them. Making your efforts more personal by aligning your content with their interests.
All in all, context is about delivering the right content, to the right people, at the right time. In the spirit of July 4th, here are four iconic American household brands that value context.
Iconic American Brands that Value Context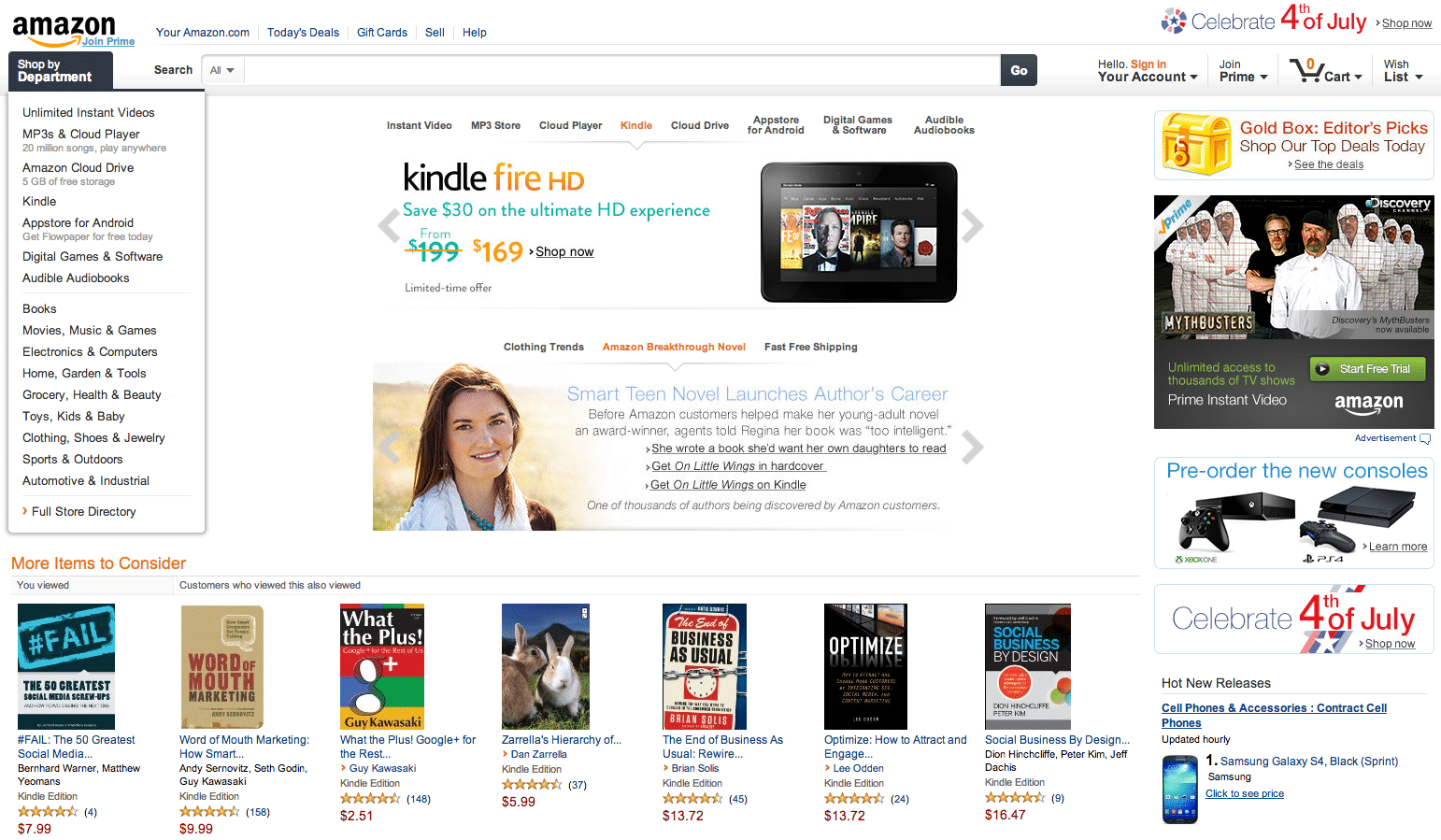 Who doesn't love Amazon?
Known for the Kindle, super fast shipping, and the fact that they virtually sell anything you might need online. Amazon makes it easy to find exactly what you're looking and then some.
Just as their logo depicts, Amazon allows you to purchase anything from A to Z. The company is also willing to deliver everything to anyone, no matter where you are in the world.
Not only can you buy pretty much anything that you want, but Amazon has the ability to generate content that's tailored to their users that helps deliver a brand message that drives brand awareness and conversions. Amazon's Vice President of Global Ad Sales Lisa Utzschneider, says that since 1994 the personalization of content has always been a part of the companies infrastructure.
Many people say that Amazon is best known for their ability to provide users with recommendations that are accurate and tailored to fit your interests. However, providing users with valuable context is something they take pride in. Amazon doesn't just collect all that data to sell it to other companies. They actually take all the data and information collected about you to build a successful and meaningful relationship.
They don't just look at the pages and products you've viewed in the past. Amazon created their "Amazon Betterizer" to create a unique experience just for you. Here's a quick snap shot of this awesome feature.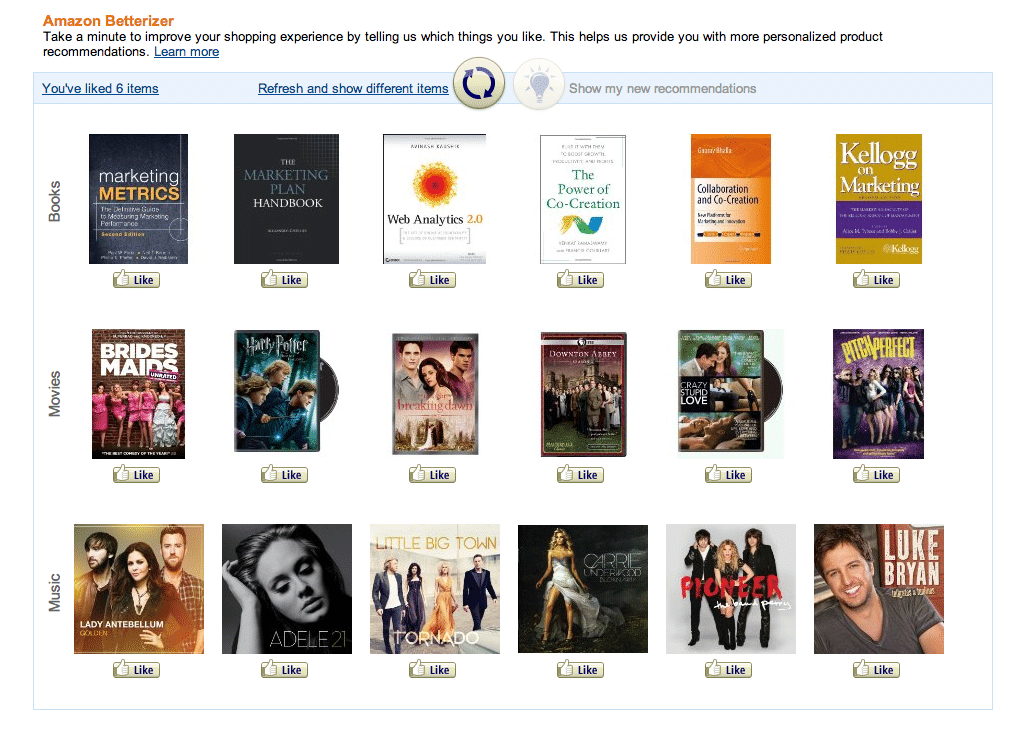 This awesome tool allows you to provide Amazon with additional information about your interests in music, books, and movies. The super giant can only collect so much information based on your interests from previous purchases and items you've added to your lists.
Did you know that Amazon is also a great platform to interact with other users? The platform is becoming more social. Amazon allows you to create "wish lists" where you can add items you like or you're interested in buying as well as a place to keep track of gift ideas. Amazon is also connected to Facebook. Bringing a new element to product recommendations. By connecting your Amazon and Facebook profiles, the company is able to gain valuable insight about you based on your interests and activity.
Sometimes you have a hard time finding gifts for your friend that has everything. Look no further than your Amazon family and friends wish list. You can add those friends and family members you never want to forget about to that specific list, and Amazon will not only remind that their birthday is coming up but suggest gift ideas.
Could shopping get any better than this?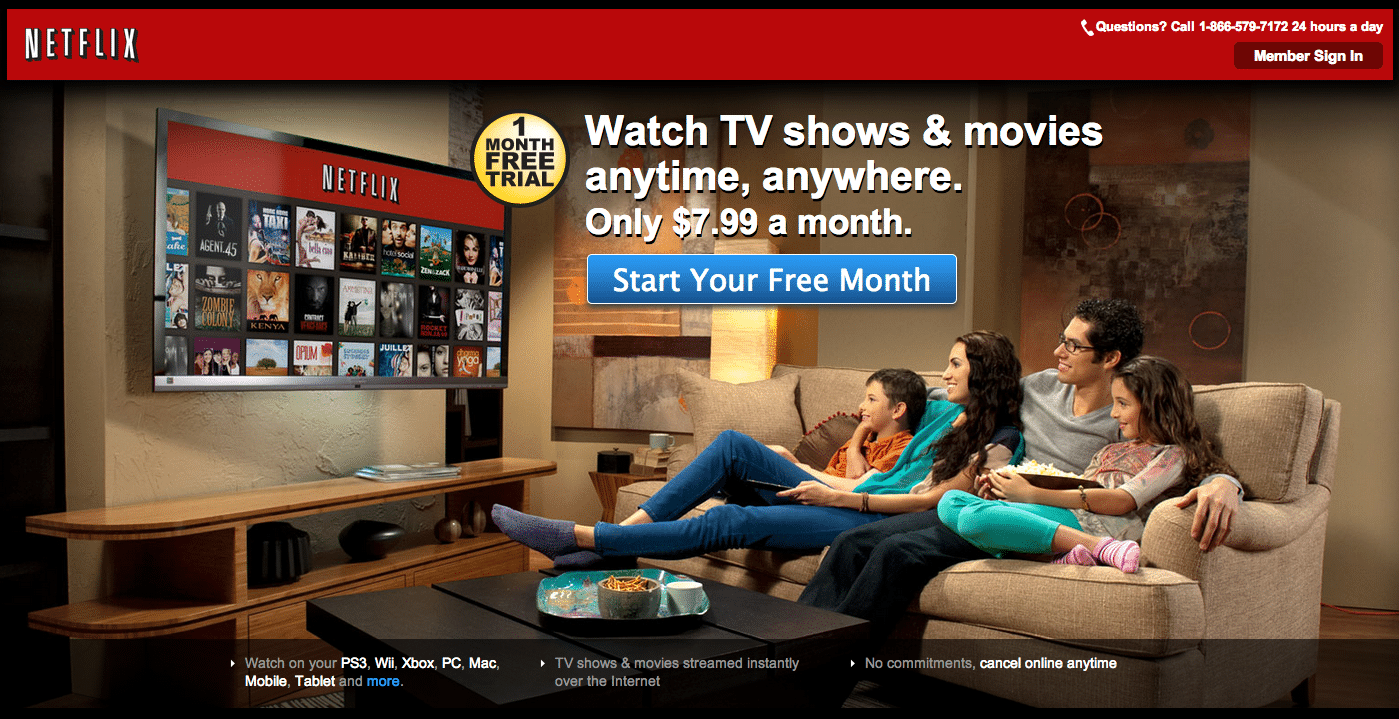 We all know that the world's leading Internet television network values colleagues that demonstrate nine specific behaviors and skills (judgement, communication, impact, curiosity, innovation, courage, passion, honesty, and selflessness), but they also value providing their users with context.
With over 12,000 titles of movies and shows available to watch instantly, you no longer need to search through Blockbuster for the perfect movie to find out that they don't have any more copies available. Let's be honest that's probably happened to most of us.
In a statement, Netflix CEO Reed Hastings stated, "If the Starbuck's secret is a smile when you get your late ... ours is that the website adapts to the individual's taste."
You may or may not have noticed that your top 10 list is made up of items to suit everyone in your household. Netflix also stated that even those individuals in a single household, will find movies and shows that appeal to your every interest and mood.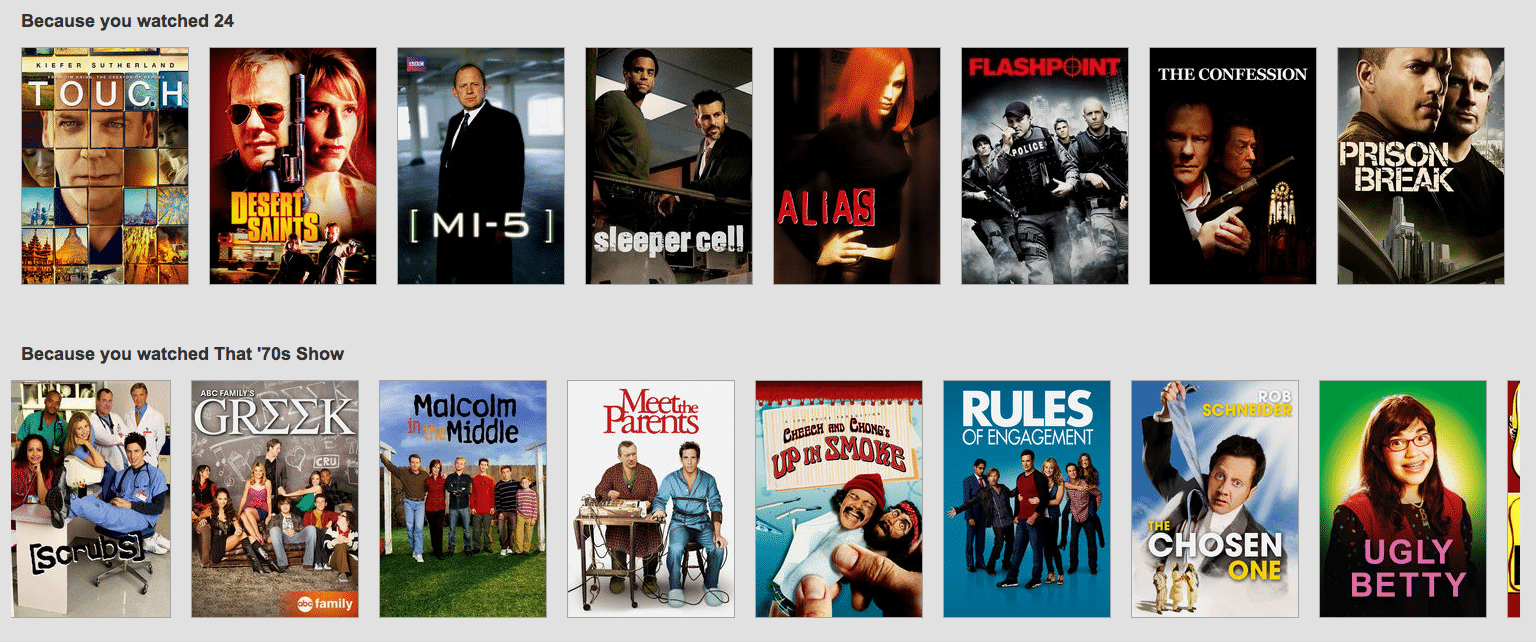 Upon signing up for Netflix, you will be asked a series of questions. One set of those questions will ask you to rate how often you watch certain genres and then based on your answers, the second set will ask you to rate the following movies and shows.
An interesting statistic from KISSmetrics says that, 75% of Netflix viewing is from the recommendation engine." That just proves how valuable and important context plays in creating awesome customer experience.
Personalization features include:
Taste preferences: You're able to set your taste preferences across a variety of moods, story lines and qualities. You're no longer limited to your interests.
Personalized homepage: The homepage takes into account movies and shows you've recently watched as well as those you're interested in to provide you with an endless supply of titles.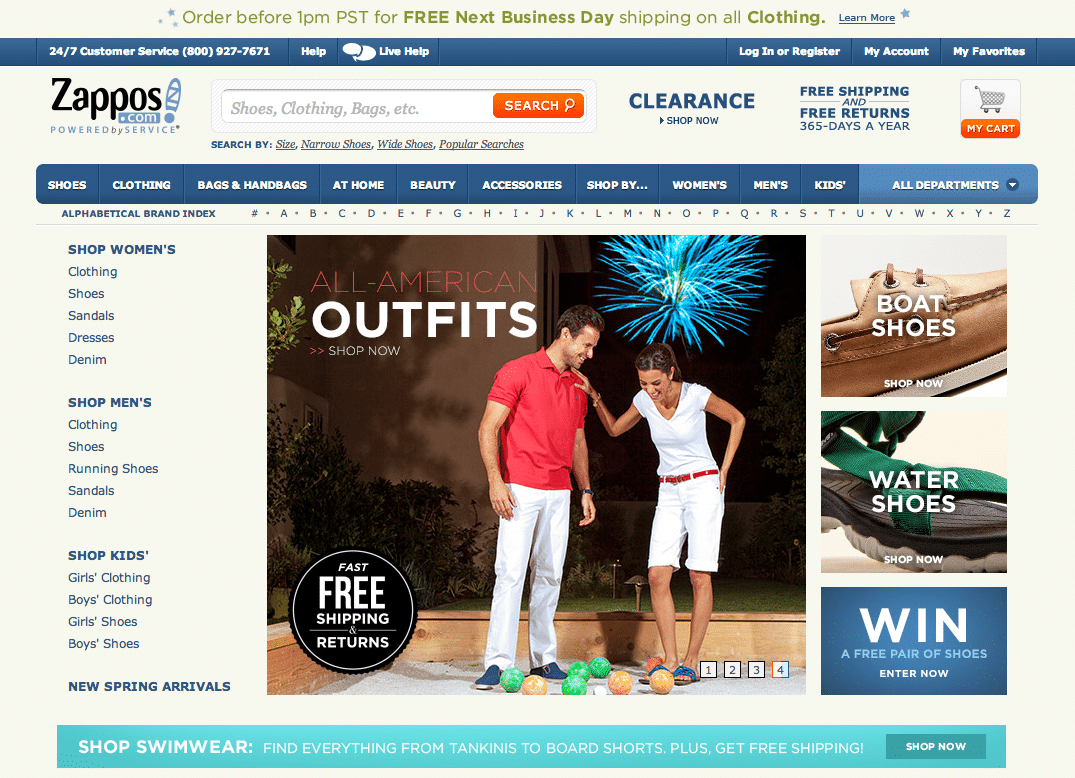 I don't know about you but I love shoes. And Zappos is the place to go. The company was bought by Amazon in 2009, which can give you an indication as to how this company values context. The company was built on delivering world-class customer service, and still delivers that same service today.
The site was originally built to help those you can never find the right shoe in their size, color, and price range.
On the site you are easily able to customize exactly what you want from their almost endless options. Zappos was able to uncover the IT their customers were looking for. Which gave them the opportunity to meet those needs that included convenience and an enormous selection.
You don't want to forget about the numerous recommendation boxes that are placed throughout their site. Showcasing items similar to the ones you've viewed and added to your shopping cart. The company spends a lot of their time observing and tracking customer behavior to create personal connections with customers.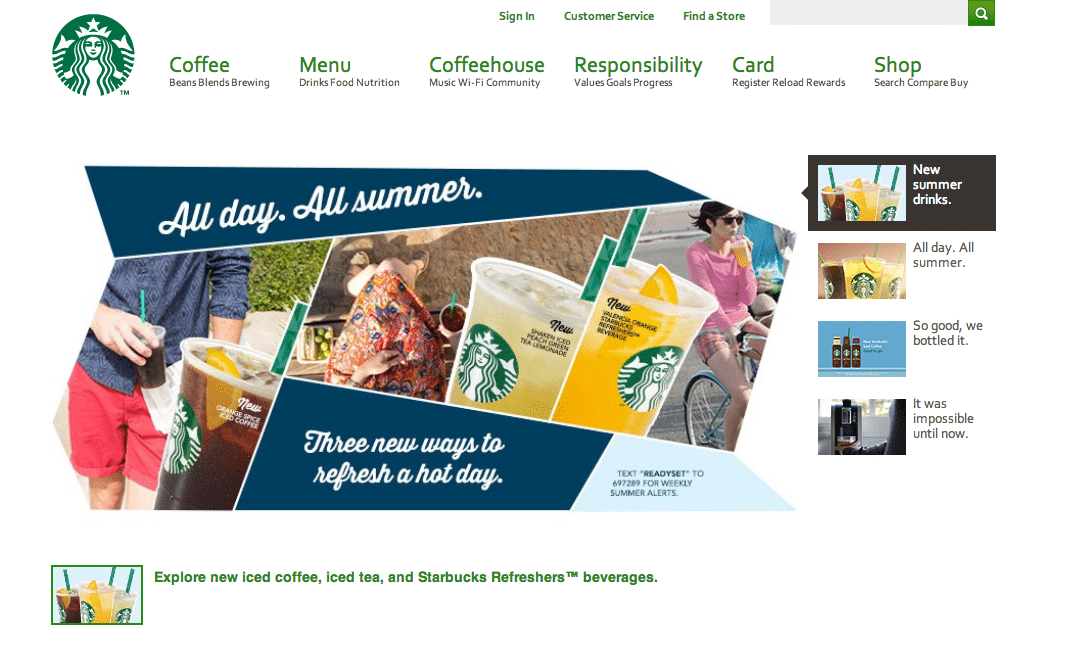 They may not be in the same league as Amazon or Netflix, but Starbucks is a great brand that values context and their customers.
Starbucks is a beacon for coffee lovers. However, they aren't just passionate "purveyors" of coffee but everything else that goes with the coffeehouse experience.
Everyone loves coffee and who wouldn't love to receive a Starbucks card? Their cards are the perfect way to treat a friend or even yourself; whether it's for Father's or Mother's Day, Administrative Professionals' Day, a recent graduate or for your favorite teacher there is something for you.
Wouldn't you love to get your favorite Starbucks items on the house? You can with their rewards card. Get free drinks, free food, free refills and much more. The best part is that you don't even need to be at a Starbucks location. You can even earn "stars" while at the grocery store.
For you text savvy individuals that are always on the go, be sure to check out Starbucks' weekly Summer alerts. Be the first to hear about their freshest deals. All you have to do is text "READYSET" to 697289.
I'm not sure about you, but on this hot and steamy day, Starbucks provided me with the right content at the right time. It's the perfect time for my morning pick-me-up.
Free Assessment:
How does your sales & marketing measure up?
Take this free, 5-minute assessment and learn what you can start doing today to boost traffic, leads, and sales.