4 Inbound Project Management Insights Every Client Needs to Know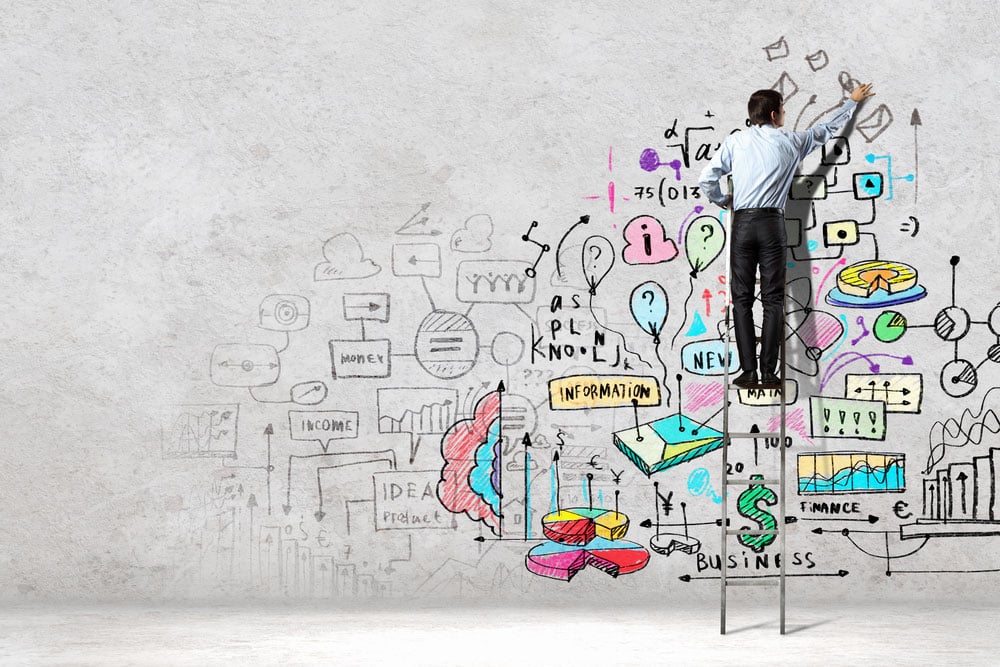 What does project management mean to you?
Is it about the management of deadlines, expectations, or maybe even the individuals working on the project?
Yes, project management consists of deadlines and expectations, but it's not entirely about managing client expectations; it's about utilizing various tools and effective communication to build a successful client/agency relationship that keeps everyone on track and on the same page.
(And we all know there's nothing worse than having two very different sets of expectations.)
You probably have seen the project management tree swing cartoon below. If so, you know what I'm talking about. It's a great representation of expectations and how one misunderstanding can derail an entire project or campaign.
To help strengthen the client/agency relationship, let's dive into the 4 areas of project management that might be a little fuzzy. The following insights will help ensure both parties are on the same page and that everyone is working towards the same goal.
1. You Can't Move Just One Deadline
Even though we'll do everything in our power (reallocate resources, work overtime, explain the consequences of not receiving necessary resources, etc.) to keep a project on schedule, sometimes we have no choice but to push back the deadline. You might be thinking, "What's the big deal, we only moved one," but there might be any number of milestones that are dependent on it.
A great example is a website redesign. Usually, there is a milestone for:
Kickoff and prep
Concept and content creation/finalization
Design
Development
QA - testing and delivery
Post launch check and maintenance
And within each of those there are key dates for creating wireframes, developing/revamping page content, design mockups, the final design, developing page templates, the list can go on and on.
But what happens when the deadline for one stage needs to be pushed back?
In most cases, if milestones get delayed, but the final deadline doesn't, this leaves the development team scrambling to complete it on time. This rush, unfortunately, can lead to mistakes during QA.
When delays happen, it's important for us as an agency to communicate and strategize as a whole. Sadly, this is where 57% of projects fail. Communication shouldn't just start once someone realizes that the project is nowhere near hitting the project deadline; it should be made a priority throughout a project.
To ensure the successful completion of a project, whether it's big or small, meeting deadlines and keeping the project on track and on budget requires commitment from the agency and the client.
At IMPACT, our Account Strategists are always involved in setting and adjusting expectations and strategies to ensure the project is finished by the agreed upon completion date.
Using a Gantt Chart
When it comes to adjusting expectations and completion dates, it takes a little creativity and sometimes a simple Gantt chart. If you've never used or seen a Gantt chart before, it's not as scary as it might seem. (Check out this example from Web Studio.)
Essentially, Gantt charts can be set up to push back all corresponding milestones in the event one phase is extended.
They are a great way to provide clients with a visual timeline of key dates and deadlines, and overall, a better picture of the critical path for the entire project.
From a project management standpoint, it also gives us the ability to easily manage and breakdown the project into timescale-based tasks.
2. Transparency is the Heart of a Client/Agency Relationship
In project management, transparency is all about keeping everyone in the loop and having the ability to manage and stay ahead of scope creep.
Our client services department thinks of themselves as an extension of our clients' teams. Part of managing this relationship requires being 100% honest and forthcoming about project expectations and executing on everything outlined in their monthly plans.
Many agencies have trouble saying "no" to their clients. A great way to overcome this is by telling yourself: "There's never a no; there's simply a more efficient process or tactic for reaching the desired outcome and staying within scope."
Bill Gaffney from Applied Robotics says it best, "Scope containment is the Achilles heel to project management. Even minor changes can accumulate and cause scope creep."
Transparency also takes into account scope of work and the Inbound Marketing strategy for the month.
Not only should this strategy outline the key activities for the month, but it should ensure that both the client and the agency see the big picture - what the routine inbound activities are, special projects, and also what metrics are being focused on.
By outlining those items, both parties can play a meaningful role in steering the campaign towards success and helping the client reach their BHAG.
3. It's Never About "Under Promising and Over Delivering"
Setting and managing expectations -- that's probably the biggest challenge for warding off scope creep and making sure everyone is focused on the end goal.
Everyone's heard the age-old saying "Under promise and over deliver." I don't know about you, but I've never believed in it.
The whole idea behind this saying is that you should manage client expectations to avoid confrontation, but avoiding an uncomfortable situation shouldn't be the goal.
Have you ever read the study by UC San Diego behavioral scientist, Ayelet Gneezy, and University of Chicago business professor, Nicholas Epley? Epley stated, "Going above and beyond a promise didn't seem to be valued at all." It's more about actually executing on what has been promised.
If a client is expecting a unicorn, it's our fault.
Expectations shouldn't be set then just forgotten about. At IMPACT, we are routinely visiting and adjusting ours so that everyone maintains practical expectations throughout the course of a project.
A simple way for us to better set and manage expectations is by checking in with our clients. Providing updates, receiving feedback, and sharing progress is a great way to keep the lines of communication open and everyone on the same page.
By planning ahead, we take into consideration business goals/objectives and identifying what marketing can do to make those goals a reality.
4. There are Tools to Help Us Work "Better" Together
There is a tool for everything, even improving and increasing channels of communication. Sometimes, there just isn't enough time in the day for a meeting or we wish everything was located in one place (some of us are a little obsessive when it comes to organization.)
Here's a look at a few tools we keep in our arsenal to help us all work "better" together.
Trello
You've probably heard us talk about Trello. In the office, we don't go more than a half hour without mentioning it or saying, "Did you add that to Trello?"
Not only is it a great internal tool, but it's a great resource we utilize with our clients to highlight our pipeline and tasks we have outlined for the month in a single glance.
It's also another way for us to showcase "the big picture" while allowing both parties to actively participate in the creation of content without having to email back and forth.
GatherContent
Unfortunately, content can be a major cause of project delay.
When redesigning a site, there is nothing worse than having multiple spreadsheets or word documents full of drafted content. Not only is that confusing, it's hard to distinguish rough drafts from the approved content.
One thing I absolutely love about GatherContent is that we're able to present the content in a way that highlights the site's structure and navigation. This gives you and your client a visual representation of the site and how the content will realistically be laid out.
Monthly Strategies
What does your Inbound Marketing retainer look like for the next month? What metrics are you trying to hit? Are those metrics going to help you achieve your goals?
Those are great questions you should be asking yourself. The overall goal of your agency's Inbound Marketing should be to develop a campaign that outlines the efforts of how you're going to use best practices to target your buyer personas and improve lead generation.
Kickoff Meeting
A great way to start any project is to introduce the client to the entire delivery team and set and adjust expectations through a Kickoff Meeting.
Here's a look at what your agency should be including in the Kickoff agenda and why they should be included:
Review the Scope of Work: This is the time to quickly go over your agreement at a high-level to ensure everyone involved knows what is and isn't included in the scope of the project.
Project Timeline: Be clear about the final delivery date. There should also be a discussion on how potential project delays will be handled. Will there be an amendment to the scope of work? This part of the Kickoff is a great opportunity to discuss how the various stages of a project will be reviewed and approved.
Ways to Communicate: Be sure that everyone is aware of the communication tools you'll use and the best methods for getting in contact with the team. It's important to find the balance between real-time communications, daily or weekly reports, and everything in between.
Key Takeaway: Continuously Improve Your Internal Tools
With an active role in program management, every week I meet with our EVP of Client Services and client services department to understand and identify where our clients stand in regards to happiness/satisfaction and the progress of their projects.
We also use that time as an opportunity to identify tools and additional measures and activities we can implement that will help strengthen our client relationships.
As a client, you're sitting on the other side.
You might even see us as a consultant, your go-to person for running potential marketing ideas by, or a member of your team -- but in the end, our team is focused on the success of your business.
Through our consultative approach to Inbound Marketing, we're constantly working with you to improve your current marketing plan, find new ways to overcome challenges, and help you and your organization achieve your goals.
Free Assessment:
How does your sales & marketing measure up?
Take this free, 5-minute assessment and learn what you can start doing today to boost traffic, leads, and sales.