What is advanced HubSpot training? (benefits, cost, who it's for, and more)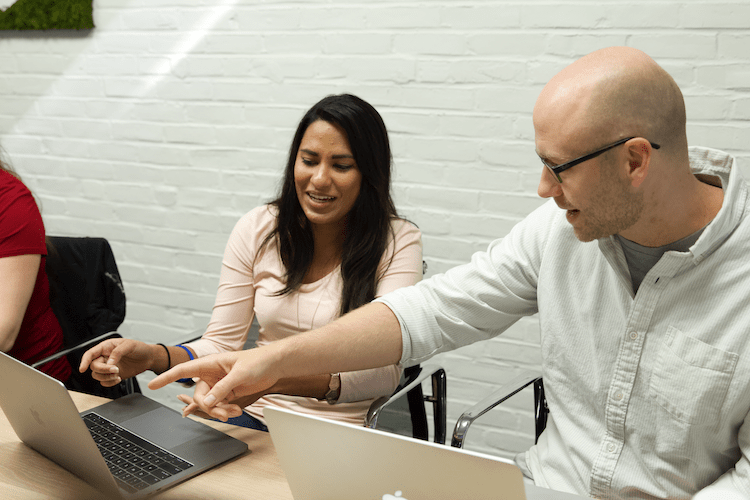 Can you justify the investment you're making with HubSpot right now?
That's the question most marketing leaders want to know, but many of us don't have a defined answer to.
How can you justify the investment?
And I don't mean in a, "Well, it's a helpful tool," type of justification. I mean numbers. And more specifically: numbers with dollar signs in front of them.
HubSpot is a behemoth of a tool, and most folks know they could be getting more out of it than they currently are. The painful truth is: by not using HubSpot's robust capabilities, you're leaving money on the table.
With great power, comes great responsibility
Just because a tool is powerful isn't enough, though: HubSpot is an automation machine that's only as valuable as the process you're holding yourself to in using it properly.
Think of a V8 sports car: it's a powerful tool, but it can create chaos if an experienced person isn't in the driver's seat.
There are plenty of ways people use the tool in non-standard or less-than-optimal ways that can make your portal a mess and your life more difficult down the road when you're looking to leverage the full capabilities of the platform.
For instance, Jess Palmeri, a HubSpot trainer here at IMPACT, had a client who was somehow grandfathered into a legacy subscription with HubSpot that allowed them to have unlimited contacts.
Sounds like a dream come true, right?
Except that since they were unlimited, they got complacent and in nearly 10 years, they never actually cleaned up their database.
What this meant was that they couldn't segment properly, couldn't do simple searches for contact records, and in a domino-like effect, their whole platform was limited in what it could do for them given their poor database management.
It's for reasons like this that many clients work with the HubSpot training program at IMPACT — to get themselves on the right path to actualize the full value of the tool.
We offer different levels of HubSpot training — Standard, Advanced, and Intensive — depending on a few factors, including the level of the platform you're subscribed to, as well as your goals for how fast you want to get up to speed.
Let's dive into the common questions people ask about HubSpot Advanced Training so that you can decide if it's a good fit for your team.
Note: To save you the time reading, Advanced training is typically only for HubSpot users on Pro or Enterprise plans, not HubSpot Starter. Also, as you'll see, Advanced Training DOESN'T mean you need to be an "advanced" user — it just means you need to progress through the curriculum more quickly.
What is HubSpot Advanced Training? How is it different from Standard?
If you're not already familiar with what typical HubSpot training with IMPACT is, check out this full rundown of our HubSpot training program from Jess Palmeri, the HubSpot guru.
At first glance, the main difference someone may see between standard HubSpot training and advanced is the time that's allocated for training calls:
Standard training involves weekly 30-minute training calls (or 60-minute calls biweekly, if desired)
Advanced training involves weekly 60-minute training calls (double the time)
What that additional time offers, however, isn't just progressing through the curriculum more quickly, but there are numerous other benefits as well.
Go beyond theory into practical application
With Standard training, there's only enough time on the calls to go into the "theory" of how the tool works and how you can make it work for you. There's lots of homework to bring what you've discussed in the training call into practical steps for your specific portal.
It's the client's job to take what's talked about in the lesson and then apply it.
With Advanced training, you get to spend more time focused on practical application and the rundown of how it'll look in your own portal (with your own nuanced, unique database) before you're on your own to make it happen in your own system.
More efficient use of time (in and out of training calls)
What this extra time also enables is a more efficient use of time: both on the calls, and for all the time that's needed doing homework outside of that training call.
By having more time with a trainer every week, the total time you need to commit outside of the call for homework is about half as much. There's less to figure out on your own, because more practical, tangible learning for your specific platform is happening on the calls.
Advanced training can be a great fit for professionals who don't have the luxury of time to spend hours outside of the calls sorting through applying the lesson to their own portal. There's about half the time needed for homework, since much of the heavy lifting is done together with your trainer on the weekly calls.
Minimizes time (and frustrations) spent on technical issues that will inevitably arise
Every individual HubSpot database will have its own gaps and quirks. Some of those may not be immediately apparent and can cause roadblocks in completing homework.
By getting more time to spend with the trainer in your portal, it'll mean any of those nuances are sorted out together instead of struggling to figure things out on your own or with endless hours on HubSpot support calls in between training sessions.
Quicker Onboarding
With standard training, onboarding for the HubSpot tool can take about three months of weekly calls (think of it like a grand tour of a mansion in Beverly Hills, it's going to take a little while). This is just to get familiar with all that HubSpot has to offer.
With advanced training, this onboarding time can be cut in half (or even quicker) because there are less stops and starts with the introductions to the tools.
Onboarding with the advanced program typically takes four to six weeks, and that means you get to take advantage of to the more complex projects sooner.
Advance faster into the complex areas of the tool
Beyond the standard inbound methodology elements, HubSpot offers numerous complexities. With Advanced training, you're more quickly able to jump into creating or optimizing complex marketing campaigns with multiple assets across the marketing, sales, and service hubs.
With the standard training curriculum, training like segmented lists and workflows are necessary before diving into the more complex work that everyone ultimately wants to dive into from the get-go, namely, complex reporting and ROI dashboards.
While these advanced topics would typically take at least six weeks in standard training, advanced training allows you to hit the ground running faster with proving that ROI of your marketing investment.
Bigger teams can move at the same pace
For larger teams of HubSpot users (four or more), there will always be team members with different questions, objectives, and understanding of the tool. Advanced training gives the time available to accommodate everyone's needs, so you're not moving so fast that you're leaving anyone behind.
In addition, advanced training can also be split into two half-hour calls each week. This is especially helpful if certain team members are from different departments, or if you desire separate strategy and implementation sessions.
Avoid a lot of HubSpot mistakes and blindspots
There will always be external factors that will force you to slow down and hold back your progress in HubSpot, including delays in collecting data, improper tracking code set ups, etc. Without those basic elements set up correctly, you're limited in the more complex activities you can do with the tool, like ROI reporting or implementing lead scoring.
Although certain aspects of the tool may impede progress, you never want your lack of experience or mastery with the tool to be the thing holding you back from that progress.
How much is it?
The cost for advanced HubSpot training is $4,000 per month. Contracts can be written for short-term engagements, and can be changed or cancelled with just 30 days notice. What this means is that there is flexibility to make sure you're only paying for what you see value in from the training calls.
Once you feel up to speed, you can stop the engagement.
Can I change my mind and switch to/from regular HubSpot training?
These terms also make it really easy to upgrade or downgrade your training level at any time. If you are currently on the standard training, you can upgrade to advanced training to get more time with your trainer in your portal.
Once you feel like you're getting the hang of the tools, you can downgrade to 30-minute weekly calls and do more of the homework on your own.
Any changes can be made with just 30 days notice.
It is often beneficial to start out with advanced training, and then downgrade once the basics are covered.
Standard or Advanced training: Who is a good fit?
Clients engaged in Standard training are looking to maximize their HubSpot investment. They want assistance with the platform but aren't rushed or don't have the bandwidth to put tons of hours a week of focus on HubSpot training.
With Advanced training, clients are willing to devote more time in order to ramp up quickly or they require more strategic and tactical assistance than one 30-minute call a week.
Advanced training does not mean you are already "advanced" or experienced HubSpot users. It just means you want to more quickly and efficiently advance through the curriculum.
And the faster you can fully utilize all of HubSpot's capabilities, the quicker you can show the results and ROI for your company.
Here are a couple things to keep in mind for which level of training would be the best fit for you:
Standard training:
30-minute weekly calls with a trainer, with the bulk of the work on the client to do as homework.
There may be a need to communicate with trainer or HubSpot support outside of the training call to sort through intricacies of your platform, some of these troubleshooting instances may require a full call to sort through.
Great for a brand new HubSpot user who is comfortable moving at a more gradual pace— there's not pressure from the company to get things up and running quickly.
Great fit for motivated self-learner who need minimal instruction and direction, and can take the ball down the rest of the field themselves.
Advanced training:
60-minute weekly calls with a trainer, with practical learning happening on the call, so there's less homework to sort through on your own.
Strongly recommended for HubSpot teams of four or larger (especially if they're from different departments).
The company has a higher level of urgency to get the full use of the platform sooner.
Might be an experienced user looking for help with more complex projects.
Might be a beginner in HubSpot who needs to get up to speed as soon as possible.
Great if the company has deliverables, projects, and migrations currently in the works that need to be completed in short timeframes.
Someone who doesn't have hours to dedicate to homework and dealing with technical support outside of the training calls.
At the end of the day, the decision is determined by how fast your business wants to get the full benefit of your marketing automation investment. If you're okay with a more slow and steady approach, standard training will be sufficient.
If you have a large team, or have business projects that need to be implemented ASAP, advanced training (at least for a period of time) is the way to go.
Ready to get your HubSpot platform — and team— up to speed?
With so many tools and functionalities baked into the tool, it can be easy to get overwhelmed or lost with HubSpot and stick with only the basic functions that you're already familiar with.
However, that's like paying for a fancy 28-part Victorinox Swiss Army Knife and only using the screwdriver and nail file: there's so much more you could be doing!
HubSpot is only as good of a tool as the hands that are managing it. Our trainers are here to help make sure your platform is helping you solve more problems and answer questions about ROI and your investment in marketing and sales efforts. The tool shouldn't be creating more frustrations for you.
Give us a call to chat about how HubSpot training can help you start to get the numbers you need to show the ROI of your marketing and sales efforts
Free Assessment:
How does your sales & marketing measure up?
Take this free, 5-minute assessment and learn what you can start doing today to boost traffic, leads, and sales.