Email marketing services: 9 best options for all business types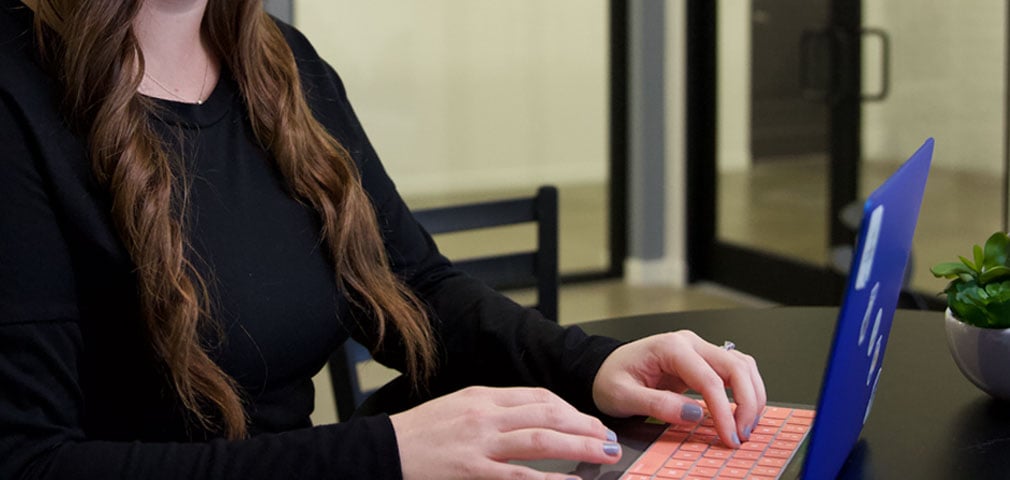 Best email marketing services
Mailchimp
Constant Contact
Campaign Monitor/Emma
Klaviyo
SendGrid
Sendinblue
HubSpot
Marketo
ActiveCampaign
One of the questions I'm most often asked by friends in marketing and business (and also see asked in our Facebook group IMPACT Elite) is "what email marketing platform should I use?"
I so often see questions just like this: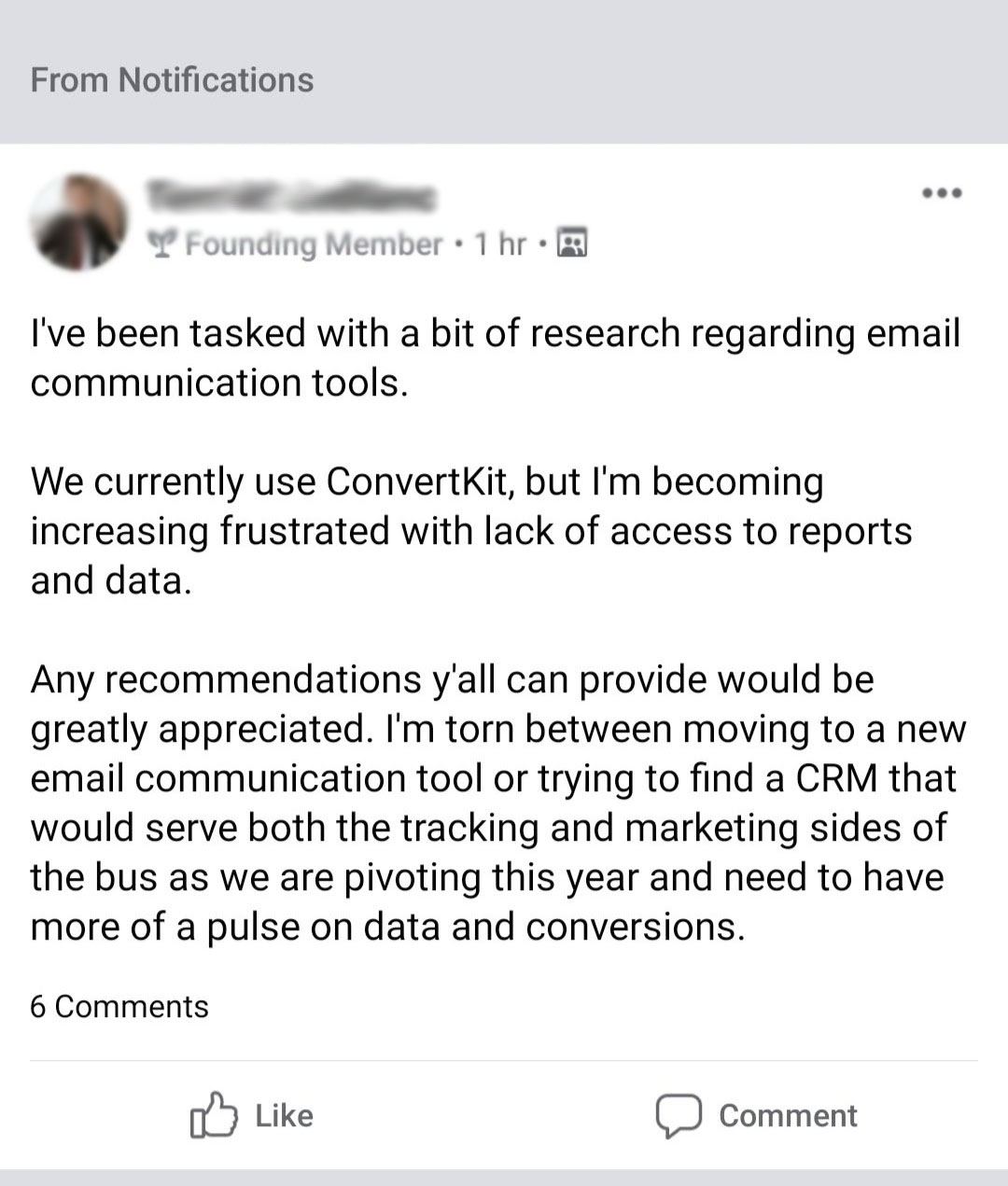 Question about email solutions from a marketing community on Facebook.
It's a difficult question because there are so many variables that affect the answer I'd give.
From the size of your contact database to the purpose of your emails, there's a lot to consider when choosing the best email tool for you.
Whether you're searching for an email marketing service option for the first time, you've just started a new job and have been asked to evaluate the tool you're using now, or you're frustrated with your current solution and are looking for something new, this article will help you find the best email marketing solution for your needs.
Since there are so many different types of marketing email needs and solutions, I decided my experience alone wasn't enough to cover this topic.
So, I surveyed over 700 marketers who responded with more than 40 tools they use!
Needless to say, it's not exactly cut and dry as to which tools top the charts. This article is based on a combination of the survey, my email marketing experience, and additional research.
But first, let's talk about what an email marketing service is and what goes into choosing the right one for your business.
What is an email marketing service?
Simply put, an email marketing service provides the tools needed to deliver email in bulk. This includes tools to segment your recipient lists, build templates for your content, send and track your email campaigns, and more.
Most marketing automation platforms such as HubSpot, Marketo, and ActiveCampaign offer incredibly robust email solutions as part of their suite, but there are also many standalone email tools.
Aside from creating and sending your email, using an email marketing service allows you to optimize emails to land in inboxes (not spam folders), segment your content to resonate with your subscribers, track your email performance over time, and send better email overall.
So how do you choose the best email marketing service from the many options available?
How to choose an email marketing service
When evaluating email marketing solutions I would first consider the goal of your email marketing. What are you trying to accomplish through your email campaigns?
Then, document the the size of your contact list, volume of email you plan to send, and your budget.
You'll also want to consider whether you have design and development resources available.
Once you understand the state of your current email marketing, take time to list out any tools you already have in place, such as a CRM, that must integrate with your email marketing service and tools you have that can either be eliminated or replaced by a more comprehensive solution that includes email.
Listing out all of the above information before you begin your search will help you easily sift through the mountain of tools available and quickly eliminate solutions that will not be a good fit for you.
A survey of 700 email marketers
With a mountain of tools available, it's worth narrowing down the top few to start.
To do this, I surveyed 700 email marketers and asked what their email platform of choice was and they responded with over 40 different solutions.
This just shows the diversity of tools available that are used by different organizations for different purposes.
According to my survey the top most common tools are (in order of popularity):
Mailchimp
HubSpot
Constant Contact
Salesforce Marketing Cloud
Active Campaign
Klaviyo
Marketo
Emma
Pardot
You'll notice this list differs slightly from my list of the nine best options at the top of this article.
That's because I opted to remove both Pardot and Salesforce Marketing Cloud (the two in bold) from my list, replacing them with SendGrid and Sendinblue. Why, you ask?
Salesforce Marketing Cloud was originally founded as ExactTarget back in 2000 and was acquired by Salesforce in 2013. This included the acquisition of ExactTarget-owned software, Pardot, as well.
Salesforce is a comprehensive and robust customer relationship management software (CRM), but offers its customers massive discounts on Pardot and Marketing Cloud arguing that they'll have the best integration for anyone already on the CRM (though this is debatable).
Marketing Cloud and Pardot are both owned by Salesforce, but not built by Salesforce, which makes this integration not all it's chalked up to be.
Many other marketing automation solutions have robust and thoughtfully created integrations with Salesforce CRM that rival, if not supersede, Pardot and Marketing Cloud.
As a marketer who has used these tools in the past, I can personally say that the two options are cumbersome and certainly not built for sales and marketing alignment or collaboration. So, I've chosen to exclude them.
Alright, now that my rant is out of the way, let's look at the tools I do recommend!
9 email marketing service options for businesses
While older, more established providers may argue that they're the better choice because they have an established reputation, newer solutions have pulled ahead by solving marketers' pain points and focusing on helping marketers easily create appealing email designs without requiring design skills.
That being said, this list includes newer tools as well as solutions that have been around for quite some time. Here are what I consider to be the 9 best email marketing service options for business, listed in no particular order.
1. Mailchimp
Mailchimp is one of the most well-known email marketing options and recently made the transition from being an email-only tool to providing a full suite of marketing automation solutions. According to a new report, Mailchimp owns 60% of the email market.
(Check out this comparison we wrote about Mailchimp vs. HubSpot, one of the most popular marketing automation tools.)
Its claim to fame is its beautiful email templates that are very easy to customize.
They're so user-friendly, I often find people who get used to Mailchimp's templates have a hard time switching to platforms where they have to do more of the design work themselves.
"We chose mailchimp because it is the email platform with the least amount of clutter." - Bobby Vickers, at IMPACT client.
Mailchimp ranks at 4.3 out of 5 stars on G2 with 14,154 reviews. (That's a lot of reviews!)
2. Constant Contact
Constant Contact is one of the most well-known email marketing services, founded in 1995 and boasting over 200 million email sends from its platform each day.
Like Mailchimp, Constant Contact's claim to fame has long been its beautiful and easy to modify email templates.
Marketers without design assistance or knowledge can grab a nice email template and get to work without too much customization.
The downsize? Sometimes you can spot Constant Contact emails from a mile away.
The email marketing platform starts at $20 per month and allows for unlimited emails but ambiguously says "price based on number of contacts" without a clear way to figure out how a larger list will affect the cost.
Furthermore, while it used to focus solely on email, Constant Contact's website now claims to also help with "powerful tools, marketing advice." It has solutions for email marketing, websites, and social, and among other things.
Constant Contact ranks at 3.9 out of 5 stars on G2 with 4,217 reviews. (Still a lot of reviews.)
Now for a brief interjection from Stephanie:
Yes, we're only two solutions into this list, but I must interject. When it comes to Mailchimp and Constant Contact, I must call a spade a spade.
They're both low-cost and simple tools.
They obviously rank relatively high on G2 because they've been around for a long time, have a lot of users, and have racked up a lot of reviews.
But they're not incredibly user-friendly or robust in their functionality. They work and they won't break the bank, but they don't have much to offer.
Alright, now back to your regularly scheduled marketing email service option reviews.
3. Campaign Monitor (Emma)
Back in June of 2018, Campaign Monitor acquired both Emma and Delivra.
(Note: If you can figure out what that means — and how Campaign Monitor is different ¸— let me know!)
Through the new family of brands, Campaign Monitor Companies said its goal is to "help our customers do more with less, helping brands drive more engagement and revenue from email, and helping marketers of every level grow as professionals."
Its pricing starts at just $9 per month with 2,500 email sends and 2,500 contacts. Then, as contact volume and email send volume increase, so does the price.
Starting at $29 per month, the plan includes unlimited emails but this pricing is a bit deceiving as it only allows for 500 contacts.
The best way to understand Campaign Monitor's pricing is to first set your contact volume and then start looking at plan prices.
Emma's pricing, however, is much more straightforward. Its pricing page has a clear comparison table and all plans start with 10,000 contacts and an annual contract.
Campaign Monitor user Megan Starshak said:
"Campaign Monitor has a great, super easy interface, which gives us confidence that all the details will be covered. It's got an easy to use drag-and-drop builder, plus pretty much effortless list management. My favorite part, though, is the analytics. They are both robust and beautiful, and make it easy and exciting to take a look at the results of emails, both real time, and at the end of the campaign. Last but not least, super fair pricing."
Campaign Monitor ranks at 4.1 out of 5 stars on G2 with 569 reviews and Emma ranks at 4.0 out of 5 stars on G2 with 445 reviews.
4. Klaviyo
Klaviyo has been recommended to me by so many people in the e-commerce space. It really is ideally a solution for e-commerce businesses as it is set up to integrate closely with platforms like Magento, Stripe, Shopify, WooCommerce, and more.
E-commerce companies often need to send more transactional emails and use email automation for highly personalized marketing like abandoned cart nurturing emails and post-purchase follow up.
It's very helpful for e-commerce organizations to have a tool that understands their unique needs.
The automation isn't as powerful as a larger marketing automation tool but the visual flow editor gets rave reviews from users.
Klaviyo's email template editor is also easy to use and allows for dynamic product insertion and easy layout changes.
The platform is free to use for up to 250 contacts and 500 email sends with support via email. From there, a more standard plan starts at $150/mo for up to 10,000 contacts with unlimited email sends and support through email and chat.
One Klaviyo user, Annie O'Brien, said "I've used quite a few and I'm an absolute Klaviyo fangirl. Their integration is amazing and everything is very intuitive."
Another Klaviyo user, Devin Stagg, went so far as to say "Klaviyo is THE most powerful email platform for eCommerce brands. The segmenting, predictive analytics, and eCommerce functionality has been extremely beneficial for our brand's growth!"
However, apparently some more custom things can become a headache in Klaviyo. Creating custom segments seems to involve manual work and can be challenging.
One important thing to note is that Klaviyo actually sends its emails via SendGrid which is next up on the list!
5. SendGrid (by Twilio)
SendGrid (by Twilio) is known for its email API plans which integrate email into your app or website.
This means they're a great fit for marketers at SaaS (software as a service) companies who want to send transactional emails and trigger-based automated emails from their application.
There are two options: Web API and SMTP Relay and they have great documentation on which one to use when.
SendGrid also offers a marketing campaigns option which includes marketing email, storage of contacts, segmentation, and more. Its pricing is straightforward and includes a slider for emails sent per month.
SendGrid does not include a dedicated IP until the pro plan, which starts at $89 per month, however that does also include an email validation tool, which allows you to maintain your sender score in two proactive ways (validation of recipient emails and using your own IP).
Finally, they even have 24 hour support available focused on helping customers maintain high sender scores and improve email deliverability.
SendGrid ranks at 4.1 out of 5 stars on G2 with 166 reviews.
6. Sendinblue
Founded in 2012, Sendinblue is a less popular solution that leads with the value proposition of being the "best value for small businesses" and already boasts 80,000 paying customers.
Interestingly, it offers unlimited contacts and does not charge per contact in your list.
However, it does limit you to a certain number of emails you can send in a certain timeframe. Its free plan allows for 300 emails per day while its paid plans give you a per month limit, but these limitations may be perfectly fine for small businesses.
Its free and lowest paid ($25/mo) plans also still include SendinBlue branding. They're actually less expensive than Mailchimp and have automation software built in to help with dynamic list management.
One downside is that you can't use a dedicated IP until you're at the most expensive plan option. When you share an IP you also share your sending reputation with others. This means your deliverability can be negatively affected by the actions of others.
Sendinblue ranks at 4.4 out of 5 stars on G2 with 592 reviews.
Important note: These last three solutions are more than just email service providers. They are comprehensive marketing automation solutions that include robust email tools.
7. HubSpot
HubSpot is one of the most popular marketing automation tools available and a great fit for most businesses.
The all-in-one nature of the tool allows it to provide comprehensive reporting and analytics for marketers and sales professionals alike. Email is just one piece of the giant HubSpot puzzle.
When using HubSpot to its full potential, you get a more comprehensive view of your contacts' engagements and you can use this information to personalize and segment your email marketing.
This is because HubSpot's tools allow you to track visitors as they engage on your website, interact with your content, sign up for events and offers, and more.
Having all this information centralized helps you build hyper-segmented lists and make your email marketing more relevant.
Plus, even though the tool is now almost 15 years old, HubSpot continues to make great updates to their tools including email.
Pricing wise, HubSpot offers a starter package at $50 per month which includes 1,000 contacts along with email marketing, list segmentation, live chat and conversational bot tools, forms, and more. In July of 2019, HubSpot added email to the Marketing Hub's free version.
HubSpot ranks at 4.3 out of 5 stars on G2 with 5,562 reviews.
"It's incredibly easy to quickly create great-looking emails without having any prior experience. When combined with the CRM database and marketing tools, anyone can execute and analyze email marketing campaigns with very little onboarding to the tools." - Carina Duffy, IMPACT
8. Marketo
Marketo, which was purchased by Adobe in 2018, shines in many arenas as a marketing automation solution including a robust email marketing tool.
In her head-to-head comparison of Marketo vs HubSpot, IMPACT's resident HubSpot expert, Carina Duffy, shares how "Marketo really shines in its advanced analytics and email workflows. If you have a strong IT background, you'll enjoy getting your hands on the software and digging into the selection of advanced features."
Conversely, this means there is a bit of a learning curve to get comfortable with Marketo and it sometimes even requires supplemental IT support.
Plus, unlike HubSpot, Marketo's support is hit-or-miss and many users find it difficult to get the support they're looking for.
Similar to HubSpot, Marketo has a very active community base with users coming together in cities across the world to learn from one another.
Marketo is definitely the strongest option for larger companies with a wide customer base. Marketo users can customize their email marketing in great detail in Marketo.
Marketo ranks at 4.1 out of 5 stars on G2 with 2,056 review
9. ActiveCampaign
ActiveCampaign is only five years old, but it has built a fantastic solution which is already being used by over 75,000 businesses.
ActiveCampaign focuses on personalized and segmented email campaigns and leads with its super affordable $9/month plan (making it accessible to small businesses), but it actually has a full marketing automation platform and a CRM available as well.
While this is great, it's still not quite at the level of HubSpot's capabilities. They don't offer website building tools or things like calls to action buttons, landing pages, or forms (aside from standard email subscription).
At first I was concerned to see the "Inbox Preview (Email Testing) feature was paid and limited.
I reached out to ActiveCampaign and found out this was their in-platform testing tool that allowed you to preview the email in different device types and screen sizes. You could still send as many test emails to your own inboxes and devices as you want.
Of course, at this point my favorite thing to do is compare the comparison pages (how meta).
Naturally, HubSpot has a HubSpot vs. ActiveCampaign comparison page and ActiveCampaign has its own as well.
What I learned from comparing these two pages, along with my knowledge of both platforms, is something I already knew: HubSpot is absolutely worth the money if you take the time to learn, understand, and properly use all the available features. If not, you are absolutely going to be overpaying for features you'll never use.
Sure, ActiveCampaign is a fraction of the cost compared to HubSpot, but it also lacks many of the robust and comprehensive tools HubSpot provides.
Through its CMS, social tools, ad management, and more, HubSpot you get a truly comprehensive view of your contacts' journeys from prospect to customer. ActiveCampaign is focused much more on marketing automation specifically for email marketing.
Depending on your needs, ActiveCampaign could be a fantastic and relatively low-cost solution for your email marketing and email automation needs. This is especially true if you already have website, CRM, and social media tools you love.
ActiveCampaign ranks at 4.6 out of 5 stars on G2 with 2,371 reviews.
So which email marketing service is best?
With so many options on the market, from simple email tools all the way to full marketing automation platforms, hopefully this article helped you narrowed down your search to a few top contenders.
Don't forget to consider your email marketing goals, volume of email, contact database size, and whether or not you have designer and developer resources available. See if you can consolidate or integrate your email solution with other tools.
Once you decide on a tool, let me know what you picked in IMPACT Elite!
Free Assessment:
How does your sales & marketing measure up?
Take this free, 5-minute assessment and learn what you can start doing today to boost traffic, leads, and sales.